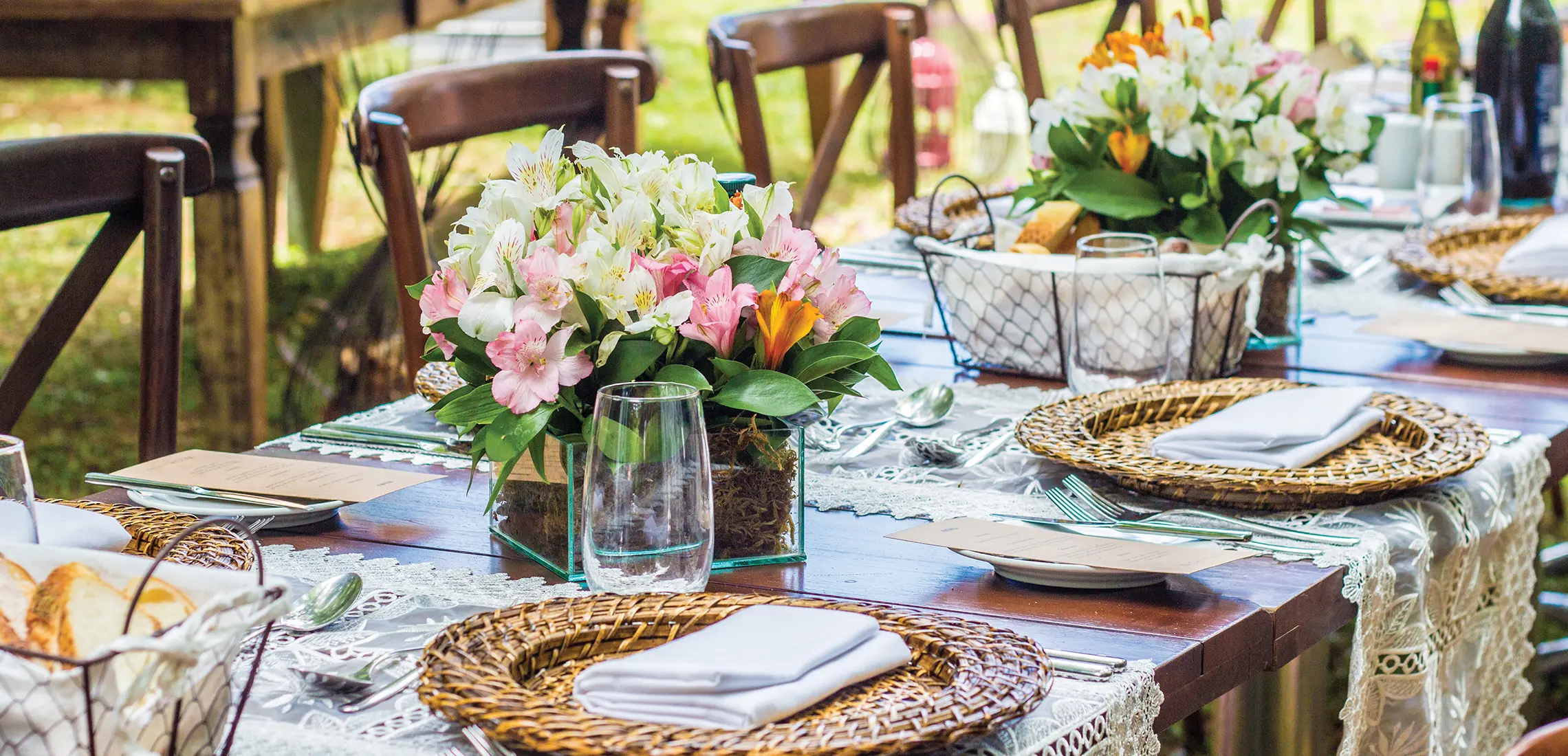 Step-Up Your Home Entertaining
Get stylish this summer!
By Tracy Sinclair | 22nd December 2020

Thoughtful touches and a little bit of planning can not only transform your summer occasion into a memorable evening of celebration, but will have your guests feeling right at home. From beautiful textured dishes that will add interest to your table styling, and seasonal floral arrangements to complement your decor, plus all the home comforts to prepare your guest room, there is plenty to discover when you step inside our boutique retailers.

Though, if you would prefer to dine surrounded by celestial blue water with friends and family this summer, the restaurants that line the boardwalk at Sanctuary Cove will be plating up only the freshest meals, thoughtfully paired with seasonal wines, and all with the usual inviting and friendly service you've come to expect.

Bringing life to your table setting can be as simple as choosing a seasonal floral

arrangement that complements your existing décor. Find yourself gravitating towards calming hues of blue and silver? Contrast this with florals in pastel shades, in particular creams and light oranges, as these sit opposite blue on the colour wheel and will beautifully accent your table. Ask the florists at Village Flower Emporium for their summer suggestions.

Summer is typified by long afternoon lunches and warm evening celebrations around the table with friends and family. So, if you're entertaining this season, be sure to accentuate your table styling with some thought-provoking décor. It's details like these that will transform your table and wow your guests – not to mention spark conversation! There's so much to discover at Hamptons Style Sanctuary Cove this summer.

A stunning tablescape for your upcoming celebration can be as simple as investing in high-quality, chic tableware. Cabana has an incredible collection of textured dishes, Batch Ceramics – which not only add interest to your table – but are fantastic to layer for an opulent look and feel. Simply place a small plate on top of a larger dish, and layer again with some beautiful linen napery and a fresh floral cutting.

Nothing says summer in Australia like inviting family and friends over for a warm

evening of clinking drinks, enjoying good food and even better conversation. So, be sure to prepare your guest room with some homely touches ahead of time. Theo & Joe have a beautiful range of plush cushions for layering, and side tables that you can style with an inviting book and lamp to have your guests feeling relaxed.