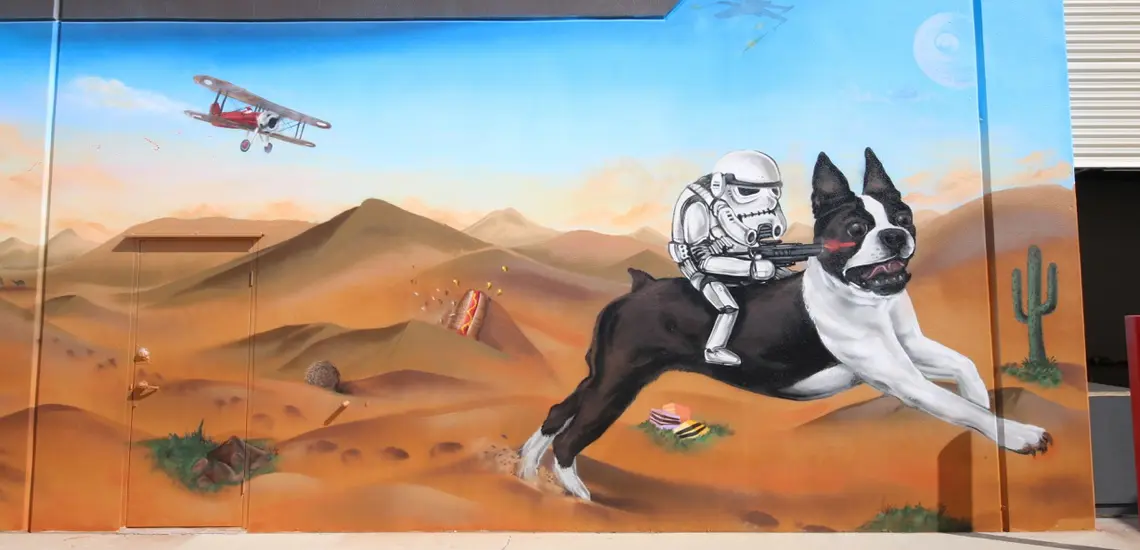 Your Guide to Brisbane Street Art
Sometimes the best things in life are free…
By Candice Jackson | 18th November 2015

You won't find Brisbane's most unique and colourful art in galleries or museums… because it's plastered on the city's walls.

Look, Brisbane is no Melbourne or Sydney, but the Brisbane City Council have begun to relax their zero-tolerance policy on graffiti and street art, which means we have some wicked pieces popping up around the city, if you know where to look!

Down our laneways and backstreets, in nooks and crannies and on underpasses and main roads is a growing street art culture. These moody murals and bright, expressive urban artworks have been created by single artists and a collaboration of graffiti or street artists.

We spoke with Brisbane street artist @thezookeeper about his work around the city, his favourite Brisbane street artists, the street art climate in Brisbane and his favourite spots to check out. You can read some of his (and our) suggestions below.

AND while we've done our best to showcase some of our favourite spots, certain murals or artwork may be painted over or removed by the time you take this Brisbane street art tour. So hop to it ASAP!

The Zookeeper recommends four main precincts for you to start your street art search (because that's half the fun, right?): West End, Fortitude Valley laneways, James Street and South Brisbane/South Bank. But if you're looking for something a little more specific, then Zookeeper knows where it's at. Oh and by the way, we've deliberately left out images so you can hunt them down and have the joy of seeing the masterpieces for yourselves. Scavenger hunt time!
1. James Street, Fortitude Valley
According to The Zookeeper, there's a little alleyway near the Palace Centro cinemas in which you'll find a wall with a combination of street art, graffiti, paste-ups and typography.
2. Merivale Street, South Brisbane
Take a stroll under the William Jolly Bridge and you'll spot some pretty spectacular commissioned pieces as part of The Pillars Project. Think bold colours, massive canvasses and one great way to make a feature of pillars that were once massive slabs of concrete.
3. Boundary Street, West End
If you can tear your eyes away from the cool fashion and delectable dishes at the Boundary Street Markets, venture into the alleyways and Motor Room for accessible street art and graffiti, with a distinctly urban twist.
4. Logan Road, Woolloongabba
There are always heaps of small street art pieces and larger murals popping up along Logan Road, and with the recent End of the Line Festival there are now some newbies! Make sure you stop by Shady Palms, a street art hub, and grab brunch while you're there!
5. Burnett Lane, Brisbane CBD
Take a small detour off the Queen Street Mall to check out the diverse range of street art and graffiti styles. The Zookeeper has just completed a rad piece featuring a dog wearing a space helmet outside of NEXT Hotel and there's also some pretty prominent Brisbane street artists' works in Burnett Lane towards Brew, including Guido van Helten.
6. Ann Street, Fortitude Valley
The Zookeeper suggests we take a closer look at the stretch in the Valley (when you don't have tunnel vision to meet your friends at the bar) where the camping shops and Kathmandu stand, as you've probably missed one of Brisbane's biggest pieces. Keep an eye out for a giant red painted background with a girl holding an orb.
7. Winn Lane, Fortitude Valley
Laneways are a great place to find street art gems. If you find yourself in Winn Lane, you'll spot a suave guy leaning up on the pole at the entry. But, it's what's in the lane that's really interesting. You'll spot a boarded sign high up on the wall with two sentences and a number one in the corner. This is a secret story plastered through the city over more than 20 boards. Number two is a street over in Bakery Lane, but you'll have to search for the rest yourself to learn the whole story. It's like a SECRET street art scavenger hunt!
8. Coronation Drive, Brisbane CBD
As a world first for Cirque du Soleil earlier this year, four painted murals were erected on the pillars along the Coronation Drive overpass to complement the cirque's TOTEM theme for 2014. These ones are likely to stick around a while, as they were all commissioned and approved by council.
9. The train, anywhere
Train windows offer an ever-changing art gallery, so The Zookeeper recommends hopping on for a few stops to see what you discover.
Keep an eye out for details on the inaugural Brisbane Street Art Festival in early 2016