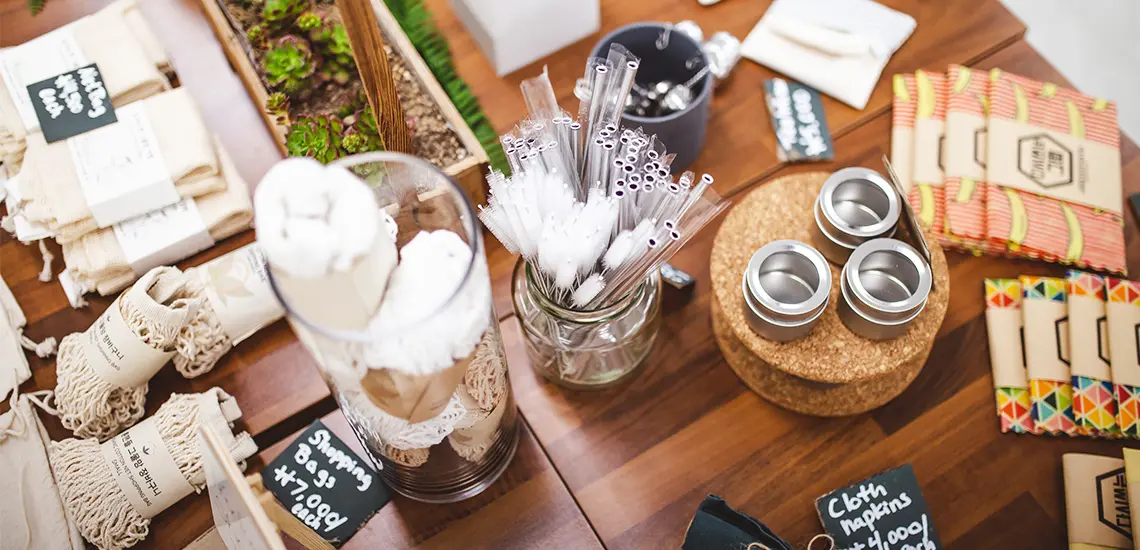 Act Now To Save The Planet: The Easy Eco Hacks You Didn't Know Existed
Yep, even with your superannuation
By Isabella Stephen | 1st October 2019

With the recent re-up on local fires, the Amazon fires and the general wake-up to climate change, it's about time we start doing more than just recycling a milk bottle. We've dug up some eco hacks you may not have heard about to get the ball rolling and start a change. On behalf if the world, we thank you.
Bamboo Toothbrushes
Lasting just as long as your regular plastic toothbrush there's not much of a difference when it comes to bamboo toothbrushes – minus the fact they're environmentally sustainable. In Australia 100 million plastic toothbrushes are bought every year being disposed of quickly after the purchase and take up to 500 years to break down in landfill. With the biodegradable bamboo brushes why not help out the environment by purchasing a non-plastic product. This one should be a no-brainer! Plus, they're very aesthetically pleasing!
https://www.instagram.com/p/Bw2Vja2hsXF/
You can pair your new bamboo toothbrush with the new MooGoo Moothpaste! Without containing synthetic chemicals Moothpaste is great for prevention of tooth decay and your gums. While most common tubes of toothpaste use hydrated silica which causes abrasiveness, MooGoo has found bentonite clay that is less abrasive for your teeth and environmentally sustainable too!
Everyone uses cling wrap. Whether you've brought lunch to work for the day or simply eating leftovers, it's likely you've cling wrapped (just have a peak inside the staff fridge at work and see how much plastic is in there!). But, with Beeswax wraps you can reuse, rewash and never throw out plastic cling wrap again! They're made out of beeswax with organic cotton, jojoba oil and coconut oil. Stretching over all products that the usual cling wrap can, and lasting from 6-12 months the Beeswax wraps are one of the best ways to sustainably contribute to the Earth. There's also now plenty of variations on the market so get shopping!
Energy providers who invest in green energy
If you're looking to up your sustainability game a bit more than purchasing recyclable and plastic-free bottles, consider another energy provider who specialises in green energy is a great and efficient way to give back to the earth! Powershop and Diamond Energy have both scored five stars in the Electricity Guide for the third time running, making them Australia's greenest energy providers. With Powershop, there are 'powerpacks' customers can purchase which provide special deals and discounts for proactive consumers. Diamond Energy is another green energy provider who is passionate about renewable energy and providing its sustainable customers with the cheapest deals.
Unless you've been living under a rock you'll know that a few weeks ago the Amazon Rainforest aka our earth's lungs were burning for days! Not to mention the Amazon's ecosystems that would've suffered immensely. As the Amazon produces 20% of the world's oxygen for us all to breathe we need to do something about the devastation that took place.
With Australian Ethical Super, you can switch your super now to help support the Amazon Rainforest. The funds go directly to the Rainforest Trust who is pursuing to prevent over six million acres of land from logging, mining, and oil and gas extraction. The land, which is protected, is then given to environmentalists who have the right to deny any companies that want to use machinery on the acres.
Every new member who joins between the 19th September and 3rd October will be saving five acres of the Amazon Rainforest in Peru; we've got to protect it while it's still there to save!
https://www.instagram.com/p/B2gMEp5nmtu/
Plastic-free razors
Believe it or not, our shaving routines are getting out of hand with more than two billion disposable razors being thrown out every year! With this in mind, we've done our research showing metal razors are more environmentally friendly to our earth than our regular plastic razors due to a handful of reasons. One being they use zero waste as the blades can be recycled and two, it will save you hundreds of dollars every year. Thirdly, they can be gentler on your body and don't cause any redness or ingrown hairs! Saving you money, being soft on the skin and being environmentally friendly all at the same time is a win for us! Here's a groovy rose gold razor to check-out.
Plastic-free Shower Products
Feel guilty about throwing your shampoo and conditioner, body wash, and cleanser bottles away when they're empty but in good condition? With Ethique and Daily Naturals (just to name a few), you can throw those bottles out feeling guilt-free and knowing you're doing the earth a favour. Daily Naturals packaging is 100% recyclable while constantly reducing their carbon footprint to help minimise climate change. Ethique, however, is 100% plastic-free! With the decision to go bottle-less as climate change statistics were too high for the company – one fact in particular that grabbed their attention is there will be more plastic living in the sea than fish by 2050. Their shampoo, conditioner and body wash bars are set to last months and packaged in cardboard soy inks – plastic-free of course!