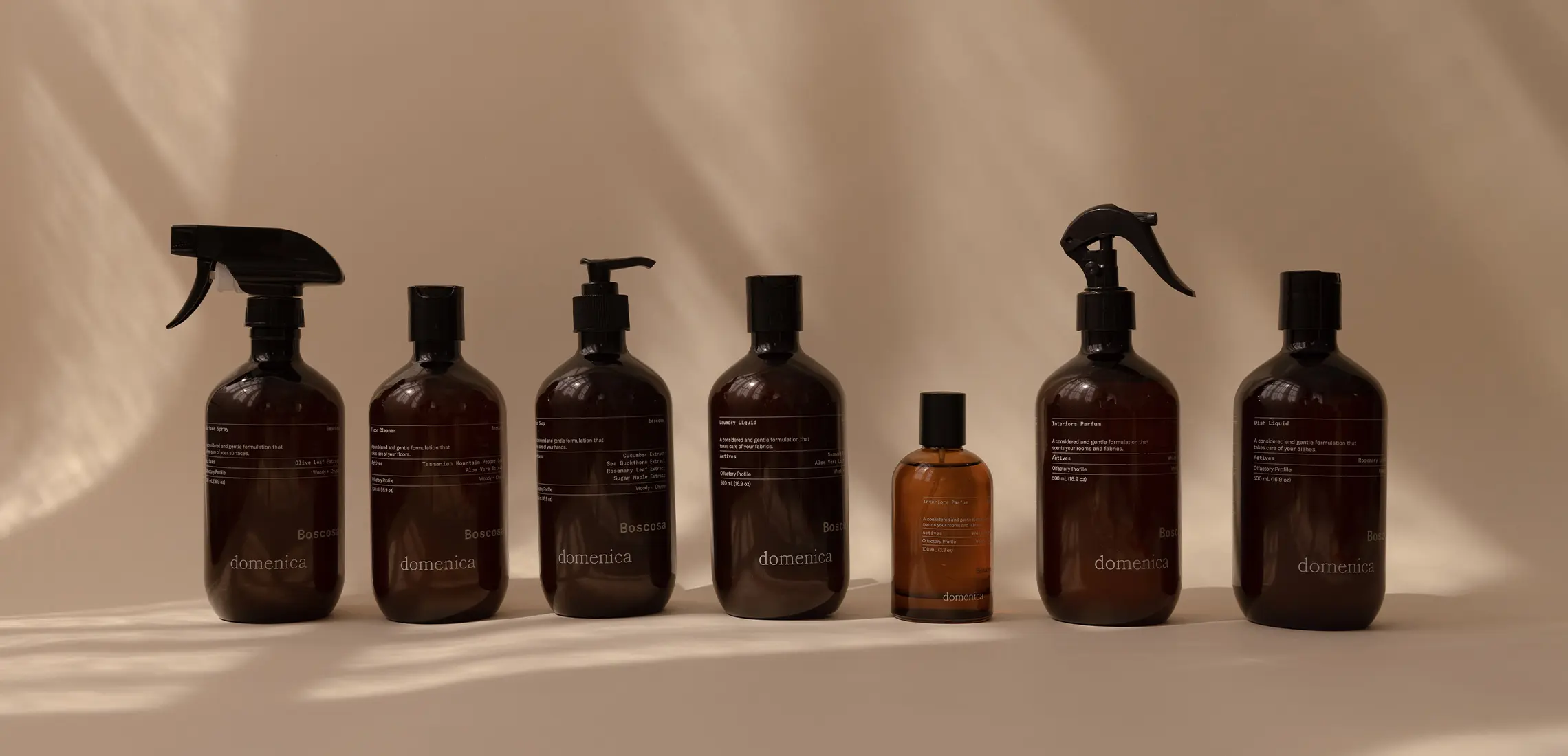 This Home Care Brand Will Make Your Home Smell Like A Boujee Hotel
Home care redefined
By Penelope Pelecas | 11th July 2023

My ideal day off is usually centred around cleaning, so when I came across Brisbane-based home care brand, Domenica (Italian for 'Sunday') Formulations, I knew I had to learn more.

Domenica offers a new approach to home care with premium scented cleaning products ranging from laundry liquid to surface spray. Not only do they smell divine – some would even say like a 'boujee hotel' – but they're also made from quality ingredients and 100 percent recycled plastic. Oh, and did I mention they look fabulous too? I sat down with Founder Leah O'Connor to learn more (and how to make your home smell like a luxurious hotel lobby!).
So, how did Domenica come about?
It came down to the old adage 'do what you love'. Having bought my first property when I was 23, I found great joy in styling my home, entertaining, and all things home care. For most people, our homes are our biggest asset – they are our sanctuary and a reflection of who we are.
The products available on the market were really falling short of my needs. I didn't want to use something that smelt like pine or lime, came in fluorescent packaging, or used harsh chemicals. I thought it was ironic that the products we were using to clean our home were actually our 'dirty secrets', kept hidden in cupboards and out of sight. So, I wanted to create a brand that was personal to me; that paid homage to the home care rituals passed down to me, used premium quality ingredients, smelt like a luxury fragrance, and was considered aesthetically pleasing – a sink side objet d'art.
What was the inspiration behind the name?
Sunday has always been my favourite day of the week. I love the slow pace of Sundays; it feels like a day to delight in ritual, whether that is resetting for the week, spending time with family, or cooking your favourite meal. The name was ideated by an incredibly creative talent, Chloe Livock, who is the brains behind most of our design work.
You mentioned the brand was inspired by the home care rituals passed down to you – how so?
I had a very special relationship with my nanna and poppy. I spent a lot of time with them growing up and they were my best friends even into adulthood. They took great pride in their home – you could eat off any surface, from the tops of cupboards to the floors. My grandmother had lots of little rituals for making people feel at home in her house. I always felt cared for and comfortable; when I think of unconditional love, she comes to mind. The kind of feeling I hope people have when they come into our home now.
Can you tell me a little bit about the brand's signature scent?
I had a really powerful experience of scent memory on a trip to New York City with my husband. We stayed at a beautiful little boutique hotel in Soho, and they had scented all of the common areas. We didn't realise until we were back in Australia months later – we would come across that scent and look at each other and without even having to say anything we knew we were both being taken back to those memories. That is the fragrance we have recreated with Boscosa. Now I hope it conjures up special memories of 'home' for our family and friends.
What are some of the hero ingredients?
Each product features a bespoke blend of natural actives meticulously selected for their distinct qualities and tailored to its specific cleaning application. All of this ingredient information can be found on our website. For example, our Floor Cleaner has been formulated with Tasmanian mountain pepper leaf extract, which has natural antimicrobial, antifungal, and antibacterial properties. Our Laundry Liquid has been formulated with natural stain and odour-removing enzymes and conditioners of seaweed powder and aloe vera leaf juice. Each product in our collection follows suit, embracing the same level of innovation and attention to detail.
Do you have a favourite product?
That's like asking me to pick a favourite child! I'm really proud of our Laundry Liquid and Interiors Parfum. A little tip for those that really love the sensory experience: I spray our laundry with the Interiors Parfum when I hang it out to dry as well. And if you want your whole house to smell like a 'boujee hotel' (our customers' words), then I love using our Surface Spray and Floor Cleaner for a deep clean. People have commented that they can smell our house from the street.
You're a soon-to-be mum of two, how do you juggle it all?
I have a very supportive husband who made the transition into both my business and motherhood much easier. I did have to pack orders the day I came home from the hospital with my daughter.  So, we turned off all our marketing for her first six to eight months so we could really take things slow and enjoy that time. We have found a great rhythm now – she is in daycare two days a week, which she absolutely loves and has the most beautiful educators taking care of her, so I try to do most of my work on these days. It has been a juggle though; there have been unexpected big days where I have had to call in the help of friends, family, and even my lovely neighbour. It certainly takes a village, and I am very lucky to have a beautiful one around me.
What's next for Domenica?
We are very strategic with the products we launch. Our community has been asking for body wash and candles, so this is something I am currently exploring, and we are also working with a European fragrance house to develop new scents for our collection. These things take time, unfortunately – what we think might take six months ends up taking two years to perfect, so I think any new products will likely be launched in 2024.
FAST FIVE
One sentence to introduce yourself…
I'm a mother, a wife, a homebody, a cooking and interiors enthusiast, a bit of a hopeless romantic, and I'm obnoxiously punctual (except when it comes to texting – apologies to anyone currently waiting on a response from me!).
What's your signature scent?
Goes without saying Domenica's Boscosa fragrance, but personally, I do love Grand Soir by Maison Francis Kurkdjian.
What's on your vanity?
ILIA Multi-Stick, Saie Dew Blush, Saie Glowy Super Gel, Go-To Very Luxe Face Cream, and L'Oréal True Match Foundation.
You never leave home without…
Lucas' Papaw Ointment.
On Sunday, you'll find me…
With my little family. We usually spend the morning together, then my husband will entertain our one-year-old daughter, while I do some cleaning and make one of our favourite meals – my signature Chermoula chicken is on high rotation.