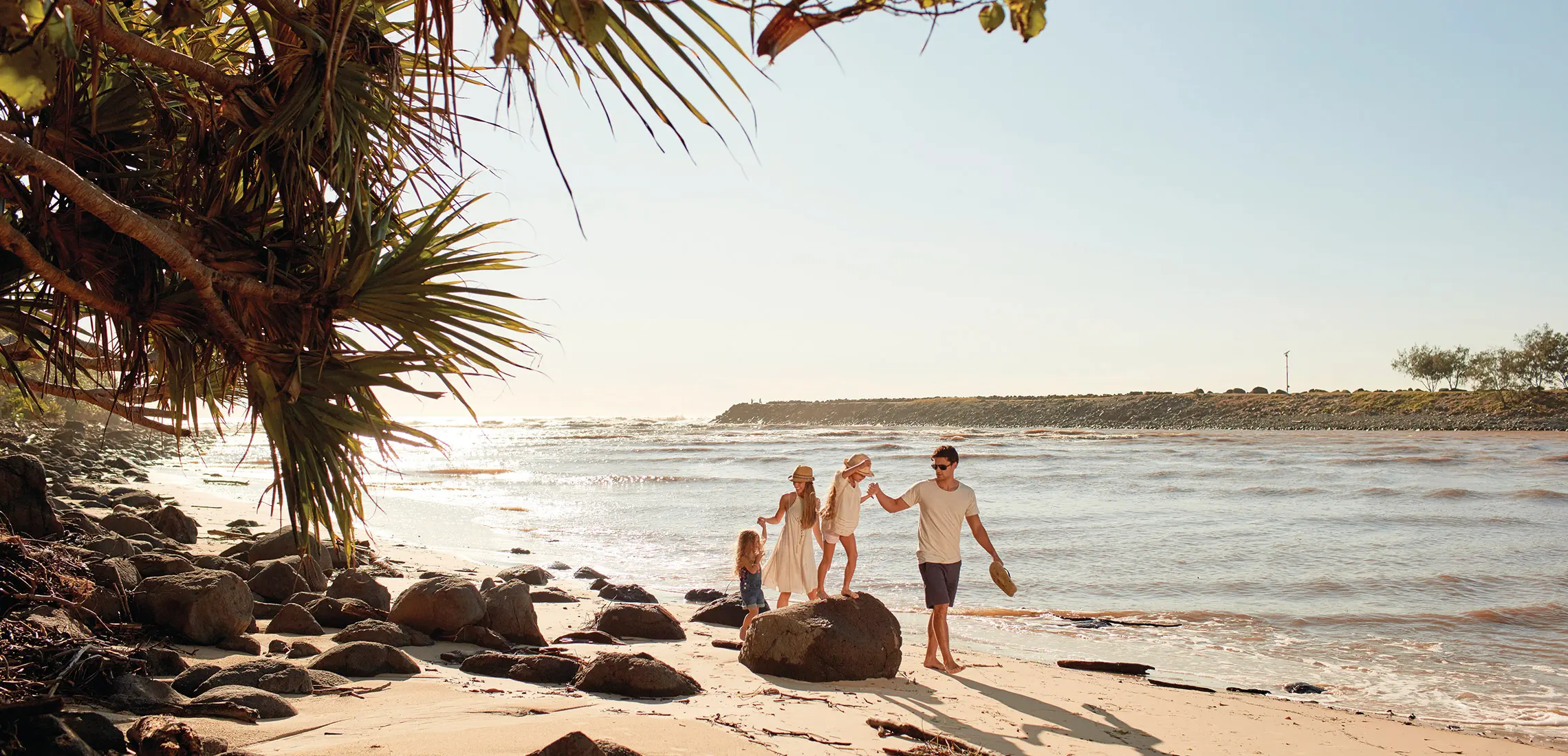 Craving a Little Adventure? Here Are 15 of The Best Day Trips Near Brisbane!
Let the adventure begin!
By Guest Styler | 9th February 2022

Feel like escaping the hustle and bustle of the city? Make the most of this weekend and explore the natural beauties hidden within our Sunshine State.

There's plenty of must-see locations near Brisbane, from natural rainforests, crystal clear beaches and spectacular mountain ranges. Pack the car and a sense of adventure – it's time to discover the best our backyard has to offer!

Drive: 1 hour 25min (112km)

South East Queensland, you never seem to disappoint. Just over an hour from Brisbane City is one of Queensland's best kept secrets. The Main Range National Park is home to mountain peaks, rare wildlife, native flora, and breathtaking views. As a part of the Gondwana Rainforests with a world-heritage listing, you can choose from walks under a kilometre long to extensive 12km tracks, with platforms and natural lookouts for optimal viewing of the beaut surroundings. What's better? You get to drive through Scenic Rim to get there (Yes, this means you can pop by the Granite Belt for a tipple afterwards!).

Drive: 26 min (19.5km)

Your doggos may now be used to extra walks and belly rubs due to most of us working from home, so perhaps it's time for some off leash fun? Hit up Nudgee Beach Dog Park for some salt and sand to have their tongue hanging and tail wagging. It's just far enough to excite them on the drive but not so far that mum will have to make an unplanned toilet stop!

Drive: 20 min (13km)

Now, Mount Coot-tha may not be a secret, but the panoramic views never disappoint. There is plenty to do in the Mt Coot-tha region. Hit up the Mt Coot-tha Library for a quick gander at world-class botany literature! Or go for a stroll at the Brisbane Botanical Gardens located at the foot of the mountain. For the adventurous type, explore the unmissable trails that will lead you to J.C. Slaughter Falls and Simpson Falls, where you can cool off in the summer heat. Can't get enough of natural water holes? See our top picks here.

Drive: 30 min (38.6km)

Need another excuse for a Yatala pie? Buckle up for the ultimate movie night! We've had Netflix marathon after marathon but that hasn't satisfied our craving for salty popcorn, and the experience of 'the big screen'. This month we're being treated to a range of flicks headlining at the Yatala Drive-In. From the comfort of your car see a range of new releases and iconic classics with retro vibes aplenty. Book your tickets online here.

Drive: 1 hour 27 min (91.9km)

Whether you're up for a dip or want to create your most picturesque picnic yet, Bellthorpe is your destination. Located just west of the Glass House Mountains, you'll find this eucalypt forest a well-loved spot by locals and adventurers alike. Mobile service is limited which is an extra bonus for tuning out of the nine-to-five life and tuning in to nature. Are you up for it?
Mount Mee | Moreton Bay Region
Drive: 1 hour 10 min (73.1km)
Part of the D'Aguilar Range, Mount Mee Forest Reserve is known for its open farmland and striking mountain ranges. The peak gives views to the seaside of Caloundra and Moreton Bay, meaning epic IG snaps are borderline guaranteed. You can thank us later (and tag us @stylemagazines!).
Don't mind the longer drive or want to make a weekend of it?
Take a few days off to unwind beachside just 40 minutes up the road or duck out for a 24-hour adventure – the choice is up to you! Here's our go-to suggestions to get your head clear and your adventures into gear.
Drive: 30 min + 1.5 hours ferry (47.2km)
Tangalooma – the home of nightly dolphin feeding, Australia's most famous sand dunes, and the beloved snorkelling around the Moreton Island shipwrecks. The little paradise overlooking 30km of Moreton Bay boasts faint views of the Brisbane skyline for an idyllic day-scape. A small-scale version of Hawaii, you'll want to make your day a week-long holiday at the famous and loved Tangalooma Island Resort! Decked out with cafés, restaurants, swimming pools, convenience stores, and endless activities to choose from, there's no better escape than Tangalooma. Everything from adrenaline-induced activities such as quad biking and helicopter flights, to those who want to simply enjoy the sea and sand, there's something for everyone (we suggest: kayaking, whale watching, and snorkelling around the wrecks). Jump on the ferry and you'll be in paradise in no-time.
Drive: 1.4 hours (127km)
Home to some of the most immaculate and well-kept gardens, Toowoomba is one impressive town to visit! If you're a plant or flower fiend, then this is a trip for you. Queens Park and Botanic Gardens is your best bet to see beautiful rose gardens and flourishing florals, certainly worthy of an Insta pic. After all, it is the town that prides themselves on the Carnival of Flowers annually, so why not check out what they've got to offer? However, if you're up for more of a road trip, then driving another 40 minutes south you'll find yourself in a tiny town named Clifton, known for its stunning sunflower fields. With a fresh renovation, the Grand Central shopping centre has never looked better and is worth a pitstop too, decked out with plenty of notable go-tos for a retail fix.
Drive: 1 hour (87.9km)
Burleigh Heads is a home away from home for many of us. Welcome to one of Queensland's finest destinations, where there are endless little boutiques, cafés, unique restaurants and more in the easy-going beachside town. On the notorious Burleigh Hill, locals are head to toe in wetsuits holding their surfboards – this is the place to absorb the fresh salty sea air and relax far away from the city. Roughly an hour from Brisbane's centre, it isn't far once hitting the highway, though it will feel like you're miles away from the everyday. And if you're not short on time, catch the cotton candy skies, as the sun sets over the coastline from your seat on the headland – one you must see to believe!
Drive: 1 hour 10 min (75km)
This is the spot for early morning hikers and rock-climbers alike. The highest of ten volcanic plugs in the Glass House Mountain range, Mt Beerwah is known for its panoramic natural views from its peak (pretty damn satisfying after a hike). While this is no average hike – you'll find it more rock-climbing than hiking – it is very do-able and worth the sweat for avid adventurists.
Drive: 33 min (23km)
Brookfield is a venture out for most, so it will surprise some that after the drive you're still in Brisbane. The Brookie Reservoir is a notable local attraction that can be a touch tricky to find. At the very end of Gold Creek Road, you'll find this well-hidden, exquisite gem. With several kilometres of hiking tracks carved into the Australian bush terrain all surrounding the scenic dam, get lost and immersed in nature. Constructed in 1885, it is the world's first un-reinforced concrete stepped spillway (this means giant concrete walls to jump down!). While water activities are prohibited, it is a spectacular spot to picnic, overlooking the glimmering expanse of water.
Drive: 1.5 hour (106km)
With a great network of tracks, Lamington National Park is a splendid place to explore for all adventure levels. Walk along the West Canungra Creek Circuit and follow flowing creeks, or take the treetop walk at O'Reilly's, passing through lush rainforest and past various waterfalls. Abundant with wildlife and birds, keep an eye and an ear out for lyrebirds, bowerbirds and plenty of lorikeets. Kids (or big kids)? Break up the trip with a stop at Mountview Alpaca Farm and feed the alpacas while taking in the scenic views stretching across to Tamborine Mountain and the Gold Coast.
The Gorge | Stradbroke Island
Drive: 2 hours (64km)
This stellar swimming spot is loved by many Queenslanders. Attracting the boldest cliff jumpers and rock climbers, there are several daunting levels to this rock formation. For the more-timid, however, there are smaller rock climbs and jumps that are still especially exhilarating. The crystal water is enough to get us to jump! This narrow stretch of beach will seem more like Crete than Queensland, with blue and white umbrellas perched on the sand.
Drive: 1 hour (74km)
This is a light show you're not going to want to miss. With no lines and no entry fee, you'll be in awe of the natural wonder that is the glow worm caves. Once an eerie rail tunnel dismantled in the 40s, it now provides us with an ethereal source of underground light. Although sounding unpleasant, you'll quickly get over the fact you're looking at larvae and fungus. They are a spectacular site, right next-door in NSW. You'll think someone has been walking around spraying glow sticks through the depths of the cave!
Drive: 1.1 hour (97km)
This creek will fuel your swimming spot goals for months to come. Bordered by Palm Beach and Burleigh Heads National Park, Tallebudgera Creek is known for its calm, glimmering water – it's easy to see the appeal. This long-stretching creek spans several kilometres; however, its main swimming section is situated next to the Tourist Park. Water sports are a go on this creek with canoeing and paddle boarding being our top pick! Or put your feet up and inflate that pink flamingo ring you packed handy, while you spend the rest of the weekend floating on the creek's tranquil water line. Your Instagram followers will love you for it.