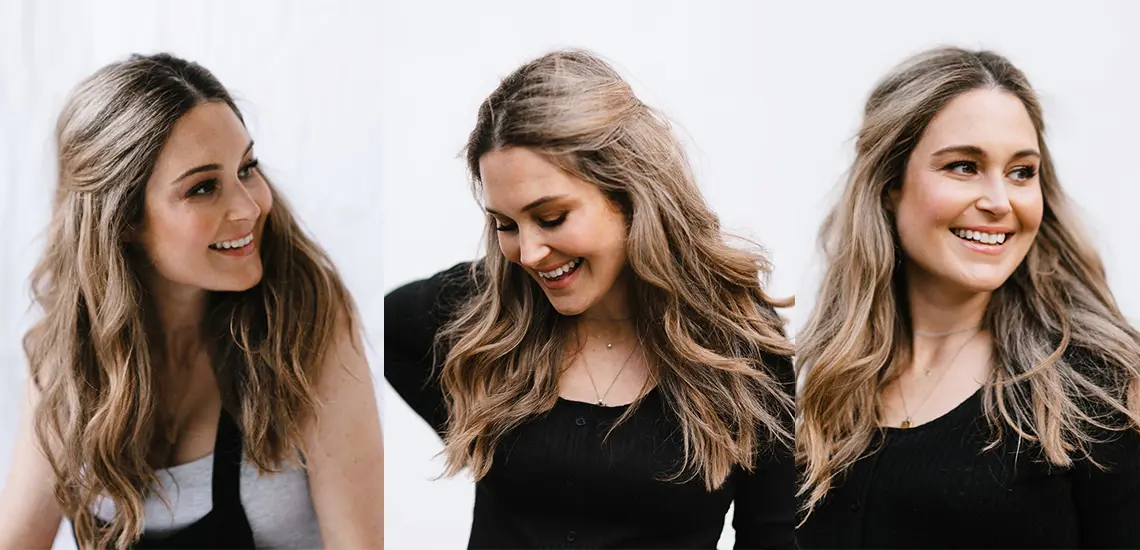 A Chat With The Lady Behind Damselfly
Home of the original quote candle
By Guest Styler | 8th April 2020

We caught up with Christianna Heideman, the Creative Director of Aussie lifestyle brand Damselfly, to chat motherhood, business and that elusive work-life balance.

Tell us a little about your career and how Damselfly was born:

Over the years, there's been two main phases of the Damselfly brand and now we're entering a third. Damselfly was originally born from my love of jewellery, I launched the label about 15 years ago when costume jewellery was really having a moment, then around six years ago, I re-branded and re-launched with a homewares focus (enter the famous quote candles!) and last year, we released a wine range which is taking us on a whole new journey again.

What does a day in the life of a Creative Director look like at Damselfly?

Well I just had a baby four months ago, so my day looks a lot different to what I'm used to at the moment! I'm now juggling working from home and looking after the little fella, which means my day starts at 6am (that's if you don't include getting up to feed at 2am and 4am..). Once Léo is ready for the day, I make myself a big black cup of coffee and write a list of goals for the day. This is essential and really helps me to focus on the priorities rather than jump all over the place – as with any business, there's always a lot going on and everything is always urgent. Then, I get on top of emails and Instagram posts before getting stuck into my list. I also tend to work through any design/copy-based tasks before 1pm while my mind is still fresh. I'm lucky enough to have the help of my mum/fiancé/mother in law/nanny who all take turns in looking after Léo for a few hours in the morning so I can knock out my work. I discovered early on that I can't work efficiently and be a present mum at the same time, so I've made sure to really separate the two. When I'm working, I'm working. When I'm with Léo I'm in full mum mode.

What's the one message you want to get across via the Damselfly brand?

Always be authentic and try not to take yourself too seriously (okay that's two messages, but I couldn't narrow it down to one!).

What does the Damselfly brand stand for, what makes it different to other products in the market?

With everything we do, it's important for us to connect with our audience – we're not just making candles with pretty flowers on them, there's a message and a story behind everything we do.

Damselfly is known for its sassy quotes and beautiful designs, where do these come from or what are they inspired by?

The inspiration can come from anywhere, although usually a range is inspired by where I'm at in life at the time. Kinda like a candle self-portrait in a way…

For example, a while back the quotes got quite aggressive and a little dark after a bad break up, whereas now, I'm head over heels in love and so the tone really reflects that. Basically, if you look back through each collection you can get a little glimpse into what was going on in my life at the time.

Tell us about the process of starting your own business. If you could go back in time, would you do anything differently?

The process is lengthy with so many layers and phases. But essentially for me, it starts with a passion for something that translates into a marketable product, then living and breathing it 24/7. I've learnt a lot of lessons and I wouldn't necessarily go back in time and change the mistakes as they've taught me such valuable lessons that you simply can't understand until you feel it first-hand. But one thing I will say is, it's so important to partner with people who have strengths in the areas you are weakest, and also being able to identify your strengths and weaknesses rather than trying to do everything yourself.

How do you think being a woman, whether positive or negative, affected the start-up process?

In my experience (living in Australia) I don't think it's about being a man or a woman. I've found that achieving success and effectively moving through the start-up process comes down to hard work, jumping at opportunities when they arise, a deep passion for what you're doing and continually evolving and adapting. Don't get me wrong, at times I have felt an imbalance in the workplace, but the way I deal with it is to charge through, ignore the bullshit and prove my worth.

What advice would you give to young women starting out, possibly dreaming of a starting their own business as well?

Whatever you do, make sure you're passionate about it. So many people start businesses based on how glamourous it seems from the outside, but it is really tough to keep a small business afloat and if it's not your passion, you'll find it hard to keep pushing through. You need to really feel it from the depths of your soul and be in the game for the right reasons.

How would you define your business motto?

No risk. No magic.

Where do you see the company going in the next few years?

Since having Léo, I've cut back on time-consuming projects that suck my time and energy and shifted focus to what I feel truly aligned with and that brings me the highest reward. Working smarter not harder! There are some exciting new products and partnerships in the pipeline this year that will really expand our product offering. Essentially, we see the company evolving into more of a lifestyle brand vs a 'candle brand'. Watch this space.