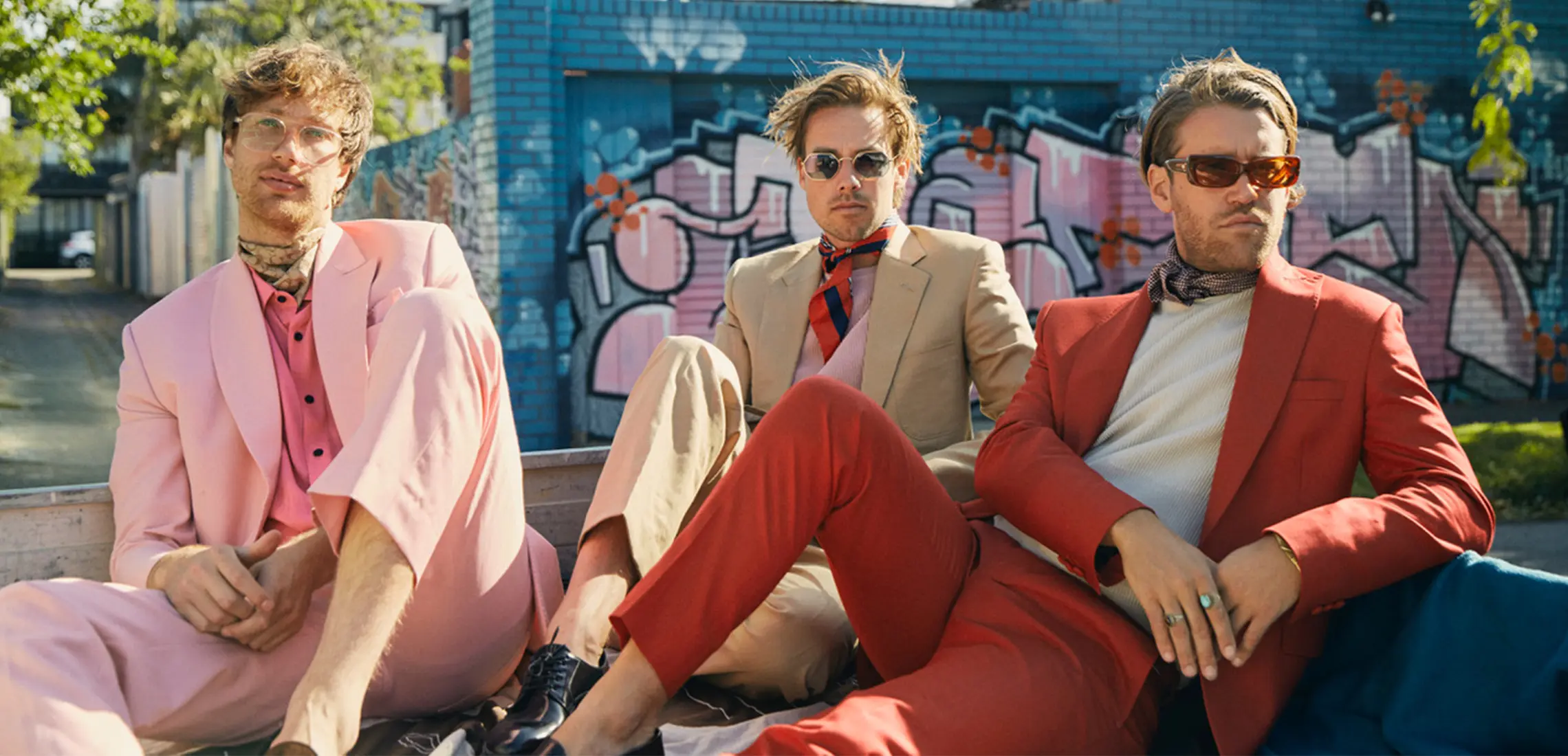 We Talk BMX Gangs And Party Anthems With Crooked Colours
You've heard them, now know them
By Dinushka Gunasekara | 25th March 2021

While they may fall under the electronic dance category, Crooked Colours isn't your average oonts, oonts, oonts. The acclaimed Perth trio have been turning (and bopping) heads with their harmonious intersection of lowkey acoustics and synth beats bound for a boogie. But hey, their 50+ million streams, sell-out shows, and festival gigs speak for themselves.

We snagged Leon, Liam and Phil for a quick chat before they jump on a floating flamingo for The Island LIVE at the fully refurbished Komune Pool Club this Easter Saturday. From their fresh new single to their go-to party anthems, get to know them before getting down on April 3!

Tell us the meaning behind your name…

It's an outlaw BMX gang that the three of us used to run in primary school.

In your opinion, what makes the perfect dance song?

Something that can get people moving on the dance floor but also a song that can be enjoyed at home alone. We don't believe that the dance genre is necessarily restricted to the dance floor – it's the reason we have been able to release our music during a time of restricted dance floors.

You have a new single! Tell us about making 'No Sleep'…

We've always tried to meld emotional lyric content with dance production ideas and 'No Sleep' is a perfect example of that. At the heart of it, the song is about someone who treated a relationship with a sort of arrogant nonchalance and didn't truly appreciate it until it's too late. It serves as a reminder to hold onto the good things we have and to not take them for granted.

You also recently performed in Brissy – how did it feel to be back on stage? Incredible! Words can't describe how much it meant to us to be back on stage doing what we love with our fans who we love.

I'm heading to a house party next weekend and I'm in charge of the playlist – what are your go-to party anthems?

Anything from Slowthai, Mura Masa, Dua Lipa, or Sheck Wes.

What's in store for Crooked Colours?

Album three is in the works! Overseas touring as soon as we are allowed. Getting back on stage any way we can.

We're also excited to be throwing down on the decks this Easter with two big shows for The Island LIVE – we'll literally be on an island at Sydney Harbour on April 1, and then we have one day for recovery before a big poolside set at Komune Pool Club in the Gold Coast on April 3. These DJ sets are always such a big vibe and a much more relaxed environment for us to mingle with fans. We're genuinely so excited for the Gold Coast venue – it looks like a big vibe and we are huge fans of the Sunshine State!

Tickets for The Island LIVE are running out the door faster than a festivalgoer to the next set – grab yours here.