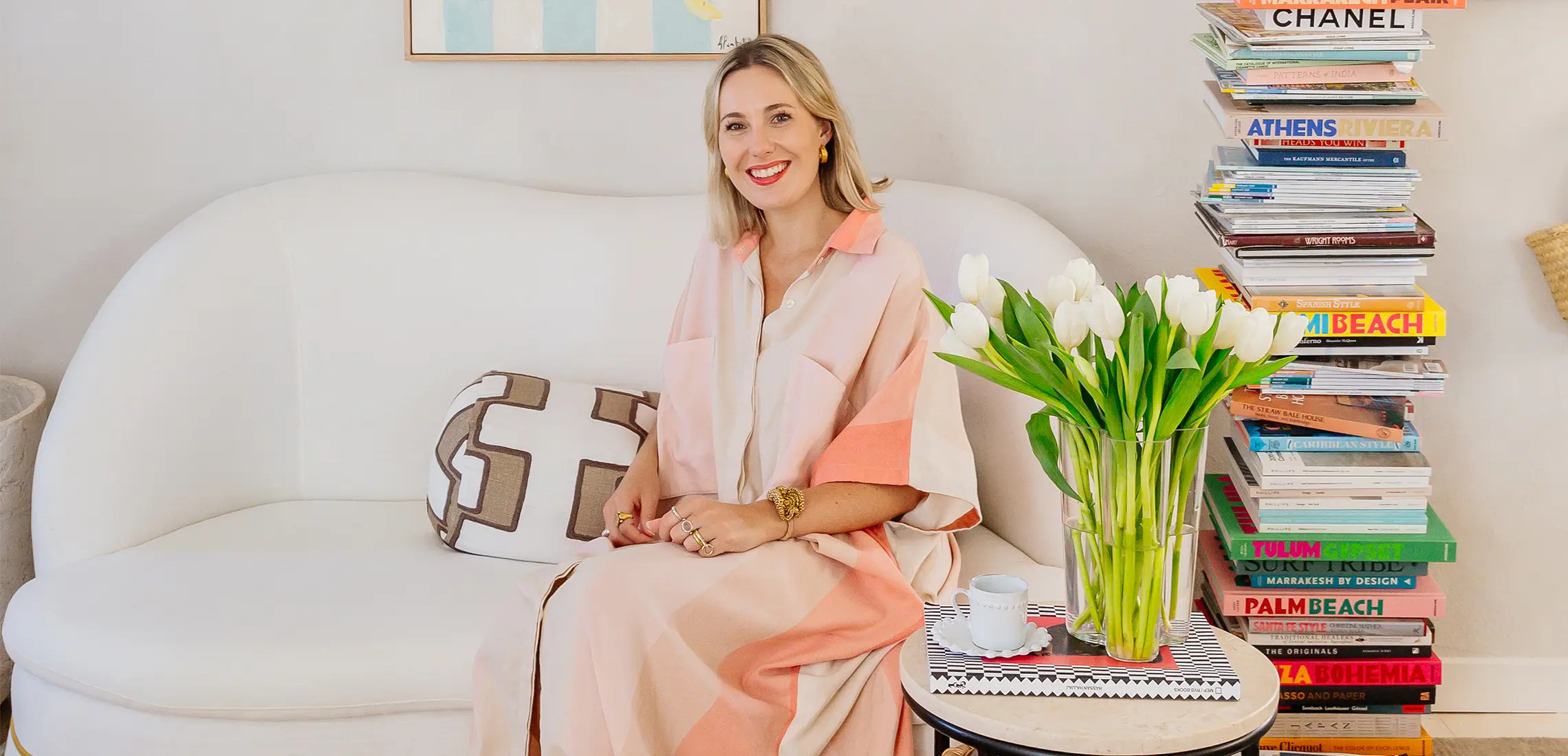 Design Files: Five Minutes With Noosa's Chicest Interior Stylist, Chloe Tozer
Inside her 9-5
By Astrid Taemets | 17th May 2022

Inspired by visits to exotic destinations like Morocco, Indonesia, and Asia, Chloe Tozer – one half of Noosa Junction's CLO Studios – lets us into her world where trinkets, memories, and an eclectic art collection are the driving force behind her inimitable interior design aesthetic.

From defining her interior style to can't-live-without pieces, here's a look at how this design master maintains a smooth operation. 
Hi Chloe! We love your interior aesthetic. How would you describe your style?
My interior style is inspired by past experiences, travels, and memories – a mixture of new and old. I'm a huge art lover and collector, and I am constantly drawing inspiration from paintings, sculptures, and photography.
Tell us about your office space:
CLO Studios' office space is a beautiful light-filled, calm environment that sparks creativity, helps me think clearly, and is where I feel focused and empowered. The palette is light with soft colours and textures brought to life by edgy fabrics, marble offcuts, and paintings. The space is decorated by pieces collected over the course of my journey. My collection of old design and art books are stacked to the ceiling, while my art collection layers the walls. One of my favourite pieces is our kitchenette tap I found on a buying trip to Morocco. When I use it, it brings back memories from my time there. I also love fresh flowers, and often pick some straight from our showroom garden.
What are some must-have items in your office space?
Books, books, and more books! I also couldn't go a day without my Malfatti Glass mouth-blown carafe – a beautiful brand we now stock at CLO Studios.
What does a typical day look like for you?
I like to start my day early. Arriving first gives me the chance to visualise a successful day for myself and my team. I'll attend to emails then head into meetings with clients, and collaborative workshops with my design team. Lunch is usually from my favourite café, Vanilla Food, then I might pop into the showroom to say hello to the team and chat with customers. 
What's in store for CLO Studios in 2022?
We have an exciting year planned with a rebrand and new website on the horizon, and CLO Studios' interior design studio is soon to be CLO Studios Atelier. We're currently renovating our design studio and we have a renovation planned for the showroom, which we cannot wait to share with clients and customers. 2022 is proving to be our biggest year yet!