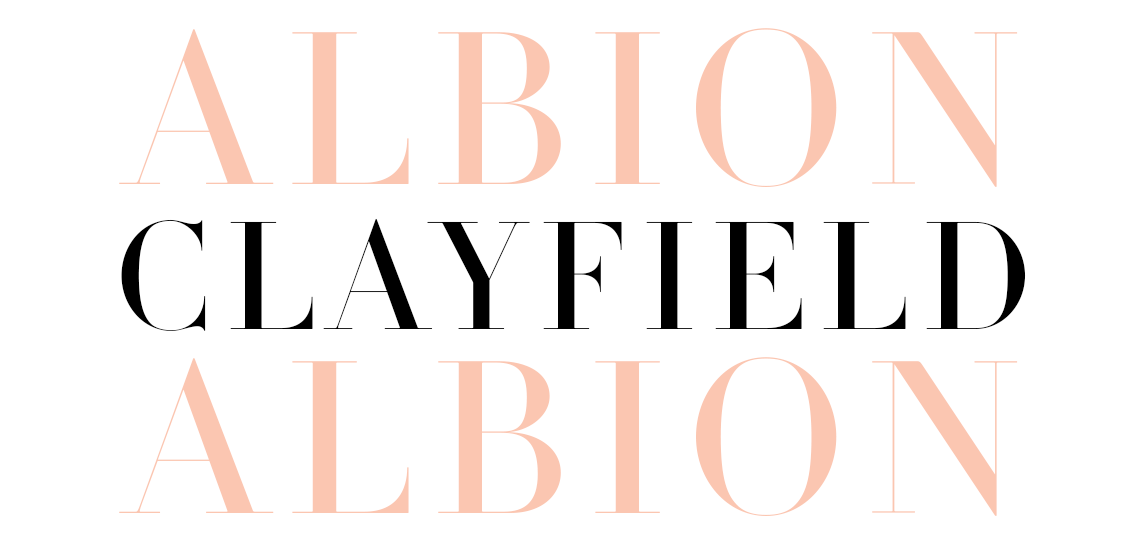 Where To Shop, Eat, And Play In Albion And Clayfield
There's always more to explore!
By Guest Styler | 14th July 2021

Two suburbs rich in heritage, the streets of Albion and Clayfield are filled with bustling cafes, gorgeous antiques, fresh produce, and an abundance of top-notch restaurants.

Some of the best finds are nestled in between warehouses in the most unassuming of streets – a real hidden treasure hunter's dream

The eclectic mix of history and new age funk is what gives these two suburbs such a unique flavour! Discover the businesses that make these suburbs shine.

An Albion icon, the Breakfast Creek Hotel, or, the infamous 'Brekky Creek', is forever ingrained in the spirit of generations of Brissy locals. This hotel's winning formula has stayed the same for decades – unbeatable steak, cold beer, and sweet live music. Inside this grand, French Renaissance-style hotel, built in the 1800s, you can wander through four different function rooms, each one beaming with a unique ambience, so that you can find your perfect match.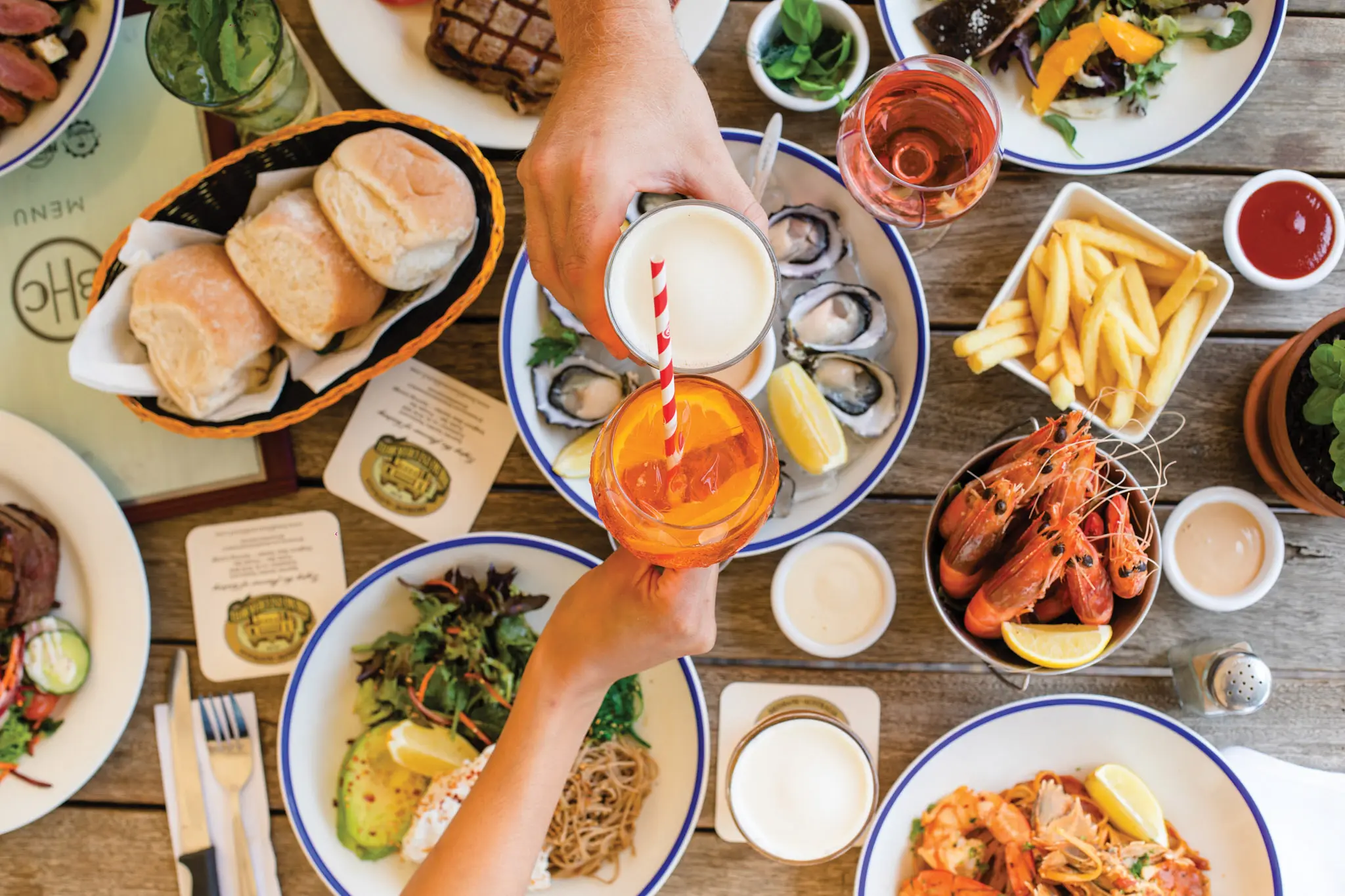 Sitting on Sandgate Road in a stunning heritage-listed building, Olive Thyme has been an unassuming space for the past three years from the outside. But one step inside and you are immediately transported to a local family-run restaurant in Turkey thanks to the aroma of spices and carefully curated antique décor.
Proud husband and wife owners (and self-confessed food enthusiasts) Yalcin and Sibel, bring their love of traditional Turkish food to the people of Brisbane and beyond, but served with a modern twist. Each recipe on the menu has been passed down from generations, every dish is made from scratch, and all of it is made with love and passion – Yalcin often getting in touch with his inner child in the process. "We feel like Olive Thyme is our home and our guests are our best friends," says Sibel. And this sentiment rings true every week, whether it's celebrating birthdays, anniversaries, or family catch-ups with the kids (there's even a dedicated children's play area), Yalcin and Sibel's team are ready to make sure everyone who walks through their doors feel like they're right at home.
Food and wine lovers through and through, the amazing flavours of their Turkish heritage sings through every dish on the menu such as the grilled WA octopus, the chef's special creation dish of haloumi, Turkish garlic sausage with fig purée, and their signature kunefe dessert. Pair them with a huge range of local and imported wines from all over the world and relish in a truly heartfelt dining experience.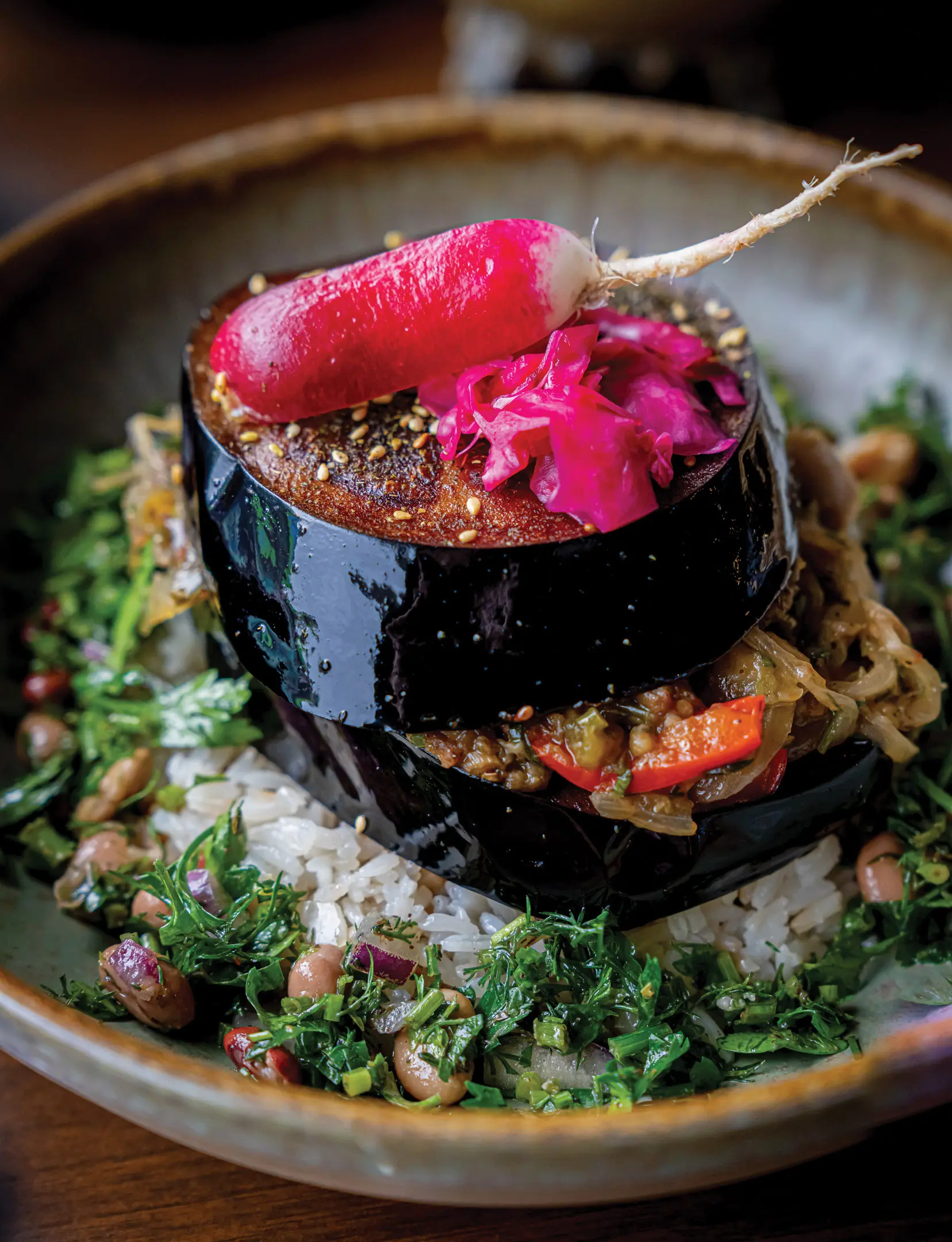 Many locals will hear the name Fonzie Abbott and immediately think of their delicious and smooth everyday coffee blend. It's an iconic Brissy brew, but over the years the roastery has evolved into something so much more than just great coffee! On Fox Street, tucked away in Albion, you'll find the moody and humble Fonzie Abbott headquarters casually dishing out beers, spirits, and pizza at the award-winning onsite distillery and Taproom.
Their two dine-in spaces, Fox St Cafe and the Taproom are also available for private hire. Plus, catch them roasting their famous coffee beans, and serving up great food and grazing boards amongst friends, all with the Tune-Up Barbershop upstairs to nip in for a quick haircut. You could say it's a one-stop shop for everything you need in a weekend! "People said I was crazy to start a business competing in four of the most competitive and saturated industries – food, coffee, beer, and spirits – but we have pulled it off and it's buzzing with excitement," says owner and founder, Dan. Whether it's breakfast, a long lunch, dinner, a nibble, a tipple or more, Fonzie Abbott's offerings cater for every kind of craving. Grab your mates for a round of pool at the Taproom and don't forget to grab some merch on your way out!
Having just celebrated 25 years since opening, Clayfield Hairlines is reminiscing on their success and client relationships – but not without looking forward.
Businesswoman, local community supporter, wife, and mother to three kids. These are just a few of the titles that make up the founder of Clayfield Hairlines, Simone Klinge. Starting her apprenticeship at Clayfield Hairlines just after finishing her final year of high school, Simone and her team of passionate hair stylists and colourists just celebrated 25 years of opening the salon this April – talk about a milestone! It's their ability to constantly build meaningful relationships with clients that make Clayfield Hairlines more than just a hair salon. Rare to come across in our fast-paced era, Clayfield Hairlines offers an escape from the hustle and bustle lifestyle – a sanctuary that prides itself on making each individual person feel like the best version of themselves. It's no wonder Simone says she loves, "catching up on the latest episode of you," when a familiar face walks into the salon.
With over 30 years of experience in the industry (and taking over the established business from her former boss), striking the right hairstyle for each client's unique lifestyle is at the forefront of Simone and Clayfield Hairlines' work. Each stylist has gone through thorough training and taken on fundamental skills that enable them to offer advice in all areas of hair, whether that's difficult hair corrections, or simply giving a second opinion, which is incredibly invaluable.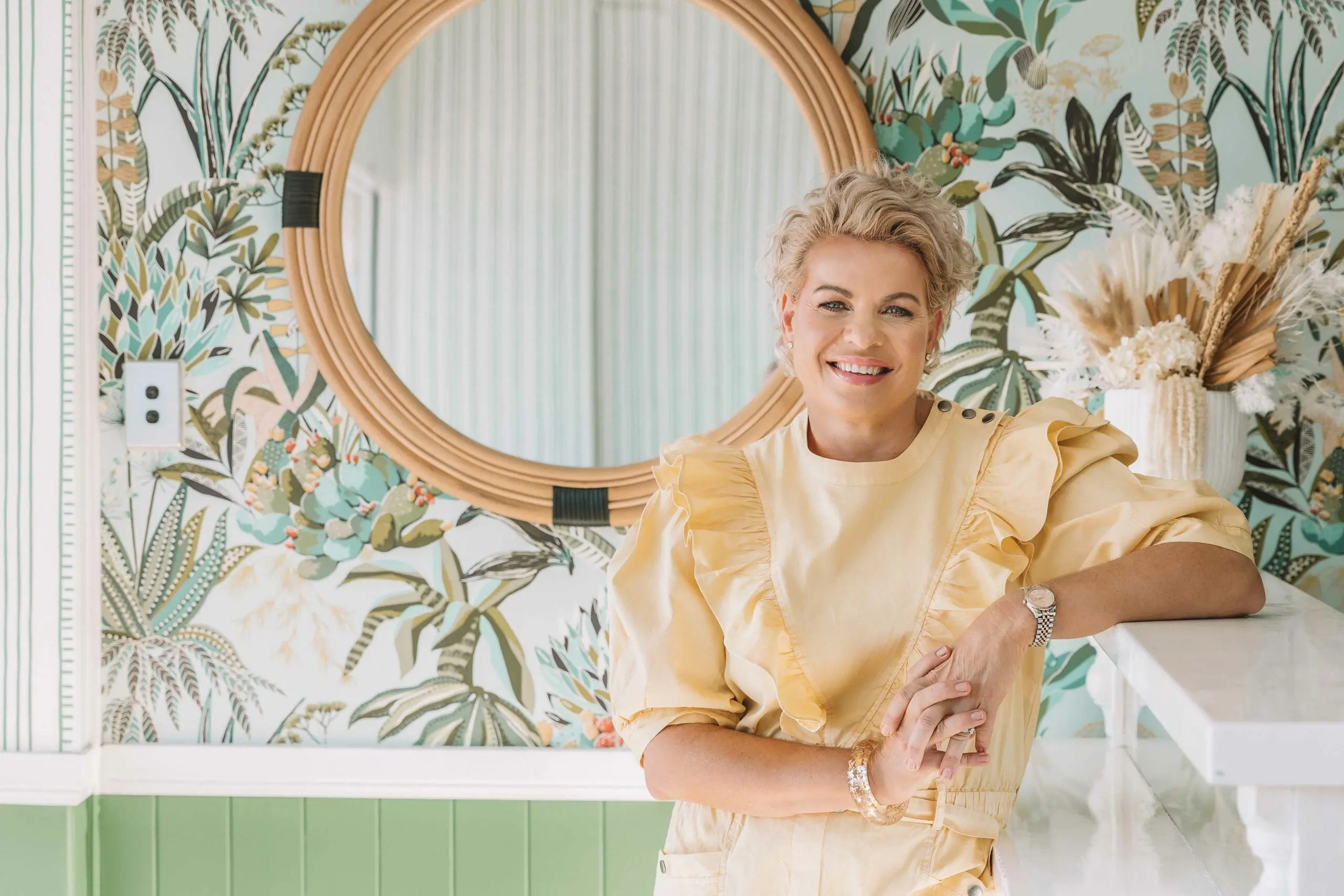 Perched amongst the picturesque and historic surroundings of Queensland Cricket and Allan Border Field is The Pavilions, a refreshed vision for hosting events with ever-impressive views. Boasting a glorious leafy outlook, this charming venue is suited to any event, including weddings, conferences, meetings, seminars, cocktail parties, or an all-occasion celebration. With flexible space, AV facilities, and renowned culinary delights cooked on-site by experienced chefs, The Pavilions have everything you need to make your next function unforgettable.
Keen to get into incredible shape? Look no further than 12RND Fitness Clayfield. This world-class boxing concept founded by world champion boxer, Danny Green, is designed to get you into peak fighting shape. Find full-body workouts (12 x 3-minute rounds) every day with a highly experienced trainer to guide you through every session. But it's not just about the workouts, there are boot camps, social events (check out @12rndclayfield), and more. Their members often say they come for the workout and stay for the fun!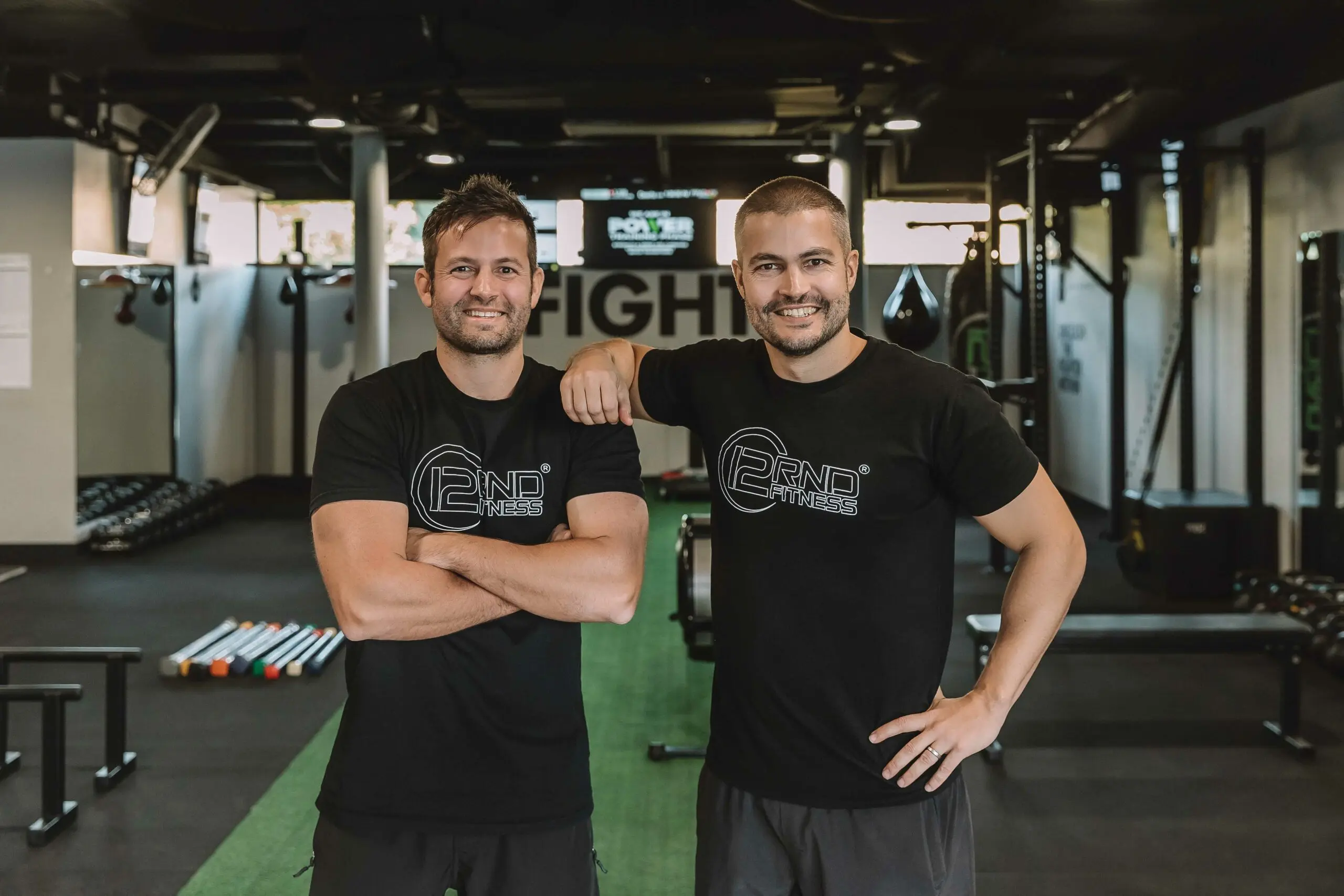 Blonde, black, and everything in-between, there really is nothing better than the feeling of freshly cut, coloured, or styled hair to give yourself a little boost of confidence. At Black Avenue Hairdressing (BLKAVE), you can rest assured your hair will be in the best hands. The team inside this lovely, Insta-post-worthy salon are made up of six hairdressers, each with their own personal style and unique specialty.
The first frontwoman and co-owner, Grace, specialises in full-coverage bright blondes and balayage – she's also the plant mum of the salon. The second co-owner, MJ, is your go-to for all things to do with scissors. From short to curly and everything in-between, MJ is the jack of all trades.
Next up is Shayla, the queen of colour corrections and bright blondes. With her bubbly personality, Shayla is always up for a good chat with her clients. Looking for a natural look? Bridget is all about easy-going hair, which you'll find is a lot like her personality.
BLKAVE's up-and-coming superstar, Izzie, is the resident blow-dry queen who is known for her conversation-starting tats and killer sense of fashion. Last but not least is Lauren, who specialises in your fashion colours – think bold and bright.
All masters of their unique trades, you'll find the BLKAVE team promote a healthy work-life balance and team culture like no other salon.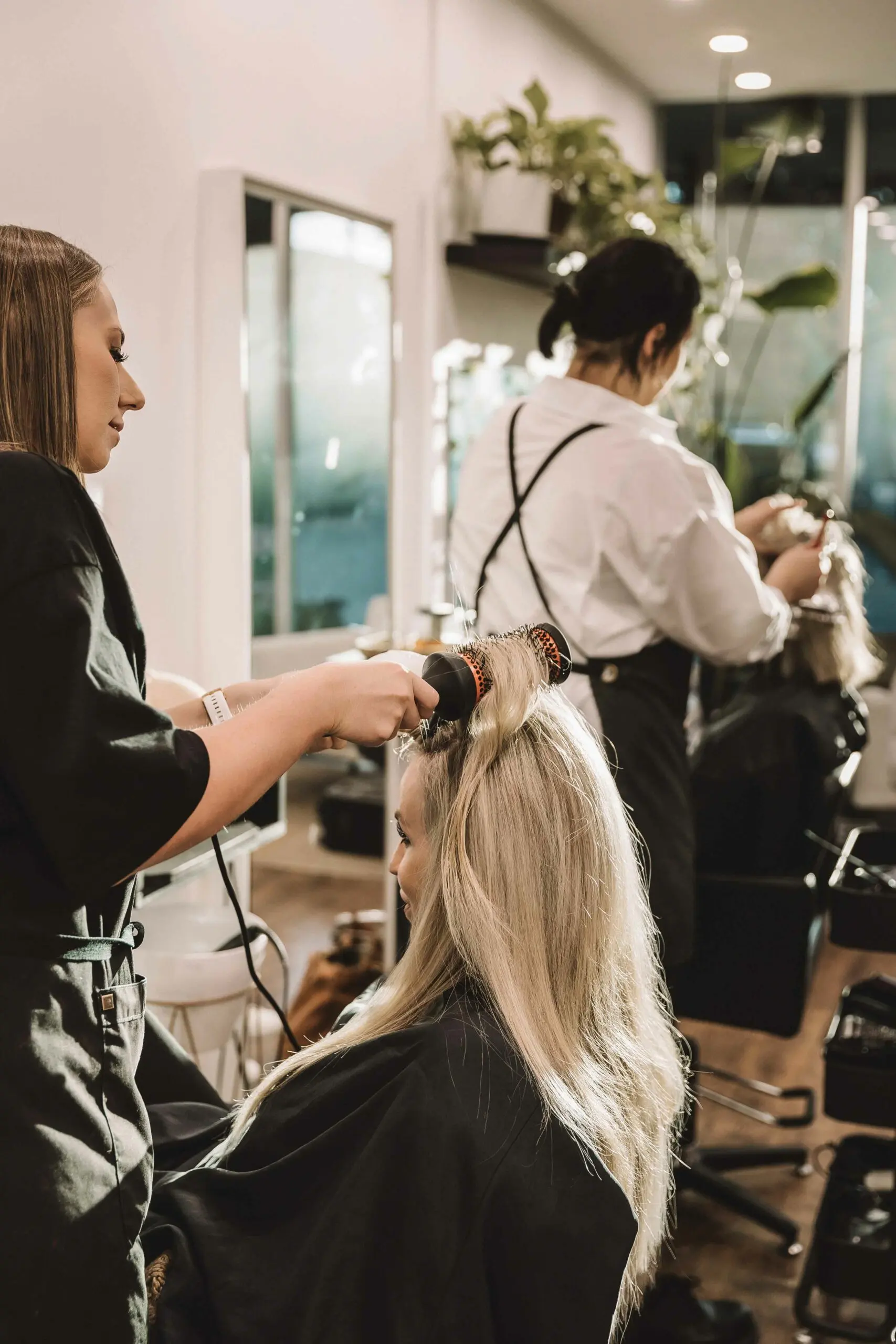 When a renowned interior designer launches a furniture and homewares store, you know it will be special. Highgate House is Brisbane's leading interior design and decorating firm – a brand synonymous with classic, timeless, and luxurious interiors.
Now, with a stunning retail store in Albion, Highgate House offers an enviable selection of ready-to-go furniture as well as custom made pieces. Director Leigh Boswell has carefully curated a range of Australian crafted sofas, a stunning array of lamps, and a wide selection of truly beautiful artwork. The store is a one-stop-shop for dining, living room, and bedroom furniture and unique accessories – (Ed's note: the custom bed heads are sensational and I love the luxury bedding). It's well worth a visit if you're updating a room or furnishing your whole home.
"Whilst interior design will always be the core of our business, we are so excited to offer such an extensive range of quality interior products that are immediately available to add a touch of Highgate House to your home," Leigh said.