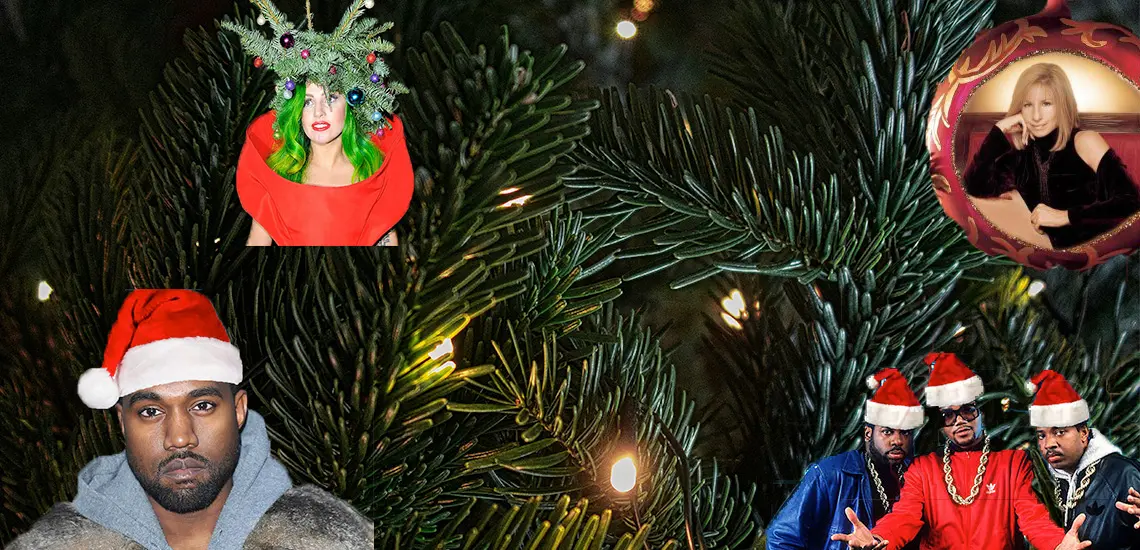 Freshen' Up Your Christmas Carols Playlist With These Tunes
Last Christmas, I gave you a new playlist
By Sierra Haigh | 3rd December 2019

We often play the same cheesy Christmas songs year after year, and while we love and adore them, it's time to throw a spanner (or bauble) in the works and change things up. No one likes repetition or predictability, so why shouldn't the same apply to our Christmas tunes? It's time to reshuffle our festive playlists. Move over Silent Night and Sleigh Ride, this year, Christmas has a whole new sound.
Christmas In Harlem – Kanye West
If pop and seasonal tunes aren't really your thing, Kanye West's Christmas In Harlem is the perfect way to ditch the mainstream and go back to your rap roots. Whether it's a real Christmas party or just a friendly get-together with a few bubblies and prezzies, this is a tune to help you and yours embrace the diversity of Christmas.
Christmas In Hollis – Run DMC
Everyone's fave old school hip-hop and R&B artist just couldn't resist getting in on the Christmas music bandwagon, but by no means did they stick to the norm. It takes the traditional and overdone "season of giving" theme and flips it on its head, giving it a rougher vibe that still comes off pretty catchy. It's the perfect way to spice up any cheesy Christmas playlist, without spoiling the theme of gifts and cheer.
Christmas Tree – Lady Gaga
We all love a bit of Gaga, but be careful Grandma isn't around when you add this one to the playlist! This saucy, seasonal song is sure to bring the heat next Christmas, and changes up the tone of your annual playlist a little. Maybe you're celebrating with your partner or just having a laugh with the girls over mugs of eggnog, but this song adds a little extra life to any Christmas gathering.
Christmas Unicorn – Sufjan Stevens
This Christmas bop doesn't always feature on the family playlist, but it definitely draws attention to itself when it does. After all, how many artists have used unicorns as their musical muse, let alone Christmas artists? It adds a little extra magic to an already magical holiday, and we're totally here for it.
December – Ariana Grande
Add a modern touch to any festive playlist with Ariana Grande's 2016 hit, December. Next time you get complaints about Christmas carols in July, just put this bad boy on. It's perfect to add a little flare to the playlist, and even your anti-carol mates will love it. After all, who doesn't love a little bit of this dangerous woman and one hell of a voice?
I'm Gonna Lasso Santa Claus – Brenda Lee
This one was waaaaay ahead of its time. Brenda was just nine years old when she wrote the single, and only 13 when she went on to record Rockin' Around The Christmas Tree. Talk of lassoing Santa so she can give his presents to the kids who have none hits us right in the feels, and we wanna do the same.
Jingle Bells – Barbara Streisand
This one definitely isn't new or alternative, but Barbara Streisand's revival of the classically-festive bop is sure to breathe new life into the Christmas party. She takes everyone's favourite carol and injects her own sound into it to give it a fresh look. Brace yourself; it's Jingle Bells with a twist! This is a cover we can really get behind.
Header image: Daily Mail, Spin, Teen Vogue, Gotcha Images