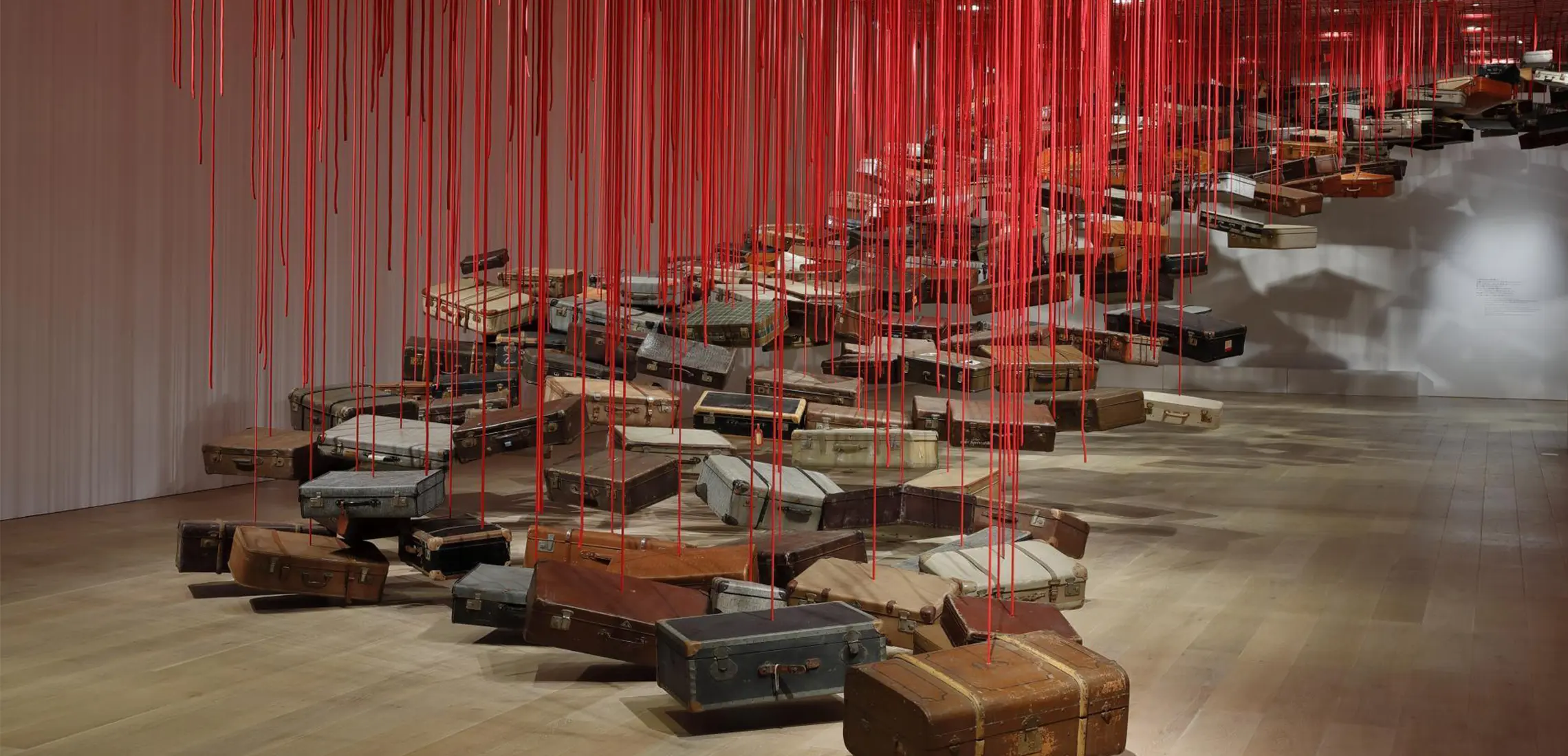 Creating My World: The Artist Behind QAGOMA's Latest Exhibition
She's landed right here in BNE
By Guest Styler | 16th August 2022

From childhood tales to broken history scenes, wandering in and out of the threads of Chiharu Shiota's latest exhibition at QAGOMA feels not just like a look into the Japanese-born and Berlin-based artist's mind, but her heart and all that she has seen, felt, and experienced with it.

Known for giving forms to intangible concepts, such as memory, dreams, and silence, we had the pleasure of interviewing this incredible artist, who's current exhibition profiles a career with almost 30 years of practice. 
If you had to summarise your artistic journey in three words, what would they be?
Creating my world 
Your artwork has become synonymous with thread. What first drew to using this material?
I used thread because it was easily available. I had a dream where I was inside a painting and I wanted to recreate this feeling by drawing around me in the room. So wool was the most obvious solution. I do not have any interest in its cultural connotation or consider myself a textile artist. For me my material is just like oil paint was for Picasso, a tool that has no meaning itself. 
You started your art journey practicing oil painting, what motivated you to move away from this?
I wanted to create my own art and be free from the comparison to other works. In the field of painting, chances are high that someone else has thought of something before. But I felt the need to create something new, something I want to see in the world. Three words are not enough to describe my artistic journey, I want to create new things in the world. 
What drew you to performance and installation?
When you are in crisis with your medium, you're easily drawn to the most primal medium you have: your body. The artistic struggle is practical. You try something and it has meaning to you or it doesn't. Later someone calls it performance or installation. But as with textile art, I am not thinking in these categories. I am not following installation art to see what other people are doing. I have found a way to express myself that works for me and to compare and categorize is something that art historians or the market can do.
You visited Uluru in the 1990s. Can you tell us a bit about this experience, and how it influenced your new piece, 'A question of perspective'?
My stay in Australia was my first time outside of Japan and I was eager to see "the world". I visited many places and among them I went to the top of Uluru. I had never seen this much space. The vastness of the desert struck me and the fact that you can see the curvature of the earth. I remembered this feeling when QAGOMA commissioned the work. I was thinking about how everything is a question of perspective. 
In my work a person is sitting on a desk under a huge cloud of paper. It is someone who is struggling to communicate his/her idea with the world around them. I was thinking about the impossibility to really understand each other. When I was standing on Uluru I was thinking about how clear it is to see now that the Earth is round and what a long discussion among experts it took until it was accepted. 
What did you enjoy the most about studying abroad in Australia?
I love the Australian people, they're very warm and supportive. I was very lucky to spend my formative time there. We have so many different roles and when you change your surroundings there is a chance to find yourself in a new light. When I was in Australia, I was free to be who I am, when I am not the daughter, friend, sister, painter that I was in Japan. 
In contrast to the large scale installations and webs of thread that cover the exhibition, the final piece in 'A Soul Trembles' is a video installation, interviewing young children. What inspired this piece?
While I was planning the first venue of this exhibition tour in Tokyo in 2018, I was diagnosed with cancer. I was thinking a lot about life and death at the time and what would happen to my soul after I die. I couldn't find answers really among the adults that I was satisfied with, so I wanted to ask children that are not yet thinking so much in cultural concepts for their own ideas. 
When visiting the exhibition, what do you hope people are able to take away?
I hope they will take away a lot of questions. People often are awed when they enter my installations and have many questions about the process. I hope they also ask: why did she do it? And what do I see and feel? They do not need to understand or see my intentions, but I am hoping that they will think about their memories, soul and life. I hope people come to the museum to see new and unseen things, to have experiences that differ from everyday life and by doing so experience themselves in a new light. 
Chiharu Shiota's The Soul Trembles is running at QAGOMA from 18 June – 3 October 2022. To book your tickets and find out more, click here. 
Header image: © Chiharu Shiota, Mori Art Museum, Tokyo