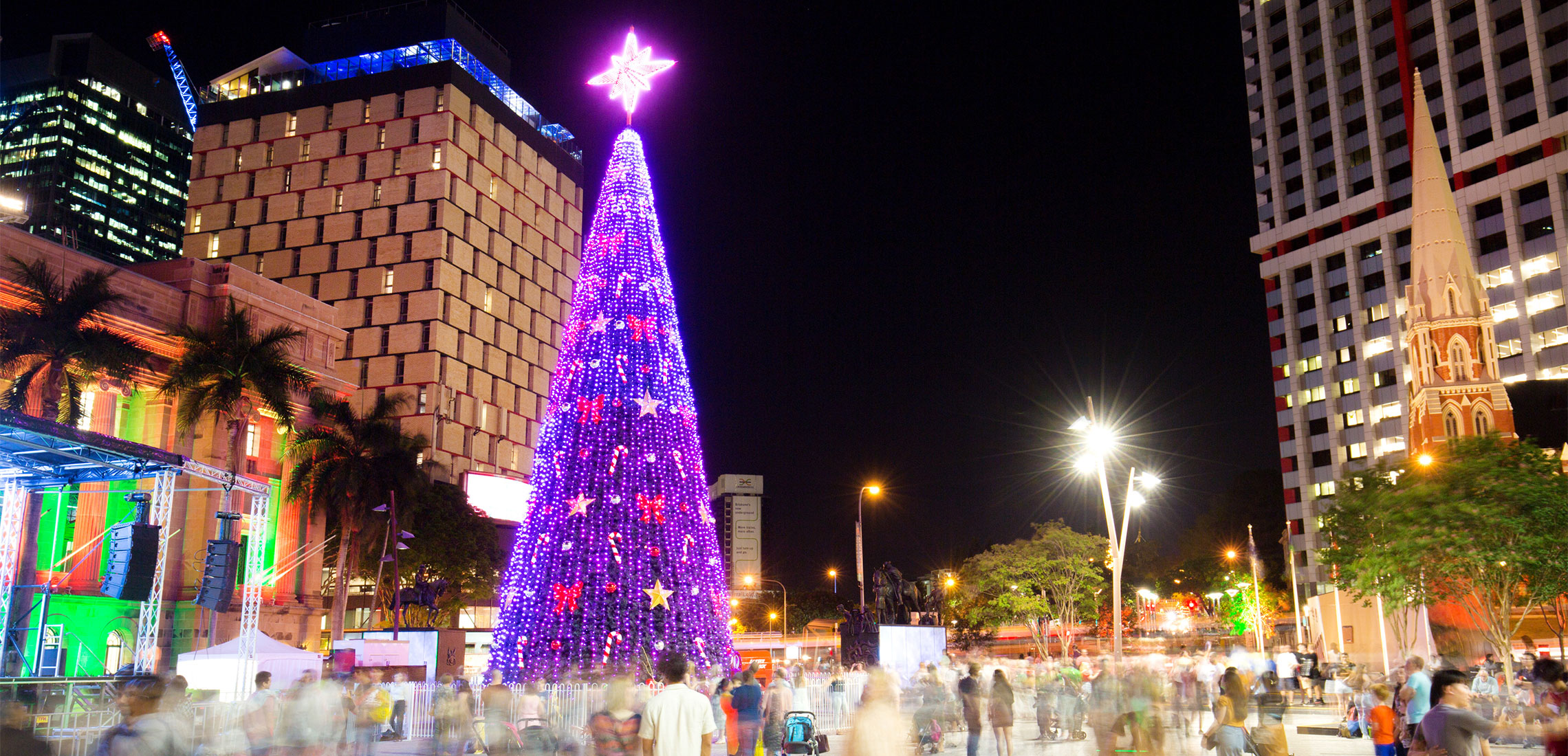 Fa La La! Here's What's On In The City This Festive Season 
Get merry
By Penelope Pelecas | 9th November 2023

Who doesn't love Christmas in The City? Queen Street Mall is buzzing with people, shop fronts are adorned with decorations, and there's just a certain 'cheerfulness' to the air. 

Whether you need to stock up on some last-minute pressies or catch up with friends, there's plenty to do and see in The City. From Christmas carols to twilight markets and more, we've rounded up all the ways you can celebrate this festive season. 
Immerse yourself in the magic
There's no shortage of dazzling displays and amazing events happening in and around The City, starting with the Lord Mayor's Lighting of the Christmas Tree presented by The Lott by Golden Casket. The annual event, which kicks off at 6.20pm on Friday 1 December, will include live musical performances as Lord Mayor Adrian Schrinner illuminates the impressive 22-metre tree. The Christmas tree will remain on display in King George Square until early January. And remember to keep watch on City Hall from 8-24 December for The Lott by Golden Casket City Hall Lights (the free show will run from 7.30pm to midnight daily)!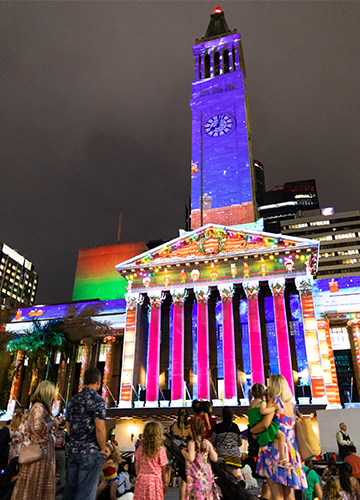 Keep calm and carol on 
Now it wouldn't be Christmas without some festive tunes and no one does it better than the Lord Mayor's Christmas Carols. Sing along to Chrissy carols and festive favourites performed live by Brisbane's best entertainers at the Riverstage on 2 December. Grab a $5 ticket here from 10am on 14 November, or if you'd rather cosy up on the couch with some eggnog, catch the action on Channel 9 (more details to come!). The event will also be live streamed at Victoria Park for any revellers who miss out on tickets.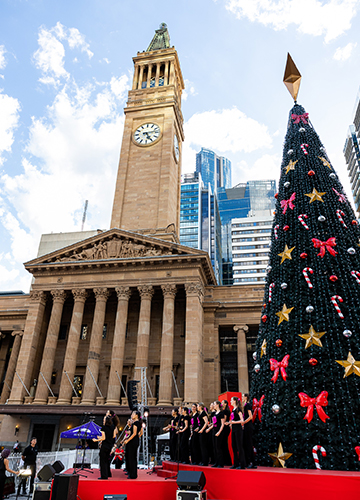 Love local 
Looking for last-minute stocking fillers? Spend some time browsing the Brisbane Arcade Markets right in the heart of Queen Street Mall. The two-day markets, set to showcase fashion, gifts, accessories, and other goodies, will run from 10am – 6pm, Friday December 8 and 10am – 4pm, Saturday December 9. 
On the hunt for something quirky? Make your way to King George Square and immerse yourself in the BrisStyle Twilight Markets on Friday 15 December and Friday 22 December from 4pm – 9pm, where you can find a delightful array of locally handmade goods from over 60 talented local designers.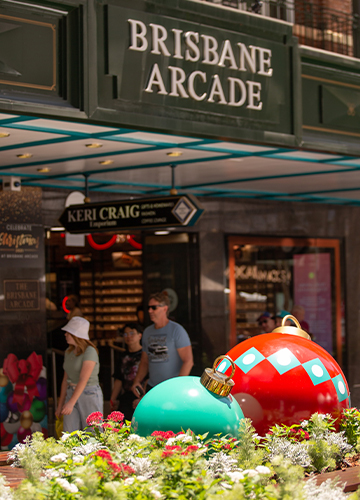 Get merry with friends 
Once you've perused all the shops, there's a plethora of dining options to wine and dine at with your nearest and dearest. From fine dining restaurants (Walter's Steakhouse, Rothwell's Bar & Grill, Donna Chang, and Banc Brasserie) to picturesque outdoor eateries that overlook the Brisbane River (Opa, Riverbar, Tillerman, and Persone) and rooftop restaurants and bars (Hibiscus Room, Leonards Bar & Bistro, and Sixteen Antlers), there's something for everyone!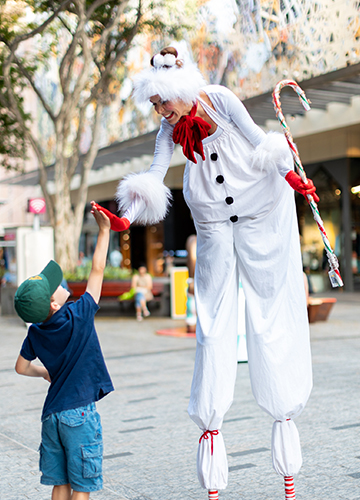 Spread joy 
The fun doesn't stop there! Take a moment between Christmas shopping and catch ups to enjoy some joyful live entertainment in Queen Street Mall. Experience Christmas-themed pop-up performances and roaming acts in the mall from 11am – 2.30pm daily and during late-night shopping from 4.30pm – 8pm.
The Queen Street Mall Stage will also be playing host to magical shows you'll want to catch in the front row! Catch A Whimsical, Wonderful Christmas on December 8, 15, and 22 with three performances at 5pm, 6pm, and 7pm. Meanwhile, every evening from December 16-24 will see the Starz Christmas Spectacular light up the night at 5pm and 6pm for a heartwarming showcase of local talent.
PS, don't miss the Christmas-themed tiny doors scattered throughout The City. Each handmade door is a merry tribute to the holiday season and promises a delightful, free activity for the entire family (available all December in King George Square, Queen Street Mall, and more locations throughout The City). 
For more on how to get festive in The City, head here.