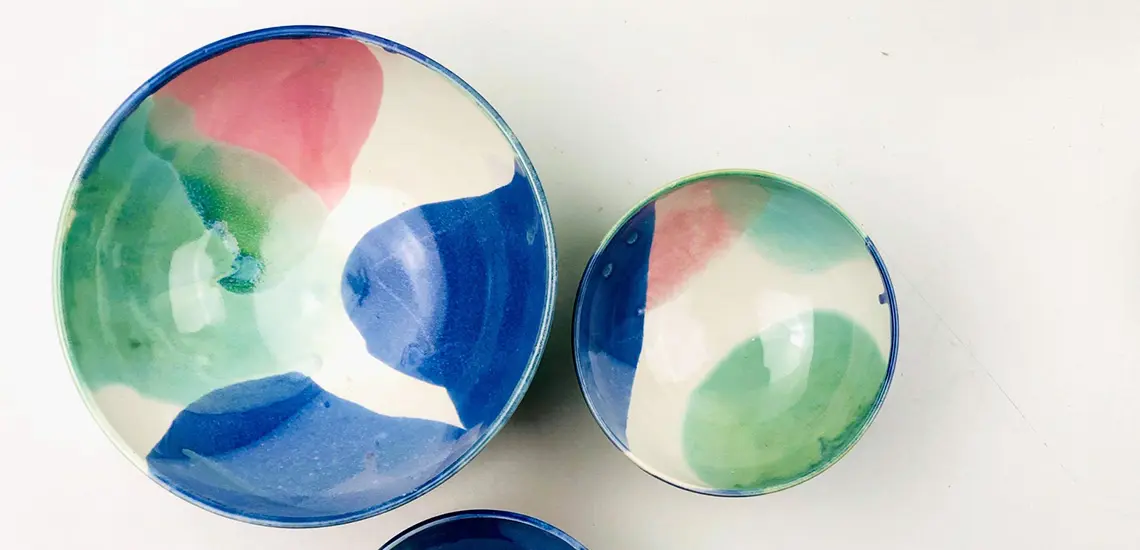 Local Ceramics Making A Difference
The handmade difference
By Guest Styler | 18th February 2020

Never has it been more offensive to have a plastic lined takeaway cup filled with your vanilla almond latte passed over the counter into your hands. All eyes in the coffee shop single-in on you as you make a mental note to NEVER let it happen again. It's 2020 so we can admit, we've all been there. While there is an undeniable social stigma surrounding single-use plastic, it understandably stems from convenience. And, with a coffee culture as strong as Australia's, it's not hard to see why.

The solution? Re-usbale cups! Keep-Cup introduced a plastic solution to a plastic issue. Surely there was a way to sip our morning coffee without leaving any grubby environmental footprints behind? Introducing Carys Martin Ceramics, a local Brisbane ceramics company going one step further – planting a tree with every purchase.

Owner and founder, Carys, is a queen of ceramics. Completing her Bachelor of Arts (Honors) in the UK and America, art has followed Carys across the globe to Brisbane. What sets her apart (and why we get asked at almost every coffee shop where our travel cup is from – yes, each Styler has one!) is that each design is a hallmark of Carys. From handmaking glazes and colours to carving each cup with its own unique feature, every piece is made with intention and purpose.

"That's what I love about art, it's all your life experiences and values combined in what you create, " Carys says.

From hamsa hands to intricate bowls, Carys creates pottery that evokes emotion, sharing the love through art. We had the pleasure of asking Carys some burning questions about her small business.

What made you endeavour to plant a tree with each purchase?

I grew up very connected to nature, in a farming community in the north of England. I think this upbringing made me want to give back and to raise awareness, protect and preserve our natural habitats. Initially, I wanted to be able to create a ripple affect with my travel cup range – reducing personal waste by saying no to single use cups and contributing by helping with reforestation with One Tree Planted. With the Australian bushfires we have experienced recently, it is even more important to help our land heal through reforestation, so I now plant a tree with each piece sold online. We're working closely to choose the biggest impact zones, updating consumers on exactly where their tree will grow.

Did you start out in ceramics or did something inspire your passion?

Over the years I have tried my hand at most things from screen printing on fabric, to silver smithing, to woodwork and printmaking! The first time I threw at a potter's wheel I would have been about seven years old. My Mum is an artist and our house always had crazy projects on the go. I committed to learning the technical skills behind ceramics around 2008 when I started going to a weekly studio class. I love how challenging the processes are in ceramics – from making the form and the glazes to firing the piece. I love that it combines so many skill sets to produce the end result.

Why do you opt for handmaking your ceramics over mass producing them?

To me, it's the technical skill of creating the pieces, whether on the wheel or hand building, that is important. I didn't just want to produce an item to sell. I wanted to create an item with soul and meaning. You can always feel the depth of intention behind a handmade piece when you hold it. This encourages you to respect and cherish it rather than mass produced pieces that contribute to the throwaway society.

What has made you so environmentally focused in your career and private life?

I think it is important for us to all be more environmentally aware of the impact our day to day actions have. I have been fortunate enough to have travelled to many places in the world and it breaks my heart to see the damage to ancient eco systems that man's actions cause. If I can give back by planting trees or help someone change their mindset around single use, then I will be happy. Together we can create a big ripple effect.

Do you think the gold foil trend will take off in 2020?

I think everyone loves a little flash of gold! I love to add gold detail to my work using 12 carat gold lustre. It really makes a statement! My Rainbow Gold and Sacred Moon gold cups are some of my best sellers because they stand out and definitely give you the feel-good factor to start your day.

Do you think opting for plastic keep cups is helping or hindering plastic use?

Oh it's tricky isn't it! On one hand it's better than the cup being a single use disposable cup, but it's still an issue how dependent we are on plastic. The more we can have an awareness of the resources needed to produce an item and what happens to it once we dispose of it, I think the more conscious we are about the choices we make and the more likely we are to reuse things. Our actions and choices as consumers can have such an impact on the planet and it's time for us to all take more responsibility for the choices we make.

We love the little ceramic holders/'ears' on each cup for when they heat up. This is such a unique feature, how did this come about? 

When I started to wheel throw the travel cups, I wanted to create a design that was fit for purpose – for them to not only look great but to function as they needed. When the cups are filled with a hot liquid they were too hot to hold comfortably, so to solve this I needed to thicken the cup wall to reduce the heat transfer. Adding the finger buttons allowed me to create a unique look to my cups, create a lovely hand feel and solving the heat issue. I love that they are a little extra feature that I personalise and stamp. On most of my cups I stamp the finger buttons with the gratitude symbol.

What's something we may not know about you?

When I was younger I was a part of a limited edition book series called Real Art. It was a book made up of original artworks so we would each produce around 300 of the same pieces for the book. I had some of my prints featured in a number of the books that were sold in galleries throughout the UK, including The Tate Modern, London. I think the first time I was included in an issue I was 15 and featured in their books a few times over the next six years. It was very exciting!

What are your favourite Brisbane markets that we could pick-up some of your pieces from?

I love the BrisStyle markets and Finders Keepers. I don't attend too many markets throughout the year but do have my work stocked in a number of shops throughout Australia. If you want to know where, just send us a message via the website.

Clay making seemed to become a popular hobby in 2019. In particular, wheel throwing. What are the benefits of hand building ceramics over wheel throwing?

I love both hand building and wheel throwing. There are so many different technical skills to be learnt with hand building and you can produce such unique forms. I think for anyone looking to learn clay this is the best place to start. Wheel throwing is a technical skill that I had always admired and in 2016 I committed myself to focusing on it. I absolutely love to wheel throw! It pushes you continually and you have to fully focus and be in the moment. To be able to throw the travel cups and tableware in sets has taken many hours of practice – clay shrinks around 12% during the making process so you have to be very accurate (and good at maths) to ensure the lid fits or the bowls stack!

What's the next step for you and the brand?

My vision for 2020 is to grow Carys Martin Ceramics, to plant as many trees as I can, to work with likeminded people, to have my work stocked in shops and galleries and ultimately to have my work in people's homes being loved and enjoyed. My studio is currently at home, I would love for one day to have a studio space with a shop front and maybe even a space for classes.

Any exclusives you can share?

Our pieces have high demand in the US and we have expanded to now be stocked in seven stores in the United States. We have had amazing feedback and even Australian expats going into stores to get pieces which is lovely. February will be my first handbuilding classes at Colour My Pot, places are still available and information is available on the website. My works will also be featured at Old Schoolhouse gallery in Cleveland for a new exhibition starting in March 2 020.