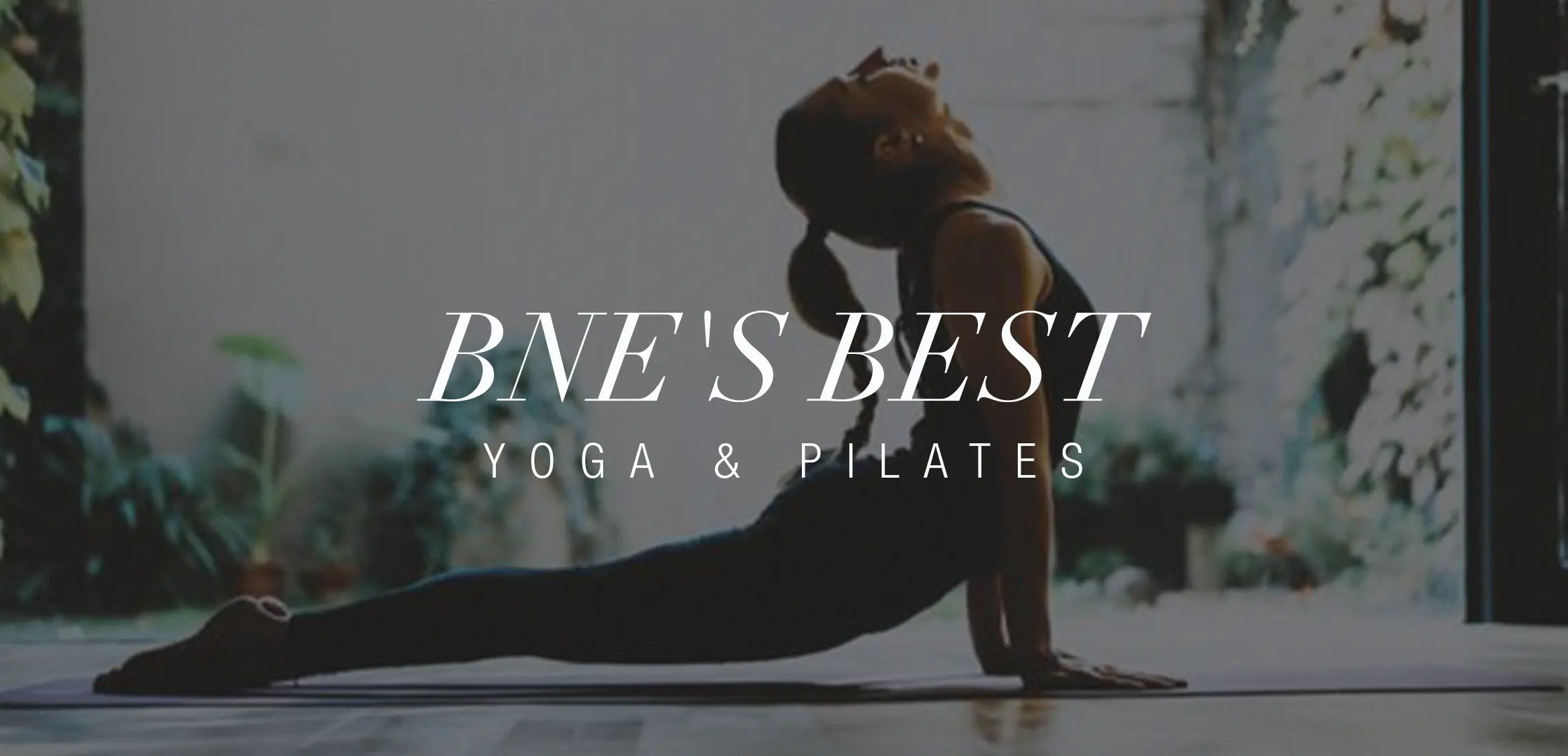 Big Stretch! We've Found BNE's Best Yoga And Pilates Studios
The Zen-est way to exercise
By Dinushka Gunasekara | 27th May 2021

Not just for soccer mums with a green juice always on hand, Pilates and yoga are two of the most effective ways to have your fittest self within reach. You might be horizontal for most of the time, but you'll be sure to feel the burn as you bend, stretch, and turn your body into a human pretzel.

Start practicing your 'om' and get those leggings away from the couch, because we've found Brisbane's best Pilates and yoga studios to get your mind, body, and soul in tip top shape!

Ready to discover your new fitness obsession? Studio Pilates delivers a world-class workout, backed by the latest results-driven exercise science, ensuring you get what you came for, fast. Their combination of innovative digital delivery and expert instructors means you'll receive the individual focus of a personal training session, while soaking in the good vibes of a class – plus the chance to take it up a notch in their regular challenges. Their luxe workout spaces are across Brisbane, and the Gold and Sunny Coasts. With a full timetable from morning to evening, there's no excuses here! So, if you're after a total body sculpting reformer Pilates session amongst a friendly and welcoming community, get started with their amazing intro offer of 6 classes for $60.

Even the most self-proclaimed sweat averse will find solace in the support and guidance found here. Renowned for their Physiolates classes (a fusion of yoga, Pilates, mindfulness, and clinical exercise), TriBalance custom tailors to you and your specific movement goals. They also offer Yoga Basics, Yoga Align & Flow, Yoga Deep Stretch, and Pilates Basics, which are perfect for beginners and those who've become de-conditioned through lack of exercise or injury. They're all about strengthening your mind-body connection and are rooted in body awareness, letting you move your body with more ease as you reach your highest potential. Experience it for yourself with a two-week intro offer of unlimited classes for $35, or master the basics with their 'Yoga For Absolute Beginners' run four times a year!

For an exercise that challenges, refines, and excites, look no further than this resort-style studio! Offering reformer Pilates, private Pilates, mat, and small equipment work, Vicalates' classes are founded on classical principles with contemporary athletic tweaks. This hard and precise work is still low impact, allowing it to seamlessly blend into your daily routine to ultimately improve everything you do, from work to play. They even have a curated selection of skincare and haircare to help you bounce back into your day! Everyone is welcome in this tight knit community, which you can try with their Teaser pack of five classes for $55. Not sure if it's for you? Their private assessments for all levels will have you feeling confident before you even join a class!

In 45 minutes solely focused on you, create meaningful connection to tone and transform from the inside out. With over eight class styles across their three studios, there's something for every mood and goal, from full body reformer to strength and stretch, or pre and postnatal. Improving your posture, strengthening your core, lengthening your body, and alleviating the strain of daily activities are just some of the benefits they see every day. You can also experience VIVA's boutique class experience from home, with VIVA At-Home, or embark on your very own Pilates career with VIVA's certified Pilates education courses. Give it a go with a 14-day unlimited pass for $47, or three classes for $37, and get keen for total rejuvenation!

As a health at every size studio, any.BODY Studio aims to support its members from all walks of life to find movement suitable to their particular needs. Run by accredited exercise physiologists, any.BODY offers dynamic classes to help you master true form, technique, and find your breath. With a variety of group reformer classes for all fitness levels, choose to get your heart pumping with a Jumpboard class or, if you prefer more of a Zen workout, the dreamy stretch and flow reformer classes will help you find your calm. Get started with an initial assessment, and for only $59, trial seven days of unlimited group classes! It's easy to see why you'll want to join this inclusive community where everybody knows your name.

Let your fitness goals take flight at Bend + Fly, where aerial classes are their star attraction! Featuring the magical combination of aerial and yoga, this funky studio offers the ultimate workout. The movement experience of suspending yourself from the ceiling in a silk hammock puts the fun back in fitness – where you'll experience the joy of flight and weightlessness through aerial yoga, while building your strength and mobility through yoga, hot yoga, and aerial fitness classes. A light-filled studio tucked in amongst the trees, Bend + Fly is a serene place to feel alive with this full-body workout while finding your Zen. Decompress your body and mind, and swing into your first class with a two-week intro offer of just $55 – you'll be hooked!

When you join this qualified studio, you're paving a way to make everything you do in your life easier! The Body Refinery are renowned for taking their clients from pain to performance, and helping them knock out lifetime goals, from running marathons to even slowing down the progression of Parkinson's disease. Offering a full range of classes, the choice is yours with rehab-focused classes with physiotherapists, studio-based classes individualised with a Pilates teacher, and fitness-based classes including reformer, barre, TRX, yoga, and mat-based Pilates. New to the studio? Take advantage of their 5 for $50 deal on fitness-based classes, or opt for the one month unlimited option that includes their studio-based classes as well as use of their infrared sauna!

You are capable. You are worthy. You are enough. That's the motto in this beautiful space that's all about leading you to a happy mind, body, and soul. With each of their classes grounded in movement and music, you'll feel the burn and stand taller to ultimately walk out of each class feeling better and more empowered than when you walked in. BPM offers mat work Pilates, barre, Mumma + Mini classes, reformer, equipment Pilates, private, and even online classes so you can find your groove.  Get connected with your body and your community with their Perky Peach Pack that includes one mat work, one reformer, and one equipment class for just $75, or try the Perky Peach Pass that gives you your first mat work class for just $20!

With vibes so good that clients often come early to catch up with each other, Core Contour is all about the client experience. Their wide range of reformer Pilates are low impact with intensity tailored to you, whether you're a pro athlete or newbie. Their onsite supervised creche gives parents a well-earned break to work out, and they even offer Mums & Bubs, allowing new mums to work out with their babies and regain core strength. The unlimited class memberships are just one of the many reasons people always come back for more, and if you want to drop a dress size, their Five to Thrive Challenge will do the trick, with nutrition guides and great prizes included – their cardio Pilates fulfills all your exercise needs.

No spoilers here, because when you're one of the six members of these luxe classes, you'll receive a personalised program completely based on who's in the room! Rather than offering a generic schedule for the day, they tailor each class based on their knowledge of your body to create the best outcome for your physicality and psyche. With a less is more approach, their reformer, mat/floor-based, and online classes are the time you need to give back to yourself for a healthy body and healthy mind. Plus, the gorgeous, architecturally designed space is even available for hire, so don't be surprised if you arrive to centre onto yourself and leave with a dreamy venue for your next event – with five classes for $50 who can refuse?

By taking care of yourself first in this uplifting studio, you'll be strong enough to take care of anyone or anything else in your life. What began in an AFL clubhouse by the devoted Anna and Andrea, has now evolved into an environment of empowerment through yoga, barre, and Pilates. Walking into Inna Essence, you'll be immediately reminded that you are important, respected, encouraged, and loved, before you exercise in an inclusive and nourishing way. With a wide variety of options for beginners, new mums, those with injuries, and anyone in between, you'll find your peace in the four custom-designed spaces. Plus, keep an eye on their socials for their free workshops throughout the year, accessible for the whole community!

Find full body and mind balance in this inclusive fusion studio, thoughtfully designed to make you feel your best self. With the Yin room for flexibility, core-conditioning, and mindfulness, and the Yang room for strength and cardio, take your pick from the variety of yoga, barre, group functional training, HIIT, and boxing classes. Everyone's on the same team here, with both physical and mental changes achieved through community encouragement. Alongside their five-class intro pack special, they're currently offering a four-week beginner reformer course that includes four 30-minute sessions for $75! As your one-stop wellness shop, they also offer various wellness workshops like breath work, ice baths, and sound healing, plus an in-house dietician, personal trainer, a well-established naturopath, and a kinesiologist.

Since first catching our eye in 2019 for their reformer classes, Pilates 26 has gone from strength to strength. This year, they opened a second studio space in their 105-year-old heritage-listed and renovated building, added barre and mat Pilates to their offering, and effectively doubled their capacity! Now with 75 classes on offer every week, there is something for everyone, including specific pre- and post-natal classes and class styles varying from high intensity to stretch and flow. Their experienced team of over 10 instructors will keep you motivated with ever-changing workouts, while providing personalised attention – whatever your movement capability may be. Try for yourself with 5 classes for only $49. And the best part? Pilates 26 memberships offer unlimited classes for only $39 per week!

Not your average studio, Pilates Emporium is a stylish and relaxed space with state-of-the-art resistance-based reformer machines. It's the ultimate destination to tone and shape your body, whatever your physical ability. With over 50 bespoke programmes to keep your mind and body challenged, each cleverly sequenced class focuses on full body movement that balances, refines, and strengthens. To ensure quality care and guidance, classes are capped at ten, allowing your friendly yet experienced instructors to personalise your workout, cater for injuries, and challenge you. They guarantee you'll feel the burn (if you're shaking, you're doing it right!). A great introductory offer of 5 classes for $50 (with a one-month expiry) makes for a low-risk investment to discover a studio where you feel supported, challenged, and inspired.
SoBa | West End
A simple hour here is all it takes to be filled with a sense of empowerment that you'll carry with you for the entire day. The transformative power of SoBa's barre, Pilates, yoga, stretch, meditation, and HIIT is more than physical, whether you experience it in studio, online, or in live virtual classes. They're designed to make you feel good in every facet of the term – increasing strength, reducing stress, improving balance, and building a mind-body connection. With modification options offered with every move so all fitness levels can have sustainable change, try it for yourself with two weeks unlimited for $44. Or, take advantage of their exclusive June offer with a free seven-day trial period!