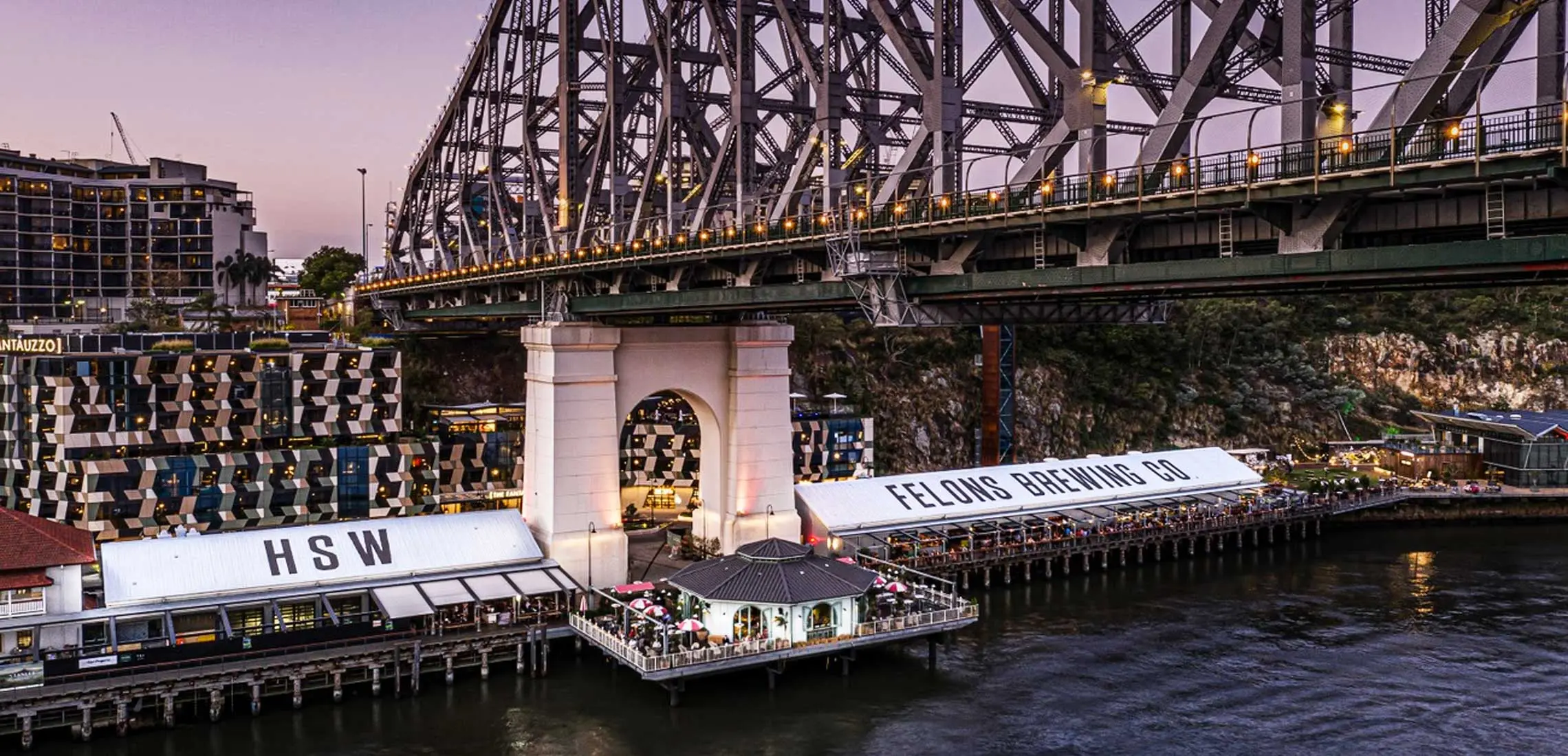 What To Do In BNE On A Sunday
Sunday fun-day!
By Guest Styler | 29th October 2020

Sunday's can be quite bittersweet. Should you party or prepare for the week ahead? At least this is the dilemma we always tend to face. The answer is to check out our list below – we're sure it'll help you decide! Here are our top picks for Sunday afternoon fun in Brisvegas.
Mr Percival's
Is there anything better than watching the sunset paint the sky over the river with a refreshing spritz in hand? Our answer is no. Head to Mr Percival's at the Howard Smith Wharves to end your weekend the right way. With an array of delicious eats including woodfired pizza and fresh oysters, there really is no beating it!
View this post on Instagram
Grab some great company and pack a picnic rug because on the first Sunday of every month, The Sound Society plays at Roma Street Parkland from 11am-2pm. The Garden Room Café, located opposite, will satisfy your Sunday cheeseboard cravings, creating picnic hampers for two for the event, with an assortment of delicious cured deli meats, home-made dips and farmhouse cheeses. However, should you not wish to pre-order from the café, you can also pack your own spread. Relax while listening to smooth jazz and eating your weight in cheese – that's our idea of heaven!
View this post on Instagram
Could we really have written an article about what to do on a Sunday arvo in Bris without putting The Fox in? Definitely not! Soho Sunday's at The Fox are a classic. With a rooftop bar, live DJs, delicious cocktails and pizza, do we really need to say more?
View this post on Instagram
Ahh aperitivo (aka happy hour) – our favourite hour of the day! At Il Molo, the ritual of aperitivo is celebrated just as it is in Italy, where you'll witness locals leaving work for a social hour of nibbles and drinkies. At Il Molo from 3-5:30pm every Wednesday to Sunday, indulge in plates of antipasti accompanied by classic Italian aperitifs, including Prosecco and Aperol. It's the perfect cheap date night with its current deal – two spritzes and an antipasto platter for two for only $39. Your next Sunday arvo is sorted!
View this post on Instagram
Backyard Movie Night
Feeling like an AFD (alcohol free day)? Here's a fun (and more importantly cheap) idea to enjoy a relaxing Sunday night off the booze. Grab some blankets, fairy lights, a projector, sheet and snacks, of course, and set up in your backyard under the stars for a magical night of cinema! Perfect for either date night or family night!
View this post on Instagram
Merthyr Bowls Club
Now don't stress – we doubt Merthyr Bowls Club is where your nanna plays bowls (unless she lives in New Farm). In a spectacular location perched on the banks of the Brisbane River, this activity is a must if you're wanting to do something a little different and fun with your group of pals, and it's just $10 per person for a 2-hour session! After all, what beats barefoot bowls, beers, barbecues and a bargain?
View this post on Instagram
Ah, there's nothing like karaoke to bring people together. It can be the pregame for a night out or the final destination once you've had so much to drink that you forget you're actually a terrible singer. None the less, it's always a fun time. One of Brisbane's most popular karaoke bars is Fat Louie's, where you can experience the excitement of Tokyo's private karaoke rooms (it's even decked out with disco balls and lounges!). With their karaoke catalogue updated every few months, you can sing along to classics as well as contemporary favourites. Weekends tend to book out early, so make sure you book ahead so you don't miss out!
View this post on Instagram
Beautifully situated on the Brisbane River, Mary Mae's Bar & Kitchen has "Sunday sesh" written all over it. We honestly can't think of a better way to spend a Sunday than lazing about in New Farm Park (BBQ optional – but recommended) and following it up with a beer (or five – we don't judge) on the sun-drenched patio of Mary Mae's. Really, what more could you ask for?
View this post on Instagram
What would be a Sunday sesh list without the iconic Maya rooftop space? Sitting eleven floors above Ann Street, this sandstone rooftop bar boasts an impressive almost-360 degree view of Brisbane, the perfect backdrop to afternoons sipping on your favourite bubbly. With all your favourite brews on tap, live music, a wide range of Mexican food, and a stellar collection of cocktails, why would you want to be anywhere else?
View this post on Instagram
With buckets of Southern fried chicken, prawns, onion rings and fries, The Defiant Duck dishes up all-star American fare with a strong side of Southern hospitality. In addition to the stellar feed, you can also pick from 24 craft and local beers on tap, as well as a wide range of wine and cocktails. And of course, live streaming of all major games! Cheer on your team alongside a crowd of fans, with a beer in one hand and a burg' in the other. Score!
View this post on Instagram
How could we NOT mention this iconic Brisbane bar? Sixes And Sevens has more than earned its place on this list, renowned for their sprawling courtyard, beer garden, and low-key Queenslander charm. If you're keen to enjoy live music, boutique cheese boards, mouth-watering burgers, and a delicious selection of cocktails, you need to swing by Sunday afternoon to enjoy the very best of this Brisbane institution.
If you're planning a Sunday session, turn your eyes to Holy Grail brewers, Newstead Brewing Co. With brewery-bars in both Newstead and Milton, Newstead Brewing Co. is the perfect destination for a drink or two and a couple of eats while winding your weekend. The Milton brewery alone boasts 32 beers on tap across three bars, pouring an ever-changing combination of their own brews as well as other guest favourites. And of course, the food! Expect everything from big, satisfying meals that will fill you up, right through to cured meats and handy nibbles.
View this post on Instagram
Riverbar And Kitchen is another Brisbane favourite (the crowds from 5PM are a testimony to this fact), and for very good reason. With gorgeous views of the Brisbane River and Story Bridge and some of the best damn cocktails in Brisbane (three words: Lychee Mojito jug!), it's no surprise that Riverbar is a little bit like heaven. Grab a table on the river, a couple of plates of bites, some good mates, and you'll be set for the entire evening.
Twelve floors above Kangaroo Point, Eagles Nest offers gorgeous panoramic views of the city skyline, Brisbane River, and iconic Story Bridge – all within a relaxed, outdoor rooftop bar. How good does that sound?! Open to the public Friday through Sunday from 3PM, Eagles Nest has one of the best vantage points in town to sip on a drink and share a few bites with friends. Less rowdy than some of the other destinations in this list, Eagles Nest is perfect for catching up with friends and enjoying the last few hours of your weekend. Meet me on the 12th floor with a pitcher of Pimms!
View this post on Instagram
The Green Beacon beer hall is perfect for knocking back a few cold ones on a Sunday afternoon. Choose from their insanely good selection of brews (including the core range, seasonal range and special releases) and vibe the cool and buzzing atmosphere of this unique drinking destination. And of course, it's no surprise that their drinks go down amazingly well with some eats which is why you can either choose from their dece selection of share plates which includes Moreton Bay bugs, bar snacks, and cheese and salami platters. Sunday sesh done right!
View this post on Instagram