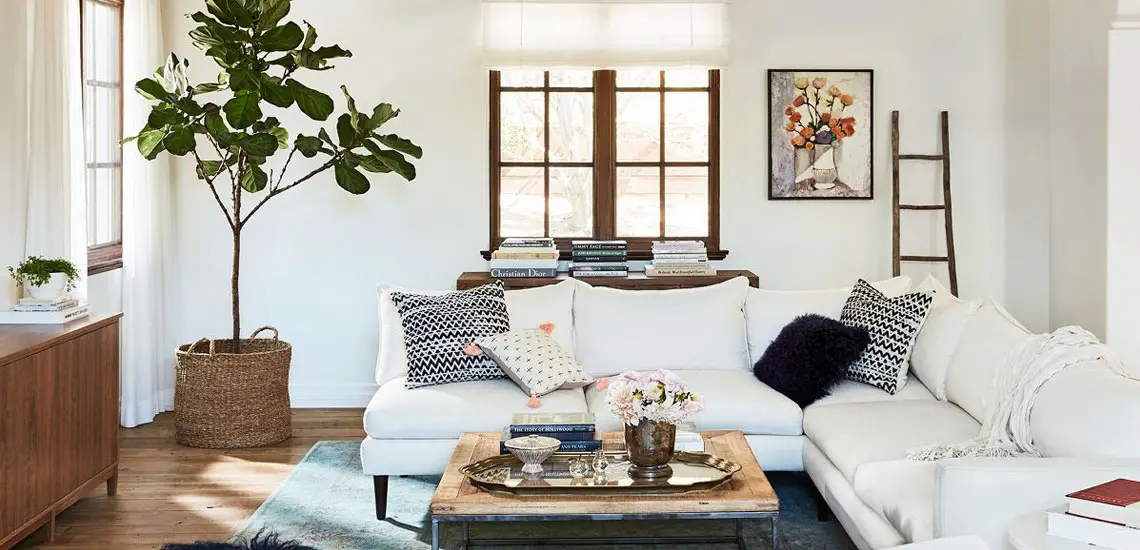 Time For A Spring Clean? These Are Two Of Brisbane's Best Interior Designers
Spruce your living room.
By Guest Styler | 13th September 2018

We're not all pros when it comes to styling our homes and workplaces. From not having the expertise and taste level to not knowing where to start, embarking on a project like redesigning your home can be quite intimidating. We spoke with two of Brisbane's best interior designers (Christopher Gyzemyte of CG Design Studio and Christopher Thomas of Thomas & Alexander Interiors) to learn how an interior designer can help, where to start, and simple tips to remember when getting started.

As an award-winning interior design and interior-decorating agency, CG Design Studio has earned a reputation as one of Brisbane's most talented and illustrious bespoke agencies. Owner Christopher Gyzemyter established CG Design Studio in 2014 and is passionate about adopting a personalised approach to each individual client. Christopher explains, "We love responding to a client's personality and the architecture of their homes creating a unique approach to every project, rather than delivering a defined style to every client."

They understand that while you want your home, office, retail space or restaurant to emit a certain aesthetic, it can be difficult to ensure a space works for its needs while also being aesthetically pleasing. CG Design Studio works by determining the function of the room and then overlaying the personality aspect on top. While they can simply help you bring a space together, they are just as excited to fully-develop your space, whether commercial, an office, your home, a restaurant or something else entirely.

As registered building designers CG Design Studio are able to assist with every aspect of a project such as kitchen extensions, removing walls, landscaping, designing cabinetry, and even selecting cushions!

For optimal results, Christopher recommends a few simple tips such as embracing colour, considering custom-designed furnishings, and approaching trends with caution.

Established in 1988, Thomas & Alexander Interiors is one of Brisbane's most respected and celebrated interior design specialists. With a passion for connecting their clients with transformative styling and an instinct for design, Christopher Thomas offers a high-end and professional service to his clients. Christopher's process involves an in-depth consultation with his clients to determine what suits them and their home, as he understands that the process is not about his own taste but about best understanding each individual property and personal needs.
Covering everything from architectural detail and design to custom manufacturing of soft furnishings, design and making of furniture, and to sourcing art and accessories. Thomas & Alexander offer a wide range of design services, often managing every individual aspect of a design project. Their attention to detail is what has made them one of Australia's most celebrated design experts for over 30 years.
With a wealth of knowledge and experience, Christopher is able to advise his clients on even the most minutiae of details. For example, if you're currently looking to redesign a space, Christopher recommends you "focus on one really exceptional piece and make that your focal point. One statement piece will always outshine any other mediocre selections and give substance."
Rather than try to get an entire project over in a weekend, Christopher advises his clients to go slowly and act with consideration. "Try buying and adding pieces over a period of time, editing as you go. By doing this you will create a room or even a home that will never date. Anything instant is never successful, but slow accumulation over time creates an interior for a lifetime."
Liked this? You'll love these! 1. We Have Your Inside Look At One Of Brisbane's Most Picturesque Wedding Venues 2. 9 Brisbane Workshops To Check Out If You Want To Learn A New Skill 3. Our Pick Of Brisbane's Best Riverfire Events: 2018 Edit
Image: My Domaine