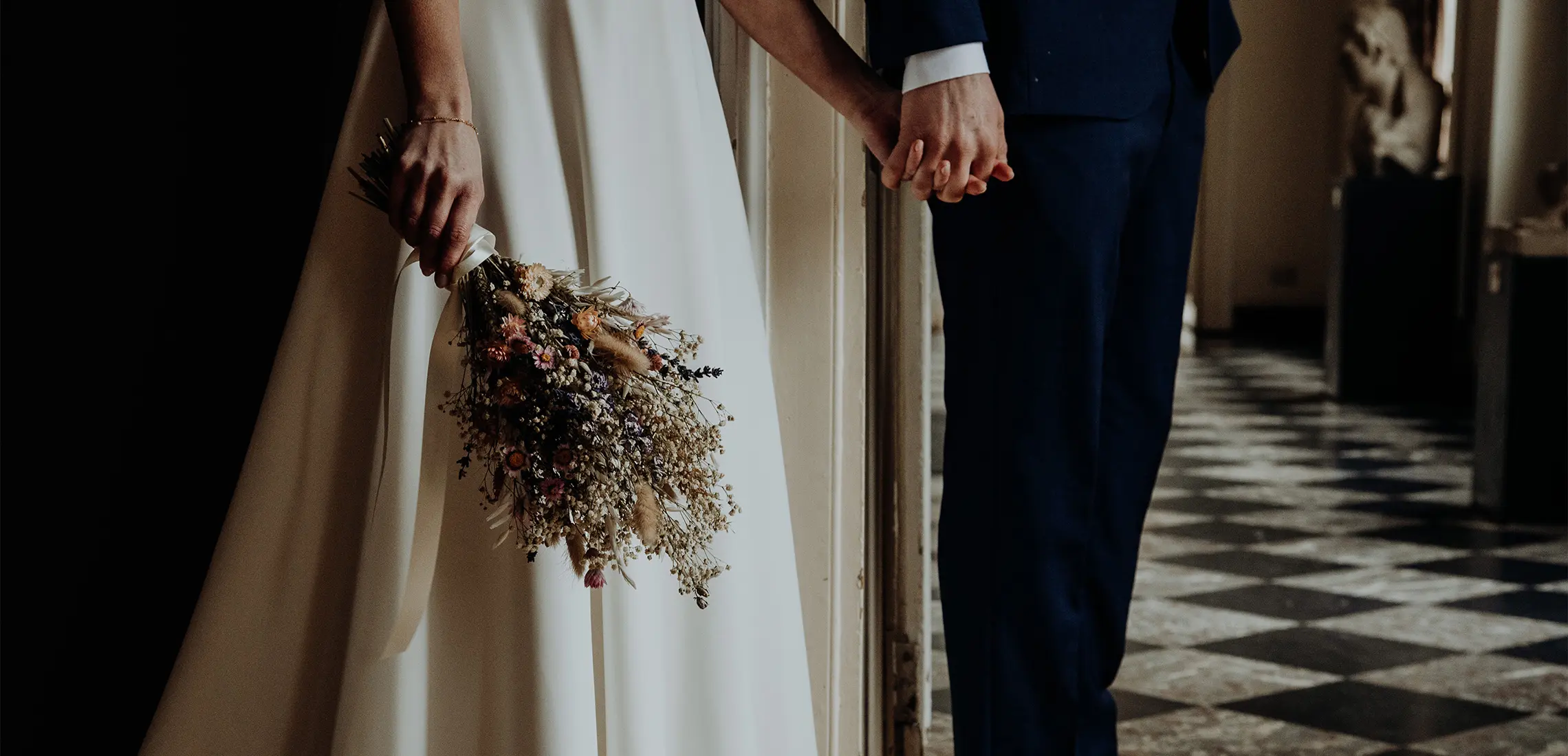 Here Are Brisbane's Best Wedding Vendors For When You Can Hear The Bells 
Save the date 
By Dinushka Gunasekara | 30th October 2023

A wedding is filled with so many moving parts – sending invites, picking flowers, attending taste tests (don't mind if we do), sentimental dress fittings and so much more. But there's no doubt that those two very special words make it all worth it!

Get ready for your happily ever after with our pick of Brisbane's best wedding vendors. From gourmet catering and fairytale venues to the finishing touches that make all the difference, you'll be loving your dream day before you even make it to the aisle. 

By the way, we consider everyone in this list the best of the best! To make finding your next favourite that much easier, we've ordered the list alphabetically by suburb and also have filtering tabs for your convenience. Did we miss someone from the list? Let us know here! Hide the form

FILTER BY

All
All
Brisbane CBD
North Brisbane
East Brisbane
South Brisbane
West Brisbane
Gold Coast
Noosa
Sunshine Coast
Victoria Park 
Herston
With rolling hills and stunning city views, it's no wonder that Victoria Park has established a reputation as Brisbane's number one wedding destination. As well as picturesque wedding spaces to choose from, Victoria Park also offers an array of delectable food packages, catering for everything from three-course sit-down menus to cocktail packages such as an Asian fusion buffet menu, taste of India buffet menu, and a family table menu of Mediterranean-inspired dishes. So, how does it work? All of their couples get a personalised tailored proposal within 24 hours of their enquiry and are invited for private viewing. Once confirmed, a wedding planner will do all the groundwork for you! 
View this post on Instagram
Argyle Jewellers
Carindale, Mt Gravatt 
As the piece from your wedding you'll wear for a lifetime, getting your hands on the perfect ring is a task you'll want to get right. Luckily for you, Argyle Jewellers specialise in custom-creating beautiful one-off pieces that are essentially your dream design brought to life. Housing the skill to work with your desires in terms of style, budget, and occasion, this experienced and passionate team are all about making your ring, your way. 
View this post on Instagram
The Lex
Brisbane City
If you're looking for something a little bit different, The Lex is Brisbane's sophisticated new riverside venue, offering terrace-style dining with spectacular sunset views over our beautiful River City and out to Mount Coot-Tha. Turn your dream wedding into a reality with a number of all-inclusive packages, featuring live chef stations, food and drinks from their award-winning culinary team, event styling by Main Event Weddings, and more. Enjoy a stay at W Brisbane in a luxurious Marvellous Suite on the wedding night, with special accommodation rates for your guests. The hotel is also the perfect spot for all your pre-wedding festivities! 
View this post on Instagram
Howard Smith Wharves
Brisbane City
Set amidst 500m of riverfront and an abundance of open green space, Howard Smith Wharves offers a selection of waterfront reception venues, perfect for an intimate 40-guest affair or an elaborate 600-person soiree. Reflecting your unique style while feeling quintessentially Brisbane, your dedicated planner will look after your every need in the lead up to the big day – from venue coordination to timings, and supplier liaising. With menus inspired by their current restaurant offerings and Crystalbrook Vincent only a short stroll away, Howard Smith Wharves will make your day as easy breezy as it can be. 
View this post on Instagram
Mrs Gibbons Flowers
Salisbury
Flowers set the stage for a beautiful day to be remembered, which is why picking the right florist is essential! With more than two decades of experience, consider enlisting the talents of seasoned floral stylists like Mrs Gibbons Flowers to ensure your wedding is brimming with beauty. They excel in crafting the most stunning arrangements, whether you're after enchanting bridal bouquets or amazing table centrepieces. With Mrs Gibbons Flowers, your love will be in full bloom!  
View this post on Instagram
Celebrating in Style
Coorparoo
Take the stress out of wedding planning by enlisting the help of the pros at Celebrating In Style! From the get-go, they'll help craft your dream vision and bring your one-of-a-kind event to life. These event experts can handle it all, from hunting down the perfect venue, managing budgets, coordinating suppliers, to ensuring your big day runs like clockwork. With Celebrating In Style, you're in for a stress-free celebration that's bound to be all you've ever dreamed of and more!
View this post on Instagram
Chloe Joy 
Online
Add a touch of charm to your wedding with gorgeous invitations and event signage by Chloe Joy – a talented calligraphy artist based in Brisbane. Your guests will be wowed by her collection of handcrafted pieces, whether it be invitations, personalised place cards, elegant tablecloths, thoughtfully designed menus, welcome signs, or seating chart guides. Every detail is expertly brushed by hand, and Chloe will make sure your wedding signage matches the unique beauty of your celebration.
View this post on Instagram
The Balanced Dancer
Mobile
They say the success of your first dance sets the tone for your marriage – so you better make it a good one! With 30-plus years in the dance industry, Natalie from The Balanced Dancer brings a bespoke and unique experience for those that are soon-to-be wed. Natalie's wide range of genres, including jazz, tap, ballet, hip hop, contemporary, and ballroom has seen her choreograph some of the most dynamic first wedding routines you will ever see. The Balanced Dancer offers an array of packages, from a fully choreographed first dance to a one-hour private lesson that will leave you and your boo with a bank of moves to showcase on the dancefloor. Doubling as a dreamy couple bonding experience before the big day, having The Balanced Dancer in your corner will ensure you take the best step towards your future love! 
View this post on Instagram
Petal and Peach Bakery
Online
The sweetest way to celebrate your love is with a handcrafted wedding cake from these passionate bakers – thoughtfully created just for you. Serving up an array of flavours like raspberries and cream, milky espresso, banoffee, and red velvet, order one of Petal and Peach's tasting boxes available three times a year to experience the magic before the big day. Once you've chosen your flavour, their keen eye for detail and impeccable skill will create you a custom wonder your guests will adore!
View this post on Instagram
Margarita Margarita
Mobile
Keep the good times rolling with a visit from Stanley – the mobile margarita bar with the tastiest shaken margaritas ready to flow. Offering all-inclusive private event packages, this cocktail service will be the highlight of your reception as guests enjoy a tipple for the entire duration of your booking. You know you're in for a memorable occasion when the Margarita Margarita team pull up!   
View this post on Instagram
DALTON Catering
Fortitude Valley
A caterer has one of the most important roles in an event as memorable as a wedding – they must provide a delicious menu that everyone will love. While it's no easy feat, DALTON catering has mastered the art, curating luxury catered events since 2003. Plus, it's not just the exceptional catering they are known for – DALTON Catering offers bespoke wedding packages and styling services. If you're feeling indecisive about critical decisions, then we recommend DALTON Catering's iconic Fire Dome open-fire catering where an open-fire pit will roast, grill, and smoke carefully sourced local ingredients to perfection right in front of guest's eyes. Speak with the DALTON team now to find out more about their wedding services with their obligation-free quotes.
View this post on Instagram