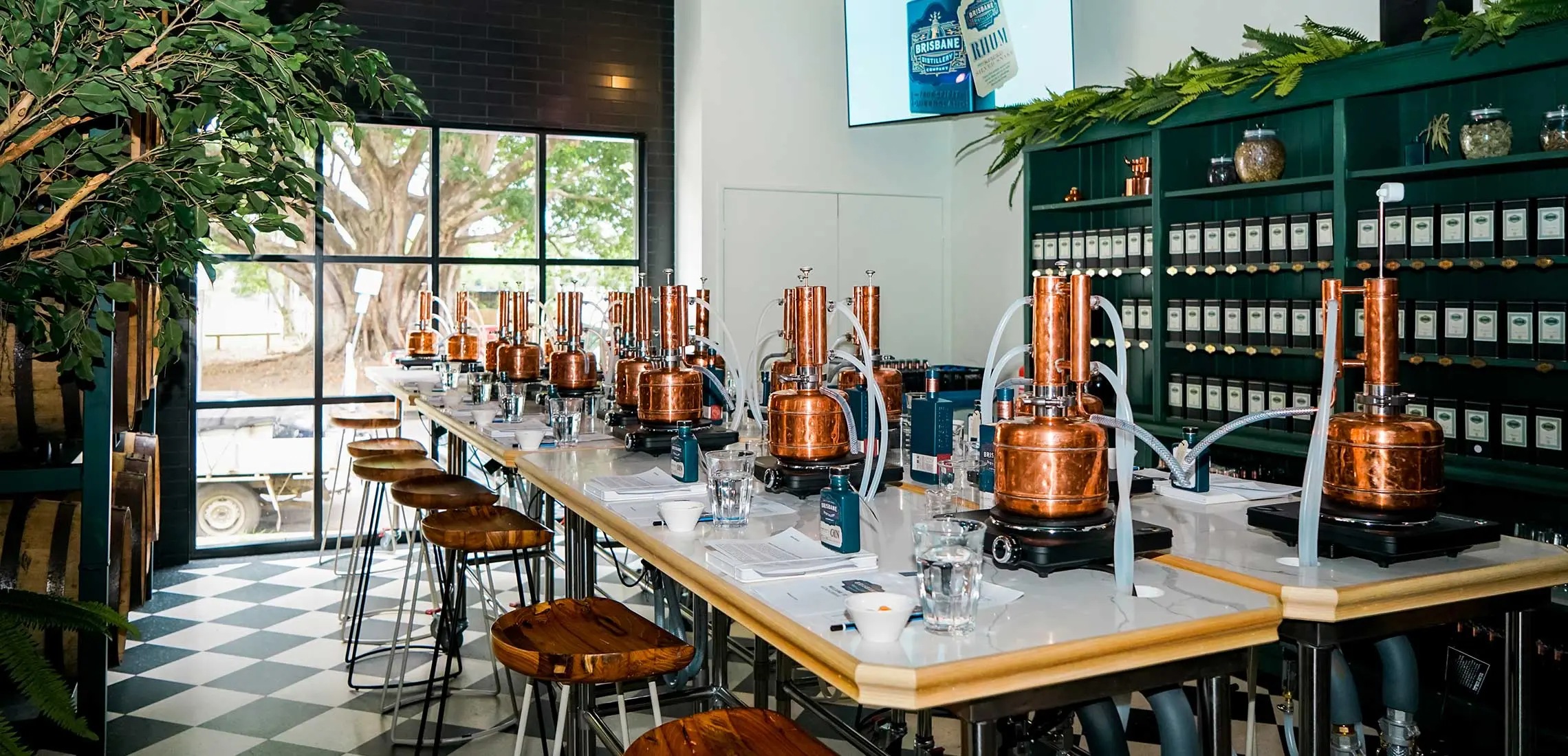 Welcome To Gin School!
Is A-aron present?
By Guest Styler | 28th October 2020

You know your job's tough when two colleagues are sick at roll call and you get asked to cover for them at gin school. Probably the most prime situation for a drizzly Wednesday arvo in Bris, I packed my Poppy Lissiman croissant bag and got going to my very first class at Brisbane Distillery.

Following the sign to Gin School, our photographer Corrina and I walked into the new West End venue, narrowly escaping a lecture on punctuality. As two rookies who hadn't done their homework, we weren't sure what to expect and instead of getting slapped with a detention, we got handed two strawberry eucalyptus gin cocktails. Ginning! With checkerboard floors, black brick walls and an emerald green ceiling, this room was nothing short of a tiled vibe. Picture clusters of greenery, botanical illustrations galore, traditional apothecary-style shelving and two tables of 30 copper stills, as we sat down at our laboratory and the flashbacks to high school chemistry explosions started.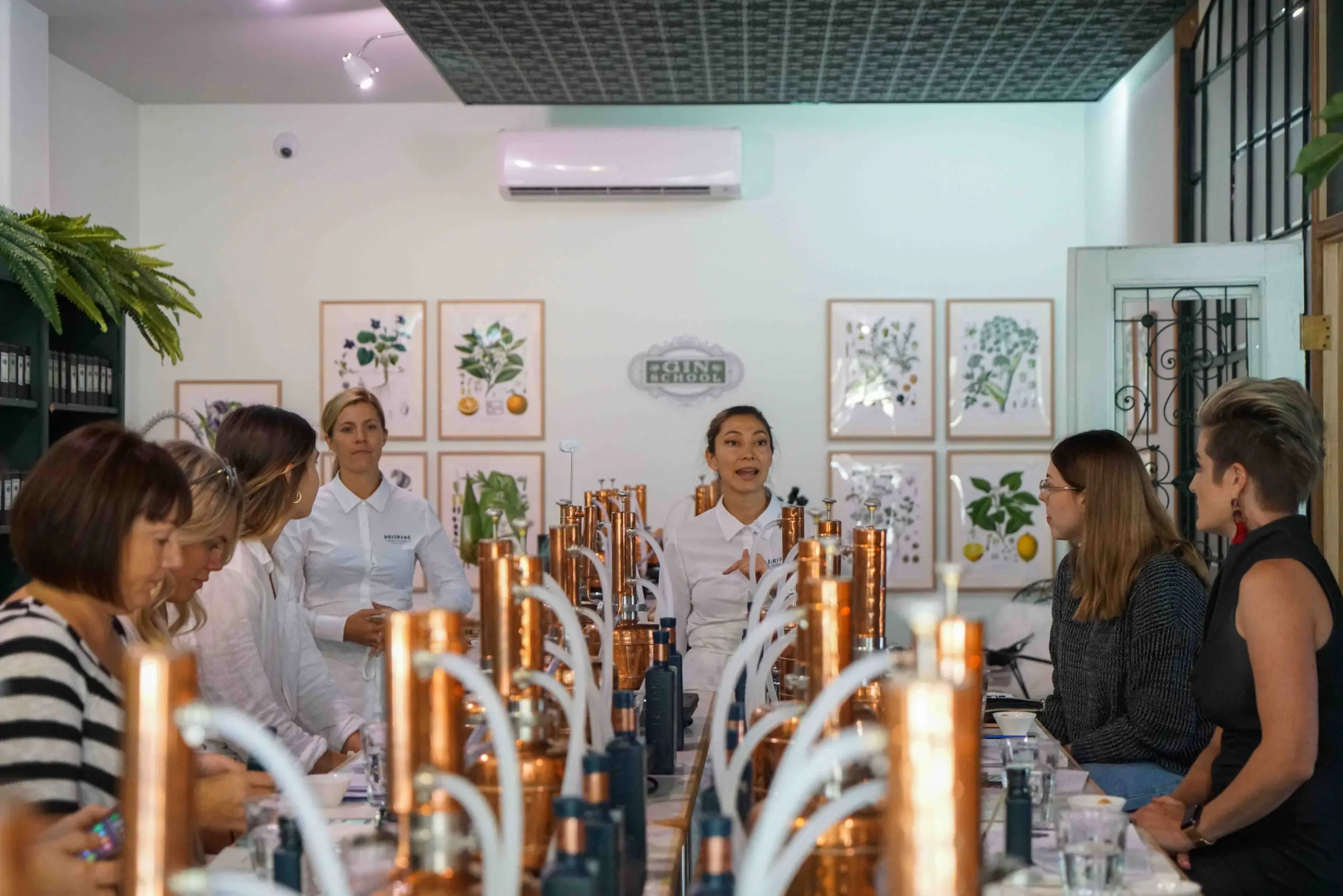 Photography: Film Focus for PDPR
Step 1: Recipe rookies   
The first step in the distilling process is choosing the style of gin you like to swig on a Saturday. Woody, spiced, citrus, floral, herbal, fruity or sweet? Hint: if you're a Negroni sipper or a sucker for a martini, keep that in mind! You'll quickly master the flavour matrix, choosing four botanicals from the wall behind you. 150 tins are filled with different ingredients like lavender, lemon myrtle, Kakadu plum and cardamom, meaning every single gin made is a bespoke creation, made only by YOU!    
Photography: Film Focus for PDPR
Step 2: Basic botanical b*tch
Alright, I'll admit it: I cheated in creativity and went for what I knew was best – Aussie bush-inspired botanicals, all the way! With eucalyptus, lemon myrtle, cinnamon myrtle and angelica root on my table, I prepared myself for a punch of flavour as I poured each ingredient into a teabag. You really can't go wrong with their range of natural, local ingredients. A+ for taste, am I right?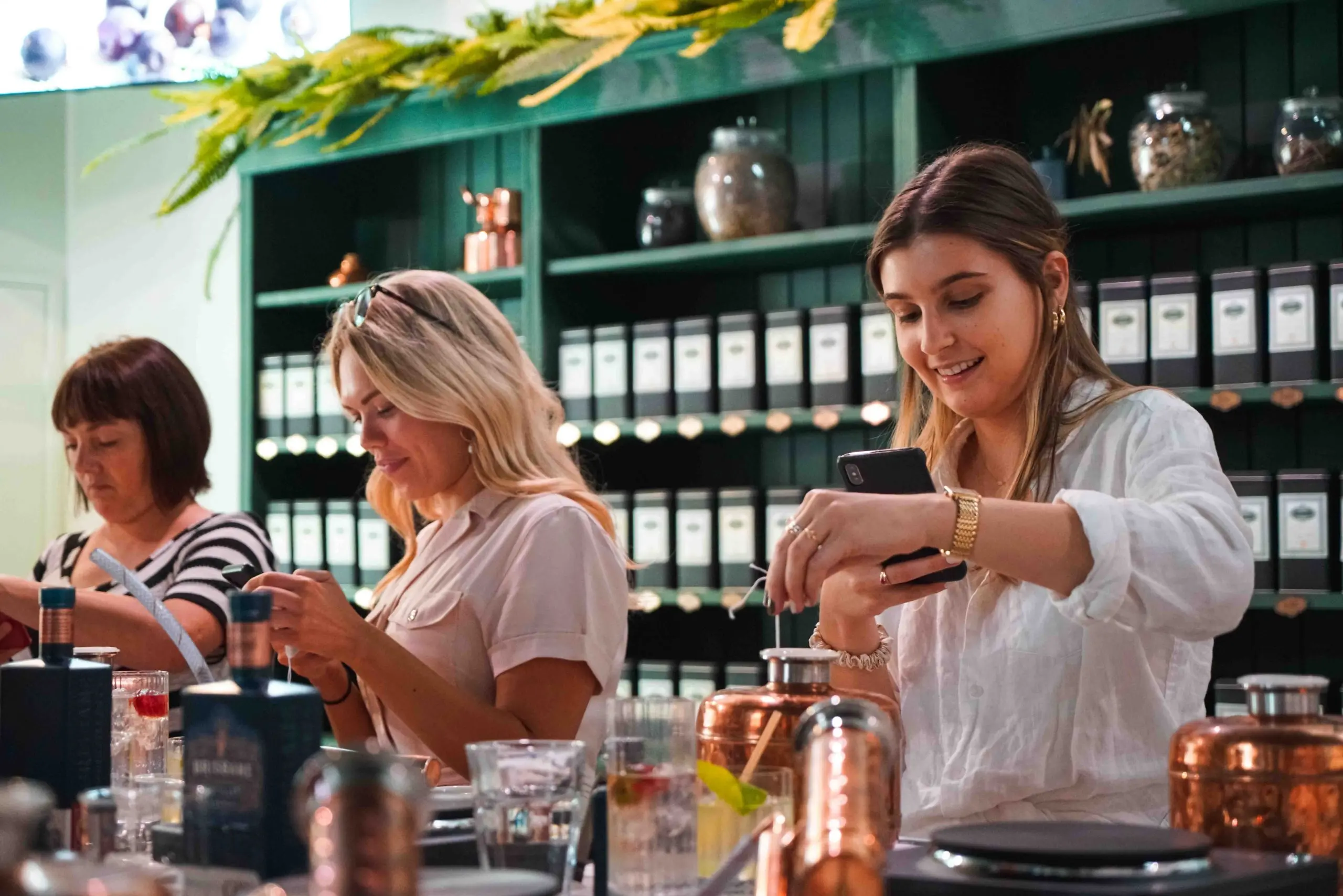 Photography: Film Focus for PDPR
Step 3: Distillation dreamin'
Cue the Breaking Bad soundtrack as I turned my hot plate on and the distillation process began. We dunked our teabags into the chamber of juniper (aka the secret ingredient to most gins), connected various parts to the contraption in front of us, sipped our second cocktail, and then the magic began. Within seconds, our beakers began filling with holy water (gin) and the students were rewarded with a decadent cheese platter from Chez Nous Corporate.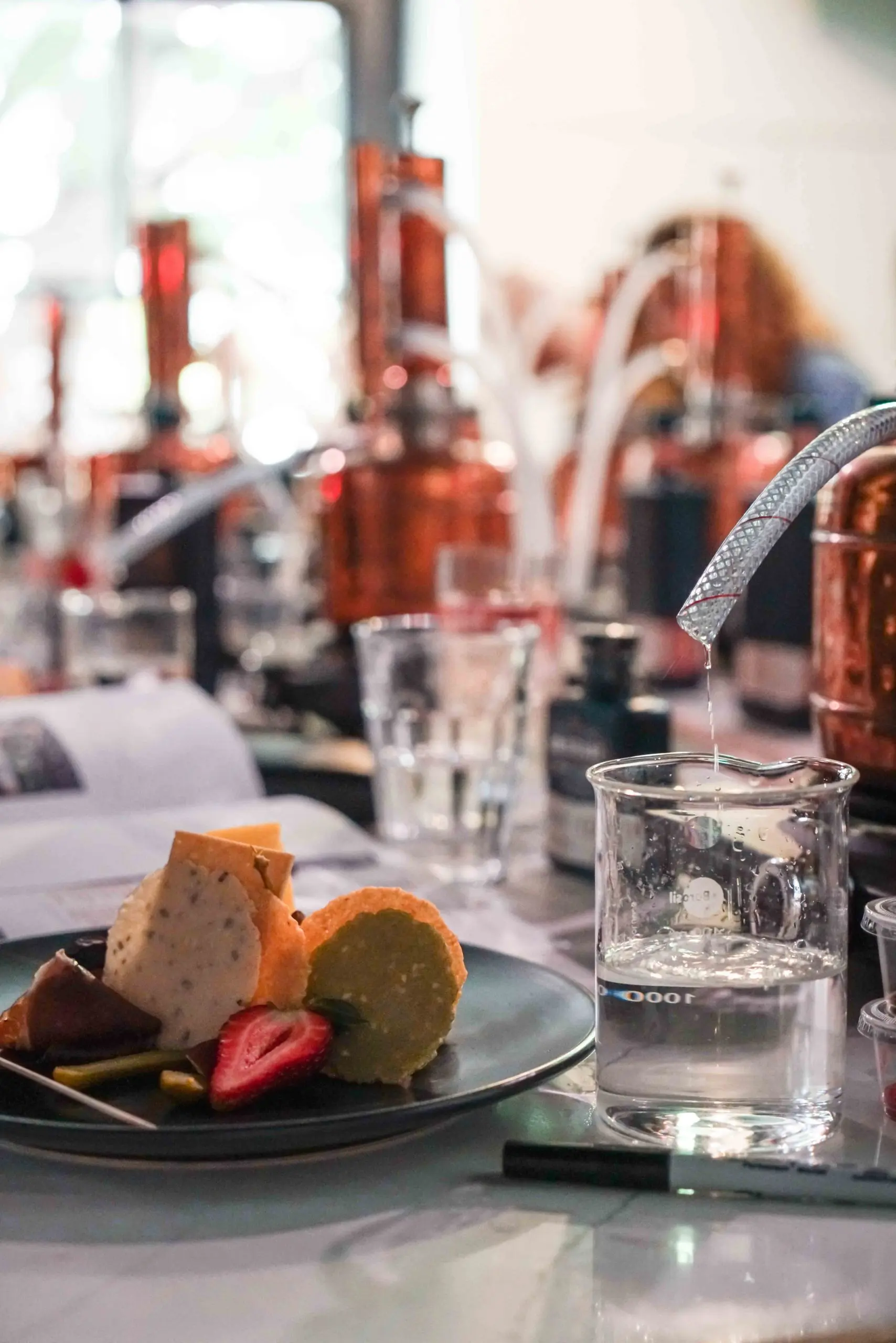 Photography: Film Focus for PDPR
Step 4: Poppin' bottles up in here
In the last step, we chose our bottle style, slowly funnelled in the liquid gold and corked it in. At this point we were about three gins deep and getting advised to taste our gin throughout the process to notice flavour changes. Leaving sober? Ima-gin that! The final step was to label the swing tag with our botanical infusion, autograph the distiller's section (for when you change career paths to pro gin creator), and think of a name to do your gin justice. Yep, 'You Better Beleaf It!"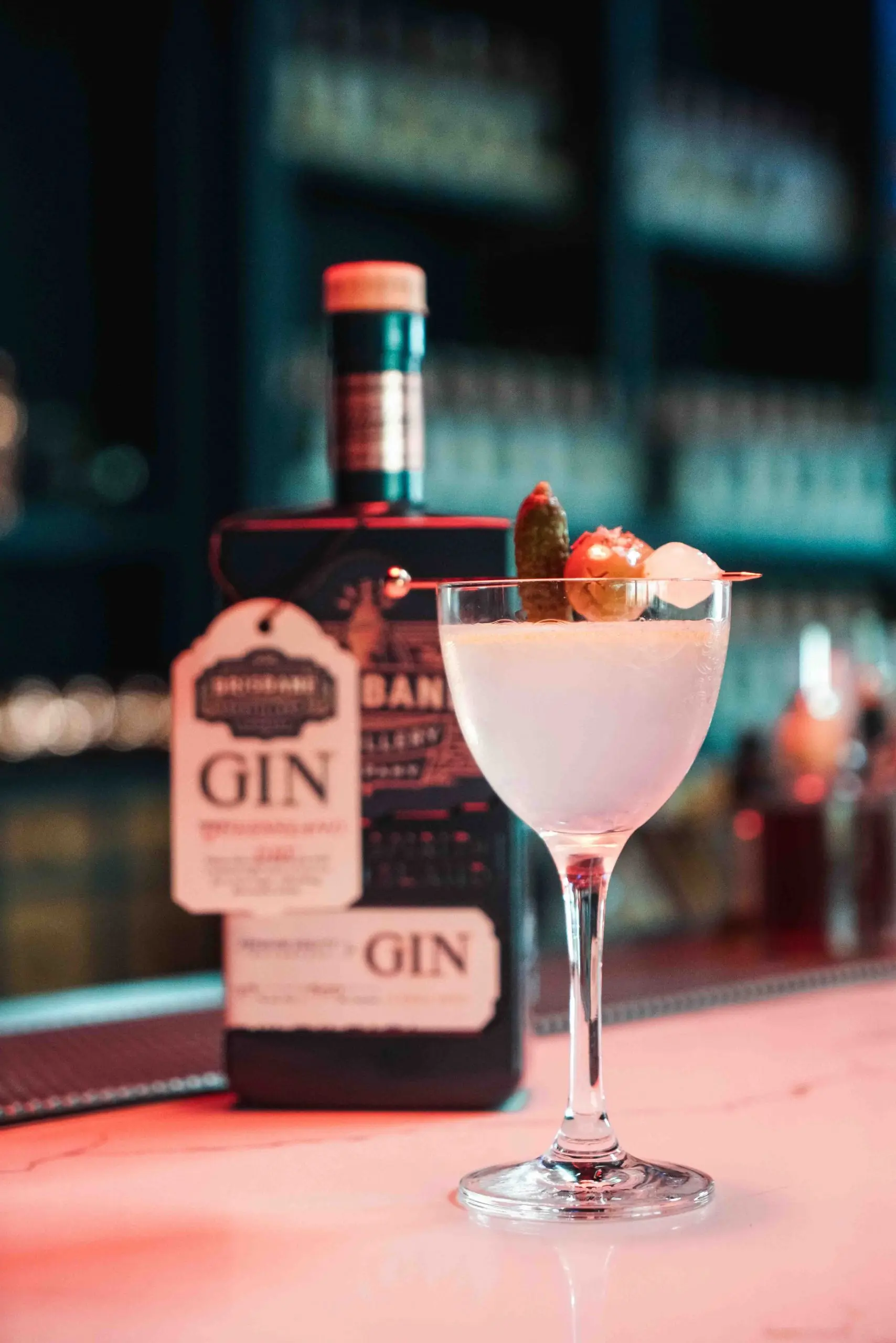 Photography: Film Focus for PDPR
Disclosure: while there were definitely more than four steps involved, we've kept things short and sweet so you can experience the full lesson for yourself!
If there's a better way to spend hump day, we'd like to know about it, 'cause we were pretty damn impressed with Brisbane Distillery and their Gin School. Not only did we walk away a lot wiser about the spirit we love consuming, but we left with our 500ml bespoke gin creation, and a smaller 125ml bottle made by the experts themselves. You can book your very own Master Distiller Experience for $189 per person from Wednesday to Saturday, 2pm to 6pm here! Psst, their Caribbean-style rhum is also a must-try the next time you're perched at their bar!