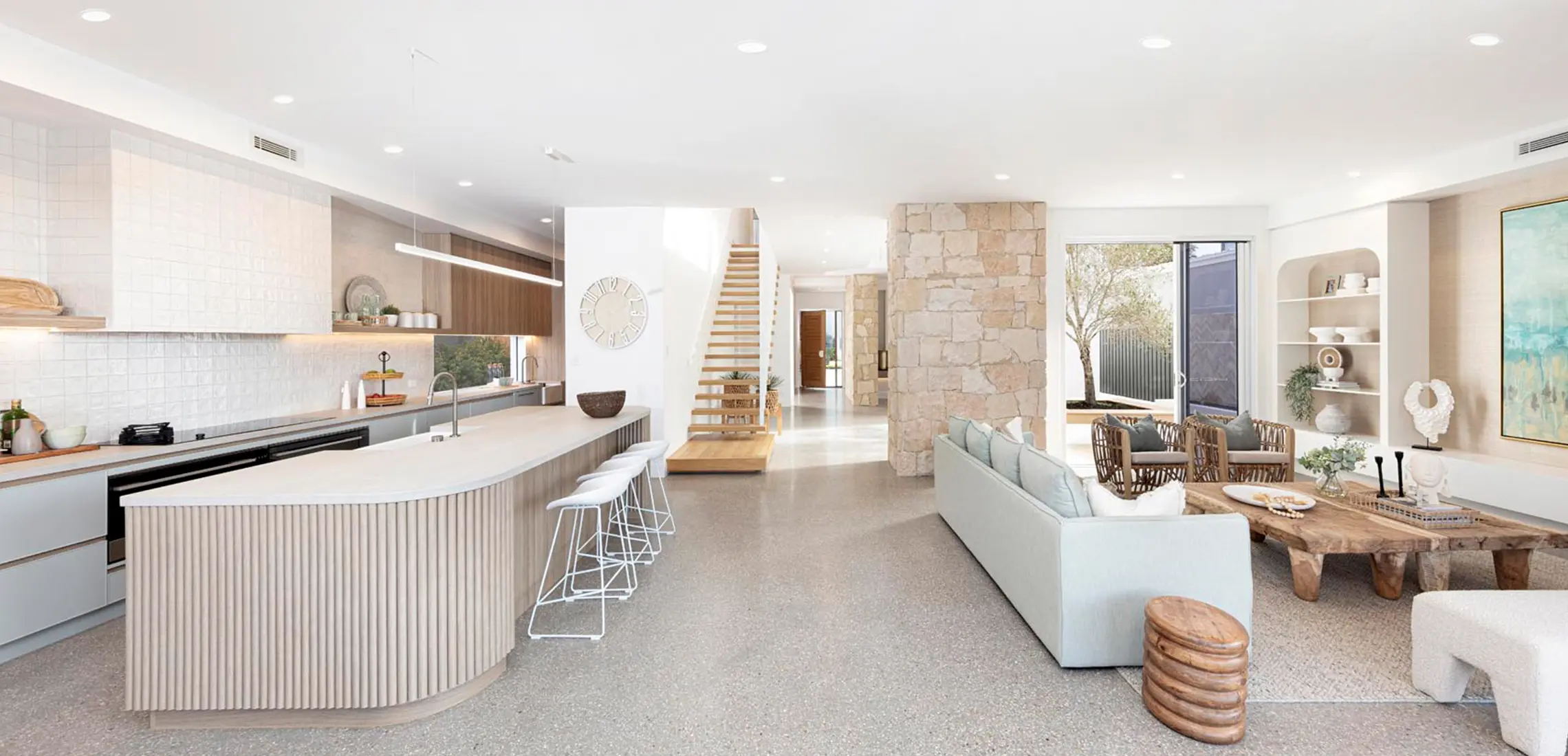 Pack Your Bags, Brighton Homes' Latest Venture Brighton Black *Is* Luxury Living
Welcome home
By Stamatina Notaras | 8th November 2022

Pining for your perfect home? Stop scrolling through Pinterest for a hot minute – we've got all the glorious inspo right here, neatly packed within four (plus!) walls of Brighton Homes' latest venture, Brighton Black.

Bringing everything an entertainer could possibly dream of into the one home, Brighton Black (BLK | 49C), gives new meaning to attainable luxury. Neutral and beige tones make for limitless design opportunities in a fresh and open space, while the crisp and neat aesthetic oozes sophistication in a laidback way that makes it both liveable and lovable. Yep, it's the dream family home, and you're all invited to move in!

From its functionality to its grandeur, the double storey BLK | 49C gives new meaning to 'there's no place like home'. Made up of four generously-sized bedrooms each with their own walk-in-robe, five bathrooms, three large living spaces, and more, the open-plan design allows you to live out your best life. So much room for activities! 

With contemporary architectural features like its floor-to-ceiling stone walls, double height voids, and internal floating timber staircase, the home is a masterpiece in design, while sticking true to its purpose for family living. Glide through the bottom level, where the entry, home office, and living area open onto a central courtyard that brings a light filled indoor-outdoor continuation to the space, while the second level presents a cosier disposition in the form of the bedrooms and additional lounge. 

The first from their new premium range, BLK | 49C is more than just a couple of walls. It's the perfect middle ground between a project home and a custom-built design – you won't find it on every street, but you won't have to labour over a custom-build process, either. 

It's a place where birthdays, barbecues, and baby showers happen. Where friends and family gather together, not just for the special moments, but every other Sunday. This home caters for those who WFH and need a little TLC at the end of the day in the theatre room while also being where growing families can live together, without stepping on each other's toes. It'll change the way you think about home life, because life's too short not to love where you live. To sneak a peek at your new dream digs, click here.