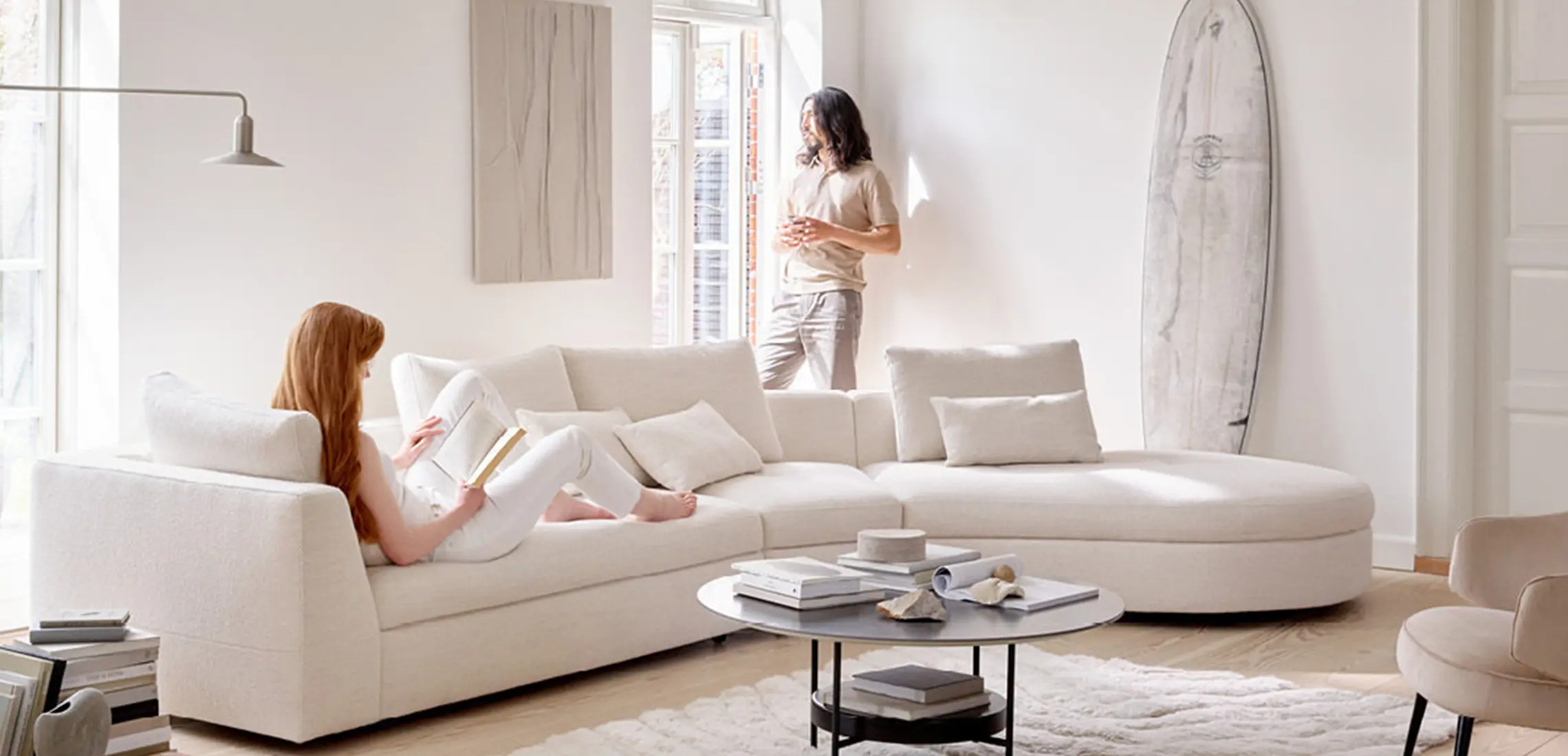 Freshen Up Your Home With Expert Interior Design Tips
Welcome, your dream home awaits
By Astrid Taemets | 11th March 2022

Like the clothes you wear, your home interior style is an extension of who you are, what you like, and what inspires you. Whether you're a true devotee to minimalism or love to show your playful personality through prints, colour, and patterns, the pieces you choose to fill your home with paint a picture of the person you are.

And like every new season, the urge to refresh and breathe new life into your space is an impulse we all crave. But what is the best way to take on the latest interior styles without falling victim to trends that will only fade?

Whether you're looking to implement fresh takes on old pieces, need a total room-by-room makeover or just a little expert help take you in the right direction, make BoConcept your point of call.

Celebrating their 70th birthday this year, BoConcept are leaders in exceptional interior design. With the roots stemming back to Denmark, BoConcept stands on the principles that made Danish design admired around the world: simplicity, craftsmanship, elegant functionality, and quality materials, and their tagline, 'Live Ekstraordinær' encapsulates just that.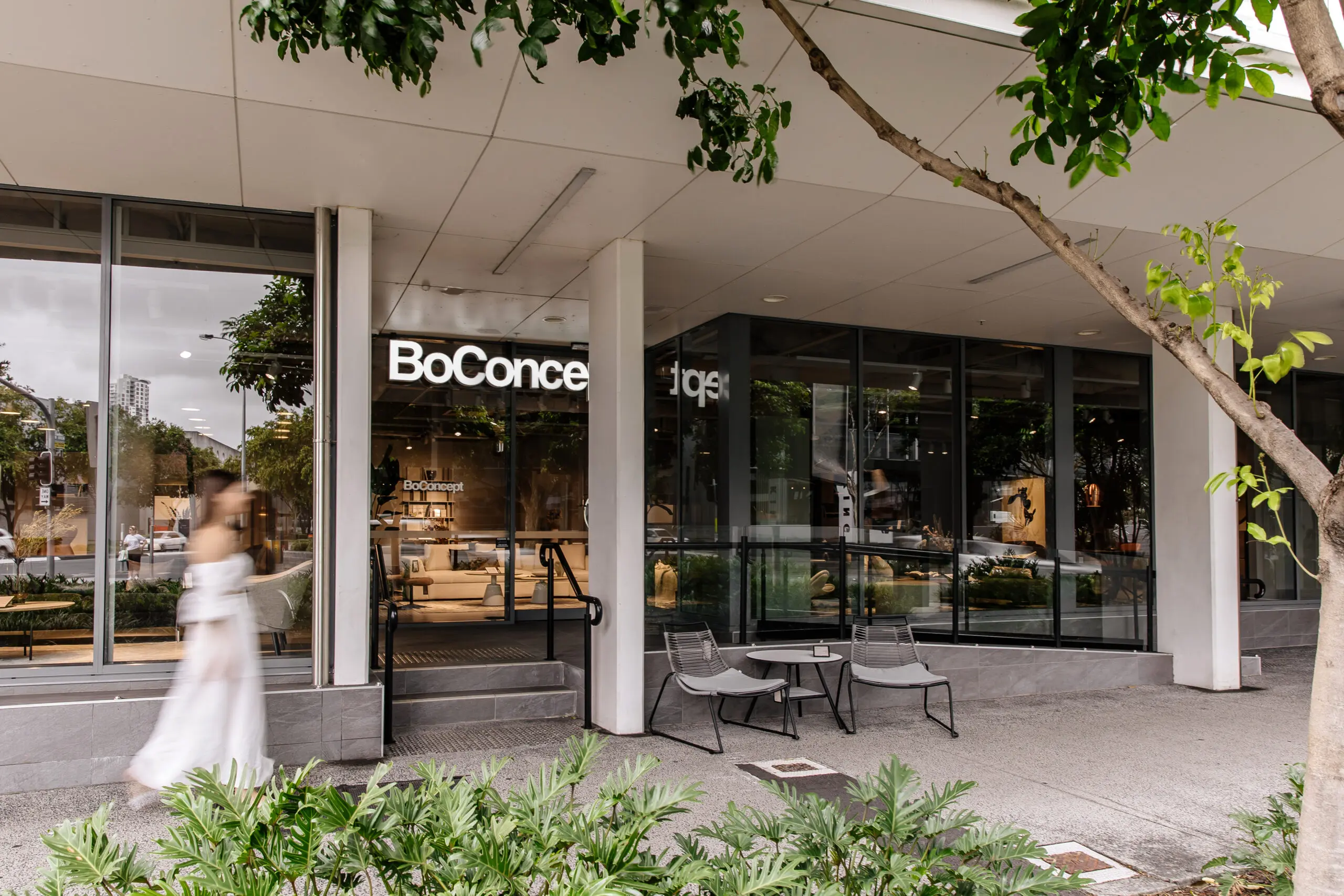 Their furniture collections, lighting, and accessories are exquisitely crafted by some of the world's finest and most respected designers, surpassing seasonal trends to make timeless, premium items to love and cherish in your home forever – a far more sensible and economic way (in the long run) to love your home, don't you think?
By investing in the right items, you can keep your style relevant as well as timeless. Sounds daunting, but we spoke to BoConcept Brisbane Store Manager and Interior Designer Ryan Stevens about how to create an extraordinary home, no matter what your budget.
What are this year's interior colour palette trends?
There's two trends emerging this year – one is focused on pared-back neutrals, the other is inspired by the rich, earthy tones. For light and uplifting spaces, our Scandi-inspired palette will breathe new life into a home through muted colours, minimalistic design. A modern Nordic interior is somehow both calming and homely while remaining grand and impressive. This core palette will help you achieve an authentic Scandinavian base, to which you can add pops of your own personal style. It pairs beautifully with blonde oak, stony ceramics, and accents of cement. Everything about this style is designed to soothe and calm.
The other colour palette is a metropolis of inspiration. From deep, saturated earthy tones to subtle brown, blue, and black, this contemporary expression adds a vibrant city sophistication to a design or space. Expect dark oaks, natural leathers, and plush fabrics for a touch of moodiness.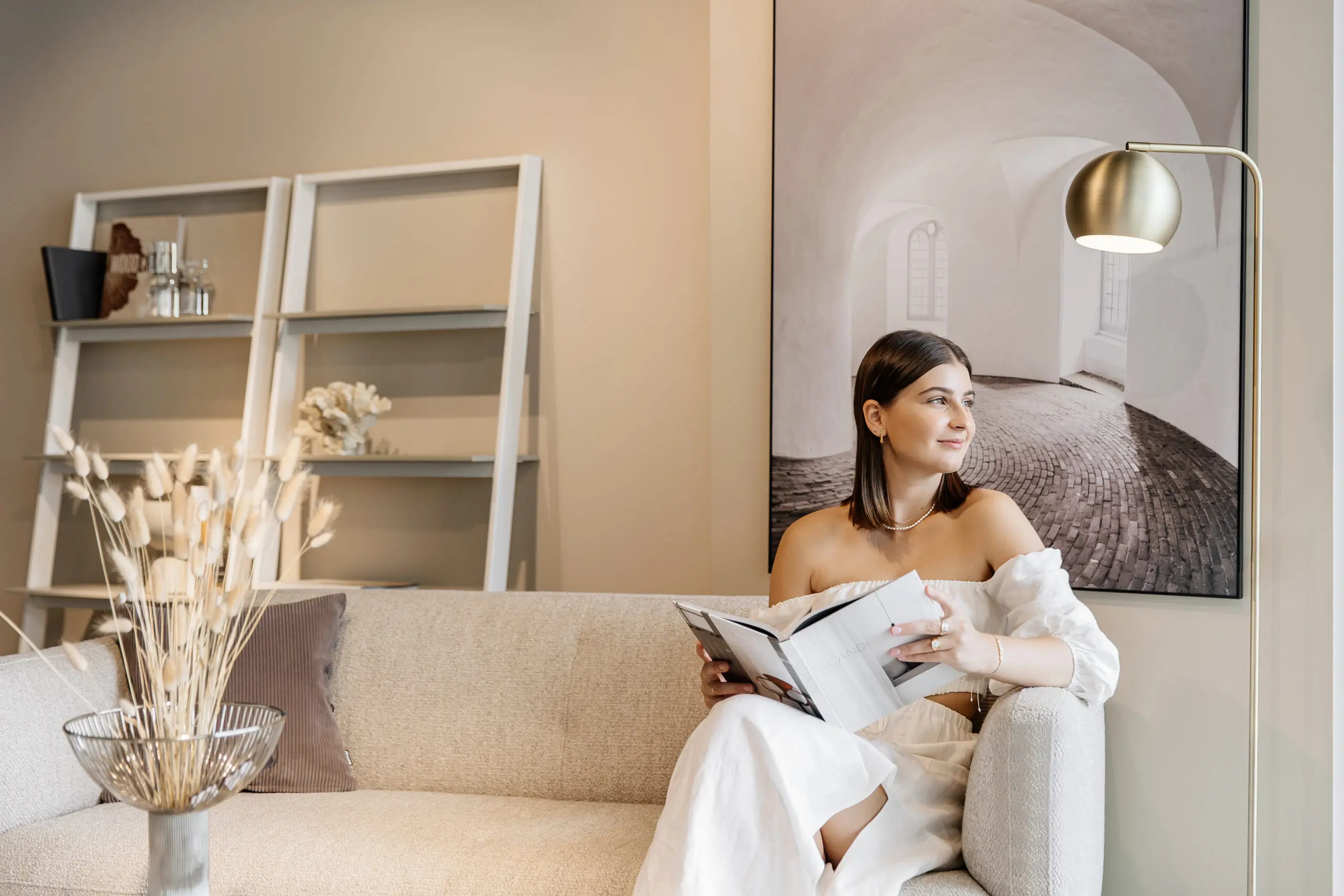 What are the current interior styles and design trends?
Authentic sustainability is becoming more and more prevalent in every aspect of our lives. Green is not a trend. It isn't something that will (or should) come in and out of fashion. It's a commitment to an ongoing journey of respect and accountability, therefore, we want the aesthetics of our chosen materials to reflect this mindset.
I believe that we'd never craved simplicity more. With a human desire to go back to basics, we are collectively moving away from over-consumption with a preference for considered selections. This supports the ever-growing need for genuine mindful options and a desire for transparent production.
Neutrals are generally safe colours for furniture as they create the perfect canvas to play with bold colour and pattern through decor, paint, and accessories. However, when it comes to making a piece of furniture a focal point, consider being daring, and take the plunge with a bold hue.
Naturally, trends are important. They help shape what will be displayed in BoConcept showrooms, and, in turn, what is displayed in BoConcept showrooms will help shape trends. But good design is more than that. For us, it's very important to be able to tailor our products to the taste of our customers. We love to help and guide our customers to express their taste in interiors. So, while trends play a role, we love offering personal expression in design.
Explain how to easily and affordably incorporate the above into our existing decor?
It's the small details that turn a space into a personal home, and allow you complete a look and personalise it to your taste though colours and materials that create an extraordinary look and feel. You can add textures and colour through artwork, rugs, accessories, and smaller furniture pieces such as an ottoman. For example, the Eden footstool is an opportunity to add colour, texture, and functionality.
What are key furniture pieces to invest in that will work beyond trends?
A dining table is an example of a piece of furniture that should stand the test of time. The Alicante table is our choice for a sturdy and large table that still offers an elegant expression in the room. Available both with and without the extension, the Alicante is an ideal family dining table as the ceramic top is a virtually indestructible surface. Elegant, and practical, it's pieces like this that should create the foundation of your home style.
Similarly, a statement piece could be the main furniture in a space. It could be a sofa or it could be an art piece. At BoConcept, we love extraordinary – something that draws attention – and with its unusual curves, our new Bergamo sofa is certainly a statement.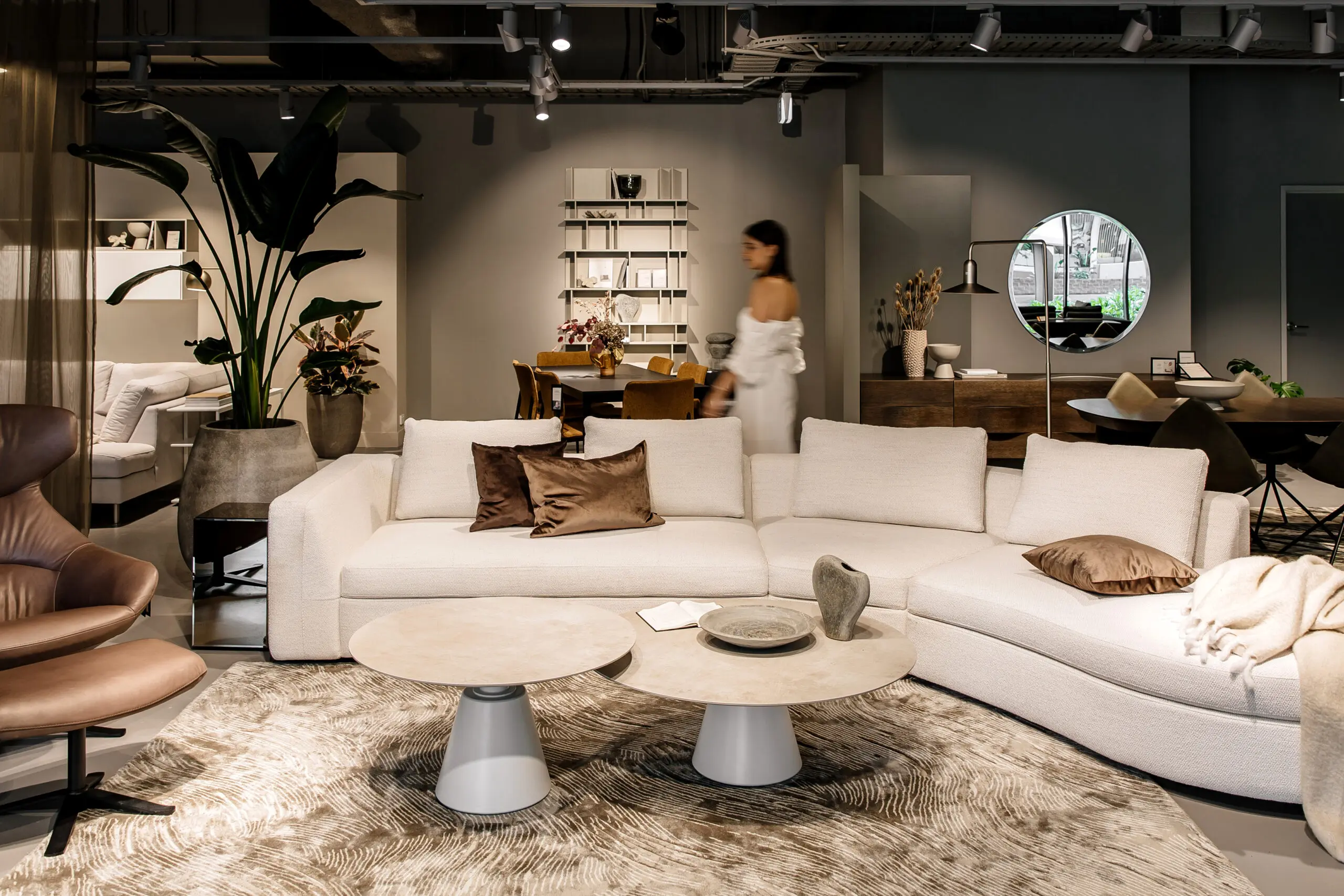 Where can we save on styling pieces?
Infusing your space with personality doesn't have to involve a large makeover. The right accessories, cushions, art, and mementoes can tell your story and transform a room.
In your experience, what are some of the most common mistakes made when decorating?
Proportions are really important, and understanding the size of the space that our clients have, working with floor plans, and taking measurements is always the best starting point. Balance in a room is also important. For example, it's not ideal to have a large sofa and a small chair in the same room. Right away, you'll be able to feel that something is off-balance.
Missed opportunities to introduce layers of textural interest and comfort to a room is also a common mistake. Rugs and rough textures add warmth and comfort, while layering colours helps add depth and dimension. Just try not to add too many different colours to one space. Safe colours such as black, white, grey, and brown are colours that will mesh well with the vast majority of decor styles, are unaffected by trends, and can make furniture feel timeless.
Stop dreaming, and start creating your extraordinary style with BoConcept here.