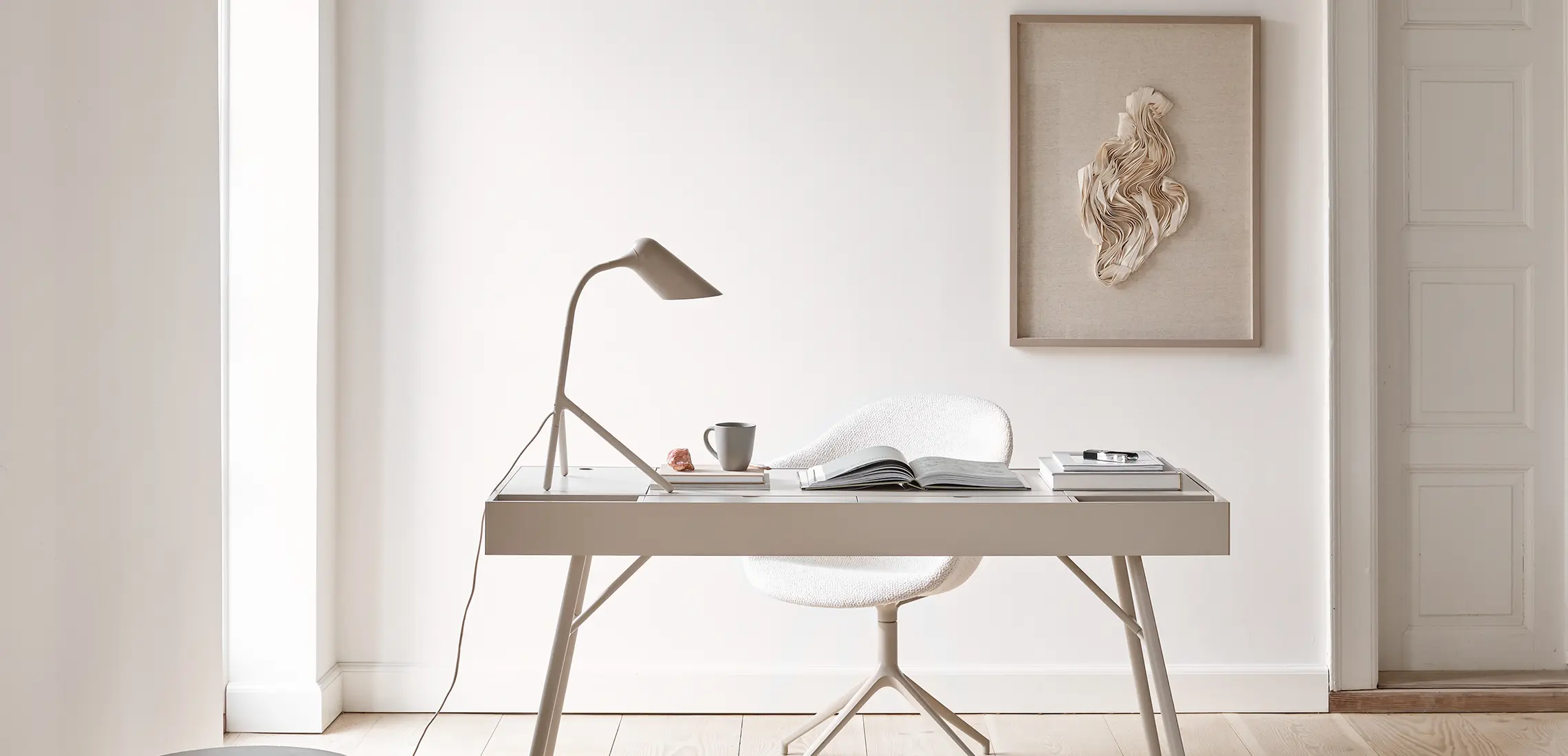 WFH: 7 Tips On How To Create The Perfect Home Office 
Workin' 9-5
By Astrid Taemets | 14th December 2022

If the past few years have taught us anything, it's not to discredit the humble home office. 

Previously an after thought for many who mistook them as something only those with enough money and square footage to spare would need, home offices are, these days, one of the more important rooms featured on a floor plan. 

Attempting to work at the kitchen bench hunched on a stool or sitting in the sleepy comfort of a bed does not make for productive work. Recognising the importance of an office as an essential feature in any home, BoConcept Brisbane want to help you create the perfect space to get your work done, one KPI at a time. 

While the perfect home office looks quite different for each individual, 'form follows function' is a simple rule to apply when considering how to create your dream home office, and BoConcept Brisbane's interior designer Jade Wilden believes it's the key to creating a space you'll want to WFH from every day of the week…
What are the fundamental pieces from BoConcept you need in your home office?
Balancing form and function, our new season home office desk and home office chair designs have been created to inspire productivity. From modern desks with storage to ergonomically designed office chairs, BoConcept's New Kollection home office furniture works just as hard as you do. My personal favourites are the Cupertino desk, Adelaide chair on castors, and a smart storage solution like our Copenhagen unit or Como shelving. 
Where in the house should you set up your office?
The first step in picking a space for your home office is to consider the spaces available to you, and think about what you need it to do for you. Do you meet with clients in this space? Does your job require specific equipment, or will you need ample storage? Consider how you can best utilise the space so that these things have a specific place without compromising the workspace. 
A separate study, spare bedroom, or a quiet corner can make for ideal positions for a working area. It's best to find a spot in your home that feels comfortable and calming for you. 
From paint to decor, what colour palette is ideal for a working space?
Layered neutrals such as grey, creams, and natural wood tones encourage focus and a sense of calm in a working area. Neutrals are timeless, easy to incorporate into your home's style, and are proven to encourage efficiency and minimise distraction.
What additional pieces work well in a home office?
A study is a really lovely space to style. You can add further touches or personality through functional items such as lamps and extra seating, while also utilising decorative pieces such as a statement piece of art, bowls, or rugs to make the space more inspirational and inviting. Pieces such as the Charlotte chair for client seating, or the Demand lamp are timeless office staples that function beautifully while also being easy on the eyes. 
If the space is small, what are some clever ways to make it look and feel bigger?
In a small space, smart storage, clean lines, and light colours can be the secret ingredients to creating the illusion of a more generous space. Keeping a workspace free of clutter with something like our Cupertino desktop means a cleaner, more open space to work from. 
What are some fundamental rules to keep for a home office space?
Curate a space that inspires you to work. You will work the most effectively in a space that makes you feel calm, focused, and inspired. Tailor storage to your needs to prevent future clutter or storage pains. 
Our designers select designs and materials that make the most of the room and create balance, organisation, and comfort. 
How can BoConcept help you achieve the perfect home office space?
If you're unsure of where to start, our team of in-house designers at BoConcept Brisbane are always here to help. Simply book in an at-home or showroom consultation and our team will help you identify your needs and create a space that not only looks beautiful but is functional, too. 
Ready to make your home office the best room in the house? Check out the New Kollection from BoConcept here.