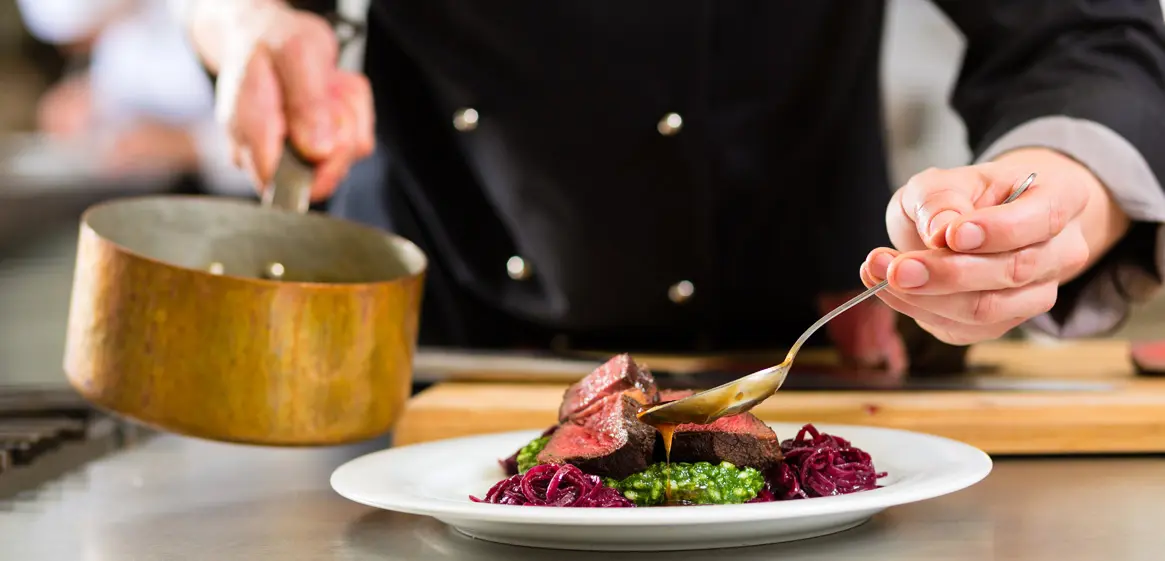 Best of Brisbane: Cooking Classes
It's important to have some skills in the kitchen, and what better way than to learn from the experts?
By Guest Styler | 24th June 2015

By Lucy White

Pasta is too simple, and you've already nailed the Sunday roast. But, what about a more refined meal? It's time to add some culinary delights to your arsenal for the next dinner party you're hosting.

Whether you're looking for a fresh and exciting date idea, a fun way to spend your birthday, or just hoping to improve your skills, we've got your guide to the best cooking classes in Brisbane!
THE GOLDEN PIG
With a name like "The Golden Pig", you might be expecting an afternoon of delicious pork…. And you're right! Though The Golden Pig offers a variety of different cooking classes and demonstration-style workshops, one of their more popular classes is 'Nose to Tail Day', which involves cooking up a feast of different cuts of pork once every couple of months. If that's a bit too intense, you can join one of their other classes, like 'French Decadence' or 'Moroccan and More'. Alternatively, you can go along to a craft beer and wine workshop to really enjoy the fruits of your labour.
38 Ross St, Newstead P 3666 0884
JAMES ST COOKING SCHOOL
Cooking is about using all of your senses, and that's the focus of the James St Cooking School's 11-year history. Get involved in the process to learn more about cooking than you can from tv – watch the food change colour and consistency in front of your own eyes… and then eat the finished product. Way better than tv!
At James St you will learn how to use domestic appliances in a professional environment, so next time you host a dinner party you can be as refined in the kitchen as a professional chef. We're thinking more Nigella Lawson, domestic goddess, than Gordon Ramsay.
Mezzanine Level, James St Markets, 22 James St, Fortitude Valley P 3252 8850
MY THAI KITCHEN
Specialising in the taste sensations of Thai cuisine, My Thai Kitchen can help you learn how to cook a Thai masterpiece no matter what your skill level is. You might be a complete beginner, or an iron chef looking to broaden your repertoire, the exquisite and delicate flavours of Thai cooking can be mastered by anyone with these classes. My Thai Kitchen classes are limited to a very intimate group of 8 people per class, which allows you to get as much guidance and assistance as needed, and there's no group cooking – you'll make every recipe on your lonesome. But don't worry, you'll get to eat together and even take home some delicious leftovers if there are any (there won't be).
Shop 18/ 36 Baroona Rd, Milton P 3369 8555
PUTIA PURE FOOD
If you're looking for something a little more health-conscious than a masterclass on delicious baked goods or suckling pigs, book a class with Putia Pure Food. Putia classes focus on a wide range of world cuisines, as well as having specific classes on gluten free, vegetarian, and other health-driven topics. They look at healthy lifestyles and taking inspiration from the garden, the kitchen and beyond, plus they're suitable for anyone at any age and any skill level. These informative, fun, and hands-on classes feature high quality local produce as well as boutique beverages. If you're looking for a little more fun after your cooking class, you can even take a walk through the Putia pantry – they offer a unique range of locally produced products, cookware, and kitchen-focussed giftware.
Shop 4, 17 Royal Pde, Banyo P 3267 6654
SPRING FOOD AND WINE
With an amazing selection of classes available, the Spring Cooking School is sure to help you gain some excellent skills in the kitchen, no matter what cuisine you're craving. If you're looking for something a bit spicier than the elegance of French cuisine, try your hand at something South American. Have you nailed pasta and pizza? You might also be a dab hand at Asian taste sensations or the flavours of Indian cooking. Looking for something a bit more complex than cupcakes or even macarons? You can try cheese making, or bake up some amazing bread. Even if you just want to eat and learn you can go along to the Chef's Table for a memorable lunch or dinner listening to stories from the chef and eating delicious, delightful dishes.
26 Felix St, Brisbane P 3229 0460
MONDO ORGANICS
If you're looking for a cooking school that's all about following the ingredients from paddock to plate (and then mouth to stomach), look no further! Mondo is all about educating people about the benefits of eating organic produce and promoting awareness of healthy alternative food choices. Taking a class at their cooking school will help you learn all about healthy, clean eating – no matter what your level of culinary experience. They have hands-on classes that are full of helpful hints, and they showcase premium local organic produce and ingredients. So you know it's good. Plus every class gets to take away a complimentary beverage, Mondo apron, shopping bag, sponsor sample products AND recipes.
166 Hardgrave Rd, West End P 3844 1132
VANILLA ZULU
With classes specifically aimed to make cooking less intimidating, Vanilla Zulu classes are a great way to increase your confidence and skills in the kitchen, as well as explore your own unique flair. Specialising in quick and easy cooking, Vanilla Zulu teaches you how to create gourmet meals without slaving over a hot stove for hours. Of course, with all these cooking classes you'll be salivating and craving delicious meals… and Summer is only a few months away. Luckily, Vanilla Zulu also offers an Eat Yourself Sexy: Body Beautiful Masterclass that will help you learn how to cook deliciously healthy meals with all your new skills.
1 MacGregor St, Wilston P 3401 9796