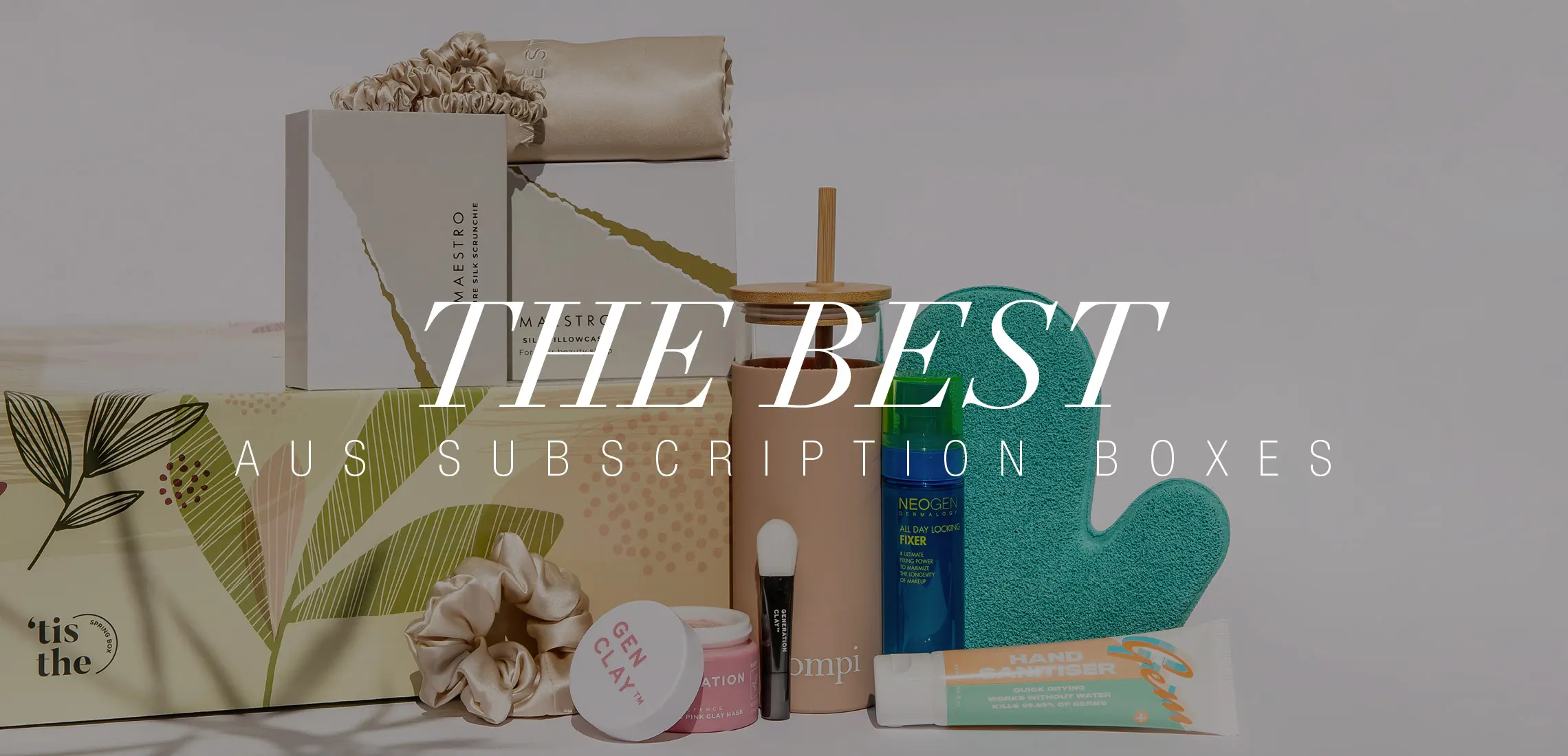 The Best AUS Subscription Boxes
You've got mail!
By Hayley Hinze & Melissa Myrteza | 15th September 2020

If you're in need of something to spice up your mailbox, look no further than our top ranked AUS subscription services. With everything from beauty samples to French dinners, houseplants and even toilet paper, read on to explore your options!

Oh là là pretty much sums up our reaction when we signed for this slice of France. If you're an avid Français fromage consumer like ourselves, you'll be ordering your raclette box from OLALA quick-smart. There aren't many deliveries around town that contain a gourmet array of French charcuterie, 400g of raclette cheese (yes, we said 400), 1kg of potatoes, pickles, onions and a French baguette. This was the most authentic and romantic French meal we've ever whipped up and we'd recommend pairing it with a glass of vin de Loluk for a perfect pairing. Don't stress vegos, there's even a box for you! Oh, and while it's a two-person meal, it definitely could have fed four (hello leftovers!). Psst. If you sign up to their newsletter, you'll get 10% off your first order!

https://www.instagram.com/p/CA49d4nA2e7/

It all starts with a fun online palate quiz and you're set to discover the wines you'll soon fall in love with. Good Pair Days picks three personalised bottles and even slips in some tasting cards and food pairing ideas, so you can become a real wine connoisseur. Each month, subscribers are treated to three bottles starting at just $15 each, so you can still sip on a budget.

For every season of the year, subscribers are treated to seven beauty, health and lifestyle products in what is the quintessential self-care subscription. For $79.95 a box, lift the lid on everything from face masks and skincare, to a silk satin pillowcase, tailored to the season ahead and valued at over $275. Two products from each box are customisable, and the remaining five are useful, full-sized items that are guaranteed to get you excited for a self-care night. Know your dosh is going to a good cause too, with $1 from every sale donated to the Koala Kids Foundation.

Australia's first and only candle subscription is sending a curated box of candles from around the world to your doorstep. Choose from either three, six or twelve candles to be delivered the first week of each month. To make the experience even more wholesome, they'll send along the story and origin of each candle, and throw in a surprise scent to enlighten your senses. Candle Library also offers a general or luxe subscription, so you can pick the one for your budget/dedication to quality scents.

There's something about opening a box of beauty samples that just gets us excited. Maybe it's the prospect of trying new things, or finding out what each product does. Regardless, spotting the Bella Box on your doorstep is bound to spice up your day. Each month you'll find five beauty samples based off your personalised beauty profile and reviews from previous deliveries. For only $19.95 a month, maybe it's time to bring some more of that excitement into your life.

Everyone's favourite hobby has now become a subscription service. Start crafting your own conservatory with a new plant and pot delivered monthly to your door. Tips for keeping the plant alive can also be found on their website, so it's a fool-proof system. We love that Botanic Box also partners with a local artist for each pot, so you get to bring nature to your home while giving locals the support and exposure they deserve.
Relove Print
This monthly subscription gives pre-loved books a second chance at life and delivers 1-2 new reads to your door each month. Pick your fave genres and Relove Print will do the rest of the work, saving you from rummaging through Lifeline's shelves for hours. Books are chosen with careful attention to condition so, although used, they're all in great quality.
https://www.instagram.com/p/CCDWDeJAS6N/
Who Gives a Crap is making the seemingly mundane toilet paper game a talking point – and doing it for charity too! A nice 50% of profits are donated to help build toilets and improve sanitation in the developing world. They also offer premium bamboo rolls, and all paper is eco and human conscious with no inks, dyes or scents. The subscription includes a crap-load of toilet paper (48 rolls to be exact) landing on your doorstep, however often you like.