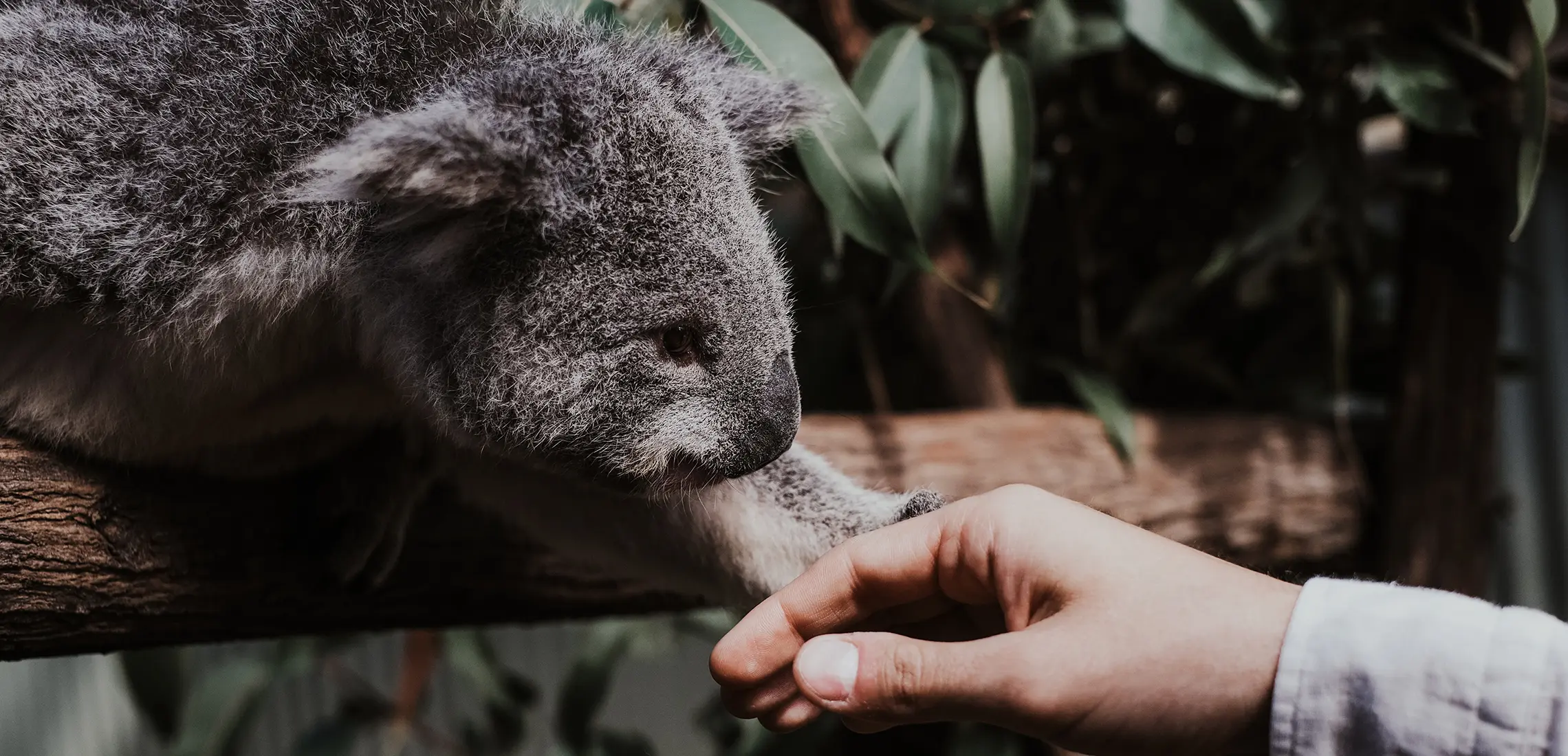 Get Moo-ving! These Are The Best Animal Experiences Around Brisbane
Take a walk on the wild side 
By Guest Styler | 25th May 2021

When Brisbane is brought up in conversation, most people's minds race to images of an ever-expanding cityscape, dotted with cranes and skyscrapers, and lined with dense suburban streets. Not many of us picture a city brimming with wildlife, but that's where we're wrong!

With such a diverse landscape, it's no surprise that Australia is home to some pretty extraordinary mammals and reptiles, all of which can be found right here in our Brissy backyard. And the best part? There are plenty of opportunities to be face-to-face with them. We're talking wildlife parks, sanctuaries… even cafes, people.

Whether you've always wanted to meet a wombat, stroll beside a herd of deer, or get up close and personal with an alpaca, hit up any of these animal encounter experiences around Brisbane and get ready to channel your inner Eliza Thornberry.
Greater Brisbane
You know something's pretty impressive when it's in the Guinness Book of World Records, and that's exactly what Lone Pine Koala Sanctuary is! Recognised as the world's first and largest koala sanctuary, this picturesque spot is home to 130 koalas and over 70 native species, including kangaroos, wombats, dingos, Tasmanian devils, and plenty more. Fun fact: inside the indoor eating area, you'll find an entire wall graced floor-to-ceiling with framed pictures of famous celebs that have been there, koala in hand. My favourite? Nicki Minaj!
It's all in the name for these guys, and they are certainly no typical animal encounter experience. From dogs and cats, to goats, pigs, and reptiles, Deathrow Unchained (DRU) rescues all their animals from death row and are committed to the rescue and rehabilitation of neglected and mistreated animals. These absolute legends provide transport, safety, vet care, foster homes, training, and rehabilitation – all to find their little (and big) babies their fur-ever home. Based in Burbank, DRU houses over 100 rescued animals and offers visitors the chance to tour their sanctuary and see their animals loving life and livin' freely.
Whether you're a cliché cat lady (own it), a coffee enthusiast, or both, the Cat Cuddle Café will have you purring with excitement. Snuggle a few resident fluffballs as you sip lattes at Brisbane's very first cat café. This gem is tucked away in Lutwyche and raises money for and provides a potential home for rescue cats. $12 will get you an hour of cuddle-time with the cats in their giant lounge playroom. There's also a delish range of treats available too, including freshly baked cakes, slices, biscuits, and pastries. And, as if it couldn't get any better, inside the café you'll find an op shop! So, you can browse through pre-loved and retro fashion, accessories, and homewares in between cuddles.
Snow White, who? Girl, it's about to be you! Yes, a deer sanctuary in Brisbane exists and it's located just 30 minutes from Brisbane, hidden deep inside the lush, rolling hills of Samford Valley. For over thirty years, the Lyell Deer Sanctuary has been caring for small herds of rescue deer, which includes a range of red, rusa, and fallow deer. This peaceful hideaway is a magical destination for adults and children alike, offering the chance to cuddle, sit with, and hand feed deer. Admission is $12 per person and $10 for a family or group of up to six people. And the deer pellets ("lollies for deer", as I was told) are just $1 per bag.
Collies & Co. | Samford
What's better than great food and coffee? Pairing them with everyone's favourite four-legged friends! Found in the hills of Samford Village is the wonderland that is Collies & Co., a family-run, dog-friendly café that raises their own border collie puppies in a carefully controlled environment on site, and cares for dogs and puppies in conjunction with Animal Rescue QLD. Collies & Co is split into two areas, the café and the puppy play area. As you tuck into a delectable plate of French toast or eggs benny, you get to watch the puppies next to you playing and being extra cheeky as they eye every bite you take. And once you're done, you walk over to enjoy glorious cuddle time with the puppies – the perfect day out!
Did you know the Llama Farm is home to Queensland's largest herd of llamas? I didn't even know there were llamas in Brisbane to begin with! This 80-acre farm is nestled in the gorgeous hills of Pine Mountain in Ipswich and has a total of 75 llamas trotting around, who are all extremely friendly and gentle. Visitors can choose from two different experiences: enjoy a guided llama walk, where you pick a llama of your choice to walk along a trail through the beautiful scenery, or enjoy the company of miniature ponies, donkeys, goats, dogs, and a flock of peacocks when you choose the farm visit option.
Scenic Rim
*Cue Napoleon Dynamite quote*. That's right, just an hour out of Brissy, you'll find Mountview Alpaca Farm in Canungra. Located on the beautiful grounds of O'Reilly's Canungra Valley Vineyards, this farm is home to the fluffiest, friendliest alpacas, with some even trained to be therapy animals. With names like Pancake, Ed Sheeran, and Tim Tam, you'll be spoilt for choice when deciding which fluffball to walk. Enjoy a wander around the grounds with your new friend for 15, 30, or 60 glorious minutes. Did we mention you can also book a vineyard picnic basket? This includes a delish selection of cold meats, cheese, dips, crackers, and an ice cream. All you'll need to do is pack your comfiest picnic blanket.
Start practicing your solo to Aladdin's Arabian Nights, because you're not too far off from feeling like you're in the movie. Found in the beautiful Scenic Rim, just 45 minutes from Brisbane's CBD, is Australia's largest camel dairy and training centre, Summer Land Camels. Here, you have the option to take a sunrise or sunset ride with one of the world's most ancient animal companions. It gets better, you can enjoy a cocktail on their homestead cafe after you've ridden off into the sunset on your gentle, fluffy giant. If you're scared of heights (from the top of a camel), you can opt for a 15-minute ride, which is the ideal introduction to this adventure. Or, if you're keen to make the most of this once-in-a-lifetime experience, go for the two-hour sunrise camel ride, which includes a glorious breakfast spread.
Gold Coast
Spotting whales from a boat or while standing on a costal cliff is one thing, but actually getting in the water and swimming with the ocean's gentle giants sounds completely unheard of. Well people, it's possible! Just a one-and-a-half-hour drive from Brisbane CBD is Sunreef at Mooloolaba, the legends of the sea who offer the experience of swimming alongside magnificent humpback whales. You'll have all the gear provided to you by Sunreef. Don't worry, you won't be thrown into the water as a literal giant mammal swims right past. With the help of guides, you'll be led into the water while being attached to a floating rope that's hooked to their boat. A beyond mind-blowing experience, if you ask us!
For the true animal lovers out there, this iconic Gold Coast wildlife sanctuary needs no introduction. Immerse yourself in the wonder and natural beauty of 27 hectares that makes up Currumbin Wildlife Sanctuary. This sanctuary has been conserving wildlife and nurturing the local Indigenous heritage for over 70 years. Here, you'll wander through open animal enclosures, hand feed kangaroos, and cuddle koalas. There's also wild lorikeet feeding, free bird shows, and Aboriginal performances that you won't want to miss.
A man of many talents and pioneer of wildlife conservation, Australian scientist, Dr. David Fleay, lived up to his incredible work with the opening of a heritage-listed wildlife park in his honour, David Fleay Wildlife Park. This lush abode is home to a wide variety of species, including dingos, flying foxes, bandicoots, wallabies, sea eagles, and more. Wander through the facilities 100 acres and learn all there is to know about these iconic animals. Not that we have favourites, but the wallabies are the cutest and super friendly too!
Moreton Island
Everyone's favourite rubbery critters of the sea: dolphins! Tangalooma Island Resort is one of the few places near Brisbane where you can hand feed wild dolphins. Every night, just after sunset, up to 13 wild bottlenose dolphins swim into shore for their regular feed. Never called or forced in, these dolphins come on their own accord, hence the 'wild'. Tangalooma only feed each dolphin a small portion of their daily food requirement, so they don't become dependent on feedings and can still hunt for themselves – we love an independent queen. So, if you're not squeamish about holding a dead fish, this is definitely an unforgettable day trip experience!