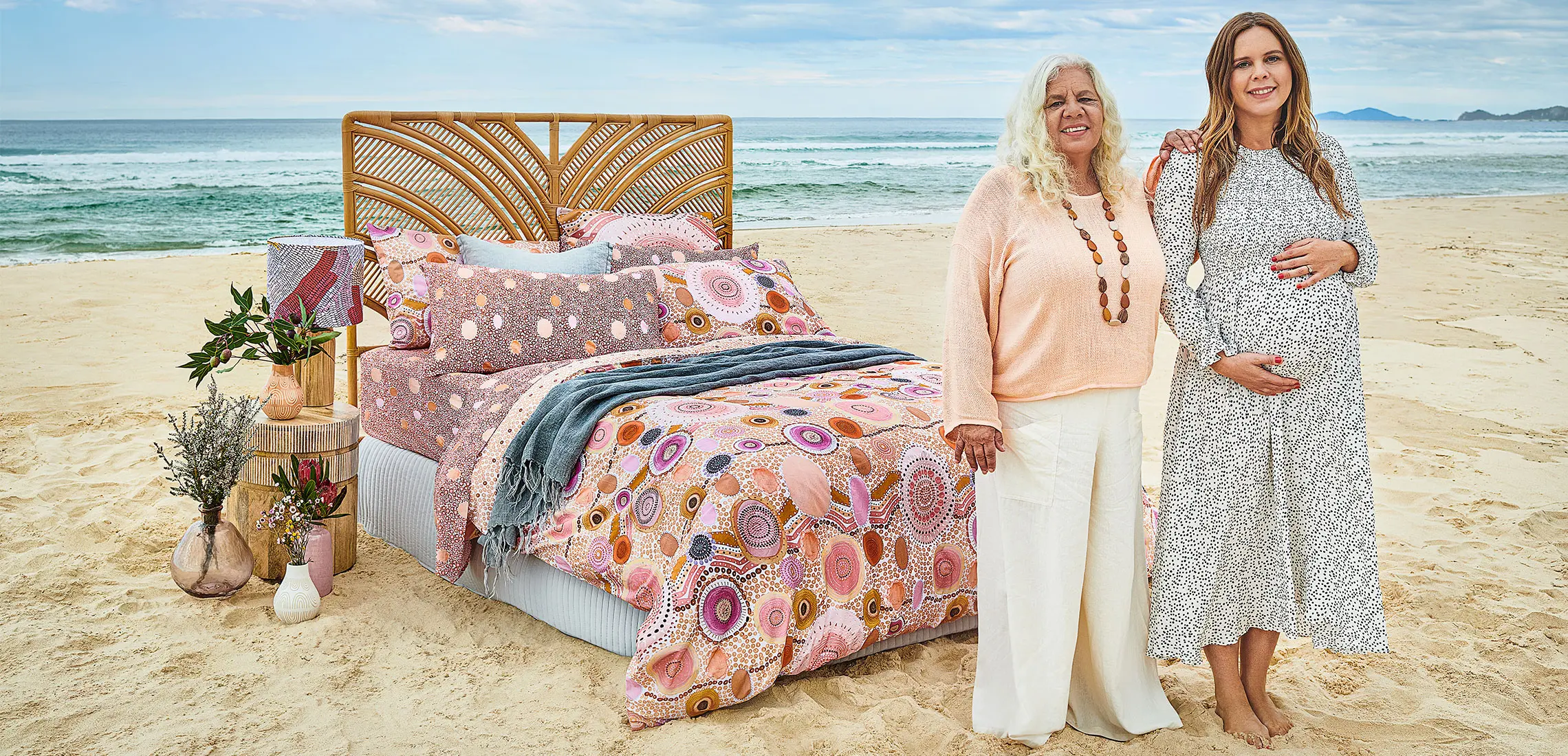 HOME COLLAB: Adairs x Miimi + Jiinda
Launching September 24!
By Olivia Ashworth | 18th September 2020

If you're looking for an excuse to redecorate and get your hands on some beautiful new homewares, Adairs has got you covered. Combining bold patterns and earthy tones with a gorgeous display of rich cultural history, this homewares powerhouse is set to release their upcoming collaboration with Aussie artists, Miimi + Jiinda, on September 24. Launching online and in-store, the mother-daughter duo, Lauren Jarrett and Melissa Greenwood, have brought to life an exquisite collection, filled with bright colours, cultural renewal and tradition.

Originating from the Gumbaynggirr, Dunghutti and Bundjalung tribes of Australia's East Coast, Lauren and Melissa place culture at the forefront of their creative process, producing pieces with meaning and depth. Established in late 2018, Miimi + Jiinda are renowned for their bright and distinctive style which weaves tradition with the contemporary, creating beautiful works of art, each with their own unique visual story. Their pieces often reflect their unique perspective and experiences as Aboriginal women, inspired by ancestral homelands and matriarchal origins. "When I create artworks, I feel a deep sense of connection to my ancestors. I feel their guidance and encouragement," Lauren says. Their beautiful signature colour palette is the perfect combo of feminine and soft, but also strong and empowering, making Miimi + Jiinda's transition onto the homeware's scene seamless.

We spoke to Lauren or Melissa about the inspiration behind this unisex collection: "The deeper rich earthy tones represent masculinity and their grounded energy. On the other hand, the brighter, more bold colours are very soft and feminine but also strong and empowered, representing the matriarch. The collection holds a deep respect for land, culture and our elders."

The new collection includes organic cotton bedlinen, tasselled cushions, printed table lights, fresh home fragrances, and plenty more goodies, in stunning shades of burnt orange, sandstone and soft peach. The two quilt covers, the Lowanna quilt cover and the Yuludarra quilt cover, are the perfect statement to any bedroom and, undeniably both key features of the collection. Melissa says, "we paint with acrylic paints and have some natural ochres we sometimes use as well. Mum weaves with natural plants and fibres picked locally on country."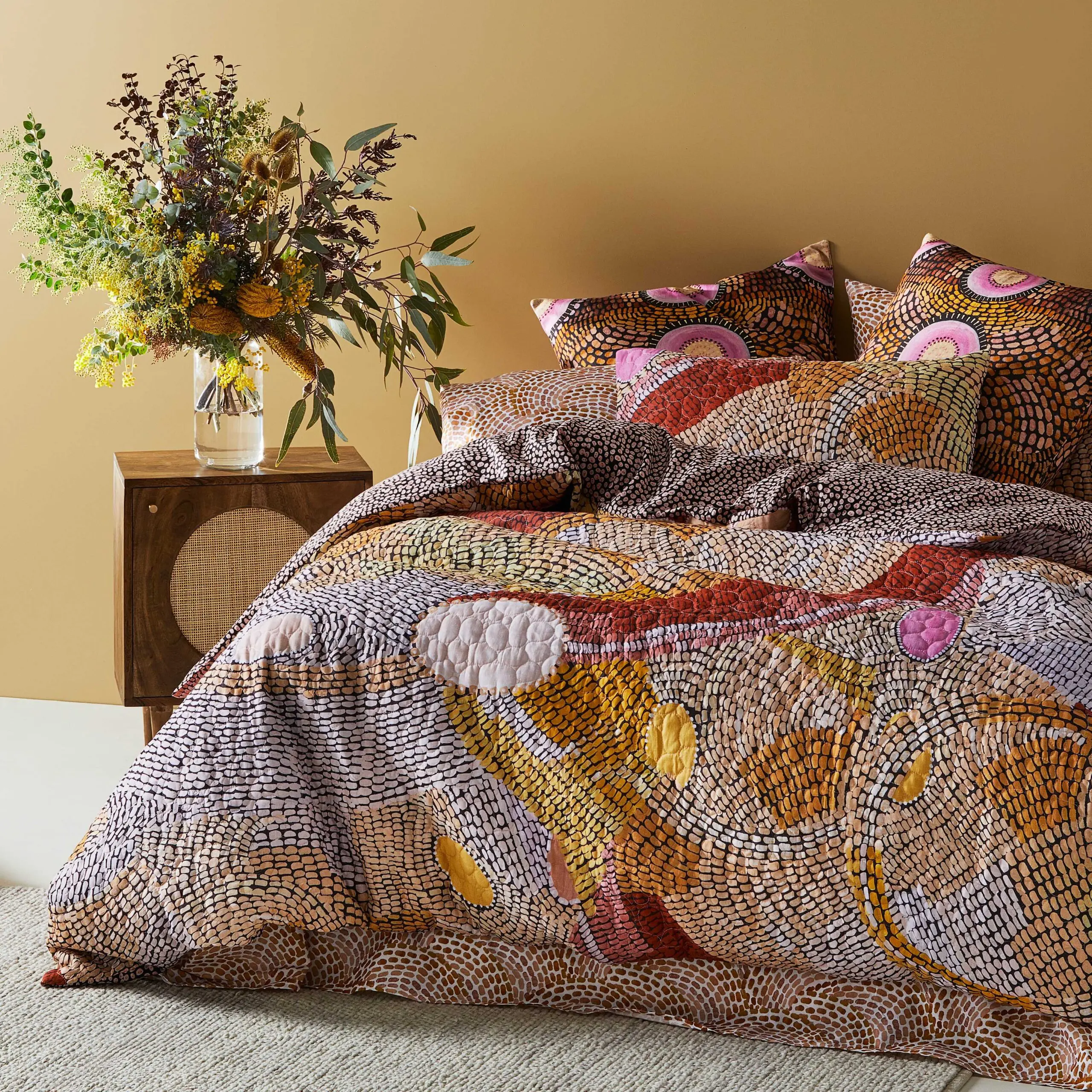 The Lowanna quilt cover, features a unique pebble quilting pattern, made from softly textured, certified organic cotton slub with a recycled fill. With rich earthy tones and pops of colour, the design is inspired by ancient and sacred Indigenous' woman's birthing caves on Gumbaynggir country, representing Mother Earth and the inherent interconnectedness of everything.
The Yuludarra quilt cover, a stunning array of contemporary colour, tells the story of creation and connection to community and country. Made from soft 100% organic cotton percale, a bed blessed enough to house this quilt is not only destined to look good but sure to keep you cool and comfortable during those warm summer nights.
Unsurprisingly, this isn't the first time Adairs has paired up with an Australian artist, with previous collaborations including Mark Tuckey, Rebecca Judd, Dana Kinta and Fleur Harris. However, if we are basing anything off their campaign visuals, it's clear that this collection is gearing up to be one of their most popular ones yet, and we can't wait!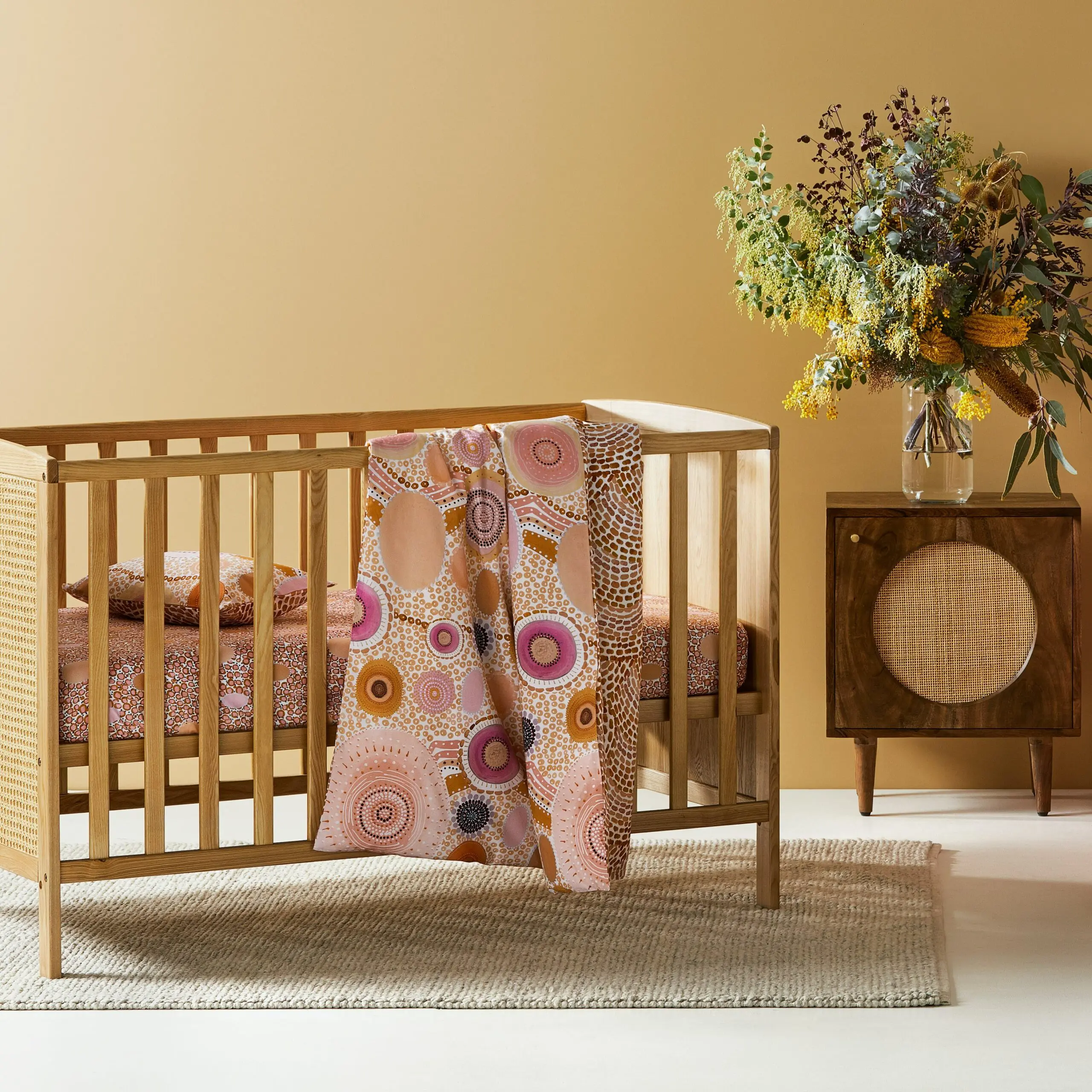 To view the full collection, visit the Adairs website from September 24.