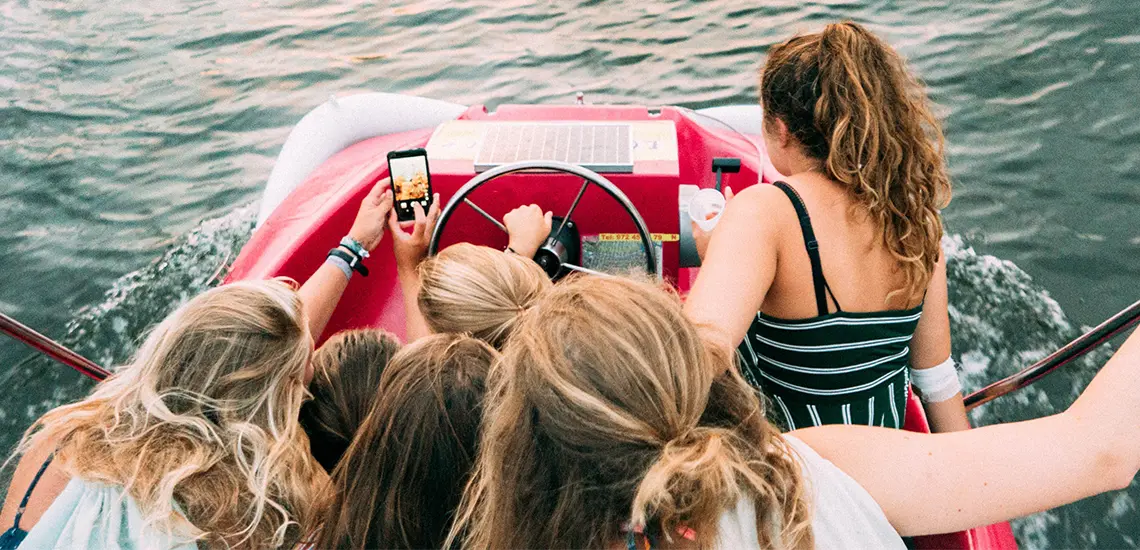 A List Of Go-To Experiences And Activities To Do With The Girls In Brisbane
Girls just wanna have fun!
By Guest Styler | 15th August 2019

Just a quick note: This post is sponsored. To prevent a paywall or annoying pop-up ads, we sometimes need to publish sponsored content but we only promote brands that we think are doing great things and our readers will love!

Over-due for a girls catch-up or need to spice up the usual routine coffees? Whatever the case, a catch-up with the team needs no excuse and we have gathered the ultimate girl time experiences in Bris and beyond to ramp-up your next rendezvous. Or, if you have a special event coming up like a hens or birthday, do more than just drinks and get out-there for an experience (still with drinks of course).

Yes, the races is a guaranteed good time for the girls, but this takes it up a notch. The St Rita's College Caulfield Cup Ladies' Day at Eagle Farm Racecourse is the ideal event to regroup with the girls for a day out. Dress-up, pop a champagne and set-in for a glam day on the green. As well as the thrill of the live racing, enjoy pop-up cocktail bars, some of Brisbane's best food trucks and take a chance in the Billy J Boutique Fashions on the Field. To elevate the experience and really treat the gals to the ultimate spring day out, opt for a private trackside marquee, private suite, Society Rooftop or one of the many dining rooms and bars. Otherwise, keep it casual with general admission starting from $20. If you've had a 'one-day' dress hanging in your wardrobe this is your chance to show-it off in great company. After all, it is a 'Ladies Day'. Date: Saturday 19 October from 10:30am

Been a while since you've had a strike? Whether you're a seasoned pro or still reach to pop-up the bumper-bars, bowling is a banger of a time. Add your closest pals, some snacks and drinks and a good-time is guaranteed to roll-on. Kingpin at Chermside are experts when it comes to arranging functions and events so if you're looking for something structured and official, reach out to their dedicated team. Or, if you're more into a casual bowl and some banter, book a lane and go for it. The Chermside venue has recently opened and also offers evening deals, arcade games, laser tag, karaoke and escape rooms, so once you're done with the pins, keep the party pumping. All that fun can be exhausting and luckily Kingpin has drinks at-the-ready, including a delicious menu of cocktails and snacks. It's definitely more than just bowling, so check-out more information here.

Get ready to work-it with the girls. Whether it's just you and your bestie or a girl-gang, The Pole Gym will have you dancing and working-out for a great time. Based conveniently in the Brisbane CBD, The Pole Gym offer six-week beginner courses and casual classes that will have you showing off your new skills in no time!  The beginner courses are $169 and get you a guaranteed pole to yourself in your chosen class each week, free access to the studio to practice during opening hours as well as unlimited free casual classes valued at an extra $140. If you've never tried something like this, don't be worried as it's all about having a great time while the instructors take you through the basics!

Otherwise, explore their group and function packages online. The classes are ideal for birthday's, hens parties or even for a refreshing, routine catch-up with the girls.

Stop living through the girl-gangs of Instagram (we're looking at you Gigi and Kendall) and start living your own boat-dreams. To really spoil yourself and boujee-up your girl time, why not get aboard this one. Set Sail Cruises on the Sunshine Coast arrange private charters along our glorious QLD coastline for up to 20 people. They provide the crew, and you provide the drinks, music, food and fun. This is a great way to get on the water and enjoy the sunshine, rather than being anchored on the sand. Plus, there are so many great songs to make use of the opportunity: I'm on a boat by The Lonely Island, Sailing by Rod Stewart and of course any tune by The Beach Boys.

Mix the latest fashion, champagne at-the-ready, one of the best venues in Bris, goodie bags and your closest gal pals and what do you get? The ultimate girls day out! Fashion boutique Sparrow and Finch have teamed up with X Cargo to present their latest collection with some added finer-touches. Re-group with the gang for a day out in the sunshine and have a shop while sipping on champagne, grazing the nibbles and enjoying the cool aesthetic of X Cargo.

Everyone deserves to switch off and be treated to tranquil day spa experiences, and what better way to do this than with your special ladies by your side? Celebrating 25 devoted years in business, the highly skilled team of professionals at Stephanies Luxury Spas has been treating guests to unparalleled spa soirees and experiences that put each client at ease and into a relaxed mindset. Perfect for a girls day, indulgent group packages can include a combination of services such as Float Therapy, decadent Massages and Facials and Scalp Therapy, that will leave your mind and body feeling revitalised. To take your spa day with the girls to the next level, you will be welcomed into the Spa with a glass of bubbles, have access to endless cups of herbal tea and will leave with a special take home spa gift! Stephanies beautiful spa services are available at each of their five spas: Spa Retreat at Sofitel Brisbane Central CBD, Ocean Spa at Peppers Resort and Villas Noosa, Mountain Spa at Mercure Clear Mountain Resort and Vineyard, Urban Spa in Bulimba and Vintage Spa in Cleveland.