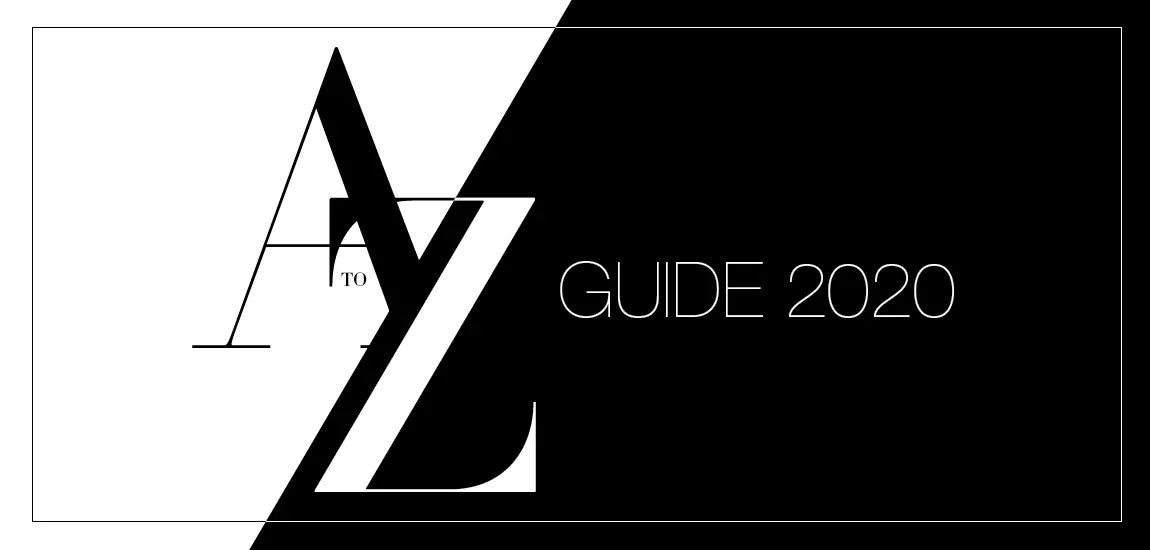 A To Z: The 2020 Guide To Everything Brisbane
As easy as one to 26
By Fiona Williams & Dinushka Gunasekara | 13th January 2020

Just a quick note: This post is sponsored. To prevent a paywall or annoying pop-up ads, we sometimes need to publish sponsored content but we only promote brands that we think are doing great things and our readers will love!

Our sought-after A-Z Style Guide is back for another year, bringing you the very best in local Brissie businesses and beyond. From award-winning hairdressers to stunning cocktail bars and restaurants, to gyms and skin specialists, it's clear that there's no shortage of knowledge and expertise in our beautiful River City, and its surrounding suburbs.
A IS FOR AESTHETIC
Symmetry, beauty and harmonisation are the three pillars that Cosmétique builds their aesthetic ambitions on, to give you the look you have always wanted. However there's no need for invasive and extreme surgery to achieve considerable skin rejuvenation; Cosmétique's range of industry leading and impressive injectables can improve confidence, smooth wrinkles, restore the areas on your face that have lost volume over time, and achieve a more natural, youthful and refreshed look.
You would think these outstanding results would also lead to a hefty price tag, but Cosmétique has a better idea in mind. They provide the people of Brisbane, Perth, Melbourne and Adelaide with a wide range of popular and cost-effective cosmetic procedures performed by experienced medical professionals, so you can enjoy affordable beauty with the best results. Cosmétique is passionate about providing everyday Australians with exceptional cosmetic, medical and surgical services to enhance their body confidence and allow them to feel fulfilled in their own skin.
Their most highly sought-after injectable treatment is Lip Enhancement, which they perform over 1,000 times a month. The key ingredient in Cosmétique's fillers is hyaluronic acid, which is a naturally occurring substance to the body, rendering it a safe and effective method. By producing lips that are proportionate to your face, Cosmétique can correct lip symmetry, create definition and enhance the size of your lips to perfect your aesthetic. They also offer injectable solutions to treat fine lines, wrinkles or plump up your skin, with all injections performed by highly skilled cosmetic professionals who will treat you with the best possible care and level of expertise. In partnership with you through a comprehensive consultation, the highly skilled nurses and surgeons at Cosmétique will create a plan that will take you on a one-way road to reach your aesthetic goals.
B IS FOR BULIMBA DERMATOLOGY
Dr Scott Webber and the team at Bulimba Dermatology have been offering patients the unquestionable benefits of HALO Hybrid Fractional Laser for several years. Now, a revolutionary new combination treatment is further building on the benefits of HALO laser.
Known for revolutionising skin resurfacing, the HALO laser was introduced in the U.S. back in 2014 and Dr Webber and his team have been treating patients with it since 2016. "HALO laser speaks for itself. It offers something consistent and unique to my patients. In Queensland, even from a relatively young adult age, many of us have accumulated sun damage. This damage causes discolouration, freckling and coarseness to the texture of our skin and a dullness that makes us look prematurely aged. HALO enables us to provide a dramatic improvement in texture and light reflexivity to our patients' skin with a noticeable, renewed freshness to their skin's appearance. All this with a short downtime of just a few days," he says.
Following ground-breaking results by leading dermatologists in the U.S., Dr Webber recently began treating patients with the combination of HALO and BBL (BroadBand Light) to further enhance the benefits to his patients. According to Dr Webber, HALO and BBL are two very different treatments for rejuvenation of skin. "What we have noticed is that by combining both treatments at the same time on our patients, we are able to achieve levels of improvement to skin tone, fine wrinkling and pigmentation that we just can't achieve with either laser system separately," he says.
Treating medical and surgical patients of all ages, Dr Webber required a laser system that rejuvenates the skin of younger clients in their 20s and 30s as well as more intensive results for older patients. "I have used many different laser rejuvenation systems including Fraxel, Laser Genesis, IPL and fractionated CO2. None of these lasers in my experience have been able to offer such consistent results safely and with such short downtime as the HALO. Now when combined with BBL we are getting even better outcomes for our patients," he says.
With any laser treatment, it's important to ensure the operators have a solid knowledge of the skin and the conditions being treated. Safety of patients is paramount. To find out more about the benefits of HALO combined with BBL for your skin, contact Bulimba Dermatology.
https://www.instagram.com/p/BjwLNLFAFj4/
C IS FOR CAMP HILL MARKETPLACE
If you're ever looking for the community of Camp Hill, it can be found in this boutique retail village that is the go-to destination for fresh food, delicious dining and an array of convenient lifestyle services. A social space layered with lush, green areas and a seamless balance of where inside meets out, Camp Hill Marketplace is the precinct that literally has it all.
Ever growing and always humming, the community's hub brings people together to create an active and vibrant public realm. With two storeys of the best in boutiques, eateries and wellness spread across an open-air centre that maintains its own micro-climate perfect to escape the heat, Camp Hill Marketplace is built for gathering and incidental interaction.
Maybe your day involves groceries, a haircut and a quick sip of coffee in between. Or perhaps you're in need of a Pilates session, dental care and a dinner reservation. Or, you might be on the hunt for a new outfit, a bite of a baked good and a visit to the spa to unwind. Whatever you're after, from start to finish, your life is completely catered for at Camp Hill Marketplace.
D IS FOR DEVELOPMENT
Live easily and socially at Brisbane's newest retail and lifestyle destination, South City Square.
Luxury service meets community living when you're a Pellicano Living member enjoying a unique resort-inspired lifestyle at South City Square. With an entire neighbourhood at your doorstep, you can meet friends for coffee, go to the gym, enjoy alfresco dining or relax under the shade of beautiful trees right at home in Woolloongabba.
Pellicano Living members enjoy exclusive membership to South City Square Club, offering private access to resort-inspired rooftops. Concierge style services are also available, from apartment cleaning, dry cleaning, pet grooming and electric car share for resort-style living at its finest.
Pellicano Living's award-winning properties create a truly great living experience for members through a selection of one, two and three bedroom apartments thoughtfully designed with modern indoor-outdoor living in mind. A diverse range of dining and lifestyle options wrap around the buildings and wait to be experienced, including Meek Social House, Tuck Shop Time and Club Vitality. In 2020, The Market Hall will bring together a collection of artisans showcasing their wares, such as a grocer, butcher, baker and florist and is designed to transport you to the market halls in Europe. An integral part of the South City Square master plan also includes the opening of Salt Meats Cheese, Hyatt Place Hotel, Woolworths Supermarket, Reading Cinemas, BWS, Priceline & Kids Club childcare so you can have it all at home.
If flying into ultimate comfort amongst the clouds sounds like your preferred way to travel, then collect your boarding pass from EVA Air. With one of the world's most modern fleets waiting at their gates in more than 60 destinations, you'll enjoy a completely new kind of journey above the rest.
Take off and kick back in your more than ample personal space or get connected with the on-board Wi-Fi and texting services. If the best in film, television and gaming is what you're after, EVA Air offers the most advanced in-flight entertainment system in the world.  Browse the easy-to-use interface and find the latest movies, binge-worthy shows and a range of retro and contemporary video games to fly through the hours.
Food and travel go hand-in-hand, so don't wait until your destination to experience amazing and authentic cuisines from all over the world. EVA Air meals are made from recipes crafted with careful attention to every delicious detail, and they also offer numbers of pre-ordered special meals for dietary requirements up to 24 hours before departure time. Whether your class is Economy or Royal Laurel, EVA Air will deliver an A+ experience every flight.
F IS FOR FITNESS
Jetts | Various Locations
For results based training on your terms, jet over to Jetts. There's no need to spend endless hours crunching, lifting and stretching when the friendly team at Jetts can help you knockout your fitness goals. From nutrition to exercise to mindset, they'll ensure you keep moving forward with massive strides.
While long contracts at other gyms may mean you're only staying and paying because you have to, at Jetts, your workouts can be as flexible as you want with no lock-in contracts through their Freedom Direct Debit membership. Plus, using one Jetts gym means you can also use over 250 gyms globally, and there's no time for excuses because you will have 24/7 access to all of them.
Get in the best shape of your life in a place that's also looking its best because Jetts has recently opened the doors to their new look clubs. Providing a range of fitness options for everyone, try J Series at participating clubs for 30-minutes of HIIT team training designed to burn fat and get you fast results in a full body workout. Or, if solo is more your style, their extensive range of the latest equipment will take your personal training to new heights. Your 2020 results start with Jetts, join today and get $0 joining fee, plus $200 of bonus value.
G IS FOR GETAWAY
We may be bias, but Queensland is quite the extraordinary place. There's the wondrous Whitsundays that's as lush green as it is lagoon blue. Fraser Island stretches with natural beauty as whales wander by. From coast to coast we have it going on, whether it's Gold Coast with its botanic backyard and chilled vibes, or Sunshine Coast with its beautiful balance of beach to bush. Crowning our glorious state is Palm Cove lined with centuries old trees in a village by the sea, Port Douglas, where the rainforest meets the reef and Cairns, the gateway to the Great Barrier Reef. And then there's the place we call home, Brisbane – the buzzing riverside city.
However, words can only do so much. To experience it for yourself, Discover Queensland is the first stop on your itinerary for a holiday hand selected for you. Offering everything from value-packed family holidays to romantic couples retreats, Discover Queensland will send you to hotels and resorts in the best locations including one of the Seven Wonders of the World and heritage listed destinations. They will also provide you with bonus inclusions, discounts and curated holiday packages you can't get anywhere else.
To get you in the vacation mood, the Discover Queensland team invites Style readers to experience the best Queensland has to offer with a $50 holiday voucher to be used on your next escape. Visit here to start your getaway now.
https://www.instagram.com/p/B69RqQwHrVV/
H IS FOR HOME
Build your dream with multi-award winning leaders in small lot, home projects and luxury homes throughout Brisbane. Focusing on excellence, integrity and cohesion, the team at PPI Property Group will provide comprehensive solutions all the way through the building process, from the site acquisition, design and approvals, project management to the construction. Their goal is the same as yours; to create the future home you've always wanted.
Since 2011, PPI Property Group have been key players in a diverse range of projects throughout Brisbane and Regional Queensland, which has helped them absorb all the skills that are required to deliver the best of the best. Market leading in their approach, there's no other builder and developer in Brisbane that offers such meticulously designed and constructed homes with sustainability in mind. Plus, your lifestyle will match the grandiosity of your new home, because all projects involve one of a kind, unique properties situated in sought after, inner city Brisbane suburbs such as Camp Hill, Ascot and Hawthorne.
Perusing their portfolio will invoke a gallery of stunning houses waiting for you to call home. Their expert advice is always on hand so you can make sure you're committing to your version of perfection, and PPI Property Group always ensure their high standard and quality is delivered seamlessly throughout all their projects. With their bespoke building, there really will be no place like home.
I IS FOR INFINITY HAIR
Infinity Hair | Albion
Kicking off the new year with a head-turning fresh look is easy-as with a trip to Infinity Hair. An independently owned salon located in Albion, the passionate team of stylists here are led by dynamic duo Chantal Davis and Monique Loriaux.
With each of them boasting over 10 years in the industry, these ladies exemplify a prime example of talented, empowered business babes. Their skills and knowledge combine to offer a superior service as soon as you walk in the door. Chantal's passion lies in cutting and styling, always keeping her finger on the pulse of the latest trends. From annual visits to Vidal Sassoon's California Academy to backstage at Mercedes-Benz fashion week, Chantal's insight only further advances her technical skills.
The yin to her yang, Monique is the queen of colour, making these two the perfectly balanced powerhouse partnership. As Infinity's master colourist, Monique is one of Brisbane's best when it comes to blondes. Her outstanding foil work will have you standing up from the chair completely transformed, making Infinity Hair one of the best spots for colouring in Brisbane. The whole team of talented stylists at Infinity bring their skills and creativity to the salon. However diverse in their skills, the one thing they all share is a dedication to top-notch quality and to providing a relaxing atmosphere for every customer.
J IS FOR JASON WITHERS ORIGINAL DIAMONDS
For an experience worth its weight in diamonds, choose the jeweller who knows their gems best. Jason Withers Original Diamonds is a family owned business that creates pieces as unique as the person they're for. Diamonds may be formed under pressure, but Jason Withers Original Diamonds know that to make diamonds look their best, they must provide all their clients with a warm and friendly environment and expert knowledge to turn their dream jewels into a reality.
As a wholesale manufacturing jeweller with a strong ethical philosophy, they don't have hundreds of retail outlets to take the sparkle out of their product and service. From their three studios in Brisbane, Sydney and Hong Kong, they specialise in GIA Certified and ethically sourced diamonds, ensuring they only work with uncompromising and fair humanitarian mining practices. Plus, you won't be receiving a diamond in the rough; the diamonds at Jason Withers Original Diamonds arrive from global cutting and polishing houses straight to the studio and then on to you. Not only does this save time and money, but it also means you know exactly where your diamond is coming from. Jason Withers Original Diamonds handle the process from start to finish to ensure efficient turn around times and superior attention to detail.
Anything is possible with these master jewellery designers, as the vast advances in manufacturing techniques and the classic craftsmanship of hand, mean there is no design that can't be achieved. Jason Withers also keeps all designs on record, so you can add complementary and equally as stunning pieces in the years to come.
K IS FOR KLEMENZA
While driving through the leafy streets of Paddington, you may come across Klemenza – a stunning cottage that, after 100 years, has been carefully transformed into the contemporary boutique you see today. With an extensive background in interior design and having worked alongside world-renowned interior designers for a number of years, Director Sophia Klemenz Ghanem took her philosophy of 'natural luxury' and combined it with her dream to open a high-end boutique. The result? Klemenza – a storefront for people who are in search of good quality and beautifully designed pieces.
"Our quality is nothing but the best. We stock beautiful brands such as Greg Natale, Tom Dixon, Menu, Cire Trudon, Savon de Marseille, and many more," Sophia says. "And many pieces of furniture have been designed and manufactured by Klemenza, which you will not find it anywhere else in Brisbane!"
Having worked closely with the owners of the building to give it a new lease of life, the cottage not only showcases some of the highest quality brands in Brisbane but also her talent as an interior designer; decorating and styling services of which she is also offering to Brisbane clientele.
When you step onto the verandah and through the quaint doors of Klemenza, Sophia describes the design as, "elegantly layered from strong contemporary designs to feature pieces with strong organic forms, an injection of colour and always an element of luxury". And we have to agree.
L IS FOR LUXURY HAIRDRESSER
For 30 fabulous years, Oscar Oscar Salons have been at the forefront of style and hair trends, and continue to be renowned as the epitome of luxury. Led by stylist to the stars and twice-awarded Australian Hairdresser of the Year, Oscar Cullinan, the salon has grown into a hairdressing powerhouse. It's also home to some of Australia's best hairdressers who are regulars at coveted events such as Australian Fashion Week and frequently features in leading fashion magazines. Under their expert hands in all nine of their beautiful Queensland salons, your hair will take on a completely fresh and utterly gorgeous flick.
Whether you opt for their personalised freehand balayage, micro-foiling, precision cutting or exceptional hair extensions and straightening, you know you're making the best choice. Every style cutting service also includes a shoulder and scalp massage, shampoo and condition, as well as a glamorous blow-dry for women and a mini facial for men. Only the most prestigious hair care products are used in salon or prescribed for at home care to address every hair concern and achieve every desire, such as Kerastase, Shu Uemura, Aveda and the ultra luxurious Oribe. Oribe Hair Care in particular is the styling product for those who are truly hair obsessed as it delivers the highest possible levels of performance and sophistication. Once it's done its job, your hair will take care of itself while you do you.
To celebrate 30 years of stunning hair, Oscar Oscar Salons came back home to their flagship salon in Brisbane City and welcomes you to take home a complimentary sample pack of Oribe. Enjoy the luxurious and sleek salon environment as you are surrounded by world-class stylists and guest services including relaxing treatments and indulgent refreshment menus. Not only has Oscar Oscar Salons raised the benchmark of the Australian hair industry, but they have also set an entirely new standard for the hairdressing experience.
M IS FOR THE MATRIARCH
From behind majestic iron gates in Newstead hides an urban sanctuary where dreamy garden elegance and modern industrial architecture meet. Between 25-year-old olive trees and beneath crystal chandeliers, you'll find an oasis best paired with a cocktail. This is The Matriarch.
Taking inspiration from the 19th century Parisian countryside, The Matriarch is as chic as it is unique. Allow your host to find you a cosy, white marble topped table where you can settle in to peruse an extensive cocktail list packed with a plethora of delicious options, such as the cheeky 'Call Me A Sex Object' featuring Lisa Vanderpump sangria, Prosecco, fresh lime, mint and raspberry. With the perfect formula of Instagrammable cocktails, sumptuous small bar bites and alluring décor, The Matriarch knows how to set the mood and believes in the rise of experience economy – the call for an experience that says something about you and is worth sharing with the company you keep.
Pass through aged, handcrafted Indian doors to find the garden atrium; their largest space designed to bring world-class functions and events to life, whether it's a birthday celebration, engagement, conference, wedding or product launch. Munch on brunch amongst soft velvet, burning lanterns and fresh flowers with dishes like espresso butter banana cakes and lobster rolls. Or join The Matriarch every weekend for two hours of bottomless high tea at $55 per person, which includes a glass of sparkling on arrival.
N IS FOR NEWMARKET VILLAGE
Maybe your day starts with a coffee and crêpe made from an age-old family recipe, before a quick check-up with a down to earth doctor in a modern medical clinic. Next is a workout in Newmarket's largest training facility that will probably leave you feeling peckish, so you take your pick from crumbed schnitzel, authentic yiros, fresh sushi or the healthiest burger around. Find this weekend's glamorous outfit in gorgeous boutiques, and get your tresses ready at an award-winning hair salon. If your muscles are still kicking up a fuss, rejuvenate with a deep massage and relax with the latest flick on a wall-to-wall screen. Don't forget to pick up your dry cleaning and grab your groceries on the way home. You'd be surprised how much you can get done when it's all in one place.
Whatever your day looks like, Newmarket Village is your one stop shop for all your needs. Errands, entertainment and appointments are all covered in this premiere shopping destination that is the community's choice every day. With an Anytime Fitness opening soon, Newmarket Village will be able to add fitness to their already robust offerings including a Coles, a heap of thriving restaurants, specialised medical practitioners, gift stores and boutiques.
A gym isn't the only new digs Newmarket Village has going on. Now, you can head to Boocoo for a delicious array of traditional Vietnamese cuisine that will satisfy all appetites, or bite into crunchy Korean fried chicken at Crunch K. Cool down at Allora with artisan gelato and specialty coffee, or treat yourself by unwinding and de-stressing at Massage Inn. And, of course, you can't leave without paying a visit to the place with luxurious armchair stadium seating, crystal clear Dolby Digital sound, and the best new release blockbuster films – Reading Cinemas. Your day will fly away when you spend it at Newmarket Village.
O IS FOR ONE WYBELENNA
One Wybelenna | Brookfield
Relax, rejuvenate and revitalise in the place where health and wellbeing meet. One Wybelenna is filled with moments to push pause amongst blissful surrounds and lush, landscaped gardens. In this ultimate urban retreat, you can immerse yourself in a unique and pampering spa experience that brings indulgence to the next level.
One Wybelenna takes the stress out of decision-making because their entire range of signature treatments will nurture your mind, soul and spirit. Pure relaxation and indulgence starts with their Classic Half Day Package, which begins with thirty private minutes in the outdoor magnesium spa and pool, providing a myriad of health benefits such as relaxation, stress relief, detoxification and relief of muscle aches. You will then experience a 45-minute Aromatic Sea Salt full body scrub followed by a 45-minute Relax Massage and finishing with a 45-minute Skin Rejuvenation Facial.
Or, to achieve complete body bliss in a day-long spa retreat, try their Classic Full Day Package, which also begins with a tranquil moment in the magnesium spa and pool before a 45-minute Aromatic Sea Salt full body exfoliation and rain shower followed by a 60-minute Relax massage. Unwind with a 15-minute Indian head massage and a 60 minute One Wybelenna Custom Facial, then conclude the pampering with an Express Manicure and Express Pedicure. Light lunch and refreshments are also provided, to complete the escape.
One Wybelenna's Signature Rituals will also take you on a one-way road to bliss. Their Signature Radiance Ritual will enhance your balance and energy through crystals placed along the chakras as you receive a pure radiance facial, massage and leave-in hair treatment to leave you glowing inside and out. Whether you go to One Wybelenna for body therapy, an express service or indulgent package, it will be done with masterful elegance in Brisbane's most exclusive day spa.
https://www.instagram.com/p/B4gHJ_ygGLH/
P IS FOR PLASTIC SURGERY
We spoke to the five-strong medical team at Valley Plastic Surgery to learn their thoughts on what you need to consider when 'plastic surgery' is on your 2020 resolution list.
Many of us make New Year's resolutions, and in this modern era of self-love and care, it should come as no surprise that over the next few months, the Valley Plastic Surgery team will spend many hours converting moments of midnight madness into real actions.
Dr Matthew Peters, FRACS specialist plastic surgeon and co-director of Valley Plastic Surgery, feels that it is important to make sure his patients are seeking help for the right reasons. "All of our patients present with genuine concerns. At this time of year, though, it is important to determine the motivation behind the request. Thankfully, most see the new year as 'their' year to finally do something for themselves. They have often been considering plastic surgery for some time, and the change in year can be the trigger to finally seek an opinion," he says.
Dr Raymond Goh, FRACS specialist plastic surgeon and another one of the VPS directors reports that with the right motivation, a well-constructed plan can be made. "Plastic surgery is not just the procedure itself. The recovery period is equally – if not more – important. It is vital to listen to the advice provided and to consider how the recovery plan and timeframe fits into the year ahead," he says.
Dr Peters agrees. "Most of my operations are elective and require up to six weeks of activity modifications to achieve the desired result. Surgical garments are another consideration, especially for my massive weight loss and breast patients who have to wear these supports non-stop during this time – juggling these with work uniforms and an existing wardrobe can be tricky, especially in the warmer months," he explains.
The entire team, including FRACS specialist plastic surgeons Dr Alys Saylor and Dr Drew Cronin, and FACD specialist dermatologist Dr Kate DeAmbrosis, all support the notion that patients should discuss their requirements with suitably qualified doctors. The start of a new year can see patients make quick decisions with permanent consequences, some of which can be less than ideal. VPS recommend that patients build upon their holiday thoughts to construct a list of questions relevant to them, to give them the confidence that the treatment they seek is being done for the right reasons and by a practitioner with the right qualifications.
Q IS FOR QUALITY PRODUCE
If you don't have a 'secret spot' in Brisbane that you share with only your closest friends, Deer Duck Bistro could be it. Tucked into Auchenflower and adorned with antique décor and rich, inviting wooden furnishings, it's as if you've been whisked into another world the moment you walk through the doors. And while the interior may feel old-worldly, the menu is anything but.
It's a unique fine-dining experience set in a luxurious, yet homely, atmosphere and it's a must for Brisbane locals and visitors alike. Think melt-in-your-mouth seared scallops, curried parsnip and sweet and spicy pear to start followed by house-made ricotta gnocchi, chèvre, pear and burnt sage butter. Also, there's truffle. Lots and lots of truffle! Using only the freshest, seasonal produce, they also serve degustation menus in case you're in search of something oh-so decadent. It's a meal (or five… or nine!) you won't soon forget.
Vine Restaurant | New Farm
All good things however, come in pairs and if high-quality ingredients, served simply and deliciously, is something you lean towards, then book a table at Vine Restaurant as in this case, the saying certainly rings true. Finding a home on a leafy street in New Farm, Vine has remained one of Brisbane's most sought-after Italian fine dining restaurants since 2005, and it's not difficult to see why.
Headed by owner Harry Kumar, Michelin Star Chef Enzo Ninivaggi (do you know how tricky it is to get a Michelin Star? Hint: it's tough!) and Founder Chef Mimma Diana, the venue is renowned for its incredible menu including squid ink linguine, spanner crab, preserved lemon and fresh tomato, and finished with an indulgent Italian chocolate torte or Frangelico affogato. Not to mention an extensive wine list, with both local and imported drops. Tick, tick! Vine also provides a group long lunch and chefs table menu, which is perhaps the most amazing thing we've ever heard and maybe the most amazing thing you're yet to taste.
https://www.instagram.com/p/B6zoqDrAGBb/
R IS FOR RENOWNED RESTAURANT GROUP
From the humble beginnings of the family seafood shop on Caxton Street, over the last 60 years, the Gambaro Group has grown to encompass four fantastic venues with three distinct dining choices – all with the same high standards of cuisine and service
Black Hide's mission is to provide their guests an out-of-this-world culinary experience when it comes to steak cuisine. Experience prime organic, Wagyu, Angus and dry-aged steak cuts, all exclusive to Black Hide. They also feature private dining rooms ideal for special event celebrations, corporate functions, business meetings or simple gatherings with friends and family. The menu is perfect for banquet dining, and menus can be created to suit your function, event or special occasion.
A name synonymous with sensational seafood for over 60 years, Gambaro Seafood Restaurant offers extraordinary award-winning seasonal menus, excellent service, relaxing and comfortable surrounds, plus a central location. For more than three generations, Gambaro has focused on attentive customer service, the freshest local produce, and a five-star dining experience.
In Italian, Persone means 'people'. Essentially, it's the embodiment of the sweet life, a place where people want to be and be seen, a place to indulge in 'the good life'. Immerse yourself in a truly spectacular Italian bar and dining experience located in the emerging Brisbane Quarter offering spectacular panoramic views of the Brisbane river and city skyline, exquisite Italian cuisine, and excellent service. Let it be your ultimate destination for special events, corporate functions and social gatherings with multiple event spaces, including private "Chianti" dining and wine tasting room.
S IS FOR SAMANTHA JONES HAIR CO.
Chances are you don't have time to drop into Manhattan for a blow dry and cocktail in hand, but this gorgeous salon closer to home is just as fabulous. As one of the most recognised salons in Brisbane's Northside, Samantha Jones Hair Co. houses an experienced team who will cover all of your hair needs while keeping your look on trend and flawlessly suited to your personal style.
When you arrive at North Lakes' first 5 Star Gold Class Accredited Salon, as awarded by the Australian Hairdressing Council, you can expect more than just a superb cut and colour. Known for being masters of balayage and blonde specialists, the team at Samantha Jones Hair Co. are always on the cutting edge. They are continually training to ensure they are experts on the latest trends and their skills are kept sharp. Choose from their specially designed, all-inclusive packages that are tailored to your requirements to change up your colour or to completely revamp your look. Your stylist will get in your hair, taking the time to discuss your options and offering plenty of advice to help you make waves with your tresses. Plus, when you experience the ultimate indulgence of a colour package for the first time, you will be invited back after seven days for a complimentary 'Style Check', which includes a shampoo, massage and blow dry valued at $89. This means Samantha Jones Hair Co. can make sure you absolutely adore your hair and you get to experience a round two of their outstanding service without spending a cent.
As your stylist works their magic, enjoy a glass of bubbles or a cheeky Cosmopolitan made by owner and chief cocktail maker, Jon. Sit back and relax in the luxurious lounge with a signature scalp massage or renew and revitalise your hair with their deluxe spa treatments. With a convenient location in a tranquil setting overlooking Lake Eden, doing your hair will become a reprieve to look forward to when you get it done at Samantha Jones Hair Co.
T IS FOR TOTALFUSION
TotalFusion | Various Locations
Ignite your love for movement in a place that's more than just a workout space at TotalFusion. With world-class studios already found across three central locations around Brisbane – and more set to make moves in the coming year – TotalFusion offer a completely unrivalled experience as the ultimate health and wellness destination.
TotalFusion's attention to detail and desire to elevate the fitness experience drives them to work out the best way to workout your body. Their Chermside and Mt Gravatt studios currently boast over 130 group classes a week, such as yoga, functional, cycle, fusion and Pilates, while their Newstead studio offers over 200 classes a week as well as a run club. Each boutique space has been cleverly designed with thoughtful lighting, heat controlled panels, diffusers and sound to create a multi-sensory experience that will help you get the absolute most out of your body.
TotalFusion isn't just your conventional gym; they also offer health-focused retreats and seek to educate all their members by inviting them to engage both their body and mind at exclusive wellness events. And while members come to the studio to workout, they often stay to relax in TotalFusion's lobby-inspired communal spaces after enjoying the ultimate chance to renew, refresh and strengthen their bodies. Not only do they make fitness fun, but movement is a way of life for this studio, and they want to completely change the way you experience health.
U IS FOR URBBANA
Urbbana | Brisbane City
Since 2009, high-end menswear store, URBBANA, has been dressing and shaping the sophisticated men of Brisbane with elegant and bespoke designs. Men's suiting has come a long way over the past decade – think short suits, pattern clashing and frilled pocket squares – and URBBANA certainly isn't shy when it comes to expressing one's unique self. The brand's resident fashion expert and business development manager, Kaan Tavli, says over this time, Australia has become much more sartorially aware. "People are paying attention to the quality of fabrics and the eminence of good stitching. Australian men now demand good quality product and personalised design. I expect the biggest trend in 2020 to be individuality and self-expression," he says.
It's certainly what makes the brand stand out amongst the market when it comes to dressing for your personality. Quality craftsmanship and unique designs drive everything they do at URBBANA. "Being a boutique brand, we have 100% control over quality and design. We only make 15-30 quantities in each design, so people tend to come to us for, as they say, something different that many people won't have", says Kaan.
No matter the garment, there's no doubt at this time of year it needs to be lightweight. Kaan says pieces should be vibrant summer colours with a range of summer staples such as a lightweight, unlined and unconstructed linen jacket, a vibrant, polished cotton or linen blend shirt, lightweight cotton stretch chinos and dressy sneakers with character.
V IS FOR VARICOSE VEINS
Nearly 65% of the blood in your body is held within veins as it slowly circulates back to the heart. Veins are elastic vessels and have the ability to stretch and contract depending on whether you need to lose or conserve heat. Small valves inside the veins point their leaflets in the direction of the heart preventing back flow.
In your legs, veins are confronted with the problem of returning blood back up the leg against the force of gravity. Nature has designed an ingenious method of overcoming this problem. As you walk, the calf muscles act like a pump and compresses the deep veins pushing the blood back up the leg ("the calf muscle pump"). But this affect only applies to the deep veins inside the muscles and not the superficial veins outside the muscles. Superficial veins rely entirely on the ability of the valves to do their job and not allow blood to reflux back down to your feet. This is where people with varicose veins have a problem. They inevitably become larger and more extensive over time and the increasing back pressure begins to cause congestion and swelling around the foot and ankle. Symptoms of the legs feeling heavy and congested are common.
People often report cramps and "restless legs". Depending upon the severity, skin changes cause symptoms such as rash, itch or pigmentation and then eventually breakdown of the skin surface causing ulceration.
W IS FOR WINE AND CHEESE
For a sipping experience you won't soon forget, head to the boutique-style bottle shop with the sommeliers, brewers and tapsters that know it best. Recently awarded 'Best Detached Bottle Shop' by Queensland Hotels Association, Sense of Taste is stocked with liquid assets. Whether you visit their stores in Portside, Hamilton or Coorparoo, you'll be greeted by close to 100 bottles of spirits available for sampling, as well as an extensive and expert selection of wine.
Sense of Taste know what the palate wants alongside each drop, so they sell gourmet cheese, cured meats, dips, chocolate from award-winning Kokopod and many other deli items straight from charcuterie dreams. If you can't wait until you get home to start pouring, pop it open right there and then at their Portside store as they have space for you to drink what you have purchased, and settle in while they create a cheese platter for you to enjoy. Open daily from 10am and never closing before 9pm, don't forget to check out what's on tap in store because they're constantly mixing it up.
If you don't know your fruit level from your body profile, then Sense of Taste also conduct wine master classes, spirit-tasting sessions and a Brew Club on the first Tuesday of every month where a guest brewer will work their magic. Otherwise, they cater to private events moulded to your taste so you can be assured your guests will never feel parched.
X IS FOR XTEND BARRE
If your 2020 intentions are to increase your energy, improve your overall strength and posture and meet some fabulous new friends to-boot, then you may want to stroll by Xtend Barre. Described as a cool combination of a full-body workout, with all the elegance of dance, Barre workouts can help to lengthen and sculpt your muscles.
Nestled in leafy Stones Corner, this stunning boutique fitness studio is complete with a high-end fit-out and state of the art facilities, and owner Shay Stafford is ready to warmly welcome anyone who is looking to improve their lifestyle and begin their Barre journey. Shay, a professional dancer with more than 20 years of dance experience and upwards of nine years teaching Barre and Pilates, is extremely passionate about ensuring each of her members achieve stunning results and walk out of the studio after each class feeling fabulous and revitalised.
Having taught thousands of women and men of all sizes, ages and abilities over the years Shay, along with her skilled instructors, have created a community of likeminded people in a beautiful space where members not only feel the burn but have a giggle while they're at it. Offering a variety of classes such as Barre, TRX, reformer and mat Pilates, yoga and even mums and bubs classes, the friendly team at Xtend Barre know the importance of being able to access classes to create a daily routine that suits their lifestyle.
Y IS FOR YOKO & GRECA
Yoko | Howard Smith Wharves
Welcomed to the wharves last November, Yoko translates the quintessential energy and excitement found in Tokyo's izakayas (you could alike to a Japanese version of a pub) to a split-level bistro spinning vinyl records upstairs every Friday and Saturday. Known for their creative cocktails and fabulously fun food, Yoko is a seafood leaning menu offering freshness in every mouthful. Perfect for Brisbane's breezy lifestyle, the food is light, zesty and perfect for sharing. Devour delights from the Hibachi charcoal grill, delicious gyoza, melt in your mouth sashimi and for a juicy take on pork belly the lettuce cups are full on in flavour, with the meat braised in soy just waiting for you to take a bite.
Greca | Howard Smith Wharves
A world away next door, you'll find Greca, a contemporary Greek Taverna, sitting ever so elegantly beneath the Story Bridge. Encompassing the Mediterranean way of life, the Greek eats are heavy in size and generous on hospitality. Wood and charcoal flavours feature heavily throughout the seafood and succulent meat dishes with their small plates packing just as much the powerful punch. Sit back with their large wine menu and enjoy the laid-back atmosphere the wharves brings, along with the brilliant décor and design from architect George Livissianis (who artistically designed both lively restaurants). Dining riverside never felt so good.
Z IS FOR ZAMA YOGA
It's no secret that the benefits of yoga transcend just getting a great physique, and the team at Zama are here to make the lives of local yogis a little better, happier and healthier. Get ready to transform your life on and far from the mat in many ways with over 30 classes a week. From yoga (including hot vinyasa, yin, vinyin, warm slow flow, and hatha yoga) to mat Pilates and Barre, Zama also offer hot yoga classes with beneficial FAR infrared heat to get your sweat on. If you do enjoy a warm or hot class, the tranquil studios are fitted with free lockers and showers for total peace of mind. This space of sanctuary is where you can feel inspired, energised or simply just feel a world away while you escape the world around you.
For those wanting to take a step further this year, Zama offers yoga teacher training with their next round coming February. Including yoga, Pilates, meditation and Barre, join the team and study for a career you've always dreamed of. Zama Institute teacher training offers flexible learning options where you can complete all non-contact course requirements (reading, self-reflections, multiple choice questionnaires) as soon as you enrol meaning that there's no need to wait for your face to face workshops to begin. Yoga teacher training dates include: 200hrs 8 February – 7 June and 350hrs 8 February – 21 November.
For a place to visit daily to rest and find your zen, everybody is welcome at Zama.