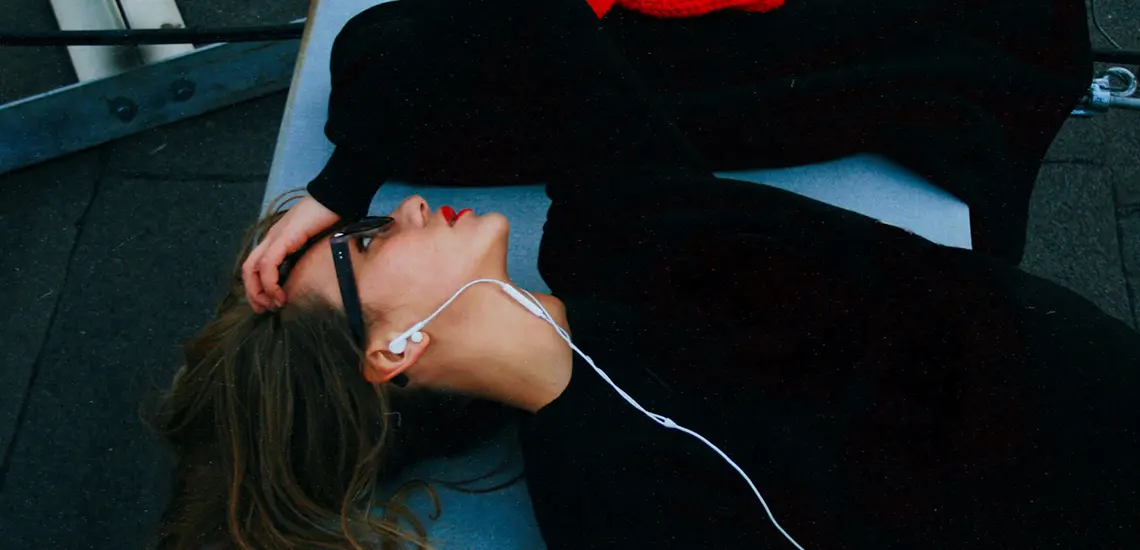 10 Of The Best Podcasts To Help You Escape Self Isolation Blues
AirPods in, the world tuned out.
By Olivia Siva | 7th April 2020

Let's be real right now, the world has been looking pretty damn grey the past few weeks and while the first couple of weeks or-so of self-isolation may have had you feeling relaxed, rested and with a new found love for baking, painting and Netflix bingeing, for some of us, staying in can leave us feeling a little blue and stir crazy. Cabin fever anyone?

While staying inside the majority of the day is not something we can change in the current climate, there are a few things we can do to recharge mentally, improve our mood and opt for mindfulness over melancholy. It's no secret that being trapped inside all day can have negative impacts on our mental health and whether you're on the edge of boredom, frustration or anxiety, mindfulness, distraction and empowerment can be of help.

To help you find your calm amongst the chaos, we've rounded up 10 of the best podcasts to keep you mindful, sane and entertained during this tricky time, categorised by anxiety relievers, distractors and empowerment.

Have a podcast you love? Tell us over on Instagram: @stylemagazines.
Anxiety relievers and mindfulness moments
In such stressful, unstable and ever-changing times it is SO normal to feel anxious, worried and fearful. Dan Harris' 10% Happier podcast is the perfect solution to make you feel a little bit brighter, offering listeners actionable tools to bring some calm to the chaos of COVID-19. The New York Times best-selling author offers easy listening episodes using the powerful tool of meditation to give you a sanity break and to seriously elevate your mood and make your day a little more peaceful. This podcast is suitable for even the most skeptical of skeptics with a clear, simple approach to the methods of meditation with help from the globe's best teachers. The podcast's website also features a new 'Coronavirus Sanity Guide' – a must listen during this time with regularly updated meditations, blog posts and talks to help listeners build resilience and cue the calm. Try podcast episode #232 to help navigate the world of working from home or the 'How to handle coronavirus anxiety' episode to work through practical tips to make life a little easier.
With the world in a bit of a mess, Untangle is here to help you navigate and 'untangle' the knots. Hosts Patricia Karpas and Ariel Garten lead interviews with world leaders in fields of mindfulness, brain health, leadership, life and so much more. Listen to psychologists, neuroscientists, nutritionists and other health and mind experts to help yourself feel a little more settled and happier, with science on your side. With new episodes every Tuesday and over 249 episodes already available, the wide collection of interviews will have you inspired, ignited and laughing out loud with tales of real, heartfelt experiences that may make you feel a little more united with the rest of the world without actually leaving your house – together, but separate.
Whether you're an ASMR fiend or new to the concept, Sleep and Relax ASMR will transport you away from the real world and into a realm of relaxation and sleep. Dreamy, right? Settle your racing mind with a wide range of triggers from driving a Volvo in Sweden, to the calls of a Nordic river, or the lull of a thunderstorm in Central Park. This podcast will have you explore all around the world from the comfort and safety of your own bed!
Feel Better, Live More is an ideal podcast if you want to revolutionise how you eat, sleep, move and relax, and all around feel better. The series is lead by Dr Chatterjee where he simplifies health and wellbeing while also aiming listeners to feel inspired, empowered and transform the way they feel. Gyms and restaurants may be closed but this doesn't have to stop you from cracking out the YouTube home workout routines and cooking up healthy wholesome foods in your own kitchen, because in the words of Dr. "When we are healthier we are happier because when we feel better we live more".
Total distraction
If you want to escape the unpleasantness of the ever updating 24/7 news cycle and listen to something considerably more light hearted and less serious, why not get up to date with the latest in the beauty industry! If you love a good chat about all things makeup, skincare, haircare and body, with a hint of humour, Full Coverage is the podcast for you. Presented by professional makeup artist to the stars, Harriet Hadfield, and self-confessed beauty addict, Lindsey Kelk, Full Coverage is your one stop shop for everything beauty – nothing off limits. Tune in to hear the low down on all the latest beauty launches, cult favourite products, interviews and industry news each week.
If you love love or perhaps frankly hate it, Love Stories by Dolly Alderton covers all things relationships and love – the good and the bad. Renowned journalist and author, Alderton, discusses with various guests their most defining relationships, heartbreak, passion, love and lust. With guests such as singer Lily Allen and bestselling author, Marian Keyes, listeners will hear about all types of lessons in love and life, from dramatic affairs to awful first dates and it's sure to have you in tears of laughter – an ideal distraction from the 2020 dramas, we say!
With salons closed, (thanks corona!) beauty upkeep is something which is now completely in our novice hands. From facials and skin treatments to hair care and nails, our visits to the experts are something which are in the past – just for little while. Don't be afraid, The Beauty Brains is here to help! If you wanna' feel like you have a free dermatologist under your roof this one is for you. Beauty Brains hosts – Perry Romanowski and Randy Schuelle – are cosmetic chemists, meaning listeners can get the expert insight minus the exposure and the costs! Ever wonder how to tell if products are causing your skin to break out? Or what ingredients mean what? Tune into this pod for all the answers!
For a bit of girl power
"I'm a feminist but… one time I went on a women's rights march, and I popped into a department store to use the loo, and I got distracted trying out face cream. And when I came out the march was gone." – Deborah Frances White. Award winning podcast, The Guilty Feminist hosted by Deborah Frances-White, is the perfect punch of Girl Power we need right now! Funny, thought provoking and powerful, this podcast discusses the big topics of a 21st century feminist, but keeps it real with confession of insecurities, hypocrisy and fears. For those feeling powerless in today's circumstances, take back your power with The Guilty Feminist.
Self-isolation can leave us all longing for some interaction and a good gossip sesh with our girlfriends. Call Your Girlfriend podcast is the next best thing! Dubbed the podcast for long distance besties everywhere, hosts and BFF's, Aminatou Sow and Ann Friedman present the poddie which is simply a conversation between two friends on which listeners can eavesdrop. Nothing is off limits, with chats on topics like menstruation, feminism, body shaming and celeb crushes – making 'Call Your Girlfriend' really feel like a conversation you and your go-to girls would have. The duo are self-proclaimed unapologetic feminists, who believe female relationships are a defining, important, and powerful must have. An easy listen that will have you laughing while learning, this podcast will leave you feeling a little less lonely.
After Work Drinks is your perfect alternative to a Friday night debrief with your bestie. Podcast hosts, Isabelle Truman and Grace O'Neil, provide a weekly roundup of everything from entertainment to the royal family with a perfect balance of banter and seriousness. Think witty, smart and insightful! This pod will be your new fave!
https://www.instagram.com/p/B9VGOzop5Vc/