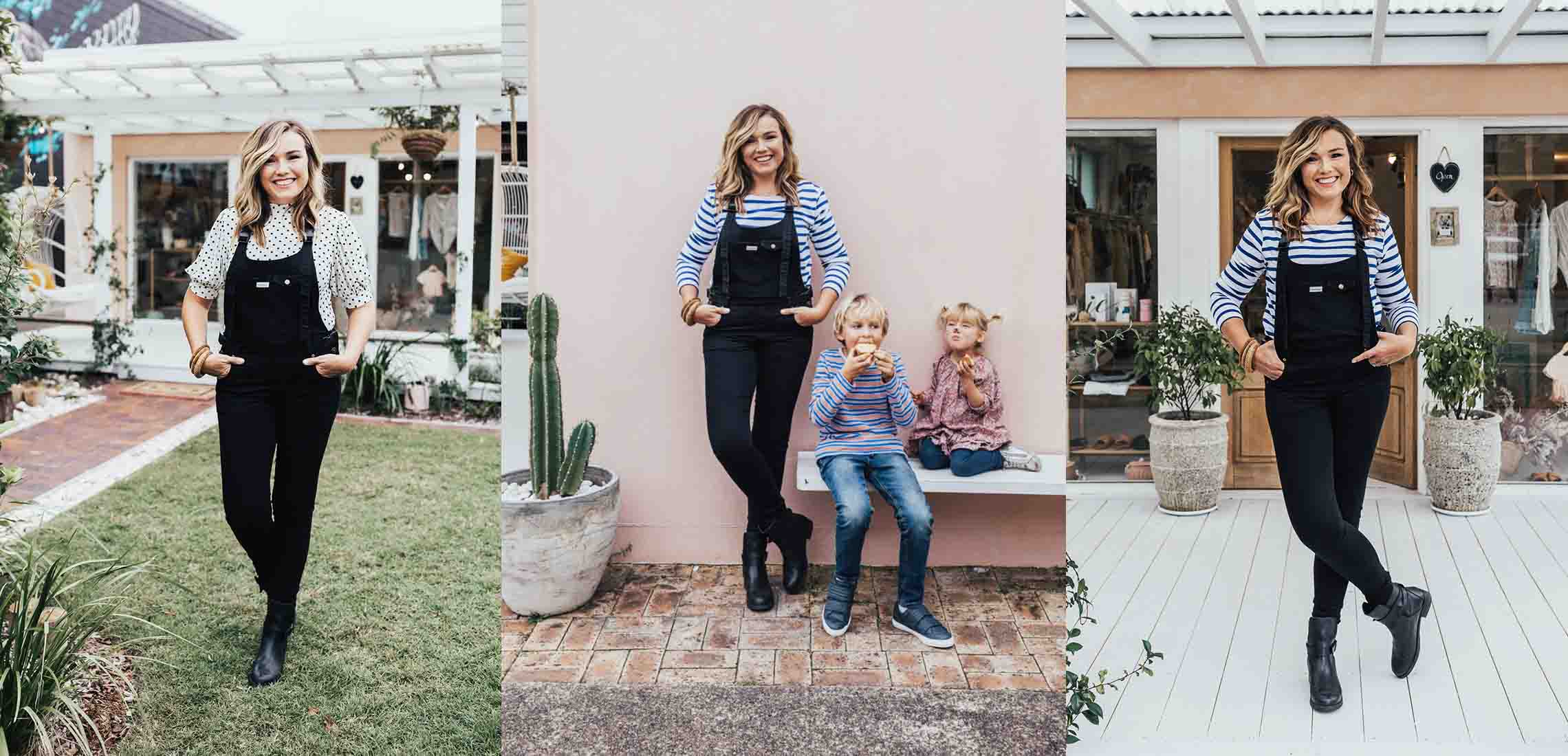 The Mama Behind 'The Mumsie'
Mama, designer, innovator. What next?
---
Pronounced "Yanika", Janneke Williamson is a glowing mama of two and the creator behind The Mumsie – a unique and stylish overalls slash baby carrier concept. Swapping Bondi for the paradise lifestyle of Noosa almost five years ago, she hasn't looked back since.
What was the inspiration behind The Mumsie?
I was at kindy drop-off one day wearing a pair of vintage overalls (my uniform) and I had my hands full with a three-month-old baby and a three-year-old, phone, keys, lunchbox – everything! As I was struggling with my carrier at the time, I looked down at the bib of my overalls and thought, "How easy would it be to just pop Oliena in here for a few minutes?!" That lightbulb moment was just the beginning and I set out to create an inventive, versatile, practical and awesome range of overalls that could also help out when you need your hands free. From before baby, throughout pregnancy to after baby and toddler mumming, it's the ultimate overall for parenting.
Which is your favourite piece?
The black Jetset is my most worn go-to style but the Caramella corduroy Mumsie is my absolute favourite. It's such a gorgeous colour and the fabric is just soft and delicious. I'm also crazy about our new Joey bag! Being an 80s child, I grew up loving vintage denim and lived through the whole bum bag craze. Our Joey bag is a crossbody/belt bag/pram bag that also multitasks as a change mat for a change on the go.
Who would you love to see wearing one of your designs?
I just love how easy social media allows the love to be shared! Seeing pictures every day of happy mamas (and papas) wearing our overalls all over the world puts the biggest smile on my face. It's the biggest thrill seeing and hearing their Mumsie success stories. In terms of celebrity mamas, I would be so thrilled to see Jesinta Franklin or funny mama Laura Clery rocking some Mumsies!
Who is your style icon?
Jean Seberg, Audrey Hepburn and anyone that wears a Breton stripe.
When you're not working on your brand, what are you doing?
Spending time with my little angels, making sourdough, cooking up some feast, watching Schitt's Creek (obsessed), walking my little chocolate labraheeler Dusty or surfing (trying to) down at Noosa Main Beach on the biggest learner's softboard you've ever seen.
It's a beautiful and sunny Sunday afternoon, where would we find you?
If I'm not at the beach or having a quiet day at home, I love a long sumptuous lunch at one of our favourite locals, Periwinkle in Peregian or keeping it leisurely at the Noosa Farmers Market.
Where are you the happiest?
When I'm at the beach with my family, away from my phone and in the ocean, on a date night with my husband Rory, eating delicious food with my nearest and dearest or lazing around with a good cup of tea, eating chocolate and telling funny family stories from times past.
What song best depicts your life?
Well this answer is completely influenced by Coronavirus: Red Red Wine by UB40! 
Favourite breakfast/coffee spot in Noosa?
Vanilla Food in Noosa Junction right next to our Mumsie HQ is just amazing. Delicious, nutritious and amazing! Don't miss the amazing waffles and their spiced chocolate (hot or iced) is amazing – even better with a shot of espresso.
Favourite beach in Noosa?
Gee, it sure is hard to choose a favourite, but my heart belongs to Tea Tree in the Noosa National Park. It's just divine and you might spot a koala along your walk. Walking through the National Park and getting back to nature reminds me of why we moved to this gorgeous part of the world.
Can't live without beauty product?
Vanessa Megan NEO Face Elixir. It's so nourishing and gives you an amazing glow whilst ultra-moisturising for my skin. I wear it for bed and also as part of my
morning routine.
Something we wouldn't expect to find in your handbag?
A box of Loco Love chocolate for an afternoon treat.
How would you describe 2020 in three words?
Family, together, patience.