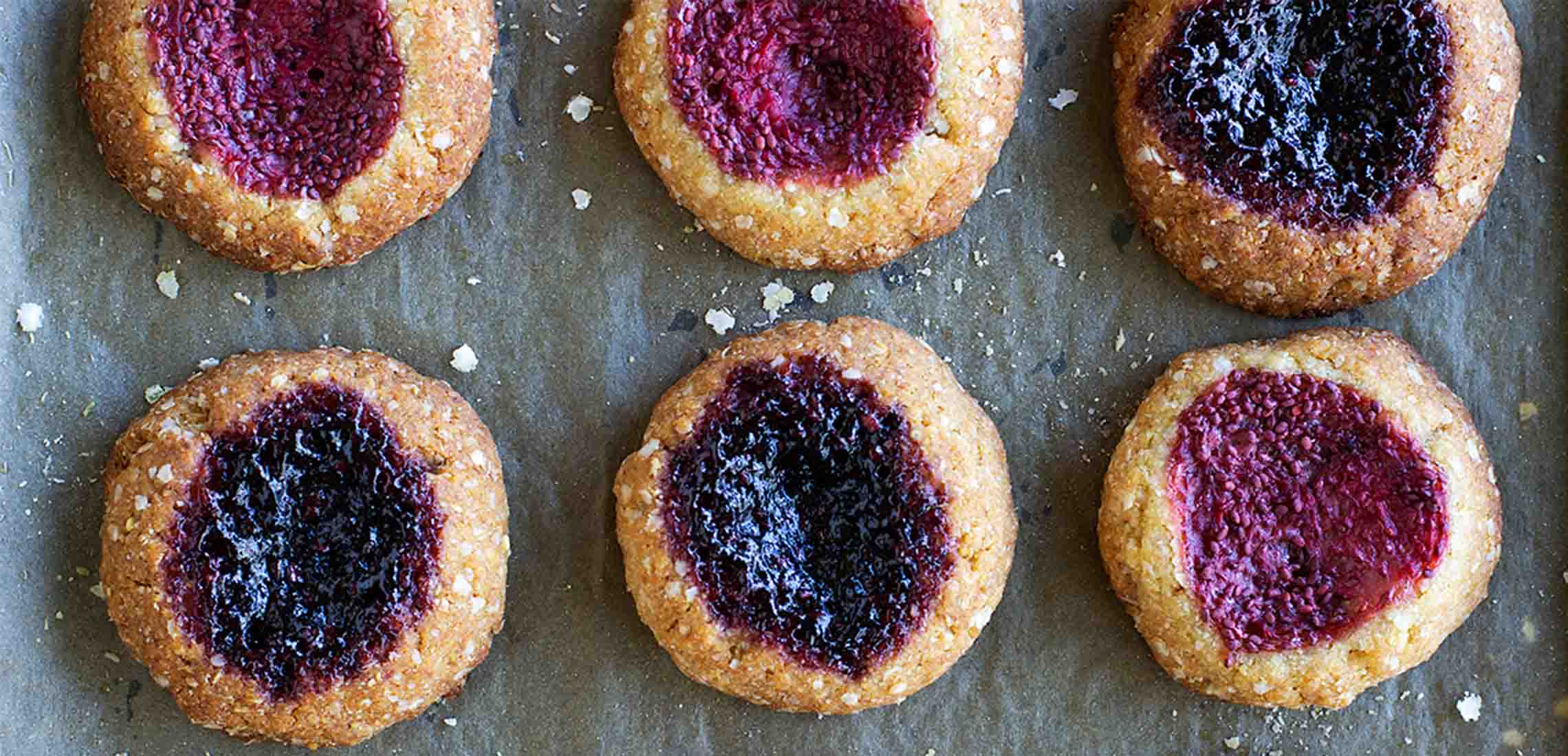 The Best Jam Drop Recipe Yet
How jammy
---
A healthy sweet treat that's simple and tasty, just like this intro. Shout-out to nutritionist, Jessica Cox for the recipe!
Serves 12 | 20 minute prep time | 14 minutes cooking time
Ingredients
1 cup brown rice flour
1 cup buckwheat flakes
½ teaspoon baking powder
¼ teaspoon salt
½ cup flavoursome honey
¹⁄₃ cup cold pressed extra virgin olive oil
jar of your favourite jam
Method
1. Preheat your oven to 200ºc, fan forced
2. In a large mixing bowl combine the buckwheat flakes, brown rice flour, salt and baking powder. Mix well
3. Create a well in the centre with a wooden spoon and add in the honey and the extra virgin olive oil. Mix well bringing to a sticky batter. After a minute or two it will be easier to use your hands to do this
4. Take heaped tablespoon amounts of the batter and roll into balls (similar in size to a protein ball) and then gently press out to a thick disc shape. Now use your finger to gently press into the middle of the cookie dough to leave an indent ready for the jam
5. Place the cookies with the indents on a baking tray. Add about a teaspoon of jam to the indented middle of the cookie. Don't be afraid to fill them up really high!
6. Place the cookies on the baking tray into the oven for 12 – 14 minutes, checking at the 10-minute mark to ensure they are not cooking too fast. Once the cookies are lovely and golden, they are ready
7. Remove the tray from the oven and allow the cookies to cool on the tray for at least 10 minutes. They will be soft at first and then they will start to harden.  After 10 minutes remove them from the baking tray and place on a wire rack to cool completely. The longer the jam drop cookies are left the crunchier the outsides will become
8. Store in an airtight container for up to four days, then place in the fridge. Freeze any left over after one week