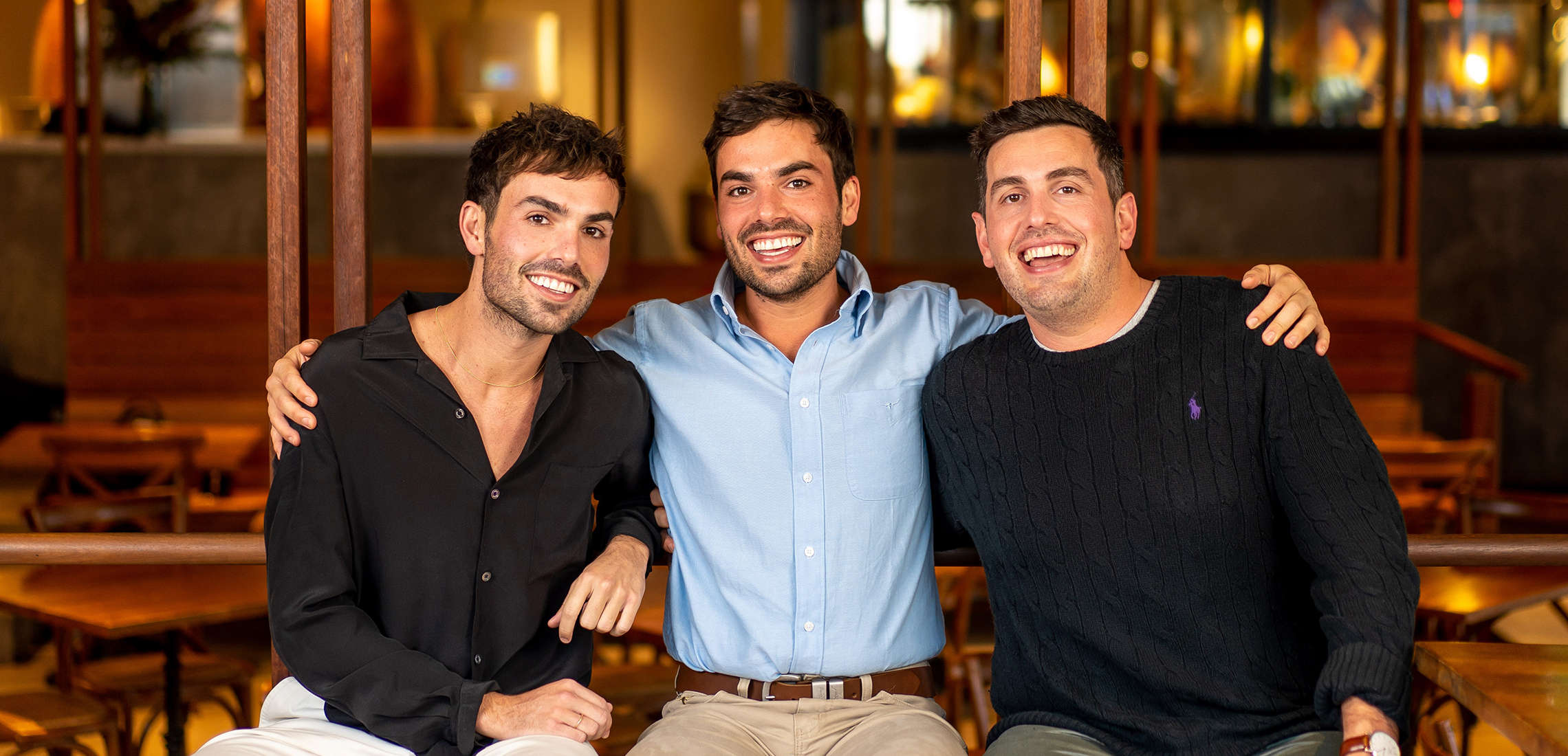 La Famiglia: How These Brothers Built The Beloved Gemelli Empire
It runs in the family
---
Ask any Italian and they'll swear up and down that their family cooks the best food, but for the Carney brothers, most of the Sunshine State would actually agree. 
The siblings behind the much-loved Gemelli Group – twins Alec and James plus older brother Paul –  grew up in the kitchen in their hometown of Griffith (whose agricultural population is largely made up of Italian immigrants), led by the matriarchs of their family. "Mum's a good cook," James said. "We were brought up cooking at home, which is how the restaurant came about."
That restaurant is the famous Gemelli in Broadbeach – a Gold Coast institution renowned for its traditional Italian fare, finessed with a modern flair. Translating to 'twins', the venture began by Alec and James who were drawn to the glitter strip by familial connections. "The place where we are now, we initially didn't like, but Mum said this one's good," Alec said. "We wanted to be next to some of the big players. Back when we came here on holidays, Mum and Dad used to spend a special night out at Moo Moo and now we're open next door." 
Nineteen, nifty, and a little naive, the twins saw a gap in the Gold Coast market for proper Italian food, as opposed to the Australianised version the area offered. "A lot of people would walk past the restaurant and say: oh, you know seven restaurants in four years went broke in this space?" Alec said. "In the first six months of opening, we were so dead. It was so quiet we didn't even have to clean the kitchen properly. The first weekend some guy wanted to kill me because I put him off tap!" 
Needless to say, the brothers have learnt a lot since then. Now Alec's in the kitchen, James runs operations, and Paul – who joined the boys after moving back from London when his visa ran out – is in charge of drinks. "I didn't know what I wanted to do when I came back so I said I'd help them out for a bit," said Paul. "And then I never left. I fell in love with the whole hospo thing."
Within two years, business was booming, leading them to open a casual trattoria in Nobbys Beach, Gemellini, as well as an old school locale, Roy's. "With Roy's, we saw the restaurant on Gumtree for sale," James said. "It was a restaurant we knew – our nonna's 65th birthday was there when we were kids." At first, Roy's was a second take on Gemelli, but the brothers quickly realised replicating the style didn't work for the neighbourhood. "We did a rebranding and called it Roy's by Gemelli after our dog," Alec said. 
From there, it was a few years until the boys took the leap up the highway to bring their authentic dishes to Brisbane. "We had a few different spots signed, but we ended up pulling out because we weren't ready," said James. But as they say, when you know, you know, and the James Street venue was unquestionably meant to be, bringing with it a new venture for the Carney brothers.
"We've always wanted to do a little Milan-style bar," Paul said. "It's exciting to do something a bit different alongside the family-style restaurants." Once upon a time, their cocktail menus consisted of cosmopolitans, margaritas, and bluffing their way through drink requests at the bar, but at Bar Tano, each of the cocktails have an Italian ingredient or influence that forms the basis of the tipple. 
When you pull up a seat at any of the Gemelli Group's five haunts, you're joining the Carney family table. The iconic rigatoni ragu uses a family recipe to create the eight-hour slow-cooked oxtail and pork shin, with crushed tomatoes imported from San Marzano. Their specials are often beloved dishes from their aunties, two of whom work for the brothers, as their head of accounts and reservation manager. Even their head chef was the one who taught the brothers how to cook back in the day. "He came up to Gold Coast in the first six months of opening; we hadn't seen him in years," Alec said. "We were writing on a blackboard 'Chef Wanted' and he walked in randomly. We were like: is that God walking through the door?"
Similarly, they treat their staff like their own. With many of their Broadbeach employees having been there since day one, they've trained dishwashers to become incredible chefs and even given out 20 Australian passports to staff from Italy to Nepal. "We've brought a big Italian influence to the Gold Coast," Alec said. "A lot of pizzerias and trattorias in the last five years are from ex-Gemelli staff." 
Of course, working with family has its ups and downs. "We can trust each other and rely on each other, but it's your whole life. One of our meetings back in the day was around the family dinner table with the dogs on the ground," Alec said. "There's a bit of punching on. You can always fight, but you get over it."
And when a brother isn't pulling their weight in the business? Mum's only a phone call away.