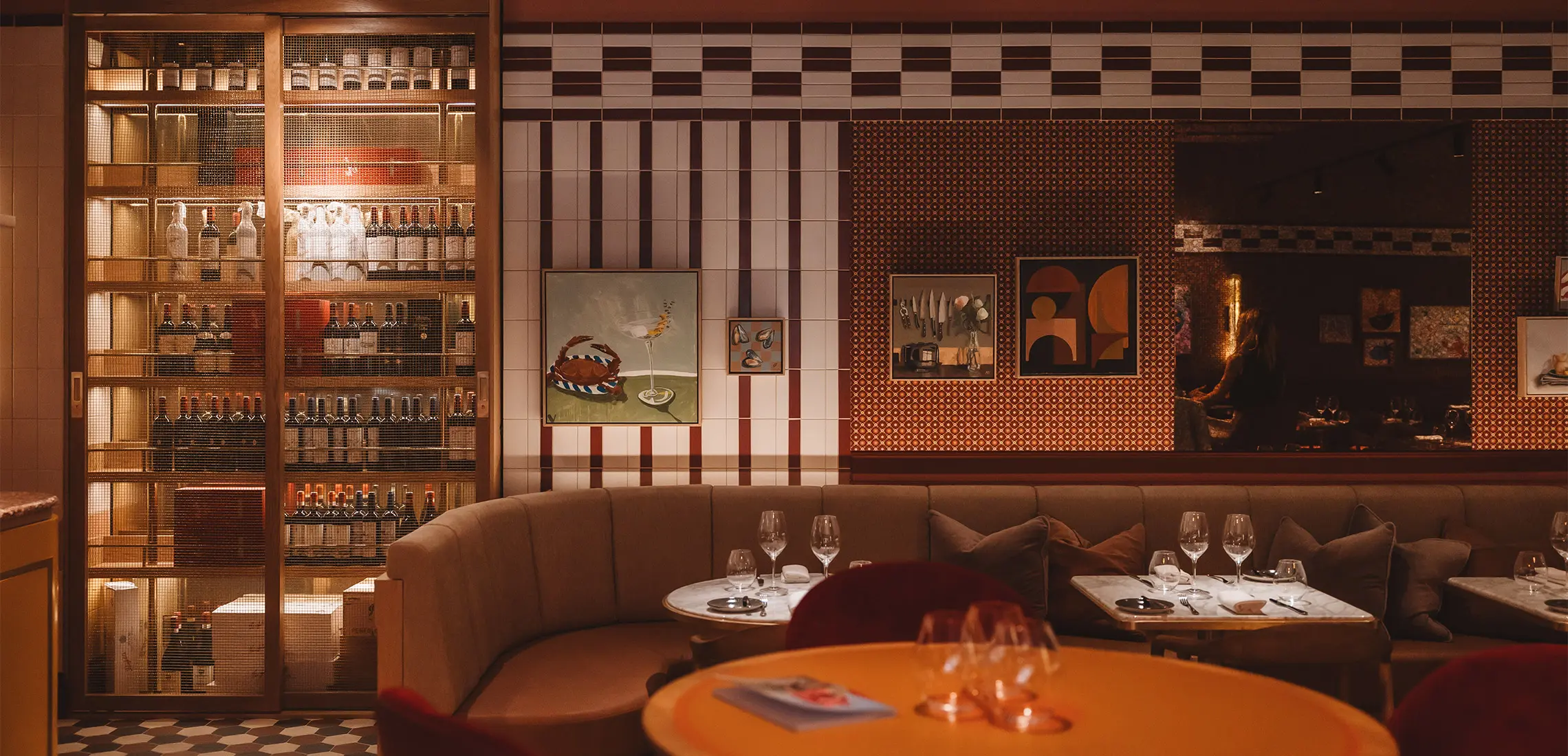 We Tried The Wolf's Seasonal Menu And Here's What We Thought
Traditional and tantalising 
By Dinushka Gunasekara | 21st August 2023

Despite its location on the energetic Queen Street, pulling up a seat at The Wolf transports you to a moody European dining room, where conversation is intimate and lasting, on a backdrop of terrazzo and spice-coloured hues.

From highly acclaimed restaurateur Fabian Rebelo (aka the man behind the iconic Stanton) whose incredible vision is carried out by General Manager Eric Dessilas, this restaurant, deli, and bar takes cues from a variety of Euro persuasions, with notes of France in the carefully curated wine list, Italy in the gourmet goods lining the shelves, and Spain in the vivid art adorning the walls. These global brush strokes similarly come together to paint a seasonal menu featuring traditional techniques, fresh local produce, and mouthwatering flavour, crafted by a lineup of chefs with enough Michelin stars between them to rival a Van Gogh painting.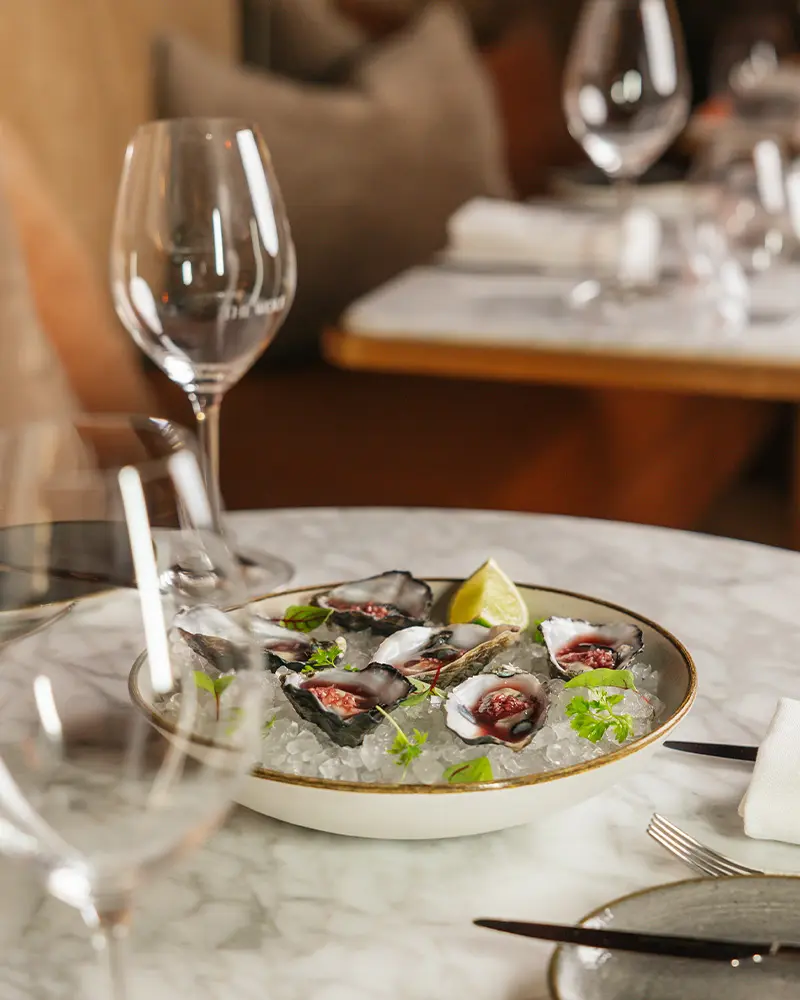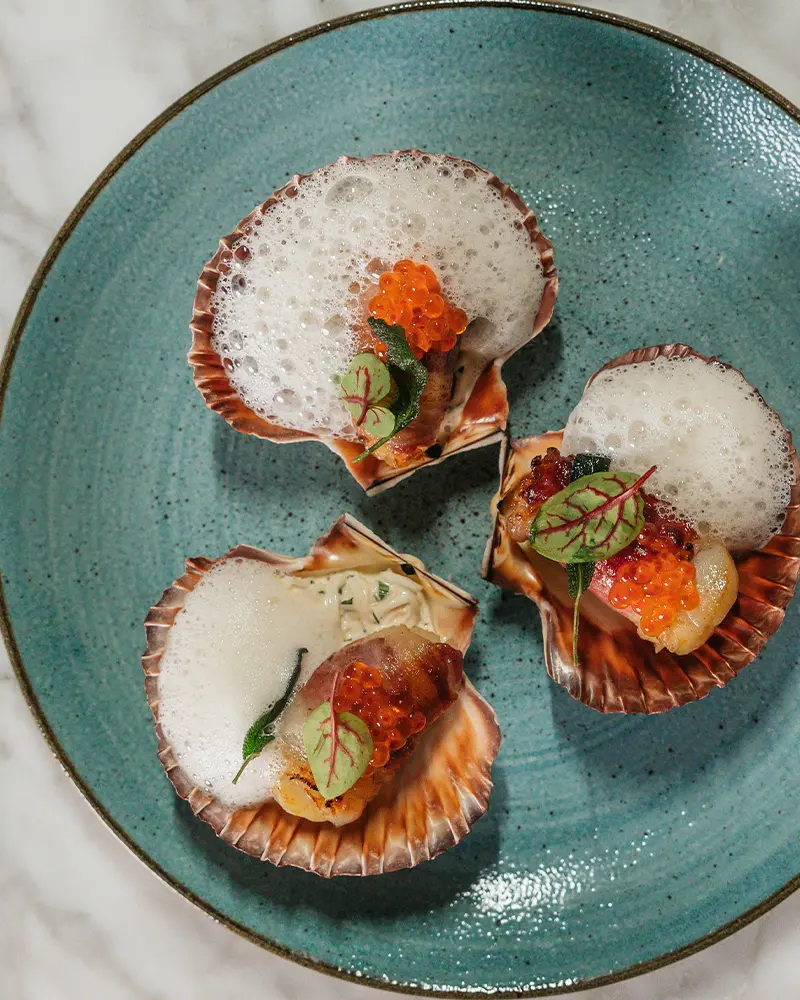 Designed to capture a broad palate, The Wolf's dishes make for bite after bite of culinary magic, curated by Head Chef Wesley Marshall. There's the green carpaccio with cured black kingfish and a honeydew melon-vin santo sorbet balancing briny and refreshing tastes to perfection. The hefty sea scallops from Japan are paired with saltimbocca and pancetta foam before being topped with smoked salmon roe, bringing together treasures from the sea and land. And then there's the oysters – zesty, delicate, and veritably lip-smacking.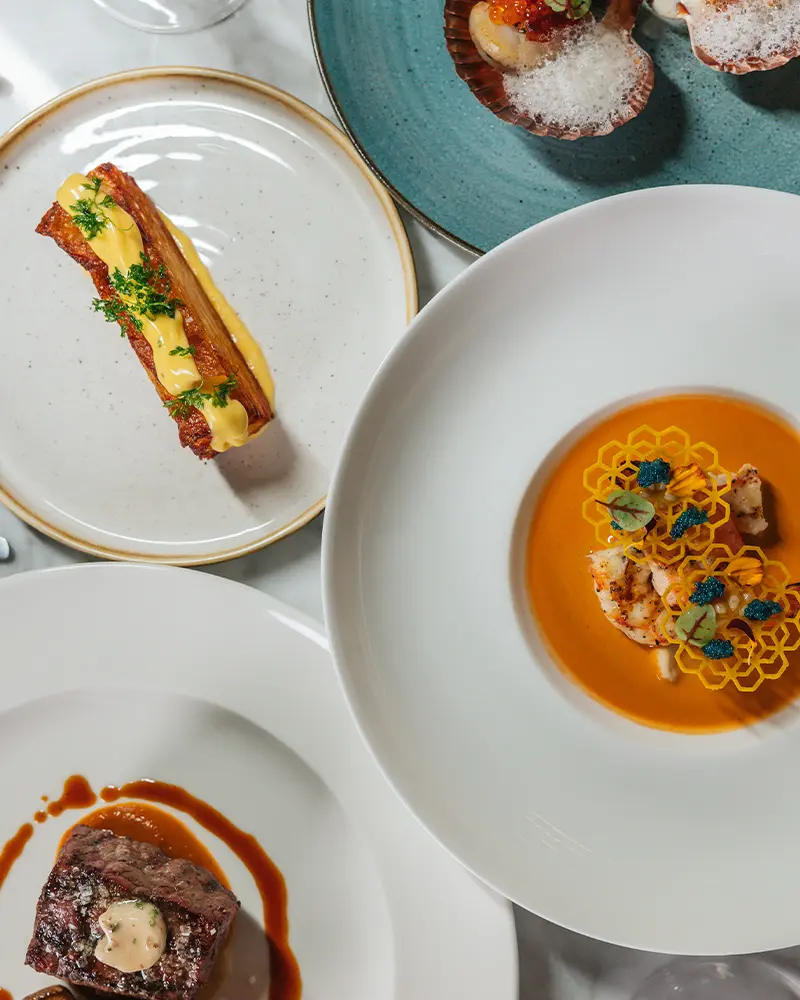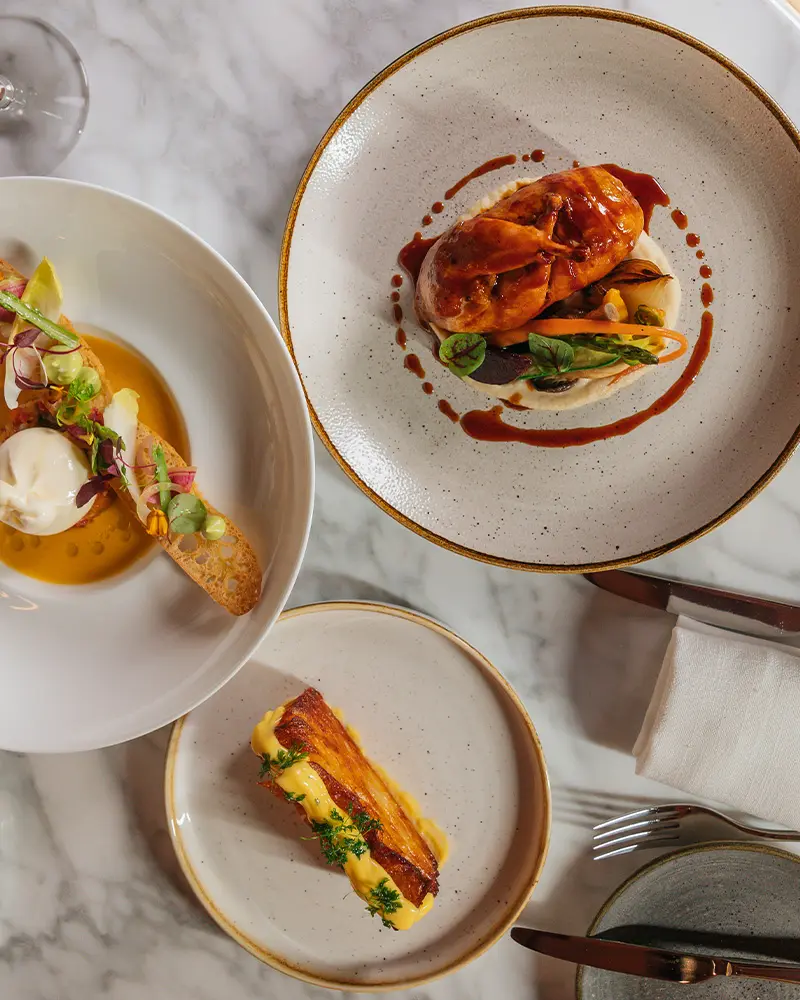 The attention-to-detail holds firm even as plate sizes increase. The charcoal-fried king prawns sit atop an authentic cardamom-infused bisque, while the swordfish ceviche takes a citrusy turn alongside a melt-in-your-mouth tomatillo milk sorbet. Steak lovers are sure to appreciate The Wolf's truly European approach, whether they opt for the distinctly French steak au poivre with Queensland peppercorns or the wagyu sirloin in bone marrow butter and bordelaise sauce.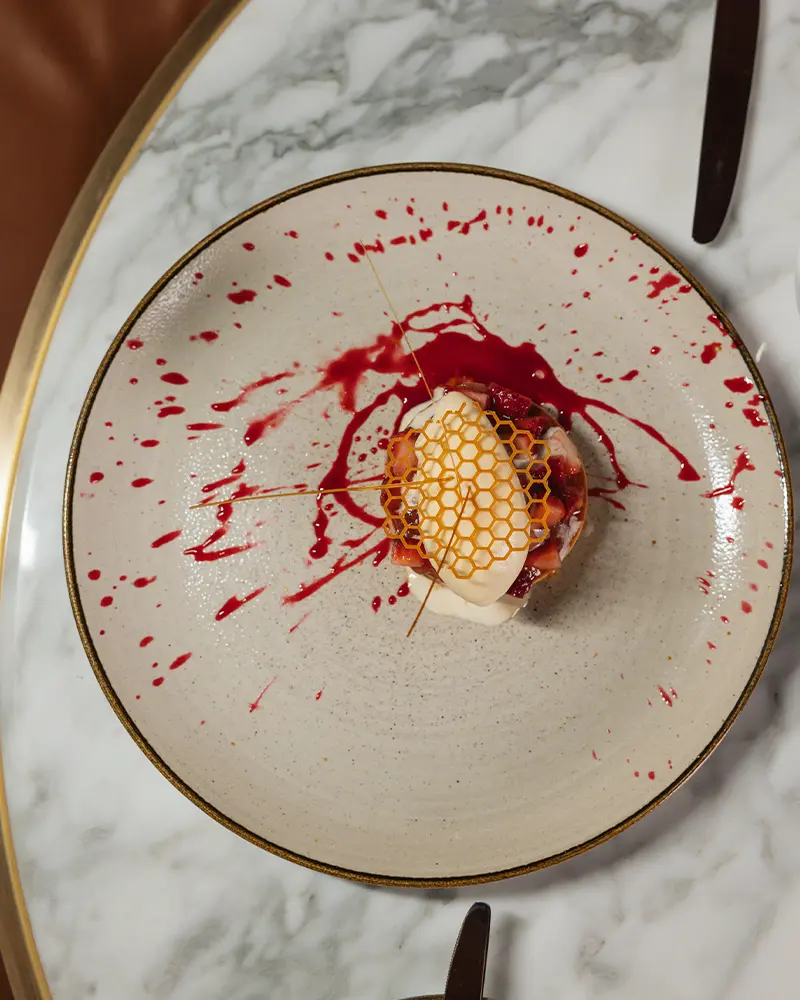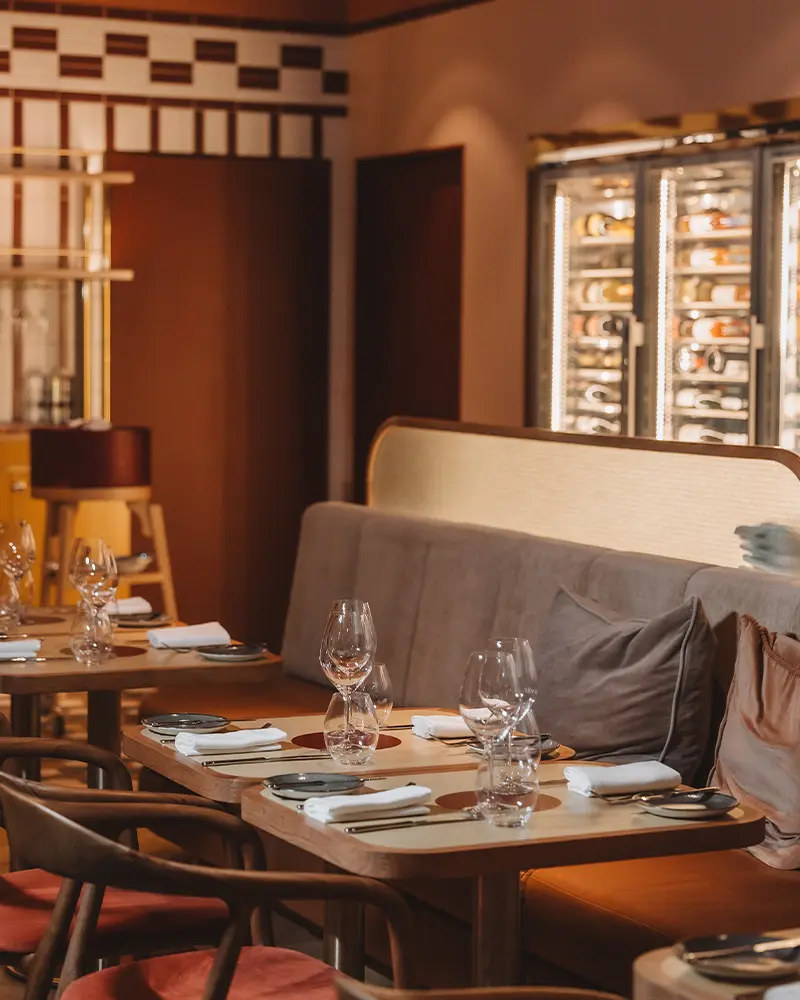 Pro tip: desserts are non-negotiable at The Wolf. The tangy and honeycomb-adorned caramelised rhubarb tart is nothing short of a winter wonderland, while those looking for a sweet treat to tide them over will enjoy the oh-so-refreshing watermelon-passion fruit granita with freeze dried mandarin. Or, let the cheese trolley (handmade by a French artisan over three months) come to you and take your pick!
If there were any doubts that the Brisbane dining scene has reached new heights in recent years, the Wolf certainly puts them to rest. Open for lunch and dinner from Tuesday to Saturday, book here and treat your tastebuds to a trip of a lifetime. Fancy a bubbly night? The Wolf is set to host an incredible Champagne Master Class on 25 October, featuring five prestigious Champagne houses and 12 sips to savour.  From Ruinart to Moët & Chandon, Veuve Clicquot, and Dom Pérignon, this indulgent night will wow your mind and your palate. For more info and to book, head here.