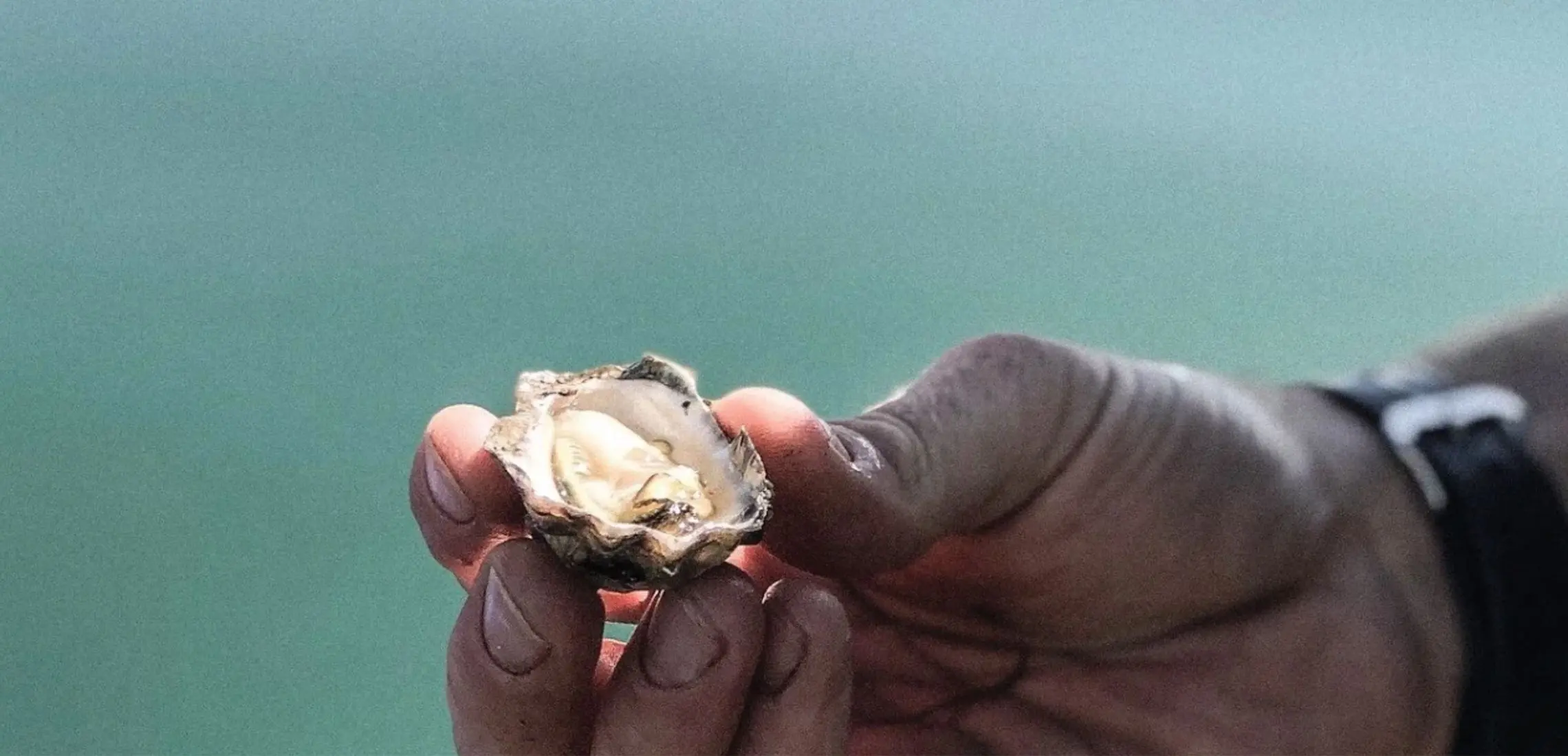 Aw, Shucks! Here's How To Find The Perfect Oyster
The world is your oyster
By Guest Styler | 22nd August 2022

It's no secret that Queensland prides itself on the humble luxury of a good oyster. But what exactly makes it perfect? In an attempt to get to the bottom of the shuck, we chatted to Tim and Andrew Prowse from Queensland Oyster Company – an oyster farming business in Moreton Bay, as well as Head Chef of Bisou Bisou, Jeff Campbell. 
How did Queensland Oyster Company start?
Queensland Oyster Company (QOCo) started in 2013. Dad (Tim) had recently retired and was looking for his next project when oyster farming caught his attention. We began to expand from a hobby farm to an established business, with bases in North Stradbroke Island, South Stradbroke Island, and the Tweed River. 
We've had a lot of ups and downs. The most significant was in 2018, when we lost approx. 40,000 dozen saleable oysters due to QX (Queensland Unknown). Having to start all over again was a real setback, but it has made us better farmers.
What does your day to day work look like? 
No two days are the same! Our tasks vary a lot depending on the weather and the time of year, but most of the time you will find us pulling in bags of oysters from the water, grading them into different sizes, then putting them back out again ready for sale. It takes approximately three years to grow a Sydney Rock Oyster, and there is a lot of work involved during that time in order to track and manage their progress.
We love being outside in nature every day. Even though there is always plenty to be done, we love a good yarn and you'll often find us chatting to other farmers, wholesalers, customers, and anyone else passing by the shed.
What are your rules for farming the perfect oyster? 
Farming the perfect oyster comes down to many factors – the water conditions, moon phases and tidal movement, salinity, rain, algae levels, climate, handling process, infrastructure, seasons, location, the individual farmer, and much more. 
From a farming perspective, a clean shelled, well-shaped oyster with a good meat to shell ratio is what we strive for. I don't think that there is one hard and fast method to growing oysters, as there is a beauty in the unique nature of the differing sizes and shapes you get from each farm/farmer and estuary.
What constitutes a 'perfect oyster'?
I wish I had the answer! I don't think there is a perfect oyster – it's like asking what a perfect wine is. Each estuary has its own distinct flavours and characteristics. An oyster in perfect condition should have firm and fat meat with a creamy, golden colour to it, and little to no water in the shell. When an oyster is in top condition, you will get a really nice balance of salty and sweet without a lasting aftertaste.
Who are some of the restaurants you supply to? 
We currently supply our oysters to Essa, Bisou Bisou, Anekawa, Palette at HOTA, Belongil Beach Café, Pipit, Café le Monde, and many more restaurants across QLD and Northern NSW through our wholesalers. 
What is the best way to eat an oyster? 
Definitely not at 6:00am with a coffee – which is how I eat 90% of mine! I prefer to eat my oysters freshly shucked, either natural (to appreciate the oyster's flavour) or with a finger lime dressing.
For more brothers making delicious waves, check out our chat with the brothers behind Gemelli here.