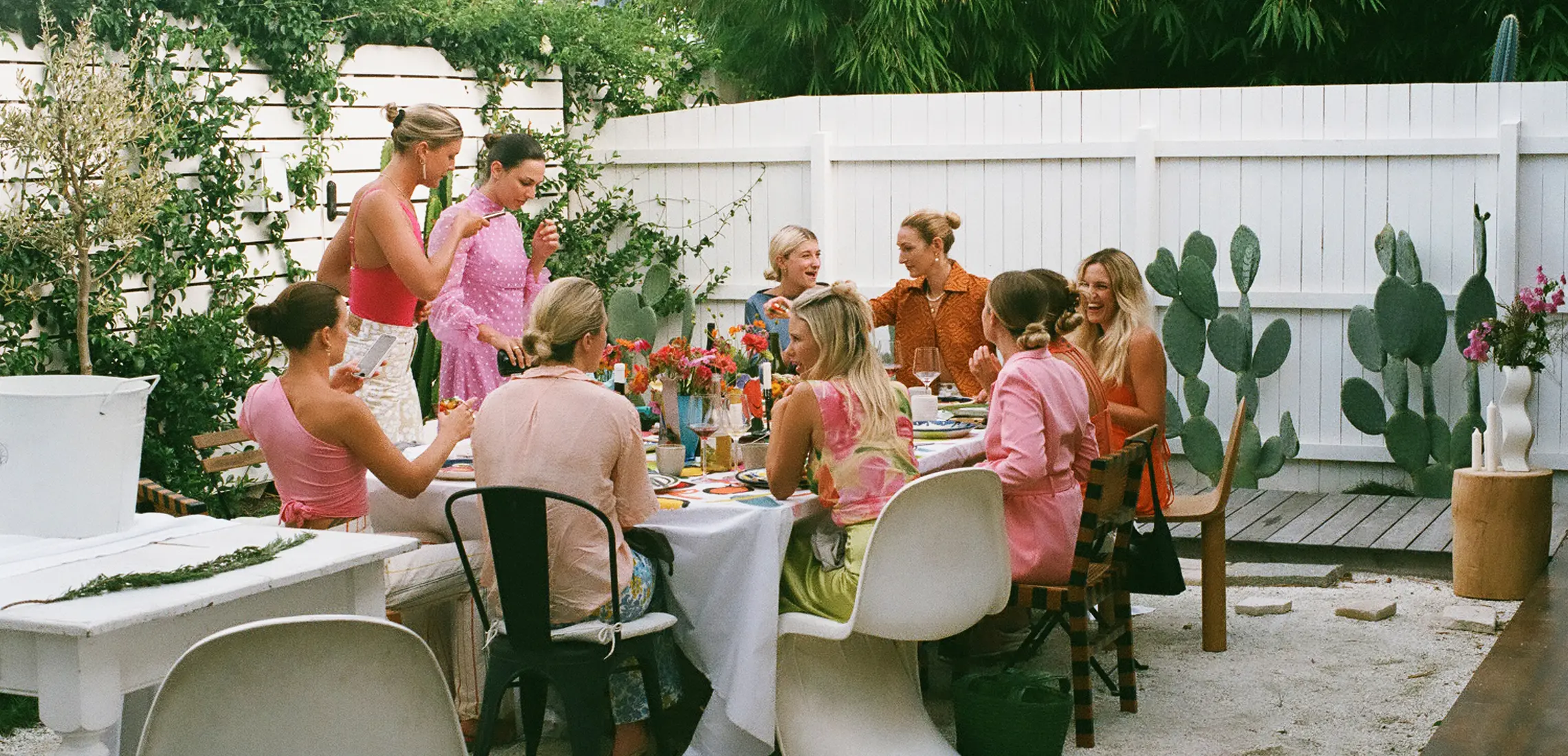 Join The Club: Your Invite To A One-Of-A-Kind Dining Experience
Never regretti your spaghetti
By Astrid Taemets | 18th February 2022

If you've ever been lucky enough to find yourself perched along the shores of Italy's coastline, local wine in hand, enjoying a bowl of fresh casarecce bursting with flavour but light enough not to put you off your post-lunch dip, you're already well on your way to understanding the success Jenna Holmes (aka Pasta Mama) has built with her ever-moving, ever-changing dining experience, Pasta Club on.

Pre-pandemic, Jenna spent as much time as possible on the Italian island of Sardinia, which is home to a 'blue zone' region – one of several in the world where a high percentage of people live longer than the average, largely in part due to their lifestyle and diet.

"People in blue zones have prolonged lives because they eat local, simple, and seasonal. They savour flavours and take pleasure in eating fresh produce from the land," says Jenna.

That's echoed in the Pasta Club ethos: "It's an extremely basic concept built on bringing eating back to a menu-less meal, eating slowly, and feasting on what's available here and now, which is what so many of us escape to Europe to experience."

Put into laymen's terms, Pasta Club is a private dining sensory experience where you relinquish control. The menu, the music, the location – all is taken care of by Jenna. The only part you get a say in is who joins you. Purposefully allusive, the conscious decision to keep the details of what Pasta Club is to a minimum is something that Jenna attributes to its success. "Part of the experience is not knowing, not having expectations," she says. "Secrets spark interest, and I think in a world that is so predictable and thought out, it's so much more interesting to be left in the lurch."

Without knowing the finer details, imagine Pasta Club as the catered dinner party you don't want to RSVP 'no' to. Picture a loud setting awash with vibrant colours – a hand-painted tablecloth the foundation for a table adorned with vintage vases, wildflowers, mismatched plates, glassware, and cutlery, and large share bowls of vegetarian pastas, salads, and freshly-baked bread occupying in abundance. Jenna's carefully curated disco playlist fills the space, and local wines pour freely into your glass.

"Dining with friends isn't just about food, it's about it all – from the table setting, to the music, to the actual space itself – it's all these details that amalgam to create a one-off sensory experience. That's what eating is all about. With Pasta Club, I present an over-the-top colourful art installation of sorts that guests become a part of in their own way, and to watch it unfold is something you just can't get from a restaurant," she says.

Loud, messy, colourful, and connected, Pasta Club is the epicurean private dining experience you can book exclusively for you and your pasta-loving mates we've all been craving here.

And if a quick eat is more your flavour, Jenna has gone and added Club Sanga to her resume: a fresh sandwich delivery service bringing Bryon Bay residents thick crusty, taste-filled bites created with simple but oh-so-fresh and tasty produce from local artisans. Time to move to Byron perhaps?