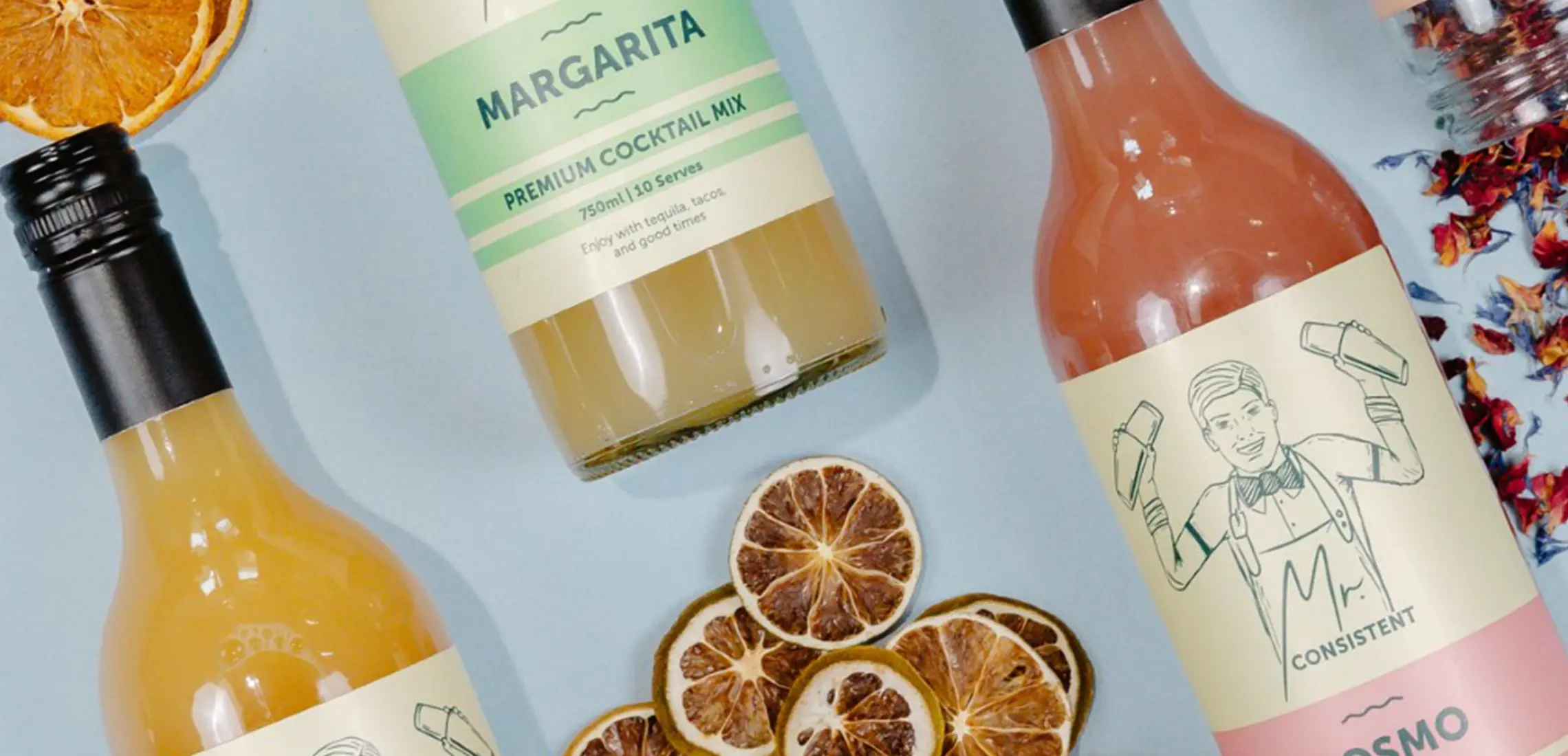 The Mr. Consistent Blokes Spill On Their New Cocktail Flavours 
Consistency is key 
By Guest Styler | 19th November 2021

Meet Jeremy, Mikey, and Jarrad – the three Gold Coast blokes behind cocktail mixer brand, Mr. Consistent. Jeremy is the business brain, looking after development, strategy, and management. Mikey? He's the creative behind the new recipes, with 15 years of experience working in cocktail bars across the globe. And Jarrad, he's the brand director, helping guide the creative with his graphic design and marketing background. Together, they're the recipe for Mr. Consistent and we sat down to chat all things cocktails!
Who is Mr. Consistent?
Jarrad: The idea of Mr. Consistent is that anyone can be Mr. Consistent and make cocktails like Mr. Consistent. When we designed the personality, he was a lovable Aussie bartender. His characteristics make up a lot of the way the three co-founders walk, talk, and act, through his social media pages. When we reply to customers through the socials, it's him you're talking to.
Mikey: We've always worked to the mantra that Mr. Consistent can be anyone. Whether it's someone at home who's never made a cocktail before or somebody down at your local who pulls beers like a demon but hasn't had a lot of training in the cocktail field, the consistency is in the bottle so anyone can make a drink to the same standard, regardless of their experience.
Worst cocktail experience?
Jeremy: A sub-par marg after a brilliant one, that was my most disappointing cocktail experience because of the inconsistency. From that frustration, Mr. Consistent was born.
Mikey: I've definitely made my share of terrible drinks in the pursuit of something novel and interesting. It's just important that you learn from them and keep the bad ones to yourself.
What will you be shaking up down the track?
Jeremy: We have some really exciting stuff in the pipeline… We are keeping things top secret for now, but we can tell you that we will have a new line of cocktails coming out by the end of this year which will shake things up again! Plus, we're working on another "poolside favourite" that will slot into our core range, and two exciting collaborations, designing drinks with friends of the business.
Jarrad: The booze industry has a pretty typical way of operating and I think it's a testament to where we are due to approaching it from a lifestyle and fashion style of business. Our hospitality backgrounds also give us the edge of just making things happen quickly.
What inspired the new cocktail flavours?
Mikey: I wanted to create something that fit in with that coastal Queensland vibe so naturally went towards pineapple as a key flavour.  The Midnight Martini on the other hand was always going to be black. You perceive a lot of what you taste with your eyes before you've even raised it to your lips so I wanted to construct a drink that leant itself better to being that colour. Doing my sommelier training gave me a real love for the way flavours interact with each other so I'm constantly looking for new and different flavour marriages. I still find it all a bit surreal and humbling when I see the reach we've achieved in such a short time.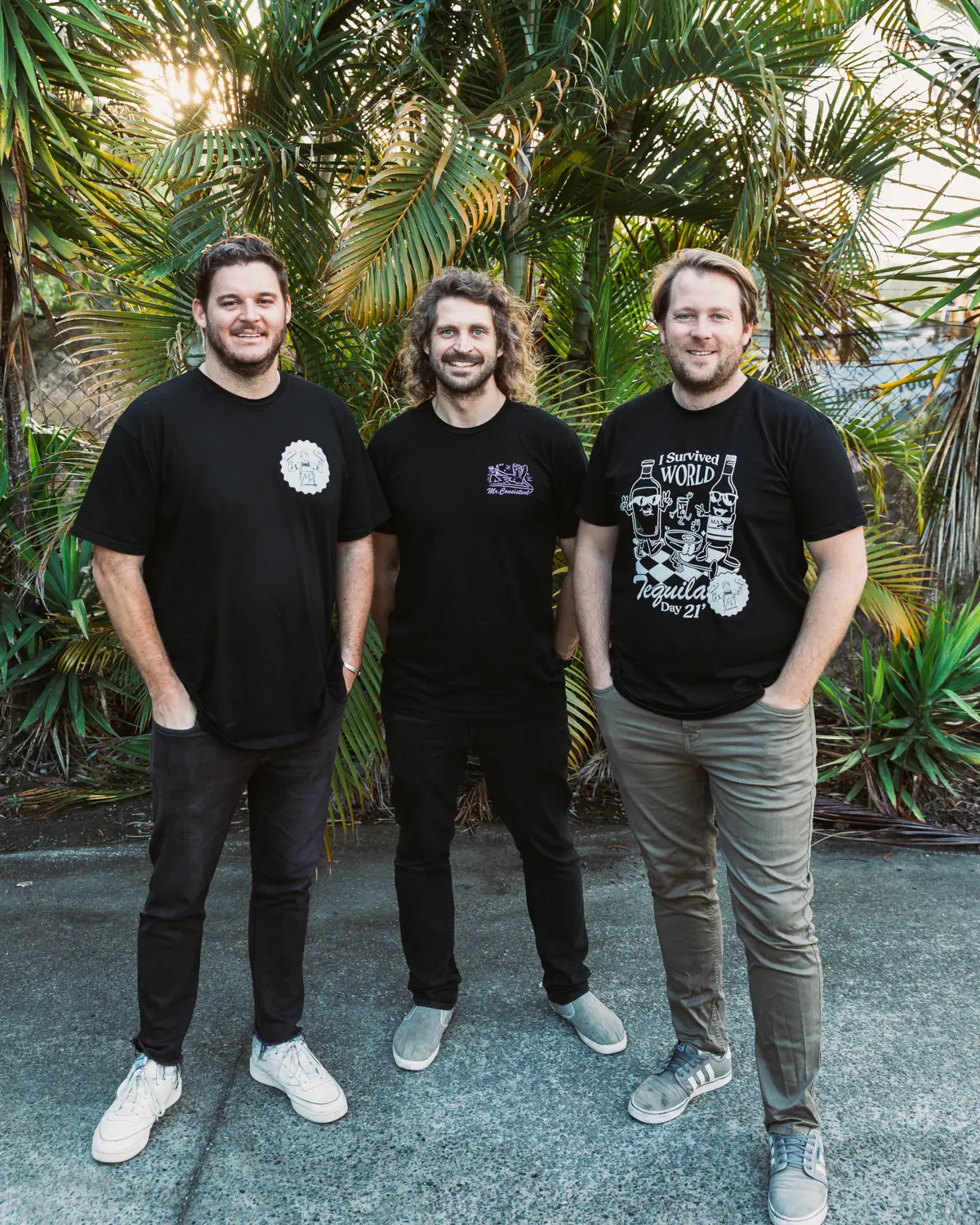 What's the inspiration behind the Shake Up Podcast?
Jarrad: The Shake Up podcast was an idea we had to give ourselves another voice in a longer format – something not many brands do, especially in the 'liquor industry'. We also have this amazingly loyal social following that want to learn more about what we do.
Trial process for perfecting the secret recipes?
Mikey: I always have an idea in my head of what I want the end product to be – there are always some key factors to the drink that you want to present. You're obviously always trying to get the sweet-sour-bitter balance right but there are some elements like the foamy head on an espresso martini that can't be ignored if you're trying to truly bring the bar experience into somebody's home.
We obviously don't include any alcohol in our mixes so I'll generally start by trying to replicate the flavour and mouthfeel of any ingredients that I'd use in a bar and go from there. but it's always been our goal to create the freshest product we can using the best and most natural ingredients and the buzz from finalising a drink that you're happy to stand behind and put your name to makes it all worthwhile. If it meant discarding whole batches of mix for the tiniest imperfections, we'll always prioritise that over compromising our quality.
Jarrad: Jeremy had identified a huge gap in the market from a venue (on premise) point of view, so when the world shut down, we thought, let's give the at-home market a go.
Did you always plan on utilising influencer reach and exposure?
Jarrad: It is no secret the power that influencers harness, but the beautiful thing about what we've created is a product that most people already love and consume. We've made it easier, we also hook them up with the glassware and garnish so their content is top notch, and it fits really nicely into their personal lifestyle and feed –it doesn't feel like a transaction for them and their followers.
Our collab with Ellie Watson for 'El Peachy' was a result of a really natural and organic relationship we had. Her followers loved our product so we thought, let's make a cocktail together and see how it goes – much the same way influencers do collections with fashion brands. Mikey and Ellie worked on the flavours much the way a design team collabs on a range.
Hit us with some stats!
Staff? 95.
Bottles sold? 350,000 (3.5m cocktails).
Stockists? 1,400 across Australia.
Flavours? Five core and three seasonal.
What spirits can we find on your bar carts?
Mikey: South American or Caribbean rum.
Jarrad: Amaretto, coconut tequila and Baileys.
Jeremy: Gin, Japanese whiskey, and tequila.    
Shop the Mr. Consistent range here.