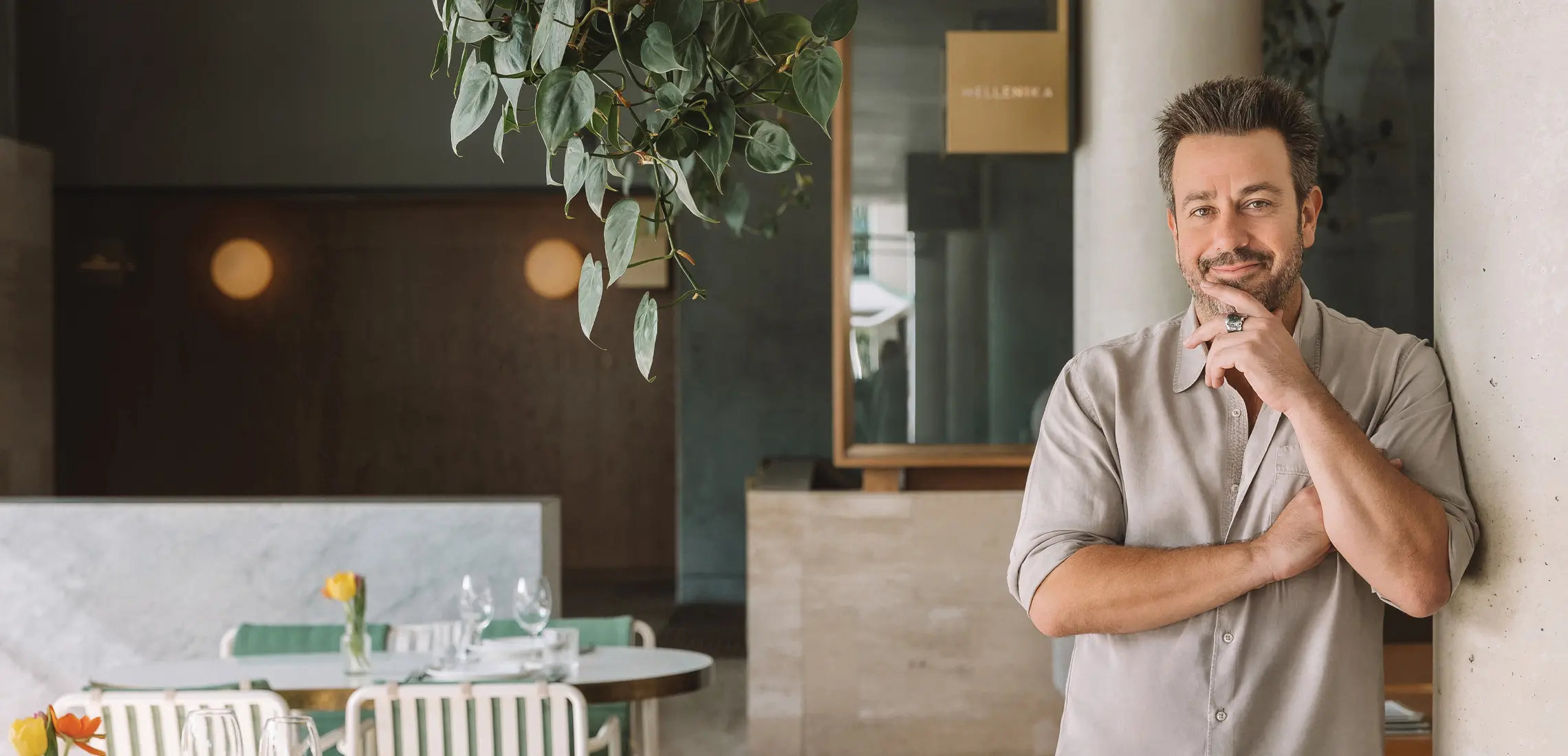 Meet The Mind Behind Hellenika and SK Steak & Oyster
An appetite for success
By Guest Styler | 9th June 2021

With two of Brisbane's most iconic restaurants, Hellenika and SK Steak & Oyster under his belt, Simon Gloftis needs no introduction. Here, he tells deputy editor Fiona Williams his rise to restaurateur from Broadbeach to Brisbane:
Where it all began:
With any career, you need to start somewhere. In my case, it was with corn on the cob. When I was 17, I started my very first business – a corn on the cob stall at the Rocklea markets. From there, I was a dish washer in an Italian restaurant in Robina and then I started making pizzas, got on the floor with customers, and it wasn't long until I opened my first cafe with my brother in Broadbeach. You could say my love affair with the Gold Coast started here, with the opening of Little Beans and Hellenika in Nobby Beach, Piccolo in Miami, The Fish House in Burleigh, and then Nineteen at The Star.
Many people don't know I was born in Melbourne (although my style of fare sometimes reflects it) and moved to Brisbane when I was five. My passion for food was purely an accident. While I grew up in a European family (dad's Greek and mum's Polish), food was a part of our lives but we were far from being typical foodies – boiling pasta was beyond us. Yet somehow, when I started working in restaurants, it came to me naturally. So much so, that I started realising I had a better understanding of food than the head chefs that I was working for!
Way back before I was opening restaurants, I decided to get my real estate licence. Instead of studying, I would get caught up in cookbooks – it made me realise food was my calling. The bustle of business ran in the family that's for sure. Growing up, my dad owned markets around Brisbane – the trash and treasure kind. From Rocklea, Cannon Hill, and Stafford people would rent his spaces to sell their craft. These days, we own Miami Marketta. It came along about eight years ago and it's grown into an unfussy night market with food from around the world, drinks, live music, and plenty of character.
It sounds silly, but I didn't know I wanted to be in hospitality – I kind of just fell into it. I've been doing it for 20 years, but I still asked myself, "when I grow up, I wonder what I'm going to be!" I didn't realise it until about five or six years ago. Many people say how much knowledge I have in the industry, but they seem to forget it's taken me 20 something years to master.
On Hellenika and winning that food award after two weeks:
After the success of Hellenika on the Gold Coast, it took me almost five years to find the right place to bring it to Brisbane. Just when I had given up on finding the right spot, I was shown a picture of The Calile Hotel. It sounds almost too simplistic, but just the look of it was the right fit in every way. I couldn't imagine the layout now without Hellenika or the zucchini chips – I never thought they would become so iconic, but next time someone stops me in the supermarket, I hope they mention the King George whiting instead! Now with SK Steak & Oyster at the same location, it has this magic in the air. If you close your eyes, you feel like you could be in New York.
There was a big fanfare when Hellenika came to Brisbane, and after being named Brisbane's Best Restaurant in the Courier-Mail Food Awards after two weeks, many people didn't realise that it wasn't 'just a new restaurant' ­– it has ten years of love and history behind it from where it started on the Gold Coast. 50% of my staff were from the Coast! I was proud to back it up the next year as well. It was a testament to how hard we had worked over the last decade.
Brisbane's rising hospo scene:
The enthusiasm that Brisbane has in its hospitality scene is enviable in so many other cities. We've had so many pioneers on the scene that paved the way and then in the past 10 years, it just went bang – along with so many gaps in the market compared to Sydney or Melbourne. A great restaurateur does their homework, puts out a quality product, and sticks to it. When I opened Hellenika on the Gold Coast, I flew up bricks from Melbourne to give it the right feel and I would fly to South Australia to talk to the fisherman to fly $20,000 worth of octopus back to Queensland. We didn't cut corners, and this is still reflected in the Hellenika that is alive today at The Calile Hotel.
Learnings and career secrets:
The biggest learnings from my career have been to never underestimate the importance and understand the back of house accounting. I used to think, "that's close enough," but it's not. You need to know your wage and food costs. Not yearly, not monthly, but on a daily basis. It's a big reason why I think people open up new restaurants and go broke after two or six months, because of the fundamental mistakes they're making.
Looking ahead, I can't say much, but there are two bucket list projects I'm currently working on. One I've been wanting to do for about four or five years and it's a real passion project. Then another one as well, which we've been working on for about a year, and it looks like we've probably nearly secured a location for that. So yeah, it is exciting. I think the people of Brisbane will be waiting for this.
When it comes to the perfect weekend, you'll find me tucked inside Hellenika with the Greek music while I dig into Corfu Bianco and sip on 'The Simon' – Grey Goose vodka, soda, tonic, and no fruit in a short glass. You gotta try it.