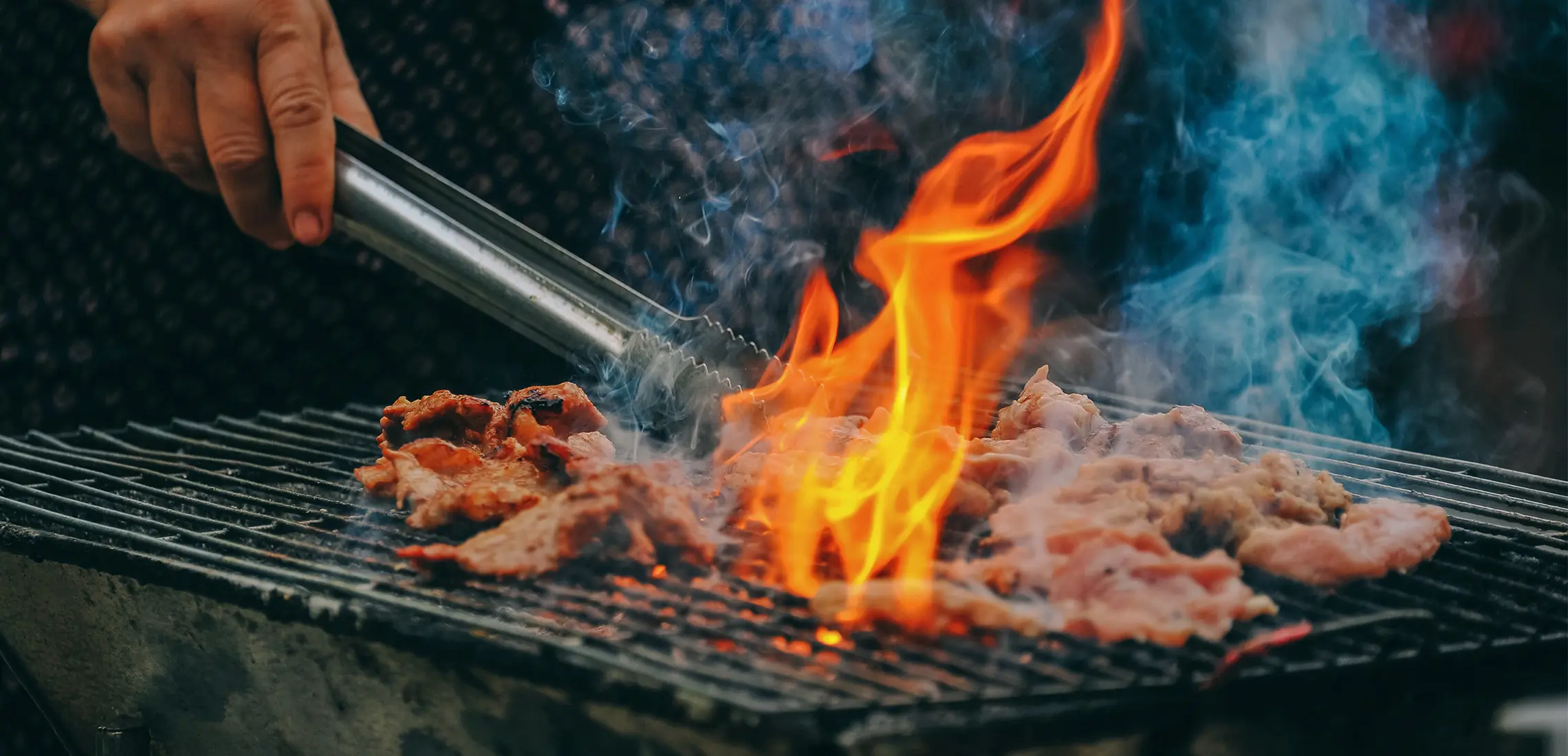 Fire Up The BBQ! We're Cookin' These Hot Plate Faves
Break out the BBQ, we're gettin' hungry!
By Guest Styler | 1st April 2021

There's just something about the humble barbecue that just makes everything taste better, am I wrong, or am I wrong? Whether it's for weekend entertaining (read: for the tacos) or a mid-week mood lifter, Luke Hines' range of barbecue inspired recipes are sure to satisfy every member of the family!
Chilli-lime beef tacos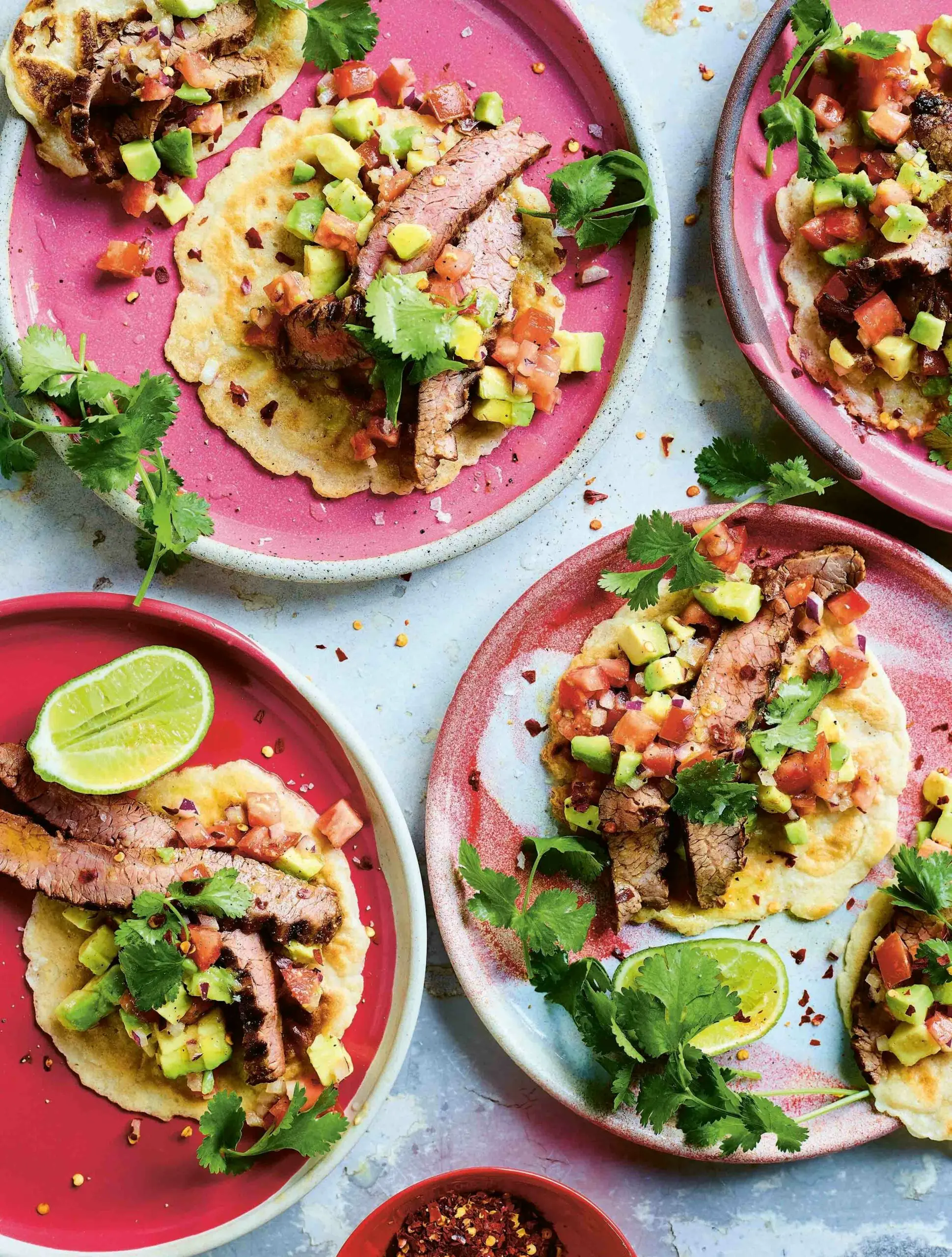 Serves 4
You'll need:
600g skirt steak
Finely grated zest and juice of 3 limes, plus extra wedges to serve
3 tbsp extra-virgin olive oil
½ red onion, finely diced
1 avocado, diced
1 tomato, deseeded and diced
1 handful of coriander leaves
For the chilli and cumin spice rub
2 tsp sea salt
1 tsp dried chilli flakes
1 tsp coconut sugar
1 tsp ground cumin
½ tsp ground coriander
½ tsp smoked paprika
½ tsp garlic powder
½ tsp onion powder
½ tsp freshly ground black pepper
For the tortillas
2 large eggs, beaten
1 cup coconut milk
1 cup arrowroot or tapioca flour
3 tbsp coconut flour
½ tsp sea salt
2–3 tbsp extra-virgin olive oil, coconut oil or butter
Method
Place the steak in a bowl, pour over the lime juice, and leave to marinate for thirty minutes at room temperature. To make the tortillas, whisk all the ingredients except the oil or butter in a bowl to form a smooth batter. Heat a little of the oil or butter in a frying pan over medium heat. Pour ¼ cup of the mixture into the pan, then tilt and swirl the pan to spread the batter into a 10cm circle. Reduce the heat to low and cook for one to two minutes until sturdy enough to flip, then cook for the same time on the other side until cooked through, puffed up and golden brown. Transfer the tortilla to a plate and repeat this process, adding a little more oil each time, to make eight small tortillas.
Meanwhile, to make the spice rub, combine all the ingredients and the lime zest in a small bowl. Coat both sides of the steak with the spice rub, using your fingers to press firmly to ensure that the rub sticks to the meat. Preheat the barbecue grill to hot and grease with a little of the olive oil. Place the steak on the grill and cook for about 5 minutes on each side. Transfer to a wooden board, cover loosely with foil, and leave to rest for 10 minutes. Once rested, cut the steak into thin strips.
Place the red onion, avocado, tomato, and remaining oil in a bowl and mix well. Top the tortillas with the avocado mixture and steak, scatter over the coriander leaves, and serve with some lime wedges. 
Cheat's peach salad with smashed raspberry dressing
Serves 4
You'll need:
4 yellow or white peaches, stones removed and flesh cut into wedges
1 tbsp extra-virgin olive or avocado oil
2 loosely packed cups watercress
1 treviso radicchio, leaves separated and roughly torn
1 tbsp baby capers, rinsed and drained
 For the smashed raspberry dressing
3 tbsp extra-virgin olive or avocado oil
Finely grated zest and juice of 1 lemon
1 small handful of chervil or flat-leaf parsley leaves, finely chopped
1 tbsp apple cider vinegar
100g raspberries
Sea salt and freshly ground black pepper
Method:
Preheat the barbecue grill to hot. Coat the peach in the oil, then cook for one to two minutes on each side or until slightly softened and beautifully charred. Set aside on a plate. In a large bowl, toss the watercress, radicchio and capers.
To make the dressing, place the oil, lemon zest and juice, fresh herbs and vinegar in a bowl or jar and either whisk or shake well. Add the raspberries and use a fork to roughly mash them. Whisk or shake well, until you've got a lovely pink dressing with some chunky raspberry pieces. Season to taste with salt and pepper.
Add the peaches to the salad, pour over the dressing, and toss gently to ensure everything is well coated. Pile onto a large platter and serve.
Recipes courtesy of Barbecue This! By Luke Hines. Published by Plum. RRP $39.99. Photography by Mark Roper.