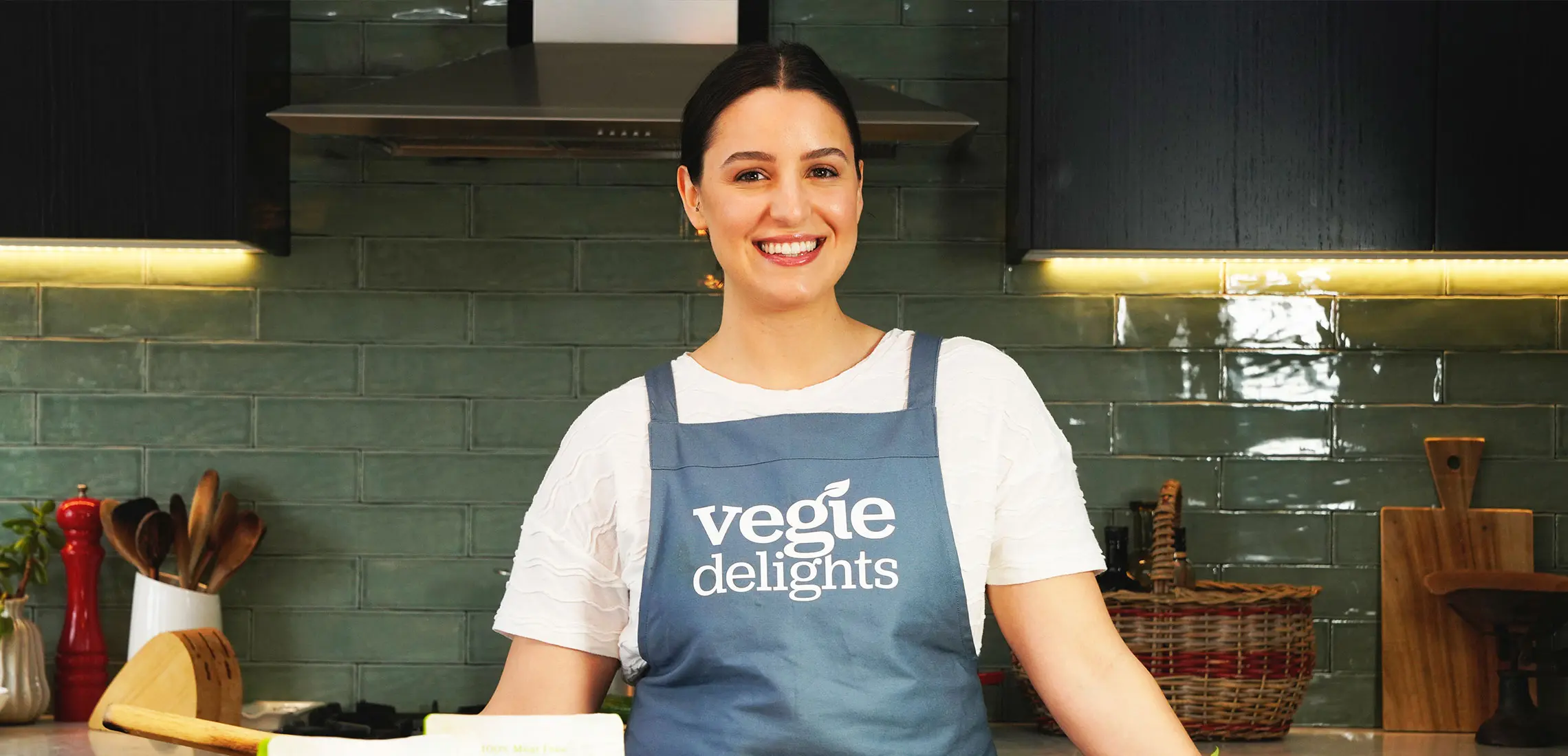 Leah Itsines' Plant-Based Recipes
This is a flex
By Dinushka Gunasekara | 6th November 2020

When David Attenborough told us that incorporating a plant-based diet is a key step to saving the planet, we dove nose first into the veggie patch. And, to help you feed 'em green and keep 'em keen, we sought the help of the boss chef behind the BARE Guide.

Leah Itsines needs no introduction – the fitness and health sensation is renowned for her fun and flavoursome recipes that make your time in the kitchen always 5-star. She's also the number one advocate for variety being the spice of life, which is why she's got the goods for a flexitarian diet. We grabbed her between meal prepping to talk about why she loves cooking, and to snag her delicious plant-based recipes for sticky cocktail meatless meatballs and plant-based crispy chicken wraps.

Why do you love food and cooking?

I grew up in a big Greek family, where every family event was based around food. In our culture, food is the way we show love – we're always cooking, feeding everyone and enjoying family time. I love cooking so much because I love to show the people I love some love! I love cooking too because I love to eat, and I love playing with flavours.

What are your favourite memories with food? 

When I was super young, mum would pick me up from school after she finished work and would take me straight to the shops and we'd pick something to cook for dinner. I'd choose all the veggies, eat some straight off the shelf when she wasn't looking, and we'd go home and make a huge meal for the family. I would love sitting there stirring, chopping, peeling – I loved seeing my dad's overreaction of how much he loved dinner (even if it was not so good!).

You're not vegetarian yourself – why would you recommend a plant-based diet?

As a recipe developer, I love to make sure I have a little bit of everything out there, especially for those looking to add a little more veg into their week. Many of us don't reach the two fruits and five veggies recommendation every day, so I think it's great to have some designated days/meals where you can experiment, have some variety and get those veggies in! It's also a great way to increase someone's skills in the kitchen because it requires a little creativity, playing with flavours and testing something new! Flexibility, variety and creativeness in the kitchen is important to any healthy balanced diet.

What's your advice for someone who wants to incorporate a plant-based diet into their routine?

There is often a misconception that moving to a more plant-based diet is restrictive and tricky, but there are so many easy ways you can do it.  You can be really creative or simply incorporate plant-based alternatives – like Vegie Delights – into your favourite meals in place of meat. I would start off with a designated day like 'Meat-Free Monday' where you can choose a meat-free meal and cook it for dinner, then have it for lunch the next day! More veggies, the better is my motto!
Sticky Cocktail Meatless Meatballs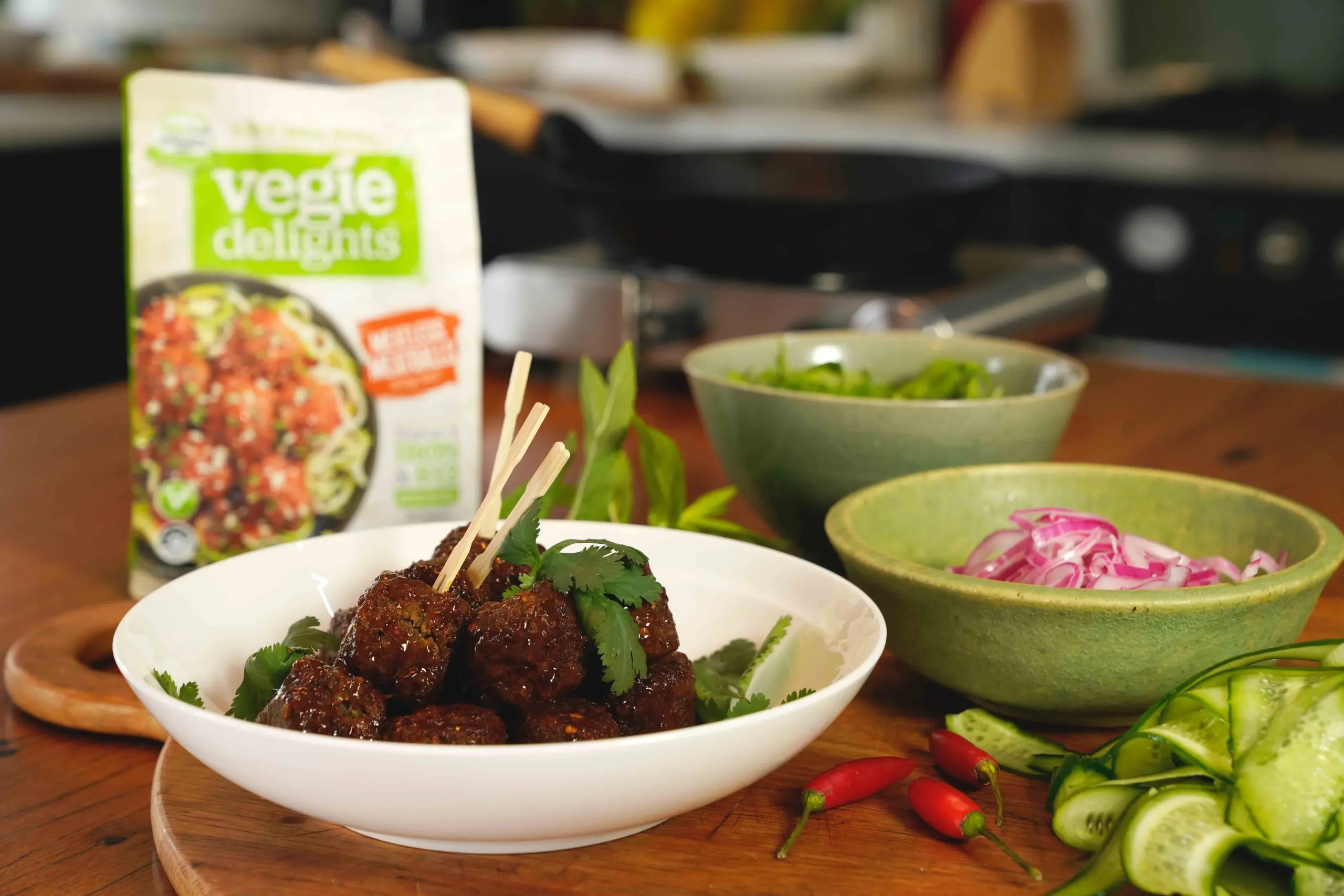 Ingredients:
10 Vegie Delights Meatless Meatballs
2 tablespoons sesame oil1-2 garlic cloves, crushed
1 small nob of ginger, grated
1 tbsp maple syrup
1 teaspoon chilli garlic paste
Small handful chopped coriander
4 tablespoons soy sauce
2 teaspoons cornstarch, in water
Directions:
Pre-heat oven to 180 degrees. Place on a tray lined with baking paper and cook Vegie Delights Meatless Meatballs for 15 mins or until heated, turning once.
In a small pan, heat sesame oil over a medium high heat.
Add garlic, ginger and chilli into the pan and cook for 2-3 minutes.
Add maple syrup, chilli garlic paste, coriander and soy sauce. Heat through for 2-3 minutes.
Add the corn-starch diluted in water into the pan and cook for 2-3 minutes, until thickened. Add meatballs into the pan to coat.
Plant-based Crispy Chicken Wrap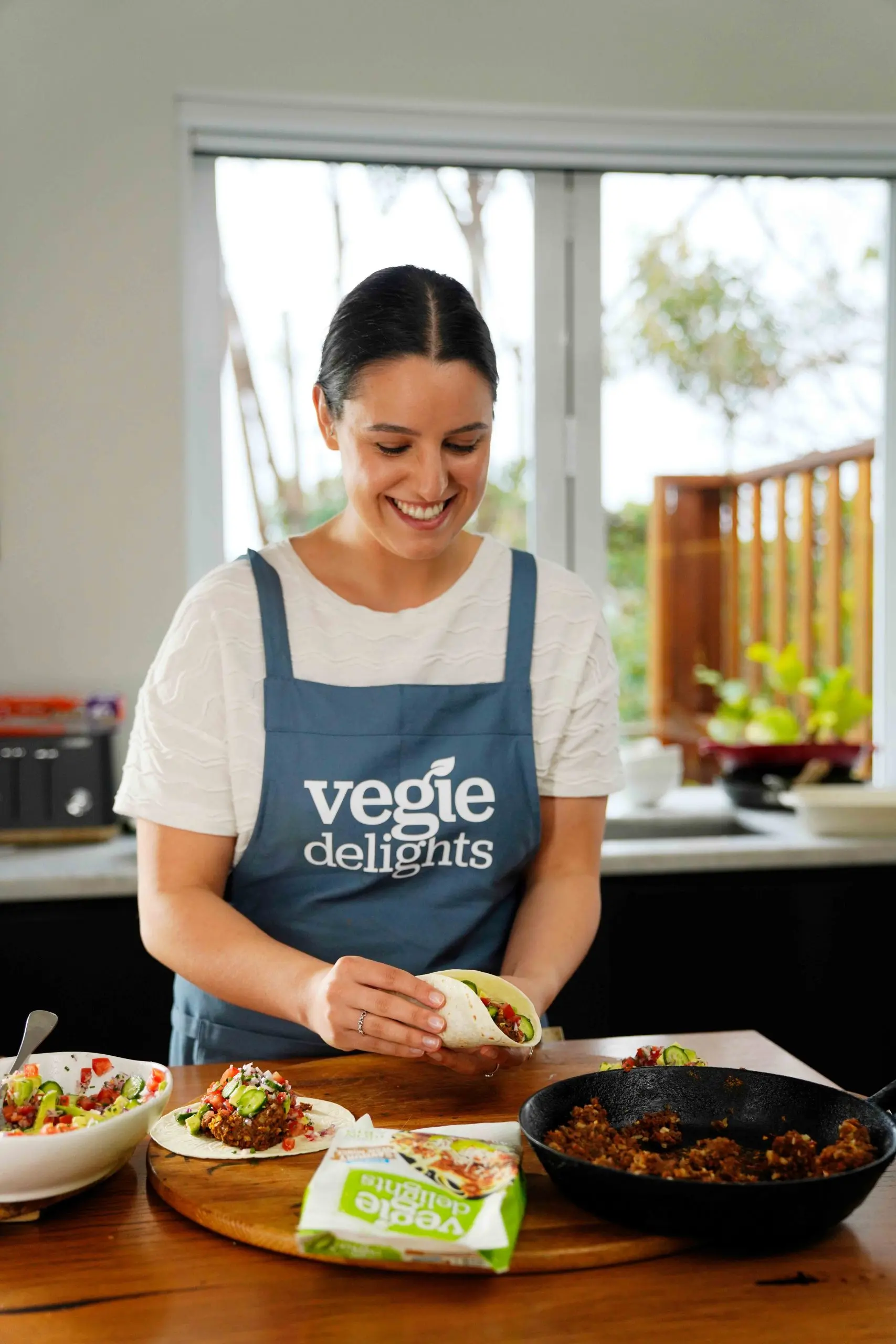 Ingredients:
For the filling:
1 Vegie Delights Crispy Chicken Style Burger patty
3-4 fresh mint leaves
½ red onion, sliced
2 tablespoons white vinegar
1 handful fresh baby spinach
1 handful fresh rocket
½ cucumber, in ribbons
1 large multigrain wrap
Olive oil
For the tzatziki:
2-3 tablespoons plant-based yoghurt
¼ cucumber, grated
1 small garlic, crushed
Salt and olive oil drizzle
Directions:
In a small bowl, mix together the ingredients under 'tzatziki' and taste. Season accordingly.
In a small bowl, place sliced onion and pour over vinegar and a sprinkle of salt. Leave to pickle.
Heat a small pan with olive oil over a medium high heat. Place Crispy Chicken Style Burger and cook for 15 minutes, turning once until golden on each side. Slice into strips.
Warm wrap and smear tzatziki in the middle of the wrap and top with baby spinach, rocket, cucumber, mint and the chicken burger.