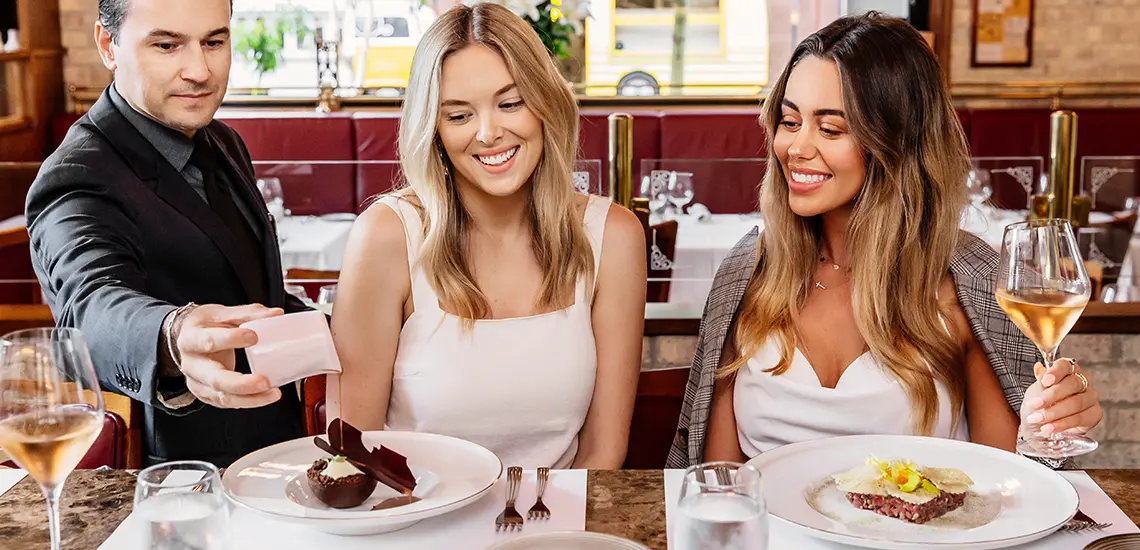 The Ultimate Foodie Street In Brisbane For Your Date Nights
No dating disasters, here
By Fiona Williams and Georgie Murray | 9th December 2019

Just a quick note: This post is sponsored. To prevent a paywall or annoying pop-up ads, we sometimes need to publish sponsored content but we only promote brands that we think are doing great things and our readers will love!

Score a date night feat with these ultimate eats. From first dates to friends, pair your perfect setting at King Street. Whether it's day to night, set the mood right and match your date with your dining destination.

For the lovers of fine dining, this corner of King Street is the perfect setting for a Parisian pair. Feel the love the French are known for in the moody ambience that is Montrachet. Create a moment to remember or celebrate a milestone whilst relishing in authentic delicacies.
Beer and banter | Beerhaüs
Grab your best bud and dig into some hearty eats at this adult playground in a relaxed backyard settting. From ping-pong to pints, taste authentic street eats from Germany and enjoy beats and banter with live music ideal for a Sunday sesh at Beerhaüs.
Boardroom boys and work wives | Sushi & Nori

The nine to five can work up a hunger. Dash from the desk and dive into delicious sushi with the work squad and grab take away on the run. Or, sit down to enjoy the authentic Japanese spreads and fresh sushi train while you sit and sip at Sushi & Nori.
Whether it be a mid-week macchiato or weekend waffles, Kuhl-Cher Coffee is the breakfast spot you've 'bean' waiting for. From comrades to couples, brunch is always a safe bet with great coffee amongst the buzz of King Street.
BYF (Bring your friends) | Welcome To Bowen Hills
Cocktails + pizza + games = good times. Play with the players at Welcome to Bowen Hills and get amongst the fun with friends and food. Or, avoid the awkward first date chat and cue 'game on' with a vibe and array of activities to break the ice.
https://www.instagram.com/p/Bzz0O5igecG/
The cycling pit stop with healthy bites and glorious coffee – Musette Café is the perfect place to refuel after a long ride and is a hub of activity for the active couple or cycling pals. Pedal on by and try the nutritious breakfasts or the fresh grab and go lunch options.
One for the fellas to look and feel fly in the lead up to D-day (date day). So much more than a standard haircut, Emporium Barber will treat you like a king with the beers (or coffee) on them complete with a spritz of the best designer cologne to send you on your way.
Prepare for the king of all food comas and don't hold back getting messy with fries, shakes, beer and burgers. Whether it be a quick bite on the go or sit-down affair, Super Combo is the locale where unique flavours will dance on your palate.
For an afternoon of indulgence or simple finale to dinner, put the cherry on top of your trip to Italy at La Macelleria. Perfect for those with an insatiable sweet tooth, make your night a little sweeter with the authentic, handmade and fresh decadent gelato – we recommend the chilli and dark chocolate.