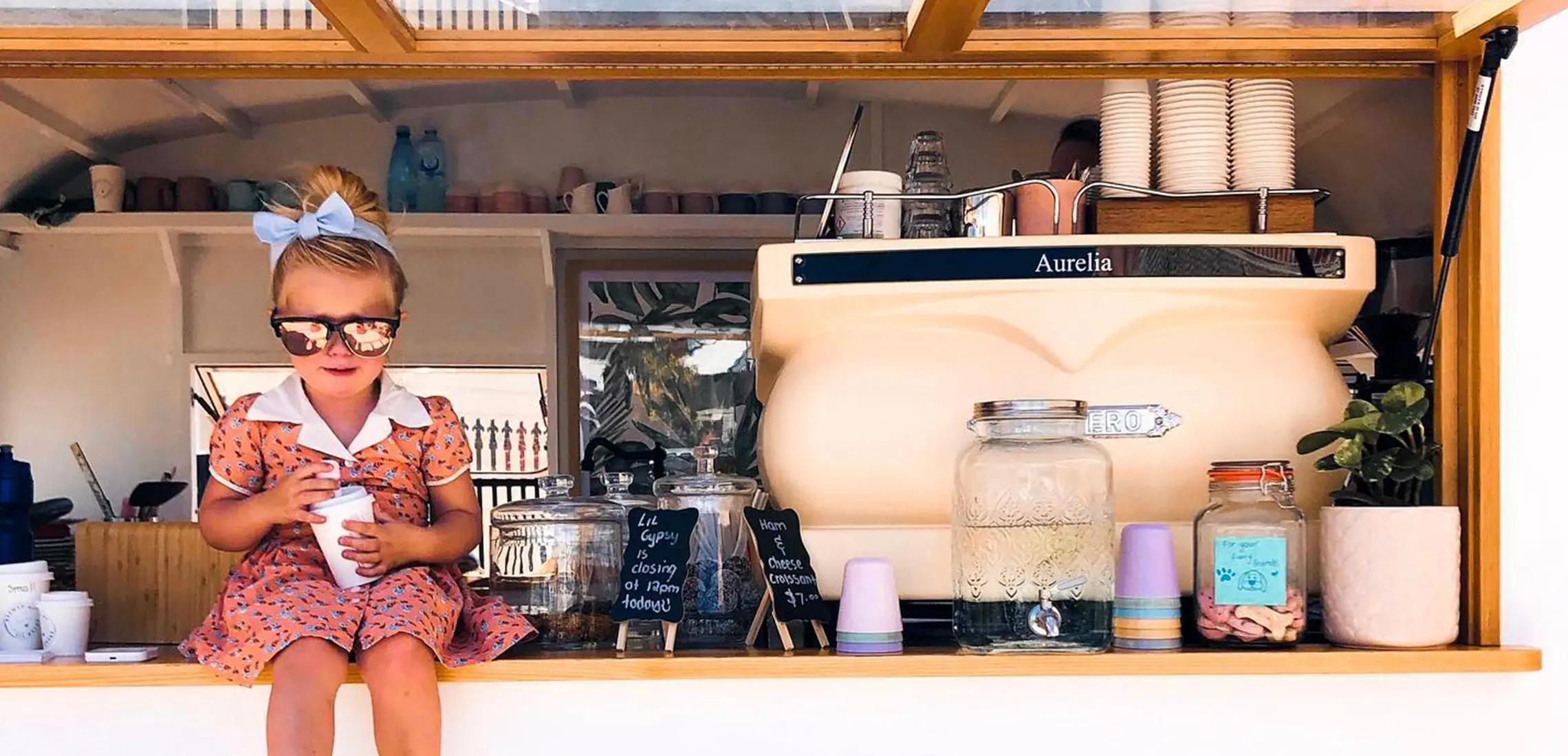 Heya, Toots! 8 Kid-Friendly Cafes In Brisbane You Need To Visit
No babysitter required
By Astrid Taemets | 10th August 2023

If you're a parent with small children, finding kid friendly cafes with a play area almost becomes more important than the quality of coffee they serve.

But good news for Brissy mums and dads: these cafes not only deliver the goods for your tots, but serve quality bites and drinks for the grown ups, too!

If you haven't checked out pubs with playgrounds, that's essential reading too, but if your craving is currently fuelled by caffeine more than cold beer, then we suggest you reach out for this list of Brisbane's best kid-friendly cafes.  Playgrounds, babycinos, and fun – guaranteed!

By the way, we consider everyone in this list the best of the best! To make finding your next favourite that much easier, we've ordered the list alphabetically by suburb and also have filtering tabs for your convenience. Did we miss someone from the list? Let us know here! Hide the form

FILTER BY

All
All
Brisbane CBD
North Brisbane
East Brisbane
South Brisbane
West Brisbane
Gold Coast
Noosa
Sunshine Coast
Jugar
West End
A space fit for every family member, Jugar is a kid friendly cafe with an impressive indoor playground that allows you to sip back, enjoy your feast, and let your kid run free. Open for breakfast and lunch, Jugar (pronounced 'whey-gar') plates up hearty, healthy dishes such as nourish bowls and chilli scramble for breakfast, while tacos, burgers, and fish and chips are on the menu from 11.30am. And before you ask – yes, they have a specific kids menu for hungry little adventurers packed with fresh, wholesome produce. Grab a wine or cocktail from the bar and catch up with friends in one of their luxe booths, banquet seating, or al fresco space while your little ones play to their heart's content in the designated play zone, which offers all kinds of toys and obstacles for toddlers all the way up to junior school-aged kids.
View this post on Instagram
Willow and Spoon
Wilston
For those with busy bees who can't sit still, Willow and Spoon offers a large grassed garden area filled with toys, trucks, superheroes, bikes, and more. A character home-turned cafe, this local is where you'll find an extensive range of all-day breakfast options for you as well as plates for under 12s from their kids menu packed with flavour they're sure to devour. Between the open play space, hearty meals, and welcoming atmosphere, Willow and Spoon is a must for families any day of the week!
View this post on Instagram
The Nurso
Chandler
Fancy your meal with a side of greens? Let The Nurso curb your cravings. This indoor/outdoor garden centre is perfect for green thumbs looking for an outing that involves food, flora, and fun for the whole family. The nursery's on-site outdoor cafe, Egg & Ladle, offers up new Asian-inspired eats daily for brekky and lunch on large share tables, while kids can enjoy scootin' round the joint on supplied tricycles.
View this post on Instagram
The Monkey Bar Café
Greenslopes
Touted as one of Brisbane's most family and kid friendly cafes, it doesn't get better than The Monkey Bar in Greenslopes. Popular with parents thanks to its proximity to a playground, your little monkey will have a ball hanging out here. Perched right next to a playground, sip back and relax al fresco-style under the poinciana tree while your little one runs around before fueling up from the Mini Monkey's Menu. Wet out? Bring the kiddies inside to the indoor children's play area, and if you're a new mum be sure to check out their Monkey Bar kids mornings, where those aged 2 to 6 can partake in a morning of story time, snacks, colouring, and art workshop, all while you get your caffeine hit!
View this post on Instagram
Carport Cafe
Cannon Hill
Set in a gorgeous garden oasis, this dog-friendly, kid-friendly cafe is the perfect place to meet up with friends for a midweek catch-up. With plenty of space for the little ones to run around and explore, as well as toys, trikes, and a designated play area, you'll love the welcoming and relaxed atmosphere at this family-run establishment. With fresh produce plated up on the reg, as well as quality coffee, and sweet treats, Carport Cafe ticks all the boxes.
View this post on Instagram
Victoria Park Bistro
Herston
The next time you're looking for a place to get a bite that'll suit the whole family, book a table at the Victoria Park Bistro. With a playground featuring slides, climbing ropes, play areas, a repurposed farm tractor, and giant cubby house, The Playground is the perfect place to let the kids roam free while you enjoy a delicious meal with a view in an alfresco setting. Boasting a range of fresh plates from a seasonal menu, including a kids' menu offering, the Bistro is arguably one of our city's best kid friendly cafes.
View this post on Instagram
Cafe Lagarto
Samford
Could this pet and family friendly cafe be Samford's best kept secret? Nestled within the Lifestyle Centre, Cafe Lagarto is a place to grab a bite surrounded by nature, plenty of wildlife, live music, and farm animals too! A rustic spot to sit with plenty of space for busy ones to roam about, including a playground area, Cafe Lagarto is a no-brainer for those after somewhere that's got ways to keep the little ones entertained. Their fresh, local produce ensures you and your minis will fuel up on healthy dishes, and they've even got treats for your four-legged friends. Whether you're stopping in for a quick coffee, a hearty lunch, or something in between, you'll love the warm, welcoming, and family-friendly atmosphere of Cafe Lagarto.
View this post on Instagram
Lil Gypsy
Paddington
Hey lil' peach! You and your tot will find this coffee van nestled behind a picket fence in a Paddington cottage garden where well-brewed cups of coffee along with tasty bites are served to hungry patrons, both big and small. Pull up a chair beneath a fringed umbrella in the garden and let your little one potter about the kid's mud kitchen complete with tea cups, toys, and more. Lil Gypsy loves your mini as much as your pooch, and welcomes all four-legged friends along for the ride!
View this post on Instagram