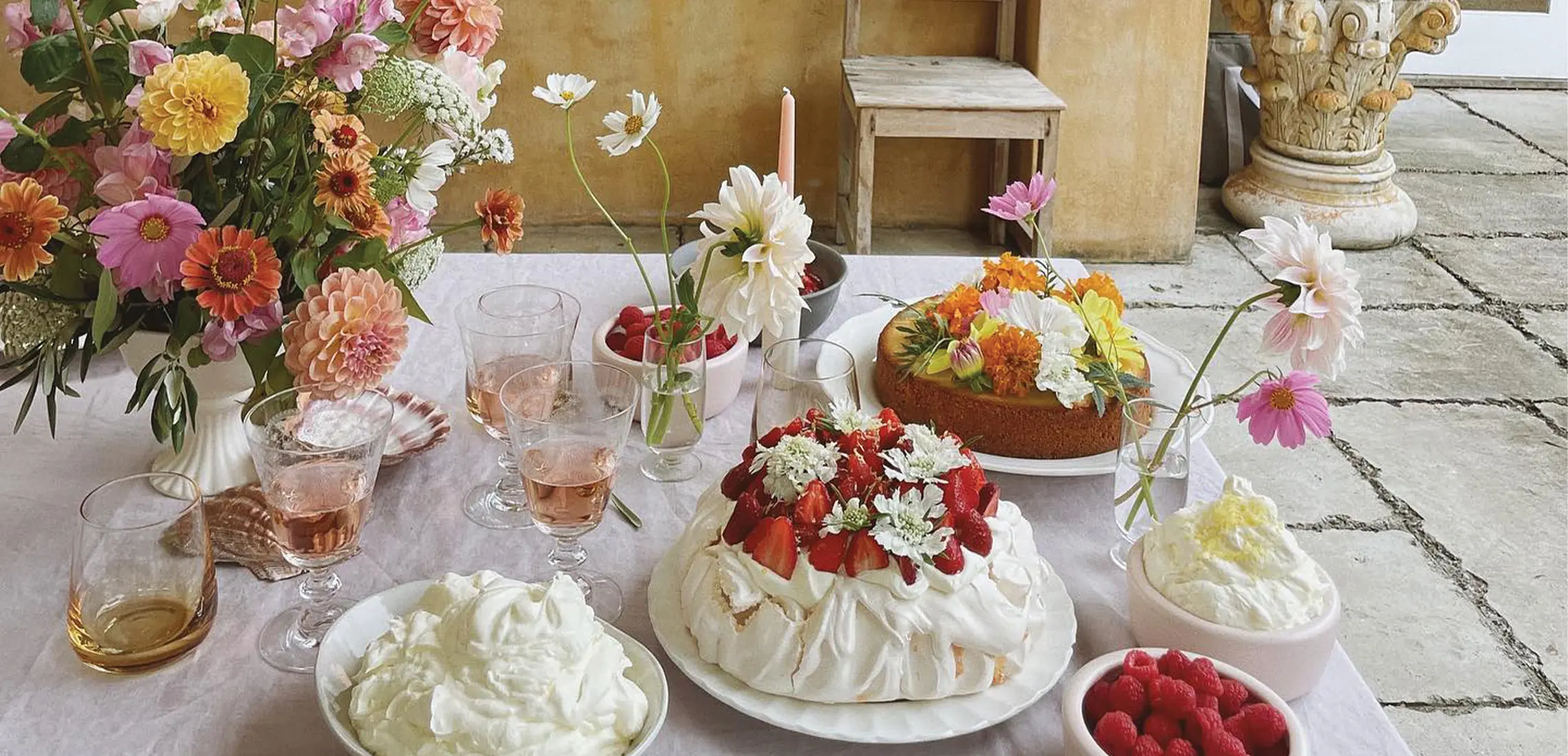 Home Cooking, Food Styling, And Tablescapes With Byron Twins Maya And Chelsea Sourial
Manja manja!
By Bianca Licina | 28th September 2023

Twin sisters Maya and Chelsea Sourial really put the 'dynamic' in dynamic duo, with their love of home cooking and their finesse for styling cultivating into Food By Maya and Chelsea – a space where divine tablescapes, impeccable plates and Italian-centric catering is put in the spotlight. A feed worth scrolling for hours, @FoodByMayaAndChelsea delivers the *most* aesthetic plating inspo, cooking scenes, and adorned tables.

We sat down with the Byron-based cooks to dig into their thoughts…
Where did your love affair with food begin?
We always feel like we are so corny saying this, but it all started in our grandmother's kitchen. Food has been such an integral part of our family for as long as we can remember — almost everyone cooks! 
What inspired you to start Food By Maya and Chelsea?
It simply started as a passion for delicious food and cooking for our friends and family and then it just kept growing as we sort of became the go-to entertainers for our loved ones. 
How would you describe your cooking style?
We inherited our nonna's obsessive focus on quality ingredients, so this is a huge cornerstone of our cooking style. The amount of effort and nurturing that it takes to grow a single vegetable is actually astounding, so we love finding out what is growing well during our regular trips to the markets and formulating recipes and menus around those ingredients.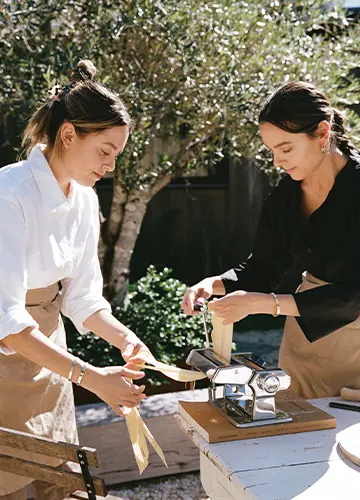 It's no secret Italian is your go-to cuisine, what do you love about it?
We have Italian heritage and some of our earliest memories are of standing around the kitchen table with our nonna, Maria. We also love that it's very often based around a celebration, or a particular time of year, so it's very in line with seasonal produce, which obviously aligns with our way of cooking.
Where do you seek inspiration for your food styling and tablescapes?
So many places! We have a lot of creative friends who we always turn to for inspiration, as well as looking at what independent Australian homewares brands are doing. Some of our favourite places to source tableware from are Softedge Studio, Stevie Michaels, and, of course, vintage stores. 
What are your non-negotiables for a perfect tablescape?
It needs to have personality! Everything we do is deeply stemmed in creative ideas and sensory experiences, so it's not just about the tablescape alone, but how that aligns with food that's being served, the people sitting around the table, and the overall feeling of the event.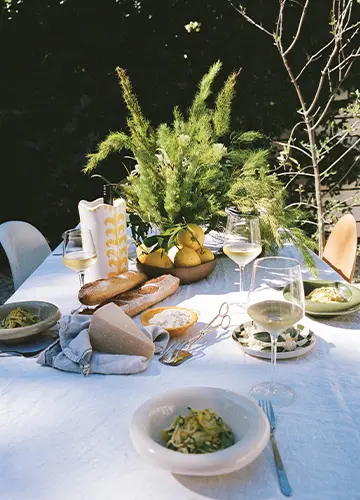 Tell us more about sourcing local and seasonal produce… 
We grew up in Mullumbimby in the Northern Rivers, which has a really lovely, slow approach to living. Our family was very focused on what was growing in the garden and celebrating new arrivals. For example, guavas would flourish on our tree and we would welcome the delicious stewed fruit onto our breakfast table.   
We have a small hobby farm near Clunes and – like everyone – we started a vegetable patch of our own during Covid which has heightened our appreciation of the effort and commitment it takes to grow food. Hence, we love to celebrate local farmers and their beautiful produce. 
Tell us more about your tailored menus. How do you determine what to cook, and where do you seek inspiration from?
We love to celebrate authentic cuisine that is meant to be shared among friends. When we tailor our menus, we want to make it as special as possible for the  guests. We work closely with our clients to curate the experience to match their ideal occasion. We also work closely with a variety of local suppliers and artisanal makers who make our job that much easier with the provision of high quality ingredients, homewares and more. 
Every year, we just learn more and more and feel this part of us grow, so we're pretty grateful that we've been able to turn it into a business.
It all comes back to our loved ones and enjoying having them around – food always seemed to be at the centre of those experiences.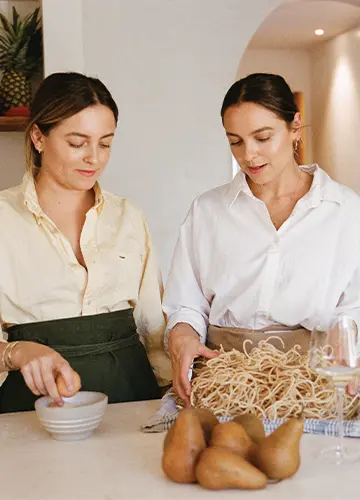 How do you operate as a team in the kitchen? 
We have been cooking together our whole lives, so working in the kitchen is the easy part! Humour is a big part of how we communicate, and we really try to avoid the stressful nature of a standard kitchen environment and keep it light-hearted. Jasper, our newest team member, has brought a wealth of knowledge to the cooking and catering element and it has allowed us to focus heavily on food styling, photography, and other creative parts of the business. 
What do you both love the most about what you do?
Again, it sounds so corny, but knowing that we contribute to people's lives in terms of memory-making is so important to us. Food is such a special thing to come together and bond over, and we love seeing people come together for a good time over our menus.  
What's next for Food By Maya and Chelsea?
We're very excitingly expanding into some new regions, and we have a few exciting updates on the horizon… but we have to stay tight-lipped for now! Promise you'll be the first to know.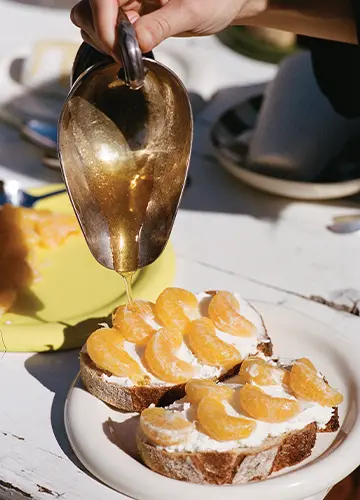 QUICK FIVE
Number one tip for home cooks? 
Start simple and don't be afraid to make mistakes! 
Favourite savoury and favourite sweet dish to cook? 
Pasta, it's always pasta! Sweet: tiramisu (if you don't like it, we probably won't trust you).
What do you like to do when you're not cooking up a storm? 
Head to the beach usually with an esky full of snacks that will sustain a full day in the sun. 
What is the most memorable event you have catered? 
We recently catered an '80s-style three-metre food table for fashion label Spell. The brief was insane and we got most of our inspiration from an '80s Women's Weekly mag. 
Three words to describe your dynamic as a team: 
Fun, creative, and confident. 
Top food styling tip? 
We like to use smaller style platters to scatter along the table. You will never find a giant platter on our table.