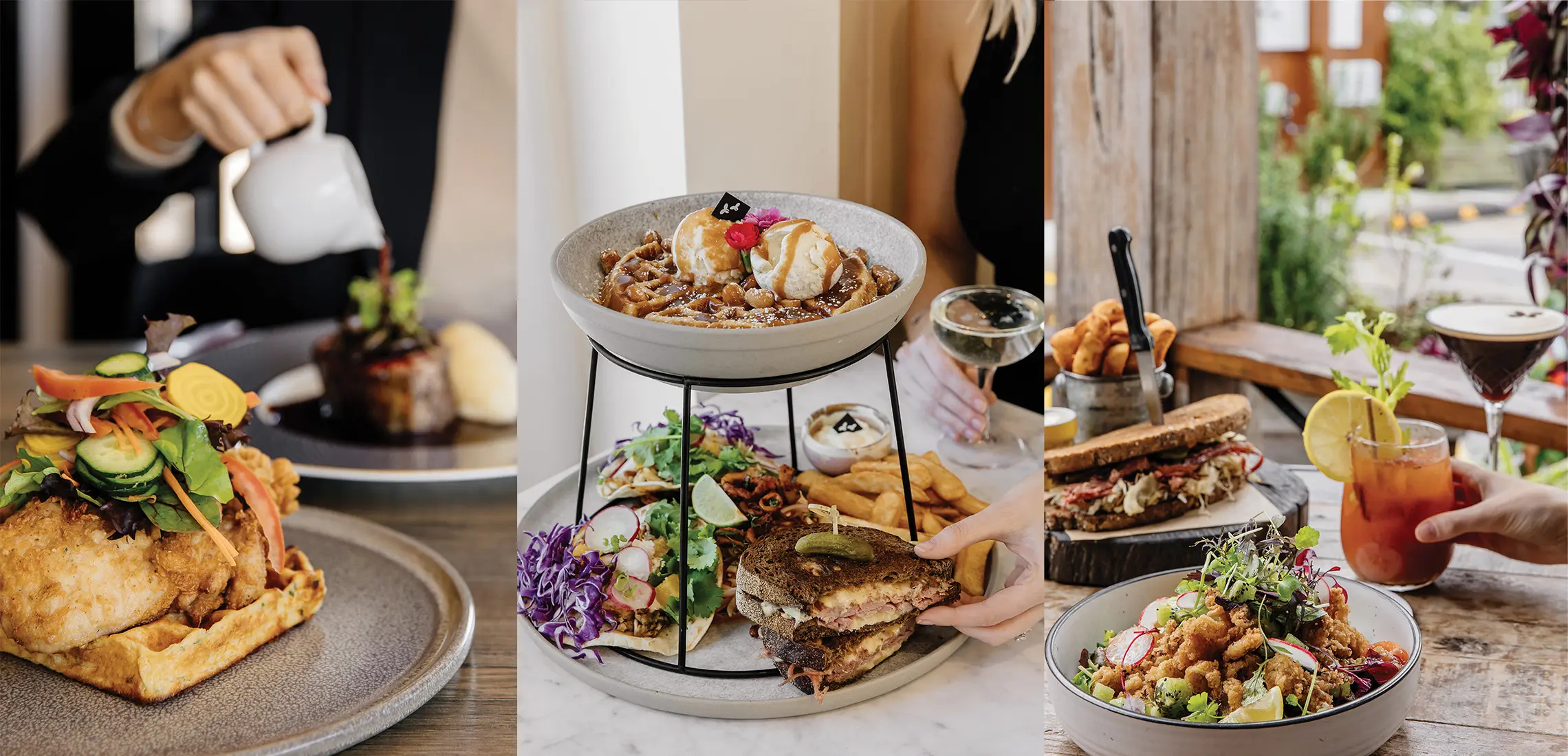 Our Deputy Editor Taste Tested BNE Eateries & Here Are Her Picks
Come dine with me!
By Guest Styler | 27th August 2021

We love our bread, we love our butter but most of all we love finding fodder! This month I whizzed around town with my fork in hand to try some exciting and niche offerings around our city. From double decker platters to harissa spice bloody Marys, check out the flavours worth travelling for!

Tucked away in Kedron, just off Gympie Road, Farmhouse Kedron is a delightful destination of fresh flavours, local produce, and passionate foodies. Many locals know it as an ode to Farmer Joe's that closed its doors in 2009, while the visitors know it as local produce personified into innovative seasonal dishes that are full of heart.

Exhibit A: their signature corned beef and rye bread toastie which is perfect for those cosy winter days with pulled corned beef, house sauerkraut, Swiss cheese, Reuben dressing, and Farmhouse pickles. Naturally, I made a meal out of it and added wicked chips and aioli, plus something this hearty means a crisp drink is in order, so I paired it with the harissa bloody Mary – the perfect brunch-friendly blend with a spot-on kick of spice.

Next, I got a first bite of the new seasonal menu with the squid salad and greens, tangy kiwi fruit, tomatoes, and fresh herbs. But it's not just the food that's keeping people coming back – Farmhouse Kedron has an impressive drinks list. From coffee, tea, milkshakes, smoothies, fruit blends, and vegan options, there's also a range of sparkling wine, rosé, white and red wine, cider, beer, and an enticing cocktail list. In case you were wondering, I opted for the creamy espresso martini!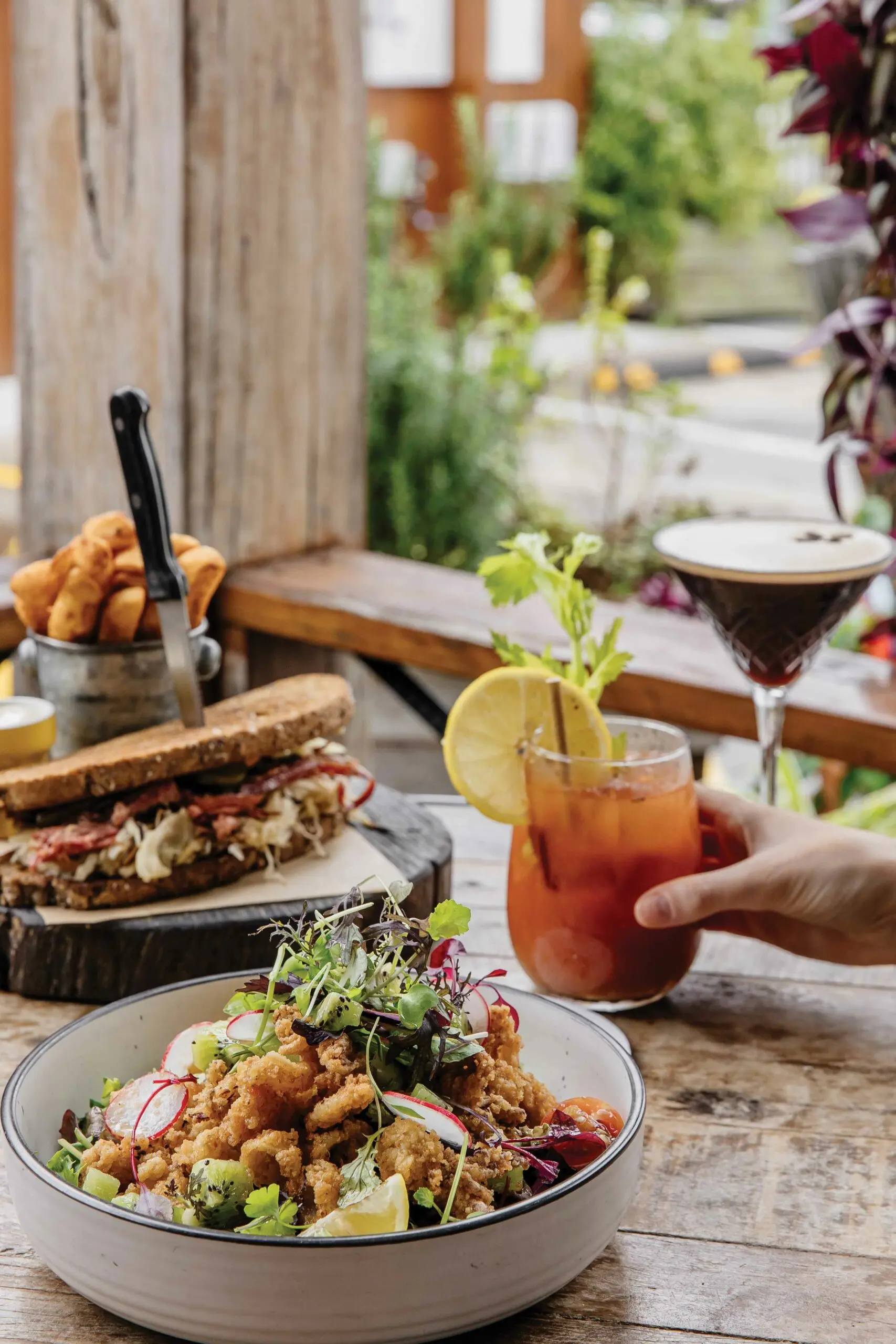 Dandelion & Driftwood in Hendra may have been around since 2010, but earlier this year the cafe had a delicious refurbishment worthy of a trip down the rabbit hole with Alice in Wonderland. Owners Peter and Penny Wolff, who own specialty coffee Wolff Coffee Roasters, bring their love for coffee to life and the simple pleasures of great food within the delightful setting of marble, fresh flowers, and a drenching of natural light.
But, it's not just the setting that has us enchanted, it's the D&D double-decker lunch platter for two. Over two levels, feast your eyes on a mix of their signature savoury and sweet dishes, which makes it perfect for those who are notoriously indecisive – guilty! On the bottom, feast on a selection of barramundi beauty tacos, warm smoked paprika grilled calamari, beer-battered thick-cut chips with truffle aioli, and my personal favourite, their signature really Reuben sandwich.
On top is the crowning platter glory with sweet waffles, toasted macadamia nuts, drizzled with house-made creamy caramel fudge sauce, vanilla bean ice cream, and a light sugar dusting. It's the best of both worlds and something a little different when it comes to lunch. Plus, they are fully licensed so it's perfect to pair with a glass of Prosecco or Gamay red wine!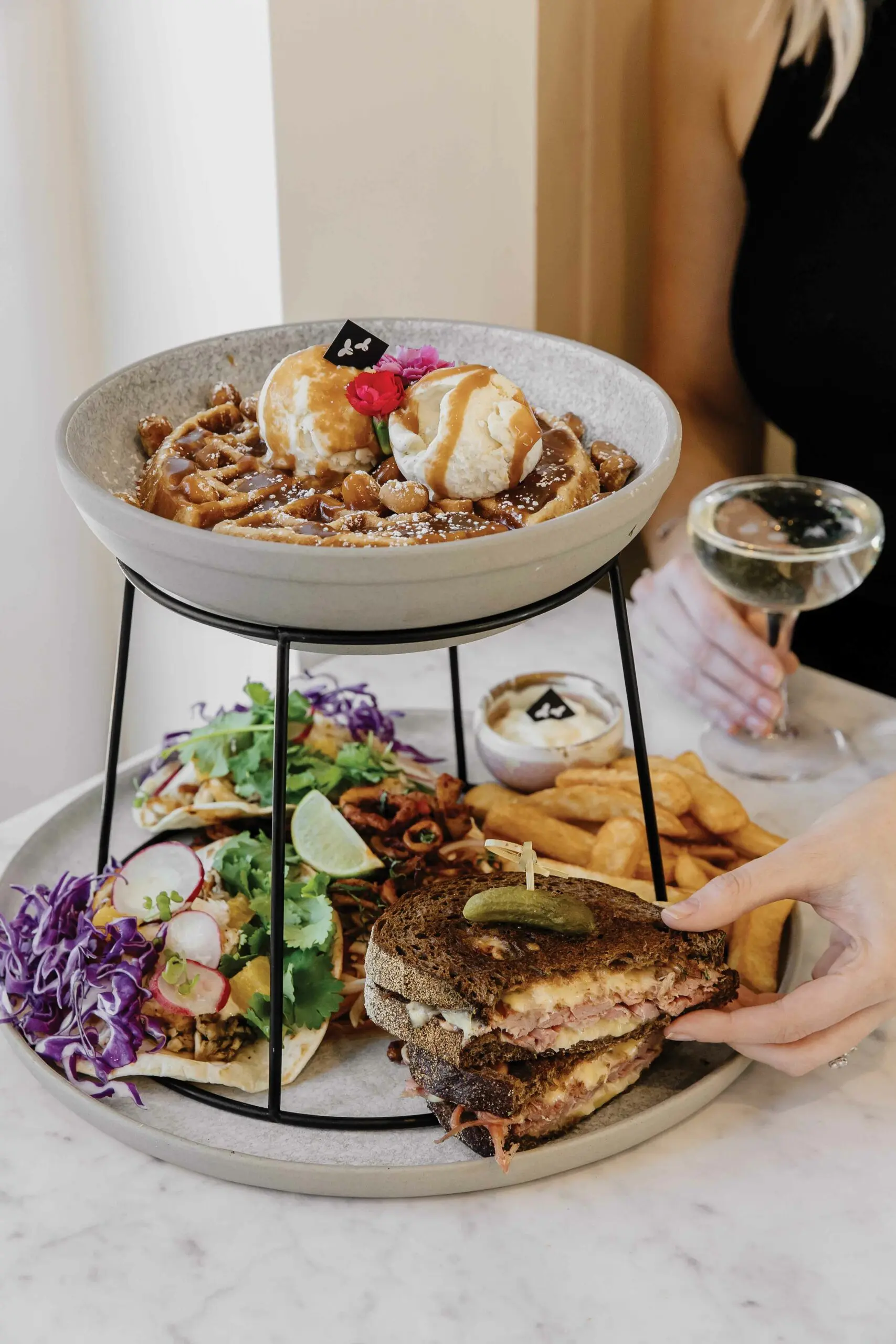 The locals of Wilston, Windsor, and Grange have one of the area's best-kept secrets. And it's this corner cafe that is nothing short of extraordinary fare! An unassuming space sitting on the corner of Kedron Brook Road and Stain Street (hence the name), husband-and-wife duo Bis and Steven Parry are at the delicious helm. Their philosophy? Quality reigns supreme! And it's found everywhere, through every bite of their freshly baked cheesecakes, scones, croissants, salads, and more.
You're guaranteed to feed your tum, and in turn, your soul, with the passion and fresh ingredients that go into every dish. Offering breakfast, lunch, and dinner, Bis and Steven offer a dinner menu only available on Thursdays and Fridays 5.30pm-8pm making it a must-visit dining spot to end the week.
Find warm hospitality and even warmer dishes on their seasonal menu (keep an eye out on their Facebook for updates) with the sweet corn waffle with fried chicken, sriracha mayo, and green salad a standout. Crispy and flavoursome, the buttermilk fried chicken pairs perfectly with the waffle while the green salad cuts through the richness – a balancing act of flavours that Steven nails every single time.
And when it comes to cocktails, you can't go past the Brooks & Stain cosmopolitan with kick, sweetness, and a little bit of sass.