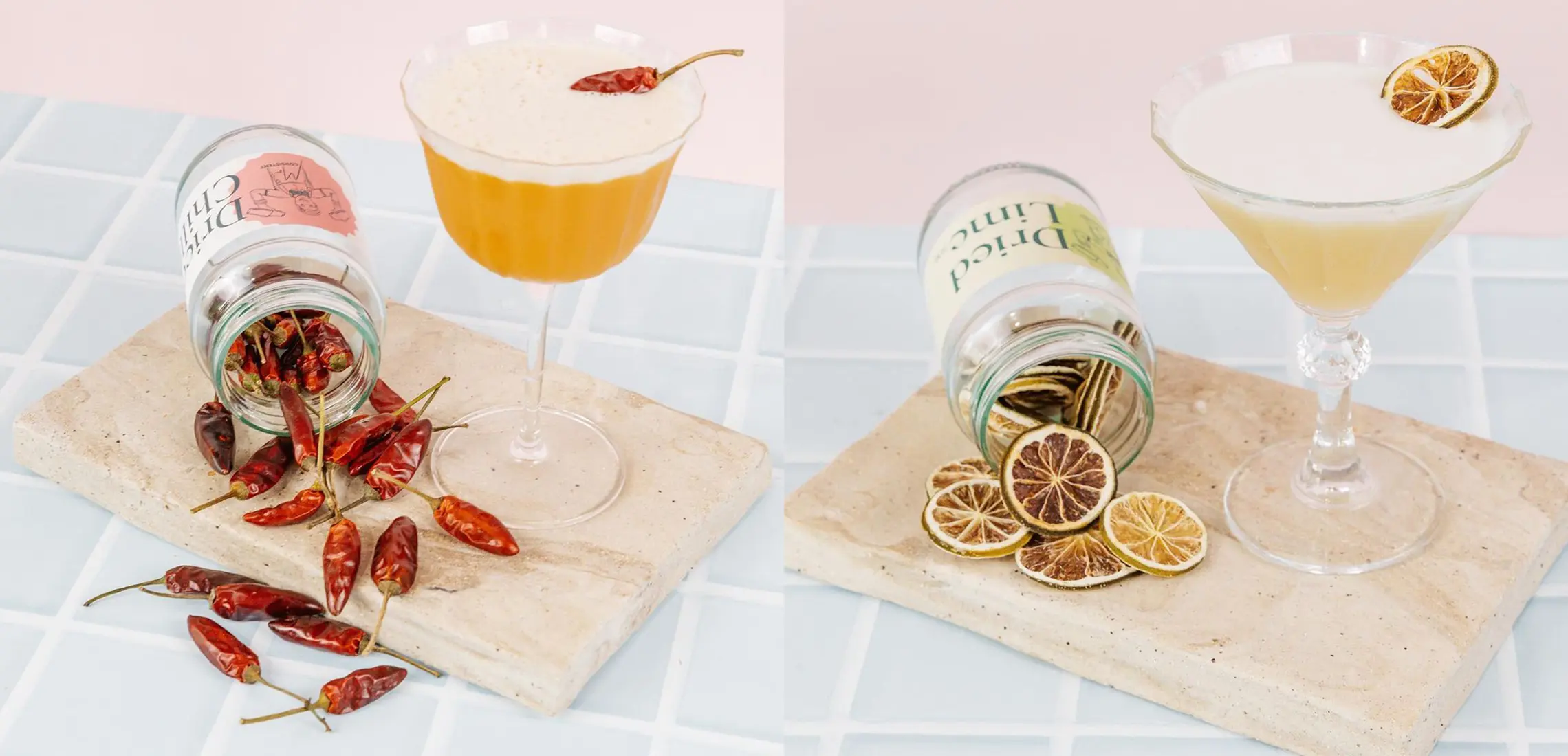 Sip Up At Home With These Cocktails From Your Fave BNE Businesses
Take your takeaway up a notch
By Guest Styler | 4th August 2021

Here we go again, Brissy! Feels so different this time around in a lockdown longer than three days in 2021, doesn't it? We know what to do, we know where we need to be (or more importantly, where not to be), and we know the drill on shifting our support to those in hospitality and small businesses who are really feeling the effects of the covid chaos. Hang in there, friends.

One way to really pick up the energy indoors right now, other than watching Australia win gold at the Tokyo Olympics and hearing all your neighbours cheer, is ordering (or making) some of Brisbane's local cocktails!

To keep the good times flowing and to step it up from the regular beer and wine options, we've rounded up some of the unique at-home cocktails around town for you to sip into (whilst still wearing your slippers).

One of the best things about dining at this modern Thai James Street restaurant is ordering your favourite cocktail – which you can still do from home! sAme sAme is helping us through lockdown yet again with their classic takeaway cocktails to add a little glamour and goodness to dining at home.

At $15 each you'll find: sAme sAme spritz with Beefeater gin, Aperol, Massanez Crème de Peche,
 white peach puree, and lime juice, Tommy's margarita with Olmeta Altos Plata Tequila, lime juice, and agave, Espresso Martini with Absolut vodka, Kahlua, and black coffee, and Negroni with Beefeater gin, Campari,
 and Cinzano Rosso vermouth.

All their takeaway cocktails are single serves and are two standard drinks.

Across town in Bulimba, when you place a pickup takeaway order at Oxford Street's fave Mexican joint, you can also order a margarita or sangria to enjoy with your meal at home. Tried and tested by the Style team, their margs come highly recommended if you're feeling like you want to take your takeaway up a notch or two!

Pivot alert! Our friends at The Inchcolm have swapped to an at-home celebration for World Oyster Day on Thursday August 5. What was meant to be a week-long in-venue tribute to their love of martinis and oysters (a combo that they have well and truly nailed in the moody New York-esque setting of The Inchcolm bar), relax at home with their very own recipe (that's just missing their extraordinary bartenders).

You'll need:

50ml Sipsmith London Dry gin (swap it out for Grey Goose if you prefer your martinis on vodka) 20ml Cinzano 1757 Dry Vermouth 3 dashes of orange bitters, lemon twist 1 oyster dropped in the martini

Served shaken or stirred, with an oyster dropped in to replace the saltiness of the olives (just like a Dirty Martini!).

Sure, it may be classed as a 'sour', but local brewery, bar, and kitchen in Yeerongpilly, Slipstream, has a Fruit Cart Sour series that is the perfect base for any cocktail. Their bar team have even created this simple cocktail recipe for you to enjoy at home using the feijoa sour:

You'll need:

30ml gin 20ml lemon juice 20ml sugar syrup 90ml Slipstream Fruit Cart Feijoa Sour

Method:

Shake in a cocktail shaker with ice and serve with a wedge of pineapple!

https://www.instagram.com/p/CNEqSizgZcd/

Known for their boss abilities at botanical alchemy, Brisbane Distillery in West End is open for click and collect pickups of pre-made cocktails, gin, rhum, and coffee liqueur. Choose from their negroni, breakfast martini (yep, it's a thing!), espresso martini, ancient mariner, old fashioned, martini, and golden temptress. Plus, receive free beverage grade alcohol hand sanitiser with every purchase.

https://www.instagram.com/p/CR-fykohvbO/

One of Brisbane's favourite East-Asian inspired south Brisbane restaurants so aptly named Southside, is offering a fun range of signature cocktails with their takeaway and delivery menu.

Delight in three of their favourite blends that come in cute easy-to-drink bottles all $18 each: Spicy Watermelon Margarita with Olmeca Altos Plata Tequila, fresh watermelon, lime, agave, and Sichuan chilli, Houseside with Beefeater London Dry Gin, grapefruit, and Vietnamese mint, or Blood plum negroni with Beefeater London Dry Gin, Campari, Umeshu Plum wine, and blood plum liqueur.

All of their takeaway cocktails are a 200ml serving (2.6 standard drinks) and are generous for one, or able to be shared.

Special mentions to:

Two things worth noting RN for Stone and Wood's Fortitude Valley brewery is that this Friday, Saturday, and Sunday, they're offering a safe drive-through service so that customers can grab their favourite beer straight from the source without leaving their car. And, while the lockdown may mean that they won't be appearing at the Ekka, their ode to the strawberry sundae, the Strawberry Sundae Kisses beer, is in the tank and ready to roll!

Proceeds for this brew will be going to The Common Good – the folks behind the Ekka's Strawberry Sundaes – to help fund research at The Prince Charles Hospital. With the charity facing the loss of revenue from sales at the show, now more than ever is a great time to support. Now that's sweet.

Making your own cocktails with literally two ingredients (if you don't count the ice) is why Mr Consistent gets our vote again and again. Margaritas, cosmos, sangrias, and espresso martinis (the new flavour we can't wait to try) is making the DIY cocktail movement more delicious than ever!