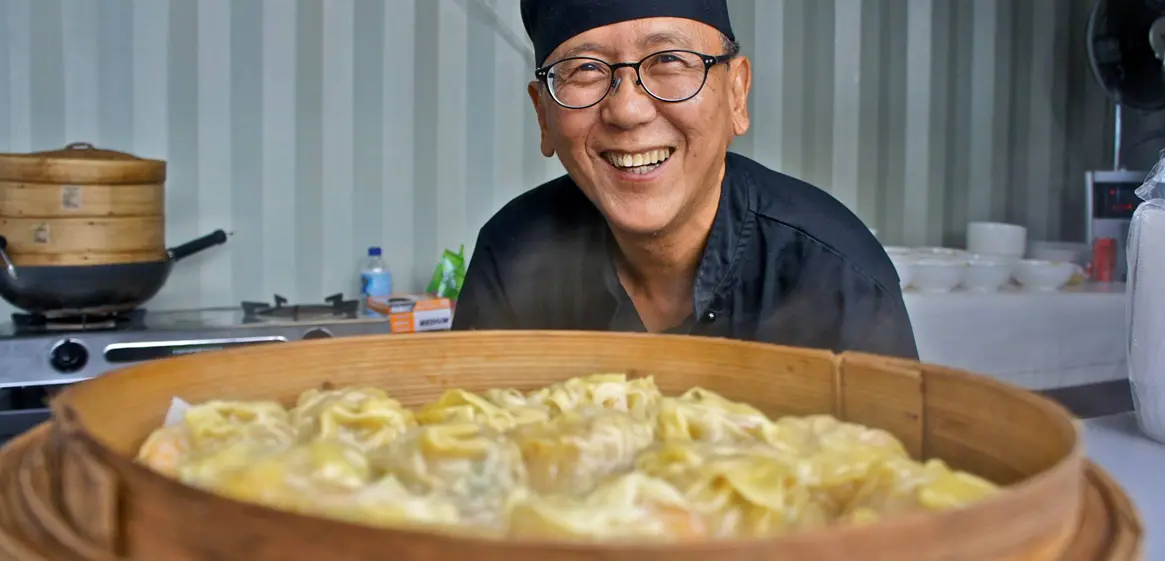 Brisbane's Best Market Food Stalls
Why does everything taste better when it's bought at the markets? We can see you salivating! Satiate your hunger with our guide to the best food market stalls.
By Guest Styler | 18th February 2015

By Lucy White and Taylare Maddern

How good are markets? For some reason, food seems to taste so much better  Spoiled for choice on market day? Satiate your hunger with our guide to the best food stalls around Brisbane's popular markets.

Brisbane has a great selection of markets to choose from every weekend, and hundreds upon hundreds of tasty, tempting, and utterly decadent market food stalls to choose from. If you're struggling with where to put your money and your mouth this weekend, the best place to start is here. Here's  your go-to guide to Brisbane's best market food stalls.
CHILLI SISTERS
Got a craving for Mexican food? Colour your plate full of delicious offerings from the Eat Street Markets' Chilli Sisters. Offering traditional home made Mexican food every weekend, grab yourself a tasty snack and settle in for the taste sensation. Chilli Sisters have a number of delicious menu items on offer, including tacos, vegan burritos, and albondigas (meatballs) with chipotle salsa, all made with fresh ingredients.
Eat Street Markets: Friday 4pm-10pm; Saturday 4pm-10pm
CHOCOLATE KOMBERRY CO.
The Cronut is so 2013! Chocolate Komberry Co. brings you the new taste sensation du jour with their signature Cruffin (that's croissant/muffin to the uninformed). If that's not enough flavour to satisfy your sugar cravings, go one better and order one of their delicious SunCroDo's (Sundae, croissant and donut). Cronuts and SunCroDo's are available in a variety of flavours, such as Snickers, Tim Tams, and Milo. Or, if you're looking for something even more different, try their injectable milky buns.
Eat Street Markets: Friday 4pm-10pm; Saturday 4pm-10pm
CHAAT HUT INDIAN
There's more to Indian cuisine than curry, and Chaat Hut is out to showcase just that with its tasty range of authentic Indian street food. Started by Prav and Will, the food is the sort of stuff you'd find in Delhi and Mumbai – and completely different from the heavy fare Aussies have come to think of.  Think pakoras and puri, with vegetarian and gluten-free options as well that pack plenty of Delhi flavour (without the belly).
Love Your Local Markets, Cannon Hill, Hawthorne, Norman Park. Fridays 4pm – 8.30pm
PHIL'S DUMPLING ENVY
Be the envy of everyone with a healthy helping of dumplings from Phil's Dumpling Envy. This stall offers some of the most delicious delights in Brisbane, from traditional dumplings, to more modern interpretations like slow braised lamb shanks, and even mango pancakes for dessert. Phil's Dumpling Envy offers a variety of delightful dishes, as well as gluten free options.
Eat Street Markets: Friday 4pm-10pm; Saturday 4pm-10pm
I HEART BROWNIES
Only the heartless don't heart brownies. I'm kidding, but seriously, who doesn't heart brownies? Especially when they're available in such fresh and tasty flavours like the ones at I Heart Brownies. Have I said I heart brownies too much, yet? Sold exclusively at the Jan Powers Farmers Markets in Brisbane are a variety of delicious brownie flavours that will have you craving them all week long. Stop by the Powerhouse Markets on Saturdays for a taste gluten free (but flavour-full) brownies – I especially recommend the trendy salted caramel ones.
Jan Powers Farmers Markets, Powerhouse: Saturday 6am-12pm
BARE BITE
Looking for a healthy treat that tastes great and is kind to the body? Try Bare Bite's raw and organic desserts at the Powerhouse Markets. These delicious snacks cater to a wide variety of dietary needs and requirements, and are a friend to the coeliacs, diabetics, vegans and vegetarians among us. The low-gi treats are free of gluten, wheat, sugar, grain, and dairy products.
Jan Powers Farmers Markets, Powerhouse: Saturday 6am-12pm
LA TOUR EIFFEL CRÊPES
Because we don't live in Europe, we can't jet off to France for a weekend whenever we want. What we can do is dress French-chic and eat delicious crêpes, which is basically the same thing (that's what I'm telling myself). Bringing a French flavour to the Eagle Farm Markets are the delicious La Tour Eiffel Crêpes. Stop by for a savoury or sweet taste and enjoy some of the best French-style crêpes this side of New Caledonia. Bon appétit!
Eagle Farm Markets: 7am-12.30pm
CARCAMOS GOURMET CARAMEL APPLES
Looking for a different treat this weekend? Caramel apples aren't just for Hallowe'en anymore! Carcamos Gourmet Caramel Apples has set up shop at the Eagle Farm Markets with a wide selection of tasty treats – a feast for both your eyes and all of your tastebuds. These cute caramel confections come in a range of coverings – from Tim Tam to Apple Pie, Cashew to Fancy Pecan, there's a Caramel Apple for everyone.
Eagle Farm Markets: 7am-12.30pm
THE LITTLE GINGERBREAD COTTAGE
Missing Christmas already? Stop by Jacqui McManus' Little Gingerbread Cottage at the Rocklea Markets for a tasty ginger snack. Feast your eyes on the German gingerbread creations, available in a variety of different shapes and styles. Whether your little ones want a little gingerbread animal, or you're looking for a house for the whole family, you can find it at the Little Gingerbread Cottage.
Rocklea Markets: Saturday 6am-12pm
GOAT PIE GUY
Mick Hobson is The Goat Pie Guy, and his handmade goat pies are made from the finest Australian Boer goat meat and come in a range of exotic flavours that are sure to take your taste buds on a magic carpet ride. From Greece to Jamaica, the UK to Indonesia, it's a whole new world of meat pies that are far from average. They even have their own shop front now at Shop 1/97 Braun Street, Deagon.
Jan Powers Farmers Markets, Powerhouse: Saturday 6am – 12pm Jan Powers Farmers Markets, CBD: Wednesday 7am – sold out
THE BUN MOBILE
If you haven't had the ultimate pleasure of eating a delightful bun from this iconic van, you can't truly call yourself a Brisbane-ite. Made famous by its Asian inspired flavours and super soft, hand crafted steamed buns, word has even spread worldwide with reports of the Bun Mobile in The New York Times travel section, as well as several TV shows in South East Asia. Head to their website or Facebook page for daily locations.
EMMA'S CAKES
Specialising in the healthy side of sweets, Emma's Cakes is your go to market stall for gluten free, egg free, dairy free, vegan, low allergy, high protein, low fat, and low carb baked delights. Made from primarily organic ingredients, you can be sure your cake indulgence from Emma will be guilt free.
Northey Street Markets: Sunday 6am – 10:30am
BAGEL BOYS
Despite having their very own shop front now in the middle of the CBD, the Bagel Boys are still serving up their freshly boiled bagels at multiple markets around town. Choose from the 13 flavours (two are gluten free!) and either have them plain, with cream cheese, or as a deli style sandwich – they will be great any way.
Store: 126 Adelaide Street, CBD Jan Powers Farmers Markets, Powerhouse: every second and fourth Saturday 6am – 12pm Jan Powers Farmers Markets, CBD: Wednesday 7am until sold out
NEW FARM CONFECTIONERY
New Farm Confectionery's handmade confections are so delicious; you won't be able to pick just one to take home. White chocolate rocky road, raspberry barks, chocolate marshmallow, and the best salted caramel chews, make sure you take a step into the sweetest smelling container at Eat Street the next time you're there. They even have a happy hour from 4-5pm where you can get a free bag of peanut brittle or marshmallow when you buy two bags of anything else. Can you say sugar high?
Eat Street Market: Friday and Saturday 4pm – 10pm
LITTLE ITALY BY JAKE AND ELLE
Arancini, cannoli, risotto, oh my! You'll never feel bad about carb over-loading at Little Italy because it just tastes so good. The duo from My Kitchen Rules has lasted way beyond the reality TV series, still serving up their traditional recipes (and take home pasta sauce) from their container at Eat Street. Just make sure you save some room for one of their sweets, bellisima!
Eat Street Market: Friday and Saturday 4pm – 10pm