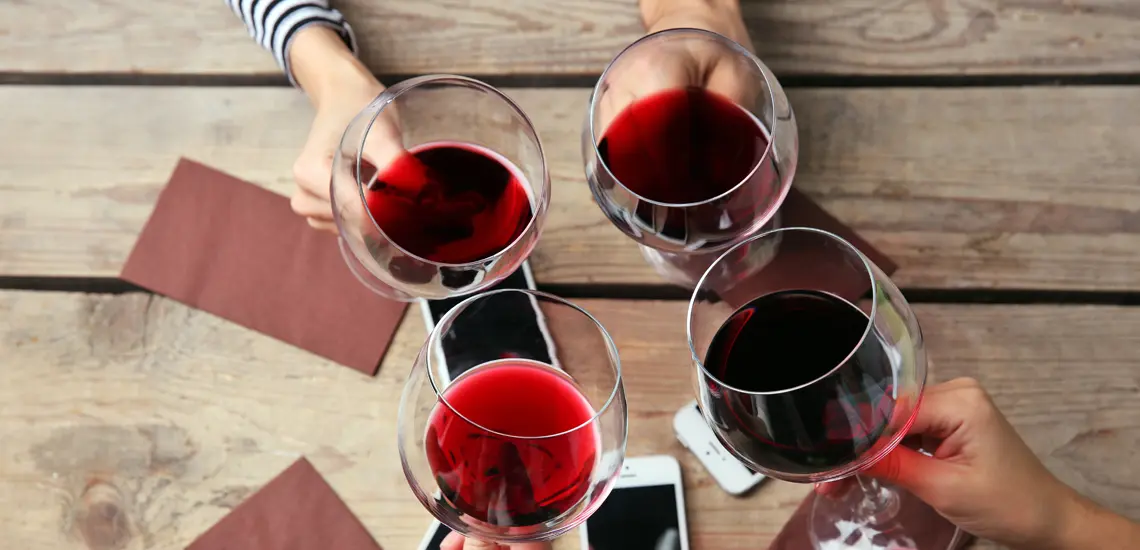 Brisbane's Best Double Date Venues
Double the couple doesn't have to mean double trouble thanks to our top restaurant picks for Brisbane's best double dates.
By Eveline Fielding | 19th November 2015

Double dating. It's just as traumatic as regular dating, but with an exit buddy to help brave the horrors of the other couple's passive-aggressive spats, disproportionate bill-splitting, flirting with the wrong significant other and PDA (public displays of awkwardness).

But, just like regular dating, all these frogs are worth finding the princes and princesses of your couple-friend dreams, i.e. the people with whom you'll eventually go on cruises and form book clubs when you're old and grey.

So to make the journey a bit smoother, we've found Brisbane's best double date venues to give you the ultimate two-on-two experience. Not even a proposition to swing could ruin these places, thanks to their vibrant atmosphere and, of course, the delicious, shareable food.

Because after all, 2 + 2 = more food for you.
Longtime
Combine a delicious Modern Thai menu and a vast array of drinks in a hidden location, and what do you have? The Valley's Longtime, the best double date venue that doesn't make it feel like a double date. Shake off the awkward tension (a weird mix of competitiveness, politeness and accidentally revealing your relationship secrets), have a seat at the communal dining table, order some crazy amazing share plates (including a tangy watermelon salad!) and just chat like friends on a night out.
Perfect for: First-time double daters wondering what the fuss is all about. Longtime, Fortitude Valley
Soul Bistro
Casual, no fuss and easily accessible, Soul Bistro is perfect for couples looking for delicious, simple food that doesn't distract from the conversation. Located on Milton's cosy Baroona Road, the venue offers easy parking, bubbly service and BYO in addition to its scrumptious gluten-free menu, which includes a vast selection of tapas available all day.
Perfect for: Weekend brekky or brunch to recover and debrief after the night before with your fave dynamic duo. Soul Bistro, Milton
Little Greek Taverna
With fresh ingredients, tangy flavours and excellent service smack bang in the centre of vibrant West End, the four of you will be throwin' down the Zorba like nobody's business once you dine at Little Greek Taverna. Plus, this buzzing location has a fantastic array of platters and banquets for parties of any size. Haloumi, octopus and lamb souvlaki? Yes, yes and yes.
Perfect for: Lunch in the sunshine, accompanied by another wonderful couple, dips and pita. Little Greek Tavern, West End
Happy Boy
Located stealthily behind a sliding garage door in Fortitude Valley, Happy Boy's excellent combination of fine wines and authentic Chinese food is the perfect venue for those double-daters looking for a modest meal and easy conversation. Add in delicious, shareable meals such as beef brisket stew and noodle knots, and you've got happy couples in Happy Boy.
Perfect for: Casual, intimate dinners with a selection of boutique wine to keep the banter a-flowing. Happy Boy, Fortitude Valley
Wagaya
Private rooms and touchscreen menus – is it the future? No. It's Wagaya. Featuring a delicious Japanese menu full of gyoza, sashimi and dangerously strong cocktails, you and your couple friends will be more than satisfied in the privacy of your own booth, which is able to seat up to 12 and equipped with touchscreen ordering.
Perfect for: Ultra-classy dinner and drinks, with enough space to share with triple, quadruple and quintuple dates! Wagaya, Fortitude Valley
Sixes and Sevens
Whether it's after work, before dinner, or simply casual drinks, At Sixes and Sevens has the perfect group atmosphere for when you think you're interested in a couple, but you don't want to commit to an actual dinner just yet because you've been hurt before – #feels. Wet your whistles with delicious Pimm's, cosmo, mojito and Sixes House Punch pitchers as well as poutine, sausage rolls and croquettes to share.
Perfect for: Just drinks and nibbles, thanks! Sixes and Sevens, Fortitude Valley
In A Pickle
Okay, so you're double-dating aficionados and you think you've found… the two? Well, why not freshen it up a bit with some takeaway In A Pickle? Offering possibly the best sandwiches in Brisbane, along with delicious salad including potato and haloumi, as well as desserts to make you salivate, you've got yourself the perfect meal for a picnic, some outdoor fun, or, let's be real, a joint Netflix marathon.
Perfect for: The DIY double date, i.e. the big leagues. In A Pickle, Camp Hill