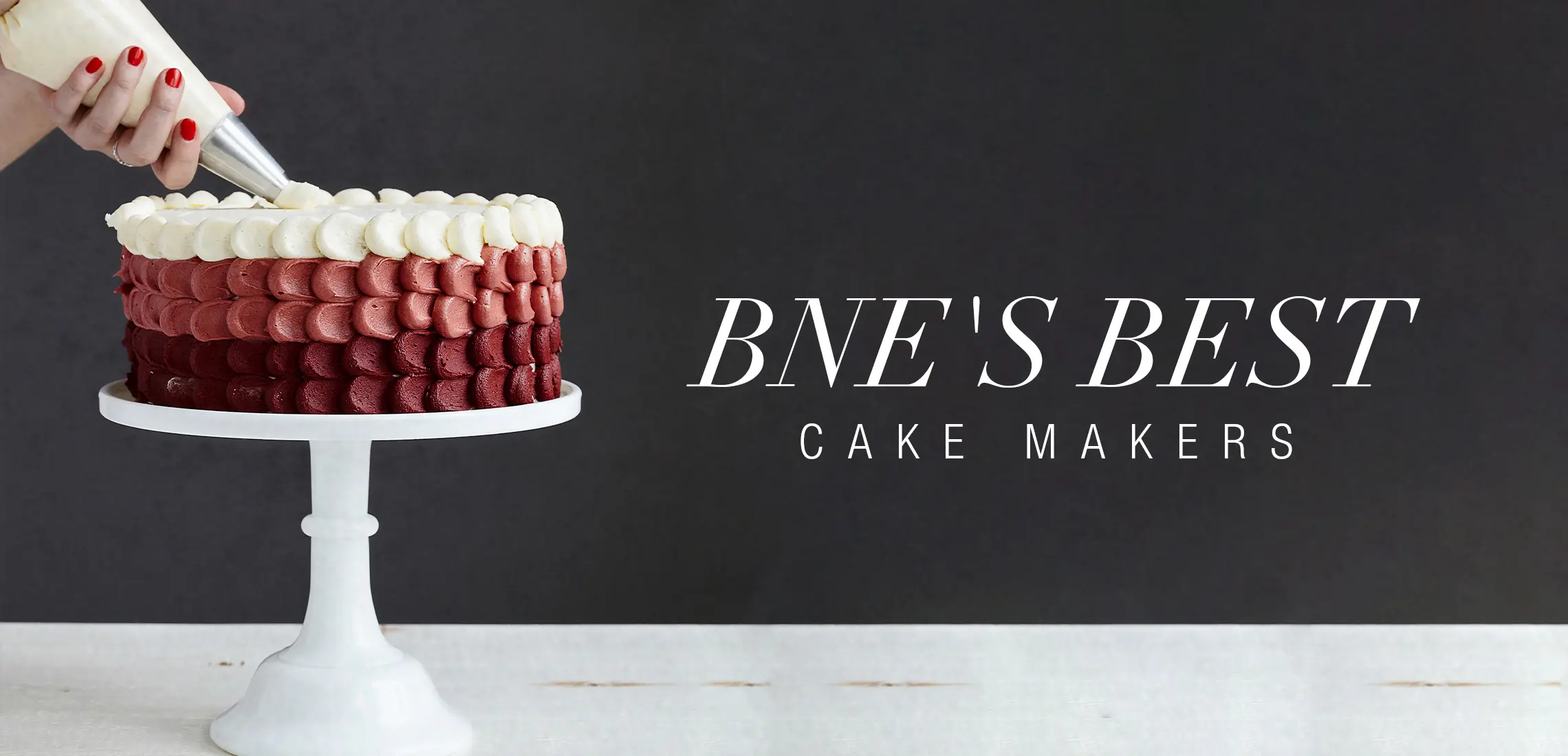 Hit The Sweet Spot With 14 Of Brisbane's Best Cake Makers
Let them eat cake! 
By Astrid Taemets | 12th August 2021

Who said you can't have your cake and eat it too? These sweet bakers will take your frosted fantasies and turn them into a delicious reality. From smash piñata cakes to exquisite French tarts, you'll need more than a dessert fork to dig into these baked masterpieces from Brisbane's best cake makers.

Wholesome and wonderful, Judy C offers a delicious selection of homemade treats that you didn't know you needed! Based in Ashgrove along Waterworks Road Judy C offers the most beautiful birthday and wedding cake collection, as well as cakes ready for purchase, including the sprinkles cake, lemon delicious cake, and the Maria Louisa, which is a citrus butter cake with lime swiss buttercream – drool. There is also no denying she has mastered the iconic cake drip!

This authentic French bakery and patisserie is where you'll find delectable cakes, artisan breads, pastries, viennoiseries, and savoury items by the dozens. Take your tastebuds on a journey to the French province of Normandy with each buttery bite. At Chouquette, they only use the most expensive butter in the world in their creations, the Isigny Ste-Mère (trust us, you'll taste the difference!). Using only the best local and international produce, this team use traditional French pastry techniques, and make everything by hand, daily, from scratch. You won't find a menu of classic French desserts like this anywhere else in Brisbane. Their signature cake, the Tarte aux Fraisers (strawberry tart), is the most popular cake, and is often the first thing to fly out the door on any given day. Bon appétit!

Doesn't it just sound fancy? This boutique cake studio in Holland Park offers a selection of bespoke cakes, cookies, and cupcakes for any special occasion. Their elegant and sophisticated four tier cakes will seriously have you planning your dream wedding cake! From cakes wrapped in bows, to cakes disguised in beautiful white orchids, you will be taken away by how exquisite Frosted Indulgence is. You must see it to believe it!

Hey northsiders, you're gonna love this one! Located on Ashgrove Avenue is Gerbino's – a family-run Italian pasticceria and bakery. They have a long list of the most delectable cakes, along with their famous cannoli bouquets and croquembouches (who could forget that iconic MasterChef finale?). Take one look on their website and you seriously will be spoiled for cake choice. We couldn't take our eyes off this double tier millefoglie heart – how bloody good does it look?!

Fun and flavoursome, every day is a happy cake day for Sarah-Jane and her team. With a range of gorgeous flavours and designs, this online cake shop makes shopping for your dream cake a breeze. Choose from a bold range of cake options, including their signature white chocolate layered cake with passionfruit buttercream that's topped with raspberry and passionfruit house macarons. Drool! Whether it's an office celebration, a kids birthday party, wedding celebration or surprise delivery, Happy Cake Day is a firm BNE favourite. Baked with love from scratch, these affordable cakes are delivered directly to your door (yes, they offer same-day delivery when ordered before 10am!).

Now this is what cake dreams are made of! Cake maker and reformed glitter addict, Samantha, is the talented mastermind behind these jaw-dropping cakes! From the funkiest rainbow shag cakes to the most stunning wedding cakes, once you get scrolling on her page, you won't be able to stop.  Orders are available for anyone who lives in Brisbane, Gold Coast or Byron Bay, and with cupcakes, macarons, and sugar cookies on offer too, you seriously can't go wrong for your next special event!

With a belief that cakes aren't just reserved for special occasions, Maggie and Jack of Icing Hill make sweet delights on the daily. Their approach to baking is simple: follow the trends, and create new flavours. Serving a wide range of cakes from sweet taro, red forest, tiramisu, and Basque burnt cheesecake, their baked goods smell as good as they look. Made using fresh taro, durian meat, watermelon, and espresso shots directly from their coffee machine, each cake option at Icing Hill is made with local produce. This creative team also take custom orders – even challenging ones – and love bringing your vision to life. Cakes are like art pieces, and they're ready to create your very own masterpiece!

Jocelyn's Provisions is an absolute staple when it comes to satisfying your cake dreams and sugar cravings. With stores across Brisbane, each stores boasts the most incredible selection of mouth-watering cakes. From classic buttery, vanilla cake hearts to salted caramel layered and chocolate sour cream cakes, it is guaranteed to hit every sweet spot. JP is the ultimate holy grail for cake lovers!

Think pastels, rainbow sprinkles, perfectly piped frosting, and your choice of fave ice cream, and you have yourself the most magnificent Miss Sophia's ice cream cake! The seriously sweet sibling store to Farmhouse at Kedron offers the most elaborate and tasty ice cream flavours to choose from. From choc-chip marshmallow cream to funfetti red velvet and passionfruit pavlova, the store changes up their menu daily to suit every taste palate. Spoiler: picking only three flavours will be one of the hardest things you ever do.

Blow and make a wish! Brisbane-based cake chef, Miller, brings your ideas to life with her one-of-a-kind freshly baked cakes and cookies made from the finest ingredients. Her boozy Barbie cakes are truly iconic and will add the right touch of delicious fun to your next shindig. You'll be sure to find a fabulous option amongst her amazing creations.

Dreamy and delicious is the name of the game here! Brissy and Gold Coast cake babe, Katie, whips up the most gorgeous cakes for any celebrations, as well as the cutest sugar cookies. Whether it's for your next birthday, corporate event, baby shower, or anything in between, needless to say we're obsessed.

This family-owned business is one to keep on your speed dial for when you need to brighten someone's day. Not like your usual sponge cake, these chocolate delights made from Nestle and Cadbury need to be smashed to be enjoyed, and that's half the fun! The in-house chocolatiers create the outer shell of the smash cake using a mould, then fill it up with a piñata mixture of lollies, just waiting to be discovered. With almost 80 different smash cake styles to choose from, you'll find whatever you're looking for! Just give them three days to build your online preference, or if you're looking for something customised, a minimum of two weeks is required.

Champagne and cake anyone? Sweet As Co. is giving us every reason to say yes, especially with this cake made with homemade strawberry and champagne curd, layered with buttercream and the freshest strawbs! The creative baker and owner, Leesa, loves bringing the visions of her clients to life, making the sweetest celebration! Whether it's for a friend's birthday who just loves champagne, a corporate function, or a baby shower, Leesa seriously nails it every time with her colourful and scrumptious cakes and bakes!

Be it a birthday celebration, your wedding day, or any other event that needs a sweet treat, Sugar Puff Cakes is here to serve you up a tasty delight! Your dream cake starts with your ideal design and flavour, then Suz will work her magic to bring your vision to life. Formerly known as The Pink Artisan, Suz has teamed up with a friend to create their first store, Sugar Puff – a haven of sweet treats that are just begging to be devoured. With a flair for creating intricate designs, Suz loves to work with moist butter cake in many forms. Her most notable style is the carousel cake, which is a work of art – you have to see it to believe it! Just give her two weeks notice, and she'll whip you up whatever cake your craving!