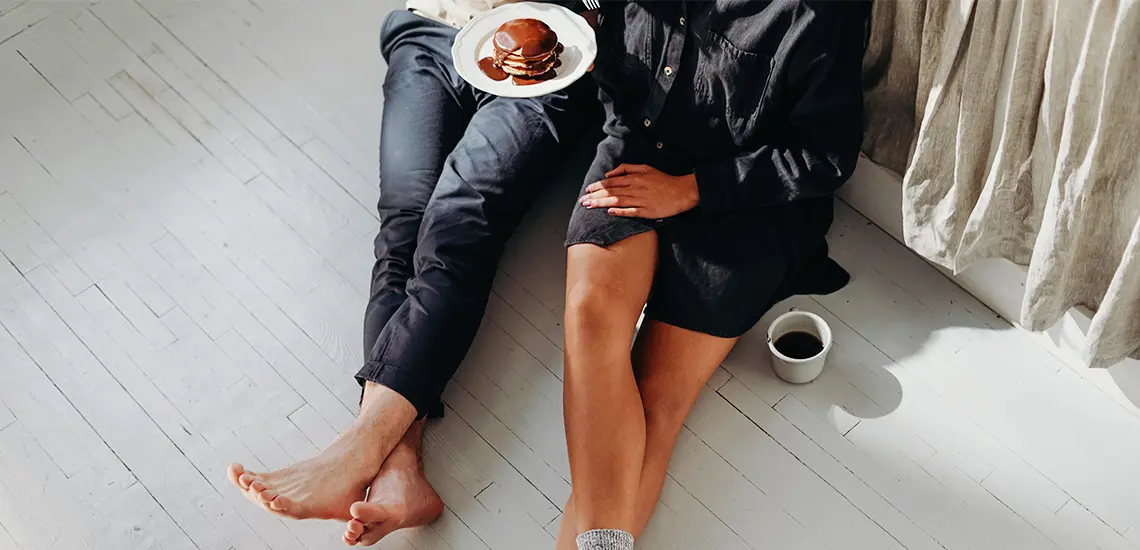 Restaurants Delivering During COVID
Eat up *safely*
By Guest Styler | 9th April 2020

Now is the time to support local businesses and, at the end of the day, we still need to be fed! With the new regulations in place regarding coronavirus, our Brisbane cafés and restaurants have stepped up to the plate and are offering delivery, deals and make-at-home delivered kits so we can all enjoy our fave feeds from the comforts of our own quarters. Bunker down but eat up because it's been made easy!

Do you know of any exclusive deals or new delivery offerings? Let us know! Email georgina@stylemagazines.com.au

In the heart of our CBD sits Birrunga Gallery and Dining at The Henderson Gallery. The art is sure something to behold, but the food is just as much a treat on the eyes as it is the palate. As an Indigenous owned business, their menu is something pretty special where their passion shines through. Now, they're offering free delivery so you can taste your way through their menu with ease. Try the slow braised pulled emu or kangaroo curry mince for something really different, or opt for their delish soups. Plus, they're licensed, which means your thirst will certainly be quenched! Place your order by calling the team on 0458 421 270 from 7:30am (alcohol from 10am) and see if you qualify for the free delivery in the CBD!

If your Euro trip has been cancelled, you can still get a taste of Paris with Belle Epoque's range of 'grab and go' pre-packaged sweet and savoury delights (yes, this includes hot cross buns!). Plus, don't worry about parking as they've arranged express valet at Emporium Hotel South Bank so you can easily pop-in and pick-up.
Bucci | Pasta Kits
One of James St's best go-tos, Bucci, is an Italian destination for the senses! Don't miss your pasta fix while bunkering down at home because Bucci has created Pasta Kits, available through Facebook and Instagram. Each day after 12pm, the Bucci team will post the pasta pack menu for the following day. To order, slide into their DMs with your name and number and they'll be in touch to confirm your order. Pasta made easy is a dream, no matter the circumstances!
Just because you may be stuck at home doesn't mean you can't have a fiesta! Call Burrito Bar at Portside on 3630 1710 to pre-order and pick-up. Otherwise, save $5 when you spend $20 at Burrito Bar on Uber Eats.
Ciao Papi | Call and collect
Don't worry about flights to Italy; get your feed with your feet-up at home. Be it for breakfast, lunch or dinner, Ciao Papi is offering their menu for takeaway. Call, order and collect (3188 9090), easy! Otherwise you can order online here.
https://www.instagram.com/p/B95t_LJgdbh/
While their Fortitude Valley cellar door is temporarily closed during this time, it doesn't mean you're going to be left high and dry! The City Winery team will be hosting a range of pop-ups with take away wine and charcuterie throughout Brisbane, starting off at King Street's Emporium Barber in Bowen Hills. Keep an eye on their socials for all details on their pop-ups and delish take aways which they're now delivering!
Dalton Catering | Ready to eat meals & free delivery
Now this is gourmet take away at its best! Dalton Catering are offering fine feasts designed to nourish and fuel families. Ideal for four to five people, pick from Greek lamb shoulder, pork belly, duck confit meals and more, as well as some delish side dishes! Every meal has been curated so all you have to do is heat or roast and then eat! Plus, they're offering free delivery within 10km of the CBD. This is a present you didn't know you needed, delivered to your door in prime packaging too!
https://www.instagram.com/p/B98REZsnxtk/
Their beer is still fresh and their eats easier than ever to get your hands on (or around!). Felons Brewing Co. full menu is available to click and collect, including $15 pizzas, burgers and fish & chips!
From Monday March 23, you'll be able to enjoy the freshest of seafood in the easiest way because Gambaro Seafood and Steakhouse are launching both click and collect and home delivery offers. Even if you don't want to get out of your car, it's all good as the Gambaro team will come direct to you! To explore their menu, see their delivery times and fees, head online now!
Temporarily relocating over the laneway to Gerard's Bistro, the eats you're used to at the Bar as well as a few select dishes from the Bistro will be available to take away. Phone ahead on 3852 3822 to place and order. To view the temporary, take away options menu, see here.
https://www.instagram.com/p/B9Q6RBsAKTI/
Good news! Getta Burger is still trading and all stores are open for walk-in takeaway, Uber eats & phone orders. Even better news they've just launched an amazing $12 lunch deal including 'The Getta Burger' + combo fries and a drink. So go out and support local business while saving yourself some coin while you're at it!
From Wednesday's through to Saturday's, The Golden Pig in Newstead has their menu available for take away – their signature dishes and new additions included. Try their new sesame prawn toast with chilli jam and fresh lime. While you're at it, pick-up some craft beers and wine and consider your evening sorted!
Hôntô | Take away
Contact-free take away is happening at Hôntô! The iconic Japanese feeds can still be enjoyed from home so there's no need to worry!
Forget cooking a fancy dinner and dealing with the pressure and mess, hit up Il Locale for a no-fuss Italian feast! From their authentic pastas and pizza to slow-roasted duck, every palate will be impressed and pleased! It's the ideal date night in.
Cake and ice-cream are absolute necessities in time of need and in time of play and La Macelleria Gelateria has Brisbane covered during the coronavirus chaos. You can now order from Uber Eats and Deliveroo your go-to flavour of gelato, sorbet, shakes and cakes. Explore their menu and go on and treat yourself!
Milky Lane | Delivery & Take away
It's not named Australia's #1 boutique burger brand for no reason! Milky Lane are open and they're here for you, offering takeaway orders (most preferred for them), delivery orders (on Deliveroo and UberEats for most stores) and you can even buy a gift voucher to support them. Munch on some of their mouth-watering burgers all in the comfort of your own home.
Live within a 5km radius of Mr Mista? Then chow down and drink up because they're offering free delivery! Enjoy bao buns, spring rolls, curries, fried rice, Katsu chicken and more! It's a yes sir from us!
If you can't snag a booking with the regal beagle or you're already parked on the couch, there's no need to fret because Mrs Brown's is coming to you with their best box of tricks. Experience Mrs Brown's all wrapped up and in your own home with a celebration box. If you're feeling the love, they'll bundle up the romance in their Date Night Celebration Box or if it's time for a hip hip hooray, the Birthday Celebration Box will get the party started. And if you're purely craving an occasion that doesn't exist, the Just Because Celebration Box is the perfect fix. Last minute plans can be catered for because you can preorder any box up to 6:30pm on the day before you need it. If you're in the delivery area, then all you need to do is twiddle your thumbs as Mrs Brown's will deliver to you. Otherwise, you just need to pick up!
The family owned Olive & Angelo restaurant has got it going on! Forget your trip to Italy for the summer as their menu has all the Italian feasts you could dream of. Enjoy a date-night or self-isolation treat with eats such as gnocchi bolognese, wood fired pizza, slow roasted lamb and more. If you're gluten-free or vegan, not to worry as owner and chef Angelo, has catered for all. He's learnt the real tricks of the trade working in Italy for years and has introduced this skill and experience to heart of our city. See their menu and phone to order.
https://www.instagram.com/p/B3794rdl_22/
This Bardon haunt is now offering take away so you can get your authentic Spanish flavour fix. Owners, Steve and Alma have curated a take away list featuring some of their best plates and will soon be offering delivery, too! This is a new wave of tapas from the comfort of your couch! See their menu and simply call on 0413 176 031 or email to place your order.
This South Bank haunt is doing their bit for the community with a healthcare workers initiative. Now, you can 'donate an order' and the Papa Rossi staff will deliver to the Mater Hospital. Plus, online orders receive 20% off.
https://www.instagram.com/p/B-QeMWJAc9b/
With more details yet to be announced, you can now enjoy high-end restaurant food at home thanks to Restaurant Dan Arnold. While the location and restaurant itself is something special, the quality of the food and love behind the meals will shine through more now than ever, with the only difference being it's from your couch!
The Italian Newstead haunt has added a retail section to their restaurant, so you won't be left looking at empty shelves in the supermarkets to get your pasta fix!
The local hub, Sassafras of Paddington, is continuing to serve-up their renowned eats, treats and charm. Plus, they've started a great initiative! They split some of donations into boxes for local elderly residents in need and have some full boxes going to larger groups and families reguarlarly. See their website to learn more and see their online menu!
The brilliant team at Sister Cafe are now moving to a takeaway & delivery only service during the corona crisis. You'll be able to order takeaway or they can deliver some delicious treats straight to your door through the Bopple app. They're urging their customers that they'll get through these tough times and come out the other side stronger so go out and support them today!
The vibrant family trattoria is continuing to offer in-house dining, but for those who are staying at home, their team is launching local delivery. Some items will be adapted based on supply so for more information, reach out on 0428 741 249.
A fan favourite within Brisbane's asian cuisine scene are open and taking your orders whether it be takeaway or delivery! They'll be dishing up a selection of their signature dishes, as well as some new classics, wine, beer & cider! Be sure to check out their delicious menu here. Their opening hours are: Friday's from 5pm and both Saturday & Sunday from 12pm so you can get your weekend foodie fix! Order delivery or takeaway on the Bopple app!
Wing Fix | Delivery & Takeaway
One of Brisbane's most beloved burger and wing spots is still offering delivery and takeaway from their Morningside and Coorparoo restaurants! As a small business with 30+ staff, they're fighting this crisis with everything they have by taking wings to get to you. You'll be able to order some of their delicious burgers and wing options via Uber Eats, phone or website orders.
Ze Pickle | Delivery & Takeaway
Found yourself in 'ze pickle' and can't dine in at your fave restaurant? Don't fret! Ze Pickle is delivering their delicious menu straight to your door as well as accepting your takeaway orders. You can grab a ZP feast from Camp Hill or Fortitude Valley, OR get it delivered to your door from either store. Call to order! ? Fortitude Valley: 07 3854 0492 | ? Camp Hill: 07 3398 4028
For a full list of every restaurant in Brisbane doing delivering & takeaway check out Uber Eats, Deliveroo, Menulog, Bopple.
Check out the inclusion in our latest online mag: Together, Apart below
For more related articles on COVID 19 like the self isolating cocktail recipes, at-home workouts and things to do while self isolating check them all out here.