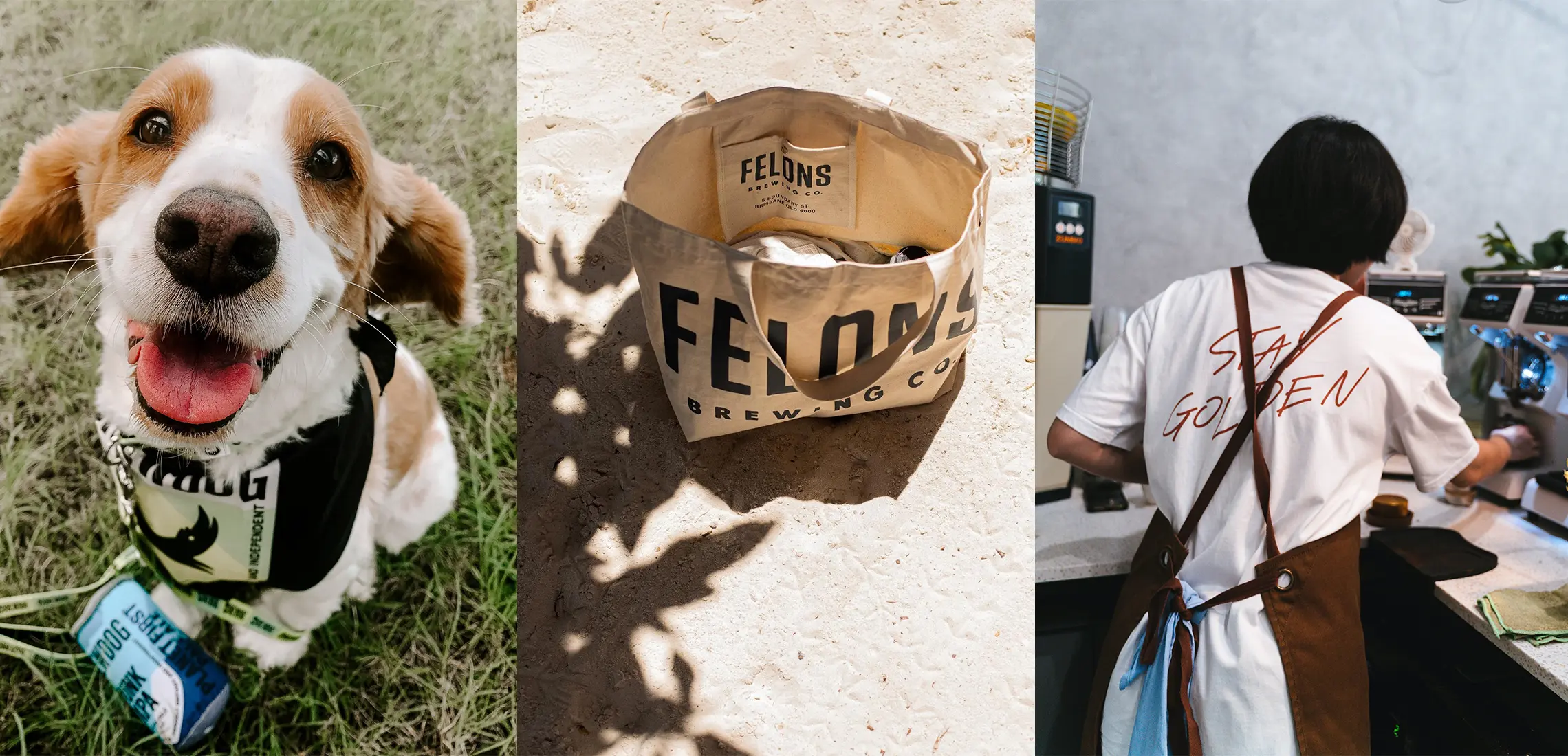 Wear It, Don't Say It With Merch From Brisbane Restaurants, Cafes, And Bars
You are what you wear
By Dinushka Gunasekara | 18th May 2022

In the same way you rock a band tee to share your love for your fave musos, why not wear your appreciation for your fave sips and eats on your sleeve? Brisbane's restaurants, cafes, and bars are integral to the fabric of our community, so show your support by donning their threads. From tote bags to bucket hats and even picnic rugs, here's our fave merch from the local hospo scene. 
Yolk
Stay golden with Yolk's staple tees that echo the breakfast spots' minimalist and slick interiors. Like the menu, they're sure to always get you up on the right side of the bed. 
The Hideout Specialty Coffee
The CBD's go-to coffee hub is also packed to the brim with slick merch from caps to striped tees. Sporting their signature logo, the simple pieces are an easy addition to your wardrobe rotation. 
Hikari
Beloved for a Japanese pub experience with the energy of a izakaya and dishes of traditional Japanese food, this casual eatery also slings t-shirts perfect for the occasion. Adorn yourself with tiger rolls, tuna tacos, and aburi salmon.
Felons Brewing Co
Whether you prefer to spend your sesh at the barrel hall or the brewery, Felons has a bunch of apparel to let the world know who quenches your thirst. Grab a frisbee, a trucker hat or a bottle opener, then chuck it all into one of their massive tote bags that's built to take on adventures.
Newstead Brewing Co
If getting to your next pint drives your hustle, then Newstead Brewing Co's t-shirts are a must. Their popular 'Working For Beer' t-shirt is delightfully relatable or wear your love for their signature sip – the Coastal Pale Ale. 
Brewdog
You and your furry friend will be looking oh-so-fresh with Brewdog's custom range. From sustainable tote bags to corduroy bucket hats and a puppy pack fit with a collar, leash, plush toy, and a spiffy new bandanna, your next walk is sure to be met with praise. 
Stone and Wood
With a selection as extensive as their brews, this village brewery is practically a label. Shop print tees, hats, hoodies, and beanies, as well as assets for behind the bar, like beer glasses, cooler bags, and beach towels. 
The Black Lab Coffee Co
Delicious blends aren't the only thing Black Lab is slinging! Adorned with space cadets and thirsty dragons, their tees are something a little different. Like, literally – that's what the t-shirt says. 
Fonzie Abbott
Like a bolt of lightning, Fonzie Abbott's merch will be quick to spark up conversation. Offering essentials like their slick black spray jacket and quick dry caps, they also have seasonal tees that are limited edition and in high demand. 
Ballistic Beer
Want to lay out on a picnic blanket that supports one of Brissy's fave locals? Then look no further than Ballistic Beer's colourful range. Take your pick from wine cooler bags, hoodies, keg socks, and their classic cap. 
Green Beacon Brewing Co
PSA: your friendly local brewpub also boasts the friendliest range of statement tees. In an ode to summer sessions and pastel prints, their t-shirts and crop tees are made for max relaxin'. 
Ze Pickle
Since we know Ze Pickle's massive burgers are a treat for the eyes, it should come as no surprise that their merch is just as worthy. Collabing with artists to offer different flavours of the ZP, we recommend getting it in black to avoid any sauce spill woes.
Bear Boy Espresso
The home of grizzly good times also has the goods to help you bring it home. You'll be part of the pack with their logo tees or get your hands around their cosy mugs with two sizes to suit every Goldilocks. 
Ben's Burgers
Once you've got your hands on a piece of Ben's, you'll see why you need to share your love with apparel. Winn Lane's resident burger kings offer their own spin on a crown, in the form of a classic blue BB cap, as well as minimalist tees.
Morning After
Hail your favourite long brunch with a piece of Morning After to take home. While their tees are a minimalist's dream, it's the pins we have our eyes on. Featuring the beloved MaMuffin and a coffee cup, this takes a new meaning to wearing your heart on your sleeve.
Dressing up for your next feast? Check out our dinner-worthy pieces to hit the town here.