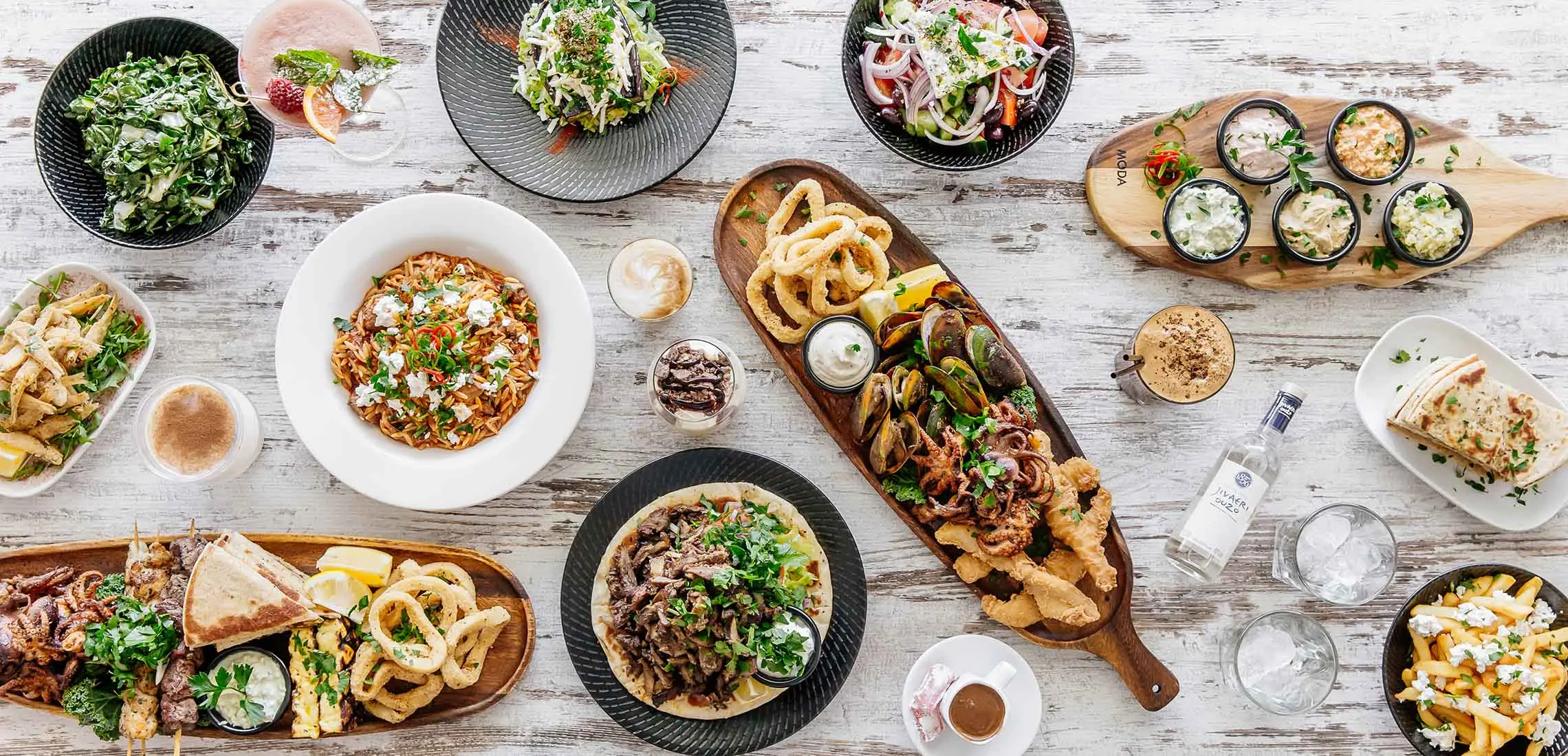 Brisbane's Favourite Greek Restaurants
As picked by you!
By Olivia Ashworth | 16th September 2020

With international travel on an indefinite hold, there has perhaps never been a greater time to explore your own city. Although planes and passports are #cancelled, nobody can stop us travelling with food! Blessed with a bustling multi-cultural city on our doorstep, Brisbane is home to an abundance of international hidden gems, ready to transport you with a single bite.

Inspired by our lost summer in Santorini dreams, we put the question to our readers, asking you to give us all the goss when it comes to the best Grecian goodness Brisbane has to offer. Yep, we passed you the mic on Insta and you did not disappoint, providing us with all the juicy intel to curate a list that's already got your tick of approval! So, strap in, loosen your waistband and get ready to feast on Grecian meals fit for a God. This one's a good one!

If you're looking for the ultimate Greece experience, from white and blue tablecloths, and lamb on the spit to a whole lot of pita bread, look no further than West End. A traditional Greek and Cypriot café, Kafeino is located in a bright blue and white worker's cottage, almost impossible to miss. Serving breakfast, lunch and dinner, they offer authentic dishes, known for their incredible value. If you are more of an early riser, stroll in for the Kafeno breakfast and get served bacon, sausages, eggs, grilled haloumi, tomato, toast and coffee, all for just $13.50! Lunch is served daily from 11am, including everything from house-made dips (taramas, tzatziki, tahini and hommus galore), to calamari, grilled octopus and keftedes. For the mains, almost everything is cooked traditionally on charcoal, with the oven on deck serving up traditional souvla on Friday nights and Sunday lunch. If you are really looking for a treat, visit on Saturday night from 6:30-7pm, where the woodfired oven is pumping out the house Cypriot speciality dish, kleftiko – aka slow cooked oven-baked lamb with potatoes and vegetables. Is anyone else's mouth watering?
Greca | Howard Smith Wharves
Beneath the Story Bridge and inside Howard Smith Wharves, this contemporary Greek taverna will give you a wholesome serve of aesthetic and authentic dining. Delivering a huge range of tasty goodness, as well as generous Mediterranean hospitality, is there any other way to dine? Owned by Gold Coast-born Jonathan Barthelemess, the menu is inspired by the Mediterranean way of life, meaning nearly all the dishes are designed to share. Advocating a dining experience that encompasses slow eating, the restaurant suits both casual and celebratory occasions. The transformed warehouse creates a beautiful dining experience, decorated with olive trees, custom-made straw furniture and timber accents. With an open kitchen, get a peep at your dinner being made, awe at the flames of the charcoal and woodfired grills and bask in the stunning aromas of fresh Grecian dishes. Be sure not to skimp on the drinks list, which features 150 wine options (including plenty of your Australian faves), as well as a mean range of cocktails.
A family and local favourite, stepping into Kafe Meze will almost give you the feeling of stepping off the streets of Athens. Fitted out with all your favourite blue and white Grecian décor, the restaurant prides themselves on authentic and delicious food with exceptional service. Their menu includes a range of meze dishes (designed to share) as well as individual items, including an all-time fave, the souvlaki! If you have trouble deciding, they also offer a huge range of platters and banquets, giving you the chance to taste everything good and more. Psst! It's perfect for groups and functions.
If you're after a bite that makes an impact, the people have spoken and Lefkas is the place to be. With each mouthful, you'll not only taste an abundance of fresh and hand-crafted flavour, but you'll immerse yourself in the traditional Greek experience. Inspired by owner John Theoharris, each dish is designed to be an edible story, drawing from a personal memory in Greece. Offering table service, functions, takeaway and online ordering, however you choose to dine, the food is always of high quality, made with the freshest produce and love.
Hellenika | Fortitude Valley
There's no doubt Hellenika is a crowd-fave, making themselves known in Bris with epic Greek eats. Committed to fresh produce and hand-curated wine, Hellenika is the perfect place to gather with friends, share delicious food and simply enjoy everything on offer. A minimalistic and luxurious aesthetic, treat yourself to the most gram-worthy Greek meatballs, zucchini chips and pita bread your feed has ever seen. Be sure not to skip out on the drinks as well, with a huge wine list and range of cocktails available, it's always 5 o'clock somewhere! Inside, outside or poolside, experience your very own Brisbane version of Greece without even having to pack a suitcase!
If you are what you eat, we can't wait to be a Little Greek! Family owned, the Little Greek Taverna is a popular and well-loved restaurant in West End serving up authentic Greek cuisine every day. If you are a guilty people-watcher, you'll love dining with a 180-degree view of the exciting and vibrant intersection in West End, filled with people from all walks of life. Loved by locals and tourists, the restaurant is known for its use of fresh ingredients, affordable prices and consistent outstanding service that will leave you wanting more. With history ingrained into everything they do, savour the feeling of tradition as you dine and embrace your inner Greek 'local'.
https://www.instagram.com/p/BzhZiz0gkEd/
To have your say on the next cuisine's fave spots for Flavours of BNE, be sure to follow us on Instagram!