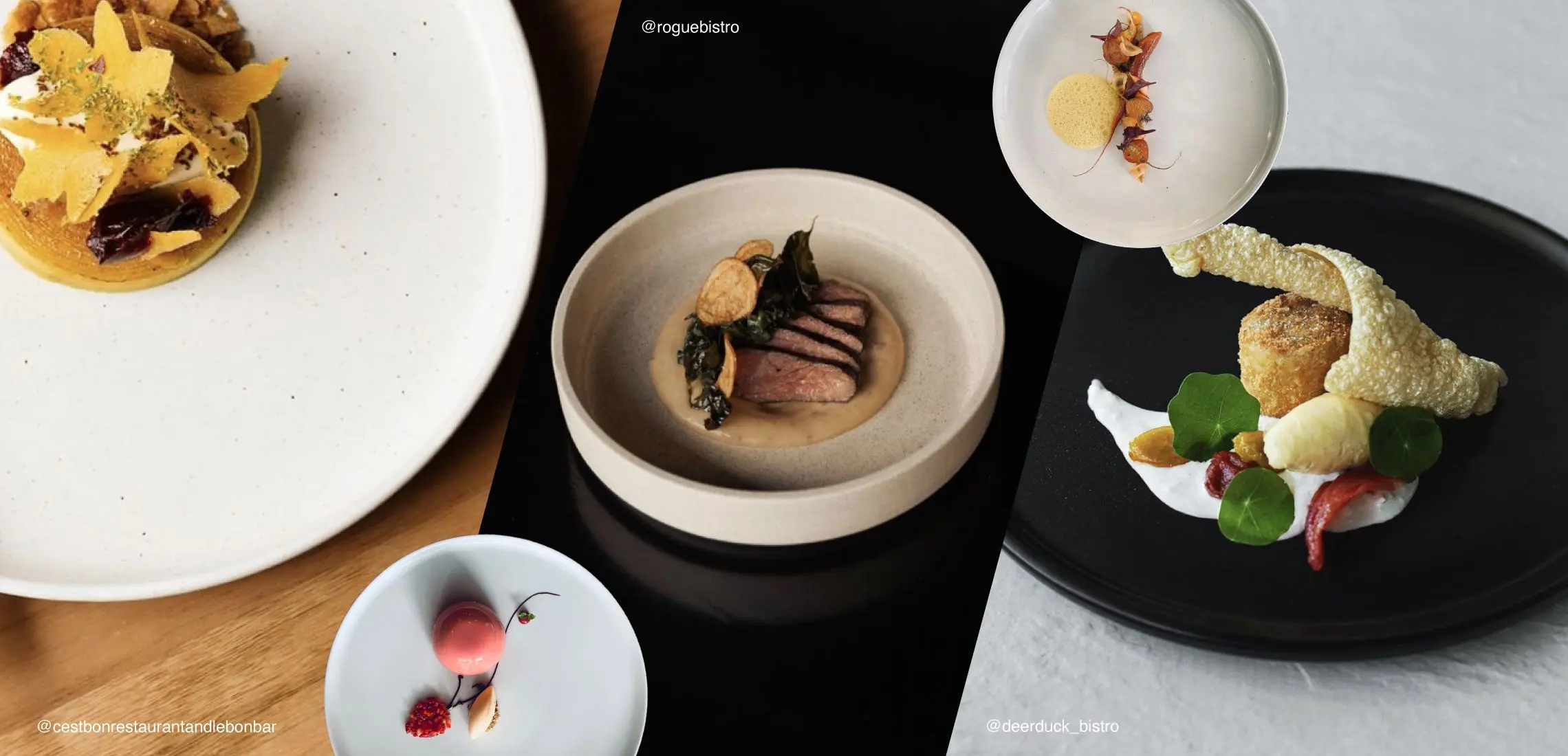 Tickle Your Tastebuds With Brisbane's Best Degustation Venues
Good things come in small packages
By Style Journo | 2nd June 2023

If you're a foodie, you'll understand the status that comes with being a degustation fan. Approaching food with the tenacity of a scientist with each tiny dish serving as a test tube, we don't make the rules – your taste buds are just superior.

But if you can't possibly understand why someone would serve so little servings of such delicious food, then you haven't tried the best degustation venues in Brisbane. From Japanese flavours to modern Australian twists and traditional French techniques, it's a definite detour from some of the city's best breweries or pub feeds, but a degustation is a must-do.

The perfect date night for the sophisticated couple or the best way to test a potential significant other's palate, pack your bags because you're about to embark on a culinary adventure; here's where to go for the best degustation in Brisbane.

By the way, we consider everyone in this list the best of the best! To make finding your next favourite that much easier, we've ordered the list alphabetically by suburb and also have filtering tabs for your convenience. Did we miss someone from the list? Let us know here! Hide the form

FILTER BY

All
All
Brisbane CBD
North Brisbane
East Brisbane
South Brisbane
West Brisbane
Gold Coast
Noosa
Sunshine Coast
Rogue Bistro
Newstead
The dark and brooding atmosphere at Rogue Bistro livens your senses to the culinary experience here. Their six-meal degustation menu rotates monthly and features the freshest local and seasonal produce. The curated menu epitomises perfect simplicity, providing high quality food for all diners. The menu also caters to all dietary requirements, to ensure all foodies can get a taste of Rogue's bites. 
View this post on Instagram
Deer Duck Bistro
Auchenflower
Nestled in the heart of Auchenflower lies Deer Duck Bistro – a French Renaissance-inspired venue where you will discover a fine dining experience of culinary delights. Featuring five modern Australian and European degustation menus, there is something for every foodie (yes, including you veggies). A quirky and artistic vibe, Deer Duck Bistro promises a renaissance of sound, sight, and taste!
View this post on Instagram
Bacchus
South Bank
One of Brisbane's most-loved dining venues has recently waltzed back onto the culinary scene, filling a much-needed void. Just as we remember, Bacchus boasts opulence and timelessness with a venue and menu that are equally as divine as each other. Fancy a dinner of impressive degustation dining? Bacchus provides just that. A thoughtfully considered 11-course degustation menu, Bacchus will impress with its high-quality ingredients leaving you bursting at the seams after completing your journey of flavour and delight.
View this post on Instagram
Montrachet
Bowen Hills
Craving a trip to France? Scratch that itch at Montrachet, Brisbane's most acclaimed French restaurant and next on our list of the best places to indulge in a degustation in Brisbane. Offering a seasonal French menu, Montrachet offers both traditional French dishes as well as a more contemporary spin. Think foie gras, lobster tartare, and Beluga caviar, paired perfectly with your favourite French wine. Montrachet's tasting menu features a six-course meal, where you'll enjoy flavourful yet delicate French cuisine from start to finish.
View this post on Instagram
Takashiya
South Bank
Feeling fancy? Takashiya's omakase VIP room will definitely make you feel like a very important person. An intimate 12-person Japanese dining experience, Takashiya offers the best-of-the-best Japanese degustation with fish and wagyu coming all the way from the motherland. Omakase is a Japanese phrase referring to the trust between the chef and the customers – rest assured  you can trust revered chef Takashi Nami to treat you to a culinary adventure.
View this post on Instagram
Joy Restaurant
Fortitude Valley
Founded by chefs Tim and Sarah Scott back in 2019, Joy epitomises the degustation menu, proving that great things really do come in small packages. The compact 10-seat restaurant holds a six-star culinary experience in its intimate omakase-style offering. Whereas other degustations are served under dim lighting with a moody ambience it's all in the name here at Joy – this is a unique degustation experience in Brisbane that's more quirky than imposing.
View this post on Instagram
C'est Bon
Woolloongabba
Say bonjour to the chef's tasting menu at this heritage French institution and you're in for an experience bursting with passion, dedication, and discovery. Whether you opt for the five-course or eight-course spread, each dish is imbued with a sense of sincerity sparked by a modern flair. Of course, as the French even have wine for breakfast, the menu offers the perfect pairings to complement each flavour and take it to the next level.
View this post on Instagram
Cuisine On Cue
All
Looking for a private dining experience with a difference?  Make your next dinner party, one to remember with an exquisite degustation thanks to the brilliant chefs at Cuisine On Cue. Bringing mouth-watering creativity to your private event, you'll be treated to course after course of high culinary art that scintillates the senses. Each dish has been carefully selected and prepared to create a bespoke and memorable catering experience. You won't have to lift a finger, with dedicated service staff on hand to ensure your event is hassle-free. You'll feel like a VIP in your own home!
View this post on Instagram
Da Biuso
Mobile
Brisbane's latest fine dining degustation experience is the first of its kind in our River City – an intimate restaurant aboard a charming bus, fitted out to resemble Brisbane's historic trams. The 12-seater restaurant welcomes passengers to climb aboard at revolving locations around the city to be treated to a first-class dining carriage experience. Da Biuso serves Mediterranean-inspired fare, with the option to add paired wines from a curated list of Italian drops – some of which are exclusively sourced for Da Biuso. The elevated offering will change with the seasons, so expect the likes of oysters all'onda, a spritz cocktail with Australian scampi, and Tasmanian lamb in a balsamic bone reduction.
View this post on Instagram
Exhibition Restaurant
Brisbane City
Nestled under the streets of Brisbane City, Exhibition is an intimate 24-seat restaurant dishing up a rare multi-sensory dining experience. Taking inspiration from Japanese-style omakase, the highlight is in the details here, from the handmade cutlery to ceramics from Japanese artists, and cooking artefacts. And, of course, there's the food – an evolving array of unique flavours utilising the best producers locally and from across the country. Staying true to an ethos of simplicity and sustainability, the six-course degustation is as thoughtful as it is mind-blowing.
View this post on Instagram